Vietnam tour, 13 days
During out Vietnam tour we will visit the modern metropolis of Saigon, the fertile Mekong delta, the beautiful palm beaches in Nha Trang, the fairytale Hoi An, the imperial Hue, the mysterious karst mountains in Halong Bay and the ancient capital Hanoi. Djoser, has been a Vietnam tour operator for over 15 years so we bring vast experience.
Join our international groups with active travelers, of all ages. Most will come from Holland and Belgium, but you will find they have an excellent command of English. Your tour leader addresses the group in Dutch and English. Our skilled land crew have worked with Djoser for many years and make sure things run smoothly.
There is ample time for group exploration. Count on lots of walking. But sometimes, it is great to be able to break off and explore on your own. Your guide can make some great suggestions.
Join us for unforgettable cultural, nature and local experiences!
Itinerary
Saigon
Saigon, day excurion Cu Chi tunnels and Tay Ninh
Saigon, day excursion My Tho (Mekong delta)
Saigon - Mui Ne - Nha Trang
Nha Trang
Nha Trang – Po Nagar Cham Towers - Qui Nhon
Qui Nhon – Tam Quan - My Lai – Hoi An
Hoi An, bike ride
Hoi An – Marble Mountains - Hué
Hué, boat trip Parfume river, night train to Hanoi
arrival Hanoi – Halong Bay (over night boat cruise)
Halong Bay - Hanoi
Hanoi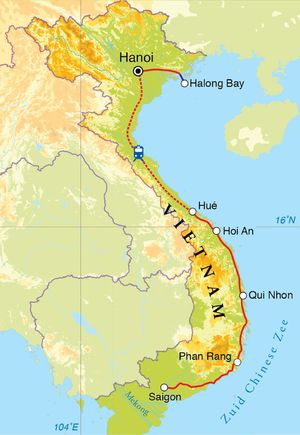 Day by day
On the Road with Djoser
Djoser's active journeys offer an ideal balance of guidance and freedom. Our guide-assisted adventures cover the globe and feature wildlife, beautiful natural settings, historic sights and authentic cultural experiences. During Djoser travels, the daily schedule is not rigidly set.
The day-to-day descriptions describe the anticipated, or possible daily activities. Our travel days are obviously fixed, but each day the program may deviate depending on the preferences of the group, in consultation with the tour leader. The tour guide offers a program daily, with planned excursions. You are never obligated to participate. Those who desire more freedom may go out exploring or may dine on their own. Your tour leader can offer suggestions for safe explorations and fun restaurants. You will find that Djoser participants will take advantage of this flexibility. We believe a sense of discovery is an integral element of a great trip.
We offer the land program only. Below, you will find the day-to-day description days numbered to correspond with that of the Dutch participants (which includes their transit days from/to Amsterdam). This is so that when you are traveling and refer to this day-to-day description, all travelers will be "on the same page" or the same day number.
EXTENSION HOTEL NIGHT RECOMMENDED -

Saigon
Day 1 Transit day for most participants
Day 2 Arrival Saigon (land begins -  morning)
Day 3 Saigon
Day 4 Saigon - Cu Chi - Tay Ninh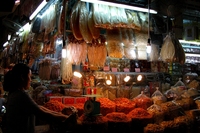 Our Vietnam tour begins in Ho Chi Minh City, known as Saigon. Saigon is a megacity with a major port and center for industry, commerce and international communication. In Saigon are the remains of the French and later American culture still evident. Already on the way from the airport to hotel introduces you to a typical Vietnamese phenomenon: the moped in all its manifestations. Numerous mopeds, sometimes loaded with entire families, masks and helmets, work their way through the traffic, hauling huge loads of trinkets or cargo.
The first few days we take the opportunity to get acquainted with this modern city: A walk takes you along the prominent colonial buildings, such as Notre Dame, the Opera House and Hotel de Ville. In the narrow alleyways at the Ben Thanh Market you can buy your first souvenirs. A cyclo can bring you easily to the Chinese district of Cholon, where you can see beautiful temples.
On day four we make an excursion outside the city. First we stop at a museum with a piece of the tunnel network of Cu Chi. In the sixties this was a vast opposition stronghold of the Vietcong in this province. Then we drive to Tay Ninh, the center of one of the most intriguing sects in Vietnam, the Cao Dai sect.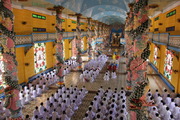 The cathedral there is a striking building, which is visual cross between colorful candy and an extravagant rococo church in a fantasy, type building from a themepark. We arrive there before noon so that you can experience the highly disciplined ceremony held in the church daily.

Mekong Delta
Day 5 Saigon, My Tho day excursion (Mekong Delta)
From the bustling Saigon we travel to the southern My Tho. This is the most fertile and prosperous part of Vietnam. We take a boat trip along the numerous branches of the Mekong, a wonderful way to observe the everyday life of the Vietnamese who live on the water. We stop in at a workshop where coconut candies are made and honey harvested. You can taste the exotic fruit that is grown here. The products are mostly transported by boat to the markets, where you except and abundcance of fruits and vegetables and fish.

Central Vietnam
Day 6 Nha Trang
Day 7 Nha Trang - Po Nagar Cham Towers - Qui Nhon
Day 8 Qui Nhon - Tam Quan - My Lai - Hoi An
Day 9 Hoi An, cruise Thun Bon River
Day 10 Hoi An - Marble Mountains - Hue
We travel to the beautifully situated Nha Trang, where you can lie under palm trees on the beach. Nha Trang is an 8 hour drive from Ho Chi Minh City. It is also known as one of the best places to snorkel or to go diving in Vietnam. We stop at the sand dunes in Mui Ne. Through the sand dunes by the sea there is a daily thermal wind that blows from the sea to the land, which increases in the course of the day, especially on sunny days. At the end of the day we reach Nha Trang.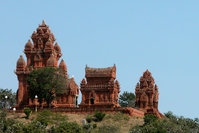 From the beach, boat trips are organized in Nha Trang, and you will visit the beautiful underwater world of an authentic fishing village. Nha Trang means "White House". The city is named after the only stone white house that stood at the beginning of the 19th century on the coastline. The largest part of the population is Buddhist. The city therefore has beautiful Buddhist buildings such as the Thap Ba Cham Temple, dedicated to the Buddhist priest Ponagar. There are also traces of the Cham period. Po Nagar, a Hindu structure slightly north of Nha Trang is perhaps the most impressive structure with many towers, halls and statues. On the way to Qui Nhon visit these historic Cham temples and modern temple, surrounded by colorful flowers and two giant white Buddha images. In Qui Nhon you can be pampered in a salon with a relaxing massage.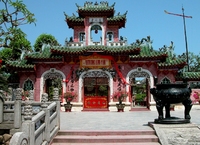 The next day we travel through to Hoi An. During the long drive to Hoi An, we stop to visit the village of Tam Quan, where we can visit factories that make tapioca crackers, coconut biscuits and tiles. We also make a stop in the war affected village of My Lai. The scenes will make you shudder. In the picturesque Hoi An you can wander for hours through the enchanting streets and visit the Chinese temples and houses. Hoi An is located on the Thun Bon River.

In the evening the streets are romantically lit by lanterns in all colors and sizes. You can indulge in delicious Vietnamese cuisine at one of the many cozy restaurants and bistros. Also you can shop to your heart's content: Everything you can have made to order in a couple of days: dresses, tuxedos shoes. You have your choice of the most beautiful fabrics. Later make a beautiful bicycle tour through the rice fields in the area. At the Marble Mountains, you can visit the impressive rock temples. From there we drive to the city of Hue. In Hue a visit to the Forbidden Purple City, which is hidden behind the thick walls, is an absolute must. This extensive complex is quite impressive.
We take a ride in a traditional dragon boat on the Perfume River and dock at the Thien Mu pagod to see how incense is made. It is often burned in many temples. Finally, we visit the imperial tombs, where the splendor of the imperial period is well preserved.

Halong Bay and Hanoi
Day 11 Hue, boat + train to Hanoi
Day 12 Hanoi- Halong Bay
Day 13 Halong Bay - Hanoi
Day 14 Hanoi – Land program ends
Day 15 Transit day for most participants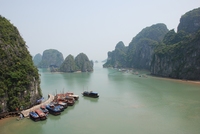 By train we go from Hue to Hanoi in northern Vietnam, where on the next day we go straight on to Halong Bay. We board a modern wooden ship where we will spend the night. Cruising between the mysterious karst rock formations, you will enjoy a mouth-watering meal of freshly caught fish prepared by the boat staff. The sundeck is a lovely place with an ice cold beer. And those who wish to can take a dip in the water. In the evening you can participant in the national Asian sport: Karaoke.

The expansive Halong Bay is located in the Gulf of Tonkin, 101.9 miles east of Hanoi. This spectacular water landscape of limestone pillars and islets covering 269.6 square miles. Most of the 1,600 islands are rugged and steep and therefore hardly affected by humans. The area is not only scenically beautiful, but also of great biological and geological interest.
Halong Bay is actually a submerged karst landscape where the sea plays a decisive role. In such a landscape where the top and sides of the limestone rocks are exposed due to erosion. Here the repeated overflowing and retreating of the sea carved the base of the rocks. Thus, they remain steep with almost vertical walls. After a night spent floating on the water, we move to the end of this trip in Hanoi.
In Hanoi at the edge of the central lake, stroll between the romantic streets. A visit to the water puppet theater is not to be missed. In the old quarter you can really get lost in the maze of streets. Enjoy a beer or coffee at one of the restaurants where you are likely to see on minature plastic tables and chairs. Here you can watch the daily life: Vietnamese ladies in modern pajama outfit, men cooking a soup on a low burner on the sidewalk, women balance their bamboo puntmuts and try to sell their fruits. Heavily laden mopeds and bicycles drive back and forth. Those who wish to escape the chaos of the old quarter, should also be sure to explore the French Quarter with its many embassies, the Temple of Literature and the notorious prison, nicknamed Hanoi Hilton. Also the body of Ho Chi Minh lies here. You can see the impressive mausoleum and the his former residence. After this last visit, it is time to end our journey.

Dates and prices
Departure dates 2023
| Land Begins | Land Ends | Price | Availability | |
| --- | --- | --- | --- | --- |
| Feb-01-23 | Feb-16-23 | $2,215 | 0 seats | |
| Feb-15-23 | Mar-02-23 | $2,150 | 0 seats | |
| Apr-19-23 | May-04-23 | $2,215 | 0 seats | |
| | Aug-10-23 | $2,605 | 2 seats | book now > |
| Aug-02-23 | Aug-17-23 | $2,605 | 13 seats | book now > |
| | Sep-21-23 | $2,670 | 8 seats | book now > |
| Oct-11-23 | Oct-26-23 | $2,345 | 18 seats | book now > |
| Nov-01-23 | Nov-16-23 | $2,345 | 18 seats | book now > |
| Nov-15-23 | Nov-30-23 | $2,345 | 20 seats | book now > |
| Dec-13-23 | Dec-28-23 | $2,345 | 20 seats | book now > |
| Dec-20-23 | Jan-04-24 | $2,475 | 20 seats | book now > |
Departure dates 2024
| Land Begins | Land Ends | Price | Availability | |
| --- | --- | --- | --- | --- |
| Jan-17-24 | Feb-01-24 | $2,215 | 20 seats | book now > |
| Jan-31-24 | Feb-15-24 | $2,345 | 20 seats | book now > |
| Feb-14-24 | Feb-29-24 | $2,215 | 20 seats | book now > |
| Apr-17-24 | May-02-24 | $2,215 | 20 seats | book now > |
Conditions "Guaranteed leave"
Price includes
Included in our Vietnam tour package: land package (begins & ends at hotel), lodgings, tour leader (as a logistics coordinator, not a lecturer) speaks Dutch & English, city-to-city transport by private bus, excursions according to program. breakfasts, local guide. Halong Bay cruise with meals.
Price excludes
Excluded in our Vietnam tour package: international flights from/to United States, meals, and optional excursions, entrance fees if not specifically named as included, Vietnam tourist visa, exit taxes (if applicable), tips, personal expenses, travel insurance, airport transfers at arrival & departure.
Group trip dates denoted with the green "G"  (Most Likely to GO)
The dates you see listed in our group tours that are marked with a green "G" are MOST LIKELY TO GO based on this trip's past booking history, for a similar date. Before booking your flights it is important that you check with us to see if the group has enough participants for the trip to GO. However, Djoser is not responsible for costs for flight changes or cancellations if a trip must be cancelled due to insufficient enrollment, which might include a booking cancellation after the trip has been deemed to have sufficient bookings for a "GO". 
Cost Overview
Costs are listed in U.S. Dollars
Single room from:  $235
Estimated Out of Pocket Costs Weekly (for meals, excursions and extra not listed as included)   $190
| | |
| --- | --- |
| Extension hotel city #1 | SAIGON |
| Double room - total from | $85 |
| Single room  from | $70 |
| Extension hotel city #2 | HANOI |
| Double room total from |  $85 |
| Single room from  | $70 |
Payment Schedule 
Deposit is due upon booking to hold your place
20% of total costs due (or $500 minimum) 
Payments by charge card or check accepted
Balance is due 60 days prior to departure date. 
 
USEFUL WEBSITES
Weather: http://worldweather.wmo.int/en/home.html
Center for Disease Control: http://wwwnc.cdc.gov/travel/destinations/list
Consulate List: http://www.state.gov/misc/list/index.htm
Passport/Visa Expeditor: TRAVISA http://www.travisa.com/
Travel Insurance Quote: TRAVELEX 1-800-228-9792 http://www.travelexinsurance.com/ 
Currency Conversion Cheat Sheet : http://www.oanda.com/currency/travel-exchange-rates 
Practical information
Accommodations & Meals
Accommodations - In our Vietnam tour rooms have been reserved at central, comfortable hotels, from which you can easily walk, go by cyclo or bicycle around town. The double rooms are equipped with private shower and toilet and almost always have air conditioning. In Vietnamese you often find a thermos of hot water and a box of tea in your room. The bathroom equipment often contains soap, shampoo, a comb and toothbrush. In most hotels you can have your clothing washed. We sleep a night aboard the boat on Halong Bay. Here you have your own cabin with bathroom.
Some examples of our usual hotels (subject to change)

Single room - Djoser is single friendly! If you are traveling solo, we will match you with a same-sex roommate. If we cannot match you, there will be no additional room charge. For a reasonable charge, you may request single accommodations, subject to availability. Just indicate this preference on your booking form. You will find pricing for single accommodations on "Dates & Prices" page.

Hotel extensions - It is always great to be well-rested when you begin a journey such as this. If you would like to book an extension hotel night upon arrival in the city where the land program begins, let us know on your booking form. You will find the prices for extension nights listed in the "Dates & Prices" page.

Meals - On our Vietnam tour breakfast is included in the trip cost. In Vietnam you can expect baguettes served with butter, jam, eggs or spreadable cheese. Food lovers will have a good selection for breakfast. Furthermore you yourself can decide what, where and with whom you will eat. The tour leader can offer suggestions. Please note: one must get used to eating with chopsticks in these areas. The basic ingredient of local meals is rice. There is a large variety of tasty beef, fish and vegetables dishes, heavily spiced, often with fresh coriander and ginger.
Vietnamese cuisine has almost 500 traditional dishes. Some of the favorites include small egg-rolls with a variety of fillings. For the main course, you can choose from dishes with rice, meat or fish. Pho is a popular soup with noodles, vegetables, fish and usually meat. It is served throughout the day, even in the morning. There are also Chinese restaurants and some European dishes on the menus. Vietnamese restaurants are quite plain and appear to be messy, but the food is excellent and trustworthy. Tea is the favored beverage. Coffee is available most places, as are bottled water and soft drinks.Chopsticks are the norm. Cutlery is not always provided. During the stay at the boat in Halong Bay, a delicious extensive lunch and dinner is served with lots of fresh fish. The costs are included in the price.
 
Flights & Transportation
Booking your international flight - We provide the land package and transportation within the program as described. We do not arrange international flights from or to the United States or Canada. The land program will begin approximately two hours after the arrival of the Netherlands (NL) participants who will be arrive from Amsterdam. The land program will end about 4 hours prior to their scheduled departure time, which allows for time to get to the airport. The proposed flights for the Dutch participants and the land beginning and end times are listed in this section. They are subject to change based on flight delays or changes. We will keep you posted of any flight changes that we are aware of prior to the trip. When scheduling your flights, keep the following times in mind:
Dutch participant proposeds' flights: (subject to change)
Airline: Cathay Pacific
NL participants arrive: HCM city 10:20 AM
NL participants depart: Hanoi 7:30 PM
Before you book your flight - To avoid flight change or cancellation costs get email confirmation from our office that the trip has enough participants to be a "GO".
Verify the spelling of your name-within 24 hours - When you book your flights, double check your flight records to confirm that your name is spelled on your ticket exactly as it appears on your passport. Some companies (for example, ORBITZ) will only allow a 24 hour window to correct any errors without penalty. You may incur heavy fees for changes, forfeiture of your flight ticket, or even worse, you could be denied entry to a border upon arrival.
Send us a copy of your flight itinerary - We will forward to the tour leader so they will know when to expect you at the hotel and when you will be departing.
Keep in mind hotel extensions - If the Dutch travelers arrive early in the morning, we recommend that you arrange to fly in the day or night before so you will be meet the group. Some trips involve an immediate transfer from airport to the next town so make sure you will arrive before the others so you don't miss the first meeting or transfer to the next location. We can arrange an extension hotel night for you. Prices for hotel extensions can be found in the "Dates & Prices"  section
If the Dutch participants arrive in the late evening - Should they arrive very late in the evening, the group will have their first meeting in the morning in the hotel lobby. You can check in earlier and relax or explore on your own.
Airport transfer to/from hotel – not Included - If you will be arriving and or departing on the same flight as the Dutch travelers let us know. Then you can join them on the bus for the group transfer at no additional charge. Notify us in advance so we can alert the tour leader. If you schedule your flight at the same time as theirs, or later, you can join them on the group transfer to the airport at no additional charge. Otherwise, you can take an authorized taxi to the first hotel on the list we have provided for you. Private airport transfers can be very costly . If your flight is delayed, they are difficult to reschedule or cancel. With a taxi, you are not charged for waiting time or cancellations.
Useful Links for booking your flights
Orbitz.com
Expedia.com
Kaykak.com

Local transportation -  Throughout the trip we use own (mini) bus. which has the advantage that we can stop regularly in the villages and places that we pass, for example, to visit a local market or sights. Throughout the year buses include air conditioning. The route from Hue to Hanoi it covered by train. Hotels are centrally located in cities ; an easy walk, bike or cycle ride to town. Thus, Saigon, Nha Trang, Hoi An, Hue and Hanoi and their surroundings can be explored by bike.YoFora few euros per day you can rent a bicycle or moped, and you can be easy to go out by yourself or with a few others. You will see Vietnam also from the water: in Halong Bay we sleep on a boat, in Hue we a cruise on the Perfume River. The watery Mekong Delta lends itself perfectly for (optional) boat trips with a group or on your own. The route from Hue to Hanoi traveled by train. Vietnam can also be viewed from the water: in Halong Bay and Hue we take a boat trip. The watery Mekong delta and the coastal strip in Nha Trang lend themselves perfectly for (optional) boat trips with a group or on your own.
Money Matters
A summary of all trip costs can be found on our '"Dates & Prices"  page. Prices may fluctuate throughout the year depending on currency exchange, gas costs, etc.
Included in price of our Vietnam tour package
Land package (begins & ends at hotel)
Tour leader (logistics coordinator, not a lecturer), speaks Dutch & English
City-to-city transport by private bus, sometimes internal flights, trains or boats.
Transport by air-conditioned bus
Hotel Accommodation
Excursions according to program
Breakfast at hotels
Unique overnight on boat in Halong Bay including meals
Excursion to Cu Chi tunnel system and Tay Ninh included
Excursion to My Tho (Mekong Delta)
Local guide
Payment Schedule 
Deposit is due upon booking to hold your place
20% of total costs due (or $500 minimum) 
Payments by charge card or check accepted
Balance is due 60 days prior to departure date.

While you are traveling
| | |
| --- | --- |
| Local Currency: | Vietnam=Dong |
| ATM Machines: | Widely available |
| Cash accepted:  | Dollars. Smaller denominations. Newer bills  |
| Credit Cards: | Not accepted |

Tipping - It is customary to tip for services rendered. The tour leader will organize a tip jar at the beginning of the trip, from which tips to drivers, guides, hotel staff are paid. Depending on the size of the group, each participant will be asked to contribute $40 to $50. This does not include a tip for your tour leader. Tipping the tour leader is appreciated and the amount up to your discretion.

** You will find a list of all trip costs in the  "Dates & Prices" section, including your estimated out of pocket costs.
Excursions
Freedom and choice are important elements of a Djoser trip. In addition to scheduled group activities, wherever possible, you may decide which attractions you wish to visit, and with whom. Unless otherwise indicated, entrance fees are not included in the price, so you have the freedom to make your own choices. One person may prefer to stroll through the market in search of bargains, while someone else may want to relax by the pool, go to a museum, or take a bike ride. Join the guide or break off with others in the group to explore on foot or with the local transport. Some attractions should not be missed, or they are not easily accessible, or are en route to our next overnight location and are therefore built into the program. In the "Dates & Prices"  section you will find the estimated out-of-pocket, weekly expenses that have calculated in typical entry fees in addition to meals and other costs.

On the way on our Vietnam group tours, our bus stops at a number of places where you will need to pay entry fees:
A visit to the Cu Chi tunnels. Here you get to know everything about the underground tunnel network that the Vietnamese created in the fight against the Americans during the Vietnam War. You can see how these fighters were underground and at night came out the attack. Crawl through the tunnels themselves and experience the life of a Vietnamese warrior
A visit to Tay Ninh where we visit the Cao Dai temple. The Cao Dai temple is an impressive colorful temple of a relatively new faith. Trailers attempt to create the ideal religion. Take your shoes off and attend the special ceremony
A visit to the Po Nagar Cham towers in Nha Trang. Where you stop in the Champa kingdom in this beautiful Hindu temple
The Mekong delta, we explore by boat
We visit My Lai, here we learn more about the carnage that was wrought here during the Vietnam War.
The Marble Mountains we visit on the way to Hue. Here you can take a walk over the hills consisting of marble and sandstone. Be surprised by the beautiful surroundings where you can admire a number of caves and temples
A boat trip on the Perfume River in Hue, which due to odors that it led from the forests away. Its name
A visit to the Thien Mu pagoda. This place is known for the Buddhist opposition to all forms of oppression. The night on the boat in the mystical Halong Bay
In Vietnam many other excursions are definitely worth your attention:
A cyclo tour through Saigon or Hanoi. Let your bike on a real Vietnamese cyclo, view various highlights and let the atmosphere of the city on you
Visit the mud baths in Nha Trang, an ideal day to relax
Let your new outfit fitting in Hoi An. A jacket, pants, dress or glasses, everything is possible here.
Teach yourself how to prepare the delicious Vietnamese dishes, and follow a cooking course in Hoi An
Visit Hue, the old imperial city and enjoy the authentic atmosphere of this former capital
Travel Documents
When you book a trip we will provide you with more details about necessary documents. Passports should be current and valid for at least 6 months beyond your departure date. If a visa is required, you may need extra pages in your passport for your stamps. Check all visa requirements carefully and leave yourself plenty of time to send and receive documents before your trip.

Travel documents needed
Vietnam tourist visa needed - YES Consulate link Visa form
Visa expeditor - If you are anxious about the visa process, or if you are short of time, you can pay an additional fee for an expediting service. They will look over your paperwork and should be able to guaranty a swift return of your visa or passport. We can recommend TRAVISA. 
Health Issues & Insurance
Health - Check for the Center for Disease Control – Travelers information for recommendations. Keep in mind that they may recommend an inoculation or medication such as malaria pills, which may be necessary for one specific part of a country but not another, or for a particular season. Shots are expensive. Make sure to get only what is needed. We recommend asking your doctor for a prescription to combat a more serious intestinal disorder.
When you book a trip we will provide you with information regarding the usual recommendations for the region we will visit. You will be responsible to check with your travel clinic or physician to review your plans and to find out the most up-to-date recommendations and needs for your particular situation. Plan to get your inoculations four to six weeks in advance of your trip. Some offices may need to preorder the medicines so call in advance.It is wise to pay careful attention to what you eat. Also, we recommend you bring medicines such as pain-killer and for remedy for intestinal disorders (such as IMMODIUM). Bring a small first aid kit. Tweezers, band-aids, antiseptic cream, insect repellent , salt rehydration tablets. The tour leader will have a first aid kit.
Climate and altitude changes can sometimes cause illness. Be sure to drink plenty of water. Bottled water is readily available. Excessive alcohol intake contributes to dehydration and makes you more vulnerable to illness. Make sure that you get plenty of rest and enough food and drink during the trip.
Most people are recommended to get
DTP vaccinations, typhoid and hepatitis A
Malaria tablets for mountain areas in Vietnam
Insurance - For piece of mind, we recommend that you procure travel insurance. In the event of an illness or injury, an emergency evacuation can be incredibly expensive and you would want access to the best possible facility. Also, lost baggage or missed flights can mean added expenses, Even events at home may prevent you from taking a trip, such as a lost job or ailing family member. It is important to get travel insurance immediately after booking. Most companies have a brief window (within 10 days of booking) for coverage for a preexisting condition. You will be asked to provide us with travel insurance contact information before your departure.
You are free to choose your own provider. Over the years, we have recommended TRAVELEX. They offer a variety of plans and most importantly, they are responsive. Should you choose to go with TRAVELEX, you will contact them directly and the cost of your coverage will depend on the plan you choose. The cost will be based over the total cost of your trip and flights, and the amount is also subject to your age. Ask about the TRAVEL PLUS plan and the more economical TRAVEL LITE plan. * Arrange for insurance immediately after booking your trip so that you are covered for any pre-existing situation. TRAVELEX 1-800-228-9792
Group Composition
Djoser travelers are active, enthusiastic travelers of all ages. Join an international group with travelers from the Netherlands, Belgium and North America, who will be the minority group on these trips. Most of our trips range from a minimum of eight participants to a maximum of 20 or 22. You will find couple and singles on our trips. Feel free to call us if you wish to know the demographic make-up of a particular trips (number of singles and age range).
Minimum group size: 8 
Maximum group size: 20

What to expect when traveling with an international group - Djoser, Inc. (the United States office) has been a Vietnam tour operator for over 15 years. Djoser, B.V. (the Netherlands office) has been a Vietnam tour operator for over 25 years. So together we bring vast experience. Most of our trips are arranged in cooperation with Djoser, B.V. in the Netherlands. Because they cater to the voracious travel appetites of the Dutch, we can offer a vast number of programs around the world with hard-to-find itineraries, with numerous departure dates.
On our Vietnam group tours,  you will travel with an international group, with most participants from Holland and Belgium. The international make-up of our groups is the attraction for many regular Djoser travelers and adds another cultural element to the trip. Typically, there are only one to five North Americans per group. You will find that almost all of your fellow travelers have an excellent command of English and most are very willing to socialize. It's a great idea to extend an invitation to a few travel mates for coffee or a drink early in the trip. They will appreciate your effort and this is a great way to break the ice. It will be easier for them to test out their English skills in a quiet, one-on-one setting. Group members tend to warm up to one another in a day or two. As with every tour group, compatibility has most to do with individual personalities.
The Dutch are experienced and hearty travelers. We attract travelers of all ages and we enjoy the mix! You will find our participants welcome opportunities for independent explorations in addition to group activities. No matter their age, Djoser travelers expect, and are up to lots of walking, hiking, biking, or whatever comes our way. The Dutch and Belgian travelers will fly as a group from Amsterdam. You will meet the group and tour leader at the hotel where you will begin the land program with the group.
Tour Leaders & Support Staff
Our trips will be guided by an experienced Dutch guide who speaks Dutch and English. He or she will be responsible for the organizational and technical aspects of the trip. He/she coordinates with the driver , hotels, and other vendors along the way. The tour leader has extensive travel experience and expertise as well as a comprehensive training.
On this trip a local Vietnam tour guide will also assist us in and will explain about the customs, religious influences and cultural aspects of the area.
Our experienced land representatives are situated in the destination country you will visit. We work closely with them and they function as the liaison between our office, the guide, drivers and hotels. They are also available in the case of an emergency and their number will be provided on your emergency contact list.
Climate & Geography
Our trips are organized with weather conditions in mind. On our website, we will provide you with a weather summary of the region: Check temperature and rainfall for specific cities on your trip, during your month of travel at worldweather.org

The expansiveness and various terrains in Vietnam are distinguished by different climates. South and Central Vietnam have a warm tropical climate with temperatures between 65° and 90°F. The North enjoys a subtropical climate with warm summers and mild winters. The temperature in Hanoi, for example, lies between 60° and 90°F. In Sa Pa it is, on average, several degrees cooler. In the winter months it can even get cold. There are two different rainy periods. Between October and April is a relatively wet period in the northern part of Vietnam stretching to the central area near Da Nang. From May to October, in the South, you will find warm, wet weather. In the rainy period there are regular downpours at the end of the afternoon and at night. The quantity ranges, however, from region to region. China is one of the largest countries in the world and has very diverse geographical and climate characteristics. Because of the vastness of the country, you can encounter various climate changes.
Rain frequently falls at the end of the day and at night. The downpours are generally short and hard and the cloud cover is in this period frequently dense. Laos and Cambodia have a tropical climate. The rainy season runs from June to September. There is then no long-term rainfall, but possibly one or two spectacular rainbursts per day, generally at the end of the day or at night. Rain makes nature in this period a splendid, lush green. Afterward it is clear and cool. After February it becomes hotter. In the jungle in these months it can be quite misty.
Photos & video
Book Trip/Trip Inquiry
                                                       BOOK MY TRIP 

•Begin your reservation process by filling in this TRIP INFO REQUEST and send to us via the website. We will confirm dates and prices, and answer any questions you may have about the trip.
•Download and complete the BOOKING FORM including all participants passport information and payment information. Email a PDF, scan, or clear photo of your completed BOOKING FORM to lukedjoser@gmail.com. All participants over 18 should sign the form.
• A deposit of 20% of total costs will be due upon booking in order to hold your place on the trip. The balance will be due 90 days prior to departure.
• Payments can be made by personal check or ACH wire transfer (domestic wire only). We will send you wire instructions.
• Upon receipt of your form, we will email you a receipt and confirmation of your booking.
• If paying by check, make check out to DJOSER, INC., Mail to Djoser, Inc. – Bookings 420 N. Oakland Drive, #6, Pasadena, CA 91101.
Questions? Call Luke Neal 484-995-2964. (West Coast)