BIKE TOUR Vietnam & Cambodia, 16 days
Our bike tour of Vietnam and Cambodia will introduce you this friendly and beautiful region. In the Mekong "the granary of Vietnam", you will find green rice paddies, sugarcane, coconut orchards. The Mekong is mainly flat and easily discovered by bike. You can drive through villages, cross rivers with ferries and meet talkative Delta residents. In Cambodia we cycle among the spectacular ruins of the world wonder of Angkor Wat. 
Itinerary
Saigon
Saigon; Cu Chi
Saigon - Ben Tre
Ben Tre - Tra Vinh
Tra Vinh - Soc Trang
Soc Trang - Can Tho
Can Tho – Vinh Long
Vin Long – Cao Lanh
Cao Lanh - Long Xuyen - Ong Ho
Ong Ho – Long Xuyen – Tra Su – Nui Cam
Nui Cam – Tinh Bien – Siem Reap
Siem Reap (Angkor Wat)
Siem Reap
Siem Reap - Phnom Penh
Phnom Penh
Phnom Penh
Day by day
On the Road with Djoser
Djoser's active journeys offer an ideal balance of guidance and freedom. Our guide-assisted adventures cover the globe and feature wildlife, beautiful natural settings, historic sights and authentic cultural experiences. During Djoser travels, the daily schedule is not rigidly set.
The day to day descriptions describe the anticipated, or possible daily activities. Our travel days are obviously fixed, but each day the program may deviate depending on the preferences of the group, in consultation with the tour leader. The tour guide offers a program daily, with planned excursions. You are never obligated to participate. Those who desire more freedom may go out exploring or may dine on their own. Your tour leader can offer suggestions for safe explorations and fun restaurants. You will find that Djoser participants will take advantage of this flexibility. We believe a sense of discovery is an integral element of a great trip.
We offer the land program only. Below, you will find the day to day description days numbered to correspond with that of the Dutch participants (which includes their transit days from/to Amsterdam). This is so that when you are traveling and refer to this day to day description, all travelers will be "on the same page" or the same day number.

Saigon (Ho Chi Minh City )
Day 1 Transit day for most participants
Day 2 Saigon (Ho Chi Minh City – Land begins
Day 3 Saigon, Cu Chi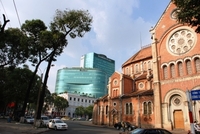 Saigon is the first stop on bike tour although we do not use our bikes on the first day. En route to the hotel you will notice the hustle bustle of mopeds, cars, cyclos (pedicab) and bicycles. The scooter is popular among the young people, who flood the streets at night. 
Saigon is a major port city and center for industry, commerce and international communications. After the division of the country in 1954 Saigon was the capital of the Republic of Vietnam. After the entry of the northern armies in April 1975 the revolutionary authorities gave the city the name Ho Chi Minh City, but most people continue to call it Saigon. French influences are recognizable in the architecture. On every street corner you can buy baguettes. 

Some fine examples of French architecture are the post office, the "Hotel de Ville" or the City Hall and the Cathedral. Pagodas and temples are also reflective of French architecture.
Saigon is an ideal place for a cyclo ride (you sit while someone else pedals). So you can retire the bike and go on an optional cyclo ride. You can experience the heart of the city, the bustling Chinese district of Cholon market, without having to watch the road. Early in the morning we visit the underground network of tunnels at Cu Chi built by the Vietcong in the sixties . In the afternoon you'll have time to visit the Museum of the Revolution, the historical museum or the Ho Chi Minh Museum. Also a visit to the Notre Dame cathedral and the central post office are worthwhile. Both buildings are fine examples of French influences . Or you can go to the Ben Thanh market for a fascinating walk, where you can buy everything that the average Vietnamese eats, wears or uses.
Mekong Delta
Day 4 Saigon - Ben Tre
Day 5 Ben Tre - Tra Vinh
Day 6 Tra Vinh - Soc Trang
Day 7 Soc Trang - Can Tho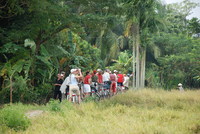 We leave the city in our own buses. Bicycles come along with the "sag wagon". When leaving the city you will soon notice why we choose not to ride in the city but for the first part our journey. It is swarming with scooters, mopeds, cars and trucks.
Once we have left the biggest crowds behind us, we get on our bikes. The route passes through several elongated villages and the countryside gets nicer as we approach the Mekong Delta. The numerous branches of the river make this flat area very fertile.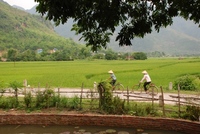 The inhabitants of the delta work in the many green rice fields and fruit plantations, therefore, the area makes an important contribution to the prosperity of Vietnam. Our first tour is a journey of about 12.4 miles to Tan An, where we take time for a cup of coffee or tea after the first leg of our trip. We ride to the upper branch of My Tho on the Mekong. Afterwards we arrive in the quiet and friendly town of Ben Tre,in Vietnam very famous for its delicious coconut sweets. We cycle of about 9.3 miles.
Along the way you are greeted enthusiastically by waving Vietnamese who would like to make a chat . During this tour you will cycle an average of 21.7 milesper day. Cycling is a fun way to see the Vietnamese life and countryside close up. We can stop whenever we want, length of rides depend on the wishes of the group.
The route between Ben Tre and Tra Vinh, we travel for the most part with our bikes. It is a a total trip of about 24.8 miles. We cycle on country roads and through small villages. We cross the river twice. Once on the ferry from Ham Luong and sail a bit on the Co Chien River, so we do not have to drive through Vinh Long. From Tra Vinh Soc Trang we cycle for a trip of about 28 miles . Sometimes the weather dictates that the ride be shortned. We visit remote parts of the delta and through pagoda Pagoda Bats. Throughout the province many Khmer live, but their homes are not all that visible.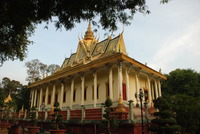 The Khmer speak Vietnamese and the clothing and lifestyle is not very different from the Vietnamese. The Khmer culture is still evident. There are more than 140 Khmer temples. The Bat Pagoda 'Chua Doi is a special attraction in this area. Once you approach the site of the monastery you hear the "screaming" of the many bats that live here. The monks are friendly and welcome you into the convent. In Soc Trang you can see the Kh'leng pagoda . This pagoda was transferred from Cambodia to Soc Trang.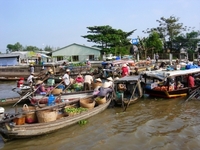 Between Soc Trang and Can Tho for a large part of the way we use our own bus. Only the last 6.2 miles we take our bikes off the truck and we cycle along a portion of the Can Tho River. En route from Soc Trang to Can Tho, we visit the floating market of "Phung Hiep. It is a small but interesting floating market under the bridge. The many floating markets are among the most colorful attractions in the Mekong Delta. The largest floating market in this area is the market of Cai Rang in Can Tho.

Can Tho, Ho Ong
Day 8 Can Tho - Vinh Long
Day 9 Vinh Long - Cao Lanh
Day 10 Cao Lanh - Long Xuyen - Ong Ho
Ong Ho Day 11 - Long Xuyen - Tra Su - Nui Cam
Daily life largely takes place on and along the water, especially early morning when many wooden sailing boats to the floating markets. Early morning, is the best to capture the lively atmosphere. You'll travel on crowded canals and villages of wooden stilt houses where children wave and women hang the laundry.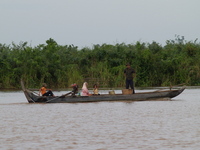 The latest cycling in the rural areas is carried out by Delta to Vinh Long and the town of Cao Lanh. From the town of Cao Lanh we cycle about 18.6 miles to Long Xuyen. Long Xuyen we leave the large luggage for a overnight trip to Ong Ho, nicknamed Tiger Island, where we stay one night. It is said that once it was the preserve of many tigers and leopards. We stay with a local family. The Islanders not only provide shelter but prepare meals and fresh fruit for us. After breakfast we leave the island, we get our luggage at Long Xuyen and cycle to Tra Su forest Indigo. Here you can take a bike trip through this beautiful nature.

Phnom Penh
Day 12 Nui Cam - Tinh Bien - Phnom Penh
Day 13 Phnom Penh
We leave Vietnam through Thin Bien and ride the bus to the Cambodian capital Phnom Penh. Here you have all day to explore the sights of this exciting city. Visit the Royal Palace and National museum with many treasures from the Angkortempels. This district also contains ancient Buddhist monasteries and other buildings with clear Khmer characteristics. The former 'French' part of town around the temple, Wat Phnom. This temple is on a hill to commemorate the founding of the city.
In the evening you should go check out the boardwalk along the Tonle Sap River. Here you will enjoy the parade on foot or on a moped. Walk around the central market to get a good impression of the Chinese district . Impressive and terrifying are the Killing Fields and the Tuol Sleng genocide museum in the former prison that recalls the horrible time under the reign of Khmer leader Pol Pot.

Siem Reap
Day 14 Phnom Penh - Siem Reap
Day 15 Siem Reap
Day 16 Siem Reap
Day 17 Siem Reap – land ends
Day 18 Travel day for most participants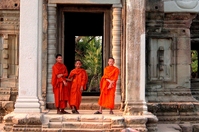 The cozy town of Siem Reap is the starting point for a visit to one of the highlights of this trip, the world famous Angkor Wat complex. The ornate Hindu temples dating from the heyday of the Khmer civilization from the 9th to the 13th century. On the bike we explore the first day through the overgrown jungle temple of Ta Prohm, Banteay Srei and farming villages in the area.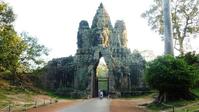 The second day you have the time to return to the famous temple, Angkor Wat, the Bayon as there is much to see. There are many other temples in the wooded area to visit. Allow a look early in the temples to be admired in silence. At night you are in one of the many restaurants of Siem Reap great food, a drink or a traditional Cambodian dance performance groups. From Siem Reap we end our journey.
Dates and prices
Departure dates 2021
| Land Begins | Land Ends | Price | Availability | |
| --- | --- | --- | --- | --- |
| Oct-08-21 | Oct-25-21 | $2,140 | 18 seats | book now > |
| Oct-29-21 | Nov-15-21 | $2,140 | 12 seats | book now > |
| Nov-05-21 | Nov-22-21 | $2,205 | 12 seats | book now > |
| Nov-19-21 | Dec-06-21 | $2,140 | 17 seats | book now > |
| Dec-17-21 | Jan-03-22 | $2,205 | 13 seats | book now > |
Departure dates 2022
| Land Begins | Land Ends | Price | Availability | |
| --- | --- | --- | --- | --- |
| Jan-07-22 | Jan-24-22 | $2,205 | 16 seats | book now > |
| Feb-11-22 | Feb-28-22 | $2,205 | 20 seats | book now > |
| Mar-11-22 | Mar-28-22 | $2,205 | 19 seats | book now > |
| Apr-01-22 | Apr-18-22 | $2,140 | 20 seats | book now > |
| Apr-22-22 | May-09-22 | $2,140 | 20 seats | book now > |
| Jul-08-22 | Jul-25-22 | $2,205 | 20 seats | book now > |
| Jul-22-22 | Aug-08-22 | $2,205 | 20 seats | book now > |
| Sep-23-22 | Oct-10-22 | $2,140 | 20 seats | book now > |
| Oct-07-22 | Oct-24-22 | $2,140 | 20 seats | book now > |
| Oct-28-22 | Nov-14-22 | $2,140 | 20 seats | book now > |
| Nov-04-22 | Nov-21-22 | $2,140 | 20 seats | book now > |
| Nov-18-22 | Dec-05-22 | $2,140 | 20 seats | book now > |
| Dec-16-22 | Jan-02-23 | $2,140 | 20 seats | book now > |
Departure dates 2023
Conditions "Guaranteed leave"
Price includes
Land package starts and ends at hotels. bike rental, transport, hotel accommodation with breakfast, overnight at local people including meals, excursions according to the program, local guide, Tour guide from Holland (speaks Dutch & English).
Price excludes
International flights from/to North America, travel insurance, other meals, entrance fees, optional excursions, gratuities, personal expenses.
Group trip dates denoted with the green "G"  (Most Likely to GO)
The dates you see listed in our group tours that are marked with a green "G" are MOST LIKELY TO GO based on this trip's past booking history, for a similar date. Before booking your flights it is important that you check with us to see if the group has enough participants for the trip to GO. However, Djoser is not responsible for costs for flight changes or cancellations if a trip must be cancelled due to insufficient enrollment, which might include a booking cancellation after the trip has been deemed to have sufficient bookings for a "GO". 
Cost Overview
| | |
| --- | --- |
|   |   |
| Single accommodations | $250 |
|   |   |
| Extension hotel city #1 | Saigon |
| Double room per person | $48 |
| Single room | $60 |
| Extension hotel city #2 | Phnom Penh |
| Double room per person | $48 |
| Single room | 60 |
|   |   |
| Estimated out-of-pocket, weekly | $230 |
|   |   |
| Deposit due upon booking | * Deposit based on 20% of total  land price, or $500 minimum - non-refundable |
|   |   |
|   | * Balance due 60 days prior to departure.  |
Practical information
Accommodations & Meals
Accommodations – Our rooms are reserved in central, comfortable hotels from which you can easily bike or go on foot into town. The double rooms are equipped with private shower and toilet and almost always conditioned. In most places, you will find in the room a thermos with hot water and a box of tea. The bathroom amenities often contain soap, shampoo, a comb and toothbrush. In most hotels, you can, if desired, you were dispensing. In Ben Tre and Vinh Long we stay in a simple homestay and Ong Ho, nicknamed Tiger Island, we stay one night at a local family. In these accommodation facilities are basic, but the atmosphere makes up for it.

Some examples of our usual hotels (subject to change)

Single room - Djoser is single friendly! If you are traveling solo, we will match you with a same-sex roommate. If we cannot match you, there will be no additional room charge. For a reasonable charge, you may request single accommodations, subject to availability. Just indicate this preference on your booking form. You will find pricing for single accommodations on "Dates & Prices" page.  During the stay on Ong Ho and Vinh Long there are no single rooms available.
Hotel extensions - It is always great to be well-rested when you begin a journey such as this. If you would like to book an extension hotel night upon arrival in the city where the land program begins, let us know on your booking form. You will find the prices for extension nights listed in the '"Dates & Prices" page. The cost of a hotel extension does not include transfers to or from the airports.

Meals - Breakfast is included in the price. In general, fresh bread served with butter, jam, cheese spread or egg. Or you can order a Vietnamese breakfast. On Ong Ho island dinner and breakfasts are included in the price. A local family prepares delicious meals and we eat lots of fresh, local fruit. Furthermore, you can decide what, where and with whom you eat.
There are nearly 500 traditional dishes in Vietnamese cuisine. You will love the small spring rolls with different fillings. As a main meal you can choose from rice with vegetables and meat or fish. The "pho", the popular soup with noodles, vegetables and often meat or fish, is actually eaten throughout the day, but especially early morning. There are also Chinese restaurants here and you can find European cuisine on the menu. A traditional dish in Cambodia 'Amok Fish', fish is served in coconut sauce.
The price of a meal, depending on what and where you eat, is between two and five euros. Finally, people are used to eating with chopsticks, and you cannot always get cutlery everywhere. Tea is widely consumed, coffee is also widely available, as well as mineral water and soft drinks.
Flights & Transportation
Booking your international flight - We provide the land package and transportation within the program as described. We do not arrange international flights from or to the United States or Canada. The land program will begin approximately two hours after the arrival of the Netherlands (NL) participants who will be arriving from Amsterdam. The land program will end about 4 hours prior to their scheduled departure time, which allows for time to get to the airport. The proposed flights for the Dutch participants and the Land Begin and End times are listed below. They are subject to change based on flight delays or changes. We will keep you posted of any flight changes that we are aware of prior to the trip. When scheduling your flights, keep the following times in mind.
Dutch participants' proposed flights: (subject to change)
Airline: Cathay Pacific
NL participants arrive: Ho Chi Minh City (Saigon) 10:20 AM
NL participants depart: Siem Reap 10:55 AM
Before you book your flight - To avoid flight change or cancellation costs get email confirmation from our office that the trip has enough participants to be a "GO".
Verify the spelling of your name-within 24 hours - When you book your flights, double check your flight records to confirm that your name is spelled on your ticket exactly as it appears on your passport. Some companies (for example, ORBITZ) will only allow a 24 hour window to correct any errors without penalty. You may incur heavy fees for changes, forfeiture of your flight ticket, or even worse, you could be denied entry to a border upon arrival.
Send us a copy of your flight itinerary - We will forward to the tour leader so they will know when to expect you at the hotel and when you will be departing.
Keep in mind hotel extensions - If the Dutch travelers arrive early in the morning, we recommend that you arrange to fly in the day or night before so you will be meet the group. Some trips involve an immediate transfer from airport to the next town so make sure you will arrive before the others so you don't miss the first meeting or transfer to the next location. We can arrange an extension hotel night for you. Prices for hotel extensions can be found in the "Dates & Prices" section
If the Dutch participants arrive in the late evening - Should they arrive very late in the evening, the group will have their first meeting in the morning in the hotel lobby. You can check in earlier and relax or explore on your own.
Airport transfer to/from hotel (not Included) - If you will be arriving and or departing on the same flight as the Dutch travelers let us know. Then you can join them on the bus for the group transfer at no additional charge. Notify us in advance so we can alert the tour leader. If you schedule your flight at the same time as theirs, or later, you can join them on the group transfer to the airport at no additional charge. Otherwise, you can take an authorized taxi to the first hotel on the list we have provided for you. Private airport transfers can be very costly . If your flight is delayed, they are difficult to reschedule or cancel. With a taxi, you are not charged for waiting time or cancellations.
Useful Links for booking your flights
Orbitz.com
Expedia.com
Kaykak.com

Local transportation - During the tour we use a private bus, equipped with air and heating. We are free to stop for a photo or to stretch our legs.

Cycling - The trip includes the use of a bicycles with gears. The bikes in Vietnam are available to us from day 4 (departure to Ben Tre) until day 11. In Cambodia we have a bike at our disposal during the stay in Siem Reap (days 13 and 14). During the entire trip in Vietnam besides the local bike guide he is available to repair our bikes. The rides can be shortened or lenghtened according to the wishes of the group, on the spot. We cycle mainly on country roads and try to avoid the big busy roads. The terrain is generally flat, and we have no routes with steep and long slopes.
Bus - We cover portions of the journey with our private, comfortable bus, which is air conditioned. The bus is with us for the whole journey and often drops us a some point from where we begin our bike ride. At the end of the ride (if we did not cycle to our accommodation), the bus picks us up again. In addition, during the whole trip Vietnam a baggage truck carries our bikes when not in use; it is referred to as the "sag wagon". The distance from the border to Siem Reap in Cambodia and Siem Reap to Phnom Penh is made by the bus. Because our hotels are centrally located, you can bridge the distances to the villages / towns easily on foot, by bicycle or by cycle.
Money Matters
A summary of all trip costs can be found on our 'Dates & Prices' page. Prices may fluctuate throughout the year depending on currency exchange, gas costs, etc.

Included in price
Land package (begins & ends at hotel)
Bike rental
Transportation to and from airport
Transportation to and from starting endpoint bike rides
Crossings by ferry in Mekong Delta
Hotel Accommodation with breakfast
Overnight in locals including meals
Bicycle tours and excursions according to program
Local guide
Bike repair person
Tour guide from Holland (speaks Dutch & English).
 
Payment Schedule 
Deposit is due upon booking to hold your place
20% of total costs due (or $500 minimum) 
Payments by charge card or check accepted
Balance is due 60 days prior to departure date.
While you are traveling
| | |
| --- | --- |
| Local Currency:  | Vietnam - Dong, Cambodia - Riel |
| ATMS:  | Found in Vietnam Ho Chi Minh, Tra Vinh, Soc Trang, Can Tho and Cao Lanh. In Cambodia: Phnom Penh and Siem Reap |
| Other Currency Accepted: | Euros or dollars. In Cambodia are almost everywhere US dollars are accepted |
| Credit cards: | Credit cards: accepted in some places in both Vietnam and Cambodia. Good to withdraw money |

Tipping - It is customary to tip for services rendered. The tour leader will organize a tip jar at the beginning of the trip, from which tips to drivers, guides, hotel staff are paid. Depending on the size of the group, each participant will be asked to contribute $40 to $50. This does not include a tip for your tour leader. Tipping the tour leader is appreciated and the amount up to your discretion.
** You will find a list of all trip costs in the "Dates & Prices" section, including your estimated out of pocket costs.
Excursions
Freedom and choice are important elements of a Djoser trip. In addition to scheduled group activities, wherever possible, you may decide which attractions you wish to visit, and with whom. Unless otherwise indicated, entrance fees are not included in the price, so you have the freedom to make your own choices. One person may prefer to stroll through the market in search of bargains, while someone else may want to relax by the pool, go to a museum, or take a bike ride. Join the guide or break off with others in the group to explore on foot or with the local transport. Some attractions should not be missed, or they are not easily accessible, or are en route to our next overnight location and are therefore built into the program. In the "Dates & Prices" section you will find the estimated out-of-pocket, weekly expenses that have calculated in typical entry fees in addition to meals and other costs.
Travel Documents
When you book a trip we will provide you with more details about necessary documents. Passports should be current and valid for at least 6 months beyond your departure date. If a visa is required, you may need extra pages in your passport for your stamps. Check all visa requirements carefully and leave yourself plenty of time to send and receive documents before your trip.
VISA NEEDED? 
Vietnam - Yes
Cambodia - Yes
Visa & Passport Expeditor – For an extra fee, you can hire an expediting service to process your visa application. They will look over your paperwork and they can offer a faster return of your visa or passport. We recommend TRAVISA.
Health Issues & Insurance
Health - Check for the Center for Disease Control – Travelers information for recommendations. Keep in mind that they may recommend an inoculation or medication such as malaria pills, which may be necessary for one specific part of a country but not another, or for a particular season. Shots are expensive. Make sure to get only what is needed. We recommend asking your doctor for a prescription to combat a more serious intestinal disorder.
When you book a trip we will provide you with information regarding the usual recommendations for the region we will visit. You will be responsible to check with your travel clinic or physician to review your plans and to find out the most up-to-date recommendations and needs for your particular situation. Plan to get your inoculations four to six weeks in advance of your trip. Some offices may need to preorder the medicines so call in advance. It is wise to pay careful attention to what you eat. Also, we recommend you bring medicines such as pain-killer and for remedy for intestinal disorders (such as Immodium) Bring a small first aid kit. Tweezers, band-aids, antiseptic cream, insect repellant, salt rehydration tablets. The tour leader will have a first aid kit.
Climate and altitude changes can sometimes cause illness. Be sure to drink plenty of water. Bottled water is readily available. Excessive alcohol intake contributes to dehydration and makes you more vulnerable to illness. Make sure that you get plenty of rest and enough food and drink during the trip.
Usual vaccinations & medications recommended for this trip: 
Vaccinations against DTP, typhoid and hepatitis A
How Strenuous Is this Trip? - The bike tours are suitable for anyone who in in good health, has a good condition, and bikes regularly. We have arranged the trips according to challenge level. This takes into account the heights to which we cycle, the distance that we cover and the duration of the cycling. This of course is only an estimate. Plus, your personal experience and other factors such as weather conditions and your physical condition will determine your own difficulty levels.
The trip covers flat and hilly terrain. When we travel on steep, mountainous terrain with steep descents, typically the bus drops us at the top and then we descend by bike. Those up to the challenge may ascend on their own. On each bike journey a bus accompanies us, so you can interrupt any ride and ride on the bus. On many trips depending on the wishes of the group, we can shorten or lengthen a ride, on the sport.
During the bicycle trip in Vietnam and Cambodia we bike on average between 21.7 to 37 miles a day. There are very hilly areas. It is possible to extend a number of cycling days and shorten if necessary. We cycle mainly on country roads and try to avoid the big busy roads. The high temperatures make cycling strenuous at time. We try to leave early as possible during these days to avoid the extreme heat.
Be Prepared! - Make sure you are well-prepared. Spend the months leading up to your trip working out and getting preapred for your bike trip. This will help you to get the most enjoyment from your journey.
TRAVEL INSURANCE IS REQUIRED FOR THIS TRIP.
Insurance - For peace of mind, we recommend that you procure travel insurance. In the event of an illness or injury, an emergency evacuation can be incredibly expensive and you would want access to the best possible facility. Also, lost baggage or missed flights can mean added expenses. Even events at home may prevent you from taking a trip, such as a lost job or ailing family member. It is important to get travel insurance immediately after booking. Most companies have a brief window (within 10 days of booking) for coverage for a preexisting condition. You will be asked to provide us with travel insurance contact information before your departure.
You are free to choose your own provider. Over the years, we have recommended TRAVELEX. They offer a variety of plans and most importantly, they are responsive. Should you choose to go with TRAVELEX, you will contact them directly and the cost of your coverage will depend on the plan you choose. The cost will be based over the total cost of your trip and flights, and the amount is also subject to your age. Ask about the TRAVEL PLUS plan and the more economical TRAVEL LITE plan. * Arrange for insurance immediately after booking your trip so that you are covered for any pre-existing situation. TRAVELEX 1-800-228-9792
 
Group Composition
Minimum group size: 8
Maximum group size: 20
What to expect when traveling with an international group – Our group trips are arranged in cooperation with Djoser, B.V. in the Netherlands. Because they cater to the voracious travel appetites of the Dutch, we can offer a vast number of programs around the world with hard-to-find itineraries, with numerous departure dates.
Djoser travelers are active, enthusiastic travelers of all ages. You will find couples and singles on our trips. Join our international groups with travelers from the Netherlands, Belgium and North America. There are rarely more four North Americans per group. The international make-up of our groups is the attraction for many regular and this adds another cultural element to the trip. Feel free to call us if you wish to know the demographic make-up of a particular trip (number of singles and age range.
You will find that almost all of your fellow travelers have an excellent command of English and most are very willing to socialize. It's a great idea to extend an invitation to a few travel mates for coffee or a drink early in the trip. They will appreciate your effort and this is a great way to break the ice. It will be easier for them to test out their English skills in a quiet, one-on-one setting. Group members tend to warm up to one another in a day or two. As with every tour group, compatibility has most to do with individual personalities.
The Dutch are experienced and hearty travelers. We attract travelers of all ages and we enjoy the mix! You will find our participants welcome opportunities for independent explorations in addition to group activities. No matter their age, Djoser travelers expect, and are up to lots of walking, hiking, biking, or whatever comes our way. The Dutch and Belgian travelers will fly as a group from Amsterdam. Unless otherwise indicated, you will meet the group and tour leader at the hotel where you will begin the land program with the group.
 
Tour Leaders & Support Staff
The group is accompanied by a tour guide from Holland (who speaks Dutch & English) . Additionally throughout the journey a local guide aslos assists. In Cambodia there is a local guide during the cycling day in Siem Reap. The tour guide provides practical information about the bike ride, the route and the different activities during rest days. In addition, the tour leader tells something about daily life and the different habits of the country. However, the tour guide is not a lecturer. For any questions, comments or concerns you can always contact the tour leader. The tour guides are enthusiastic cyclists and do everything to make a success of your cycling trip.
Our experienced land representatives are situated in the destination country you will visit. We work closely with them and they function as the liaison between our office, the guide, drivers and hotels. They are also available in the case of an emergency and their number will be provided on your emergency contact list.
Our experienced land representatives are situated in the destination country you will visit. We work closely with them and they function as the liaison between our office, the guide, drivers and hotels. They are also available in the case of an emergency and their number will be provided on your emergency contact list.
Climate & Geography
The huge elongated shape of Vietnam and the diffferent altitudes distinguish the different climate zones. There is therefore no bad time to visit this country. When one region is cooler and wetter, then another region may be sunny and dry or vice versa. Southern and Central Vietnam have a warm tropical climate with temperatures between 68 ° and 95 ° F.
There are two different wet periods. In the south (where we stay during this trip) from May to October it is hot and humid weather. In the rainy season there is often a heavy shower, usually at the end of the afternoon and night. The amount of rain, however, varies greatly from place and region . From October and April there is a relatively wet period in the northern part of Vietnam, to the central region.and Da Nang.
Cambodia has a tropical climate. The rainy season runs from June to September when there is no prolonged rainfall, but possibly one or two torrential downpours a day, usually at the end of the day or night. The rain makes the nature lush and a beautiful green. After that it is clear and pleasant.. After February it begins to get hotter. The jungle can also sometimes cloudy in these months.
Our trips are organized with weather conditions in mind. On our website, we will provide you with a weather summary of the region: Check temperature and rainfall for specific cities on your trip, during your month of travel at worldweather.org
Photos & video
Book Trip/Trip Inquiry
Are you ready to book a trip?

* Submit this form to begin your reservation process.  Confirm that names exactly as they appear on a current passports.  If names on your international, domestic flights or visas (if applicable) do not match your name as it appears on your passport, some countries will deny you entry.
TIP:  Also verify your name on your flight records, within 24 hours after reserving to avoid change or cancellation penalties.   
* Pay by personal check or credit card:  Visa, Mastercard, American Express
* Call us with your charge card information.  Your place will be reserved upon receipt of funds for required deposit.
* Refer to the Prices & Dates page for an overview of your total costs & deposit 

* Download the Booking Form with Terms and Conditions
* Fax for with signatures for all participants 18 and over to  484-595-9140 . Or scan to us at luke@djoserusa.com
* Or mail Djoser, Inc., 154 Woodgate Lane, Paoli, PA 19301 - Attn: Luke Neal