Tibet & Nepal Tour, 18 days
 The journey begins and ends in Kathmandu. On our way to the border with Tibet we visit the other royal city in the Kathmandu valley, Bhaktapur. We spend the night in Nagarkot with a view of the Himalayas. Through a beautiful mountain area we travel to Lhasa. Along the way we see impressive monasteries, landscapes and people. We have extended the time to discover Lhasa, the Potala Palace and the Jokhang Temple. At the end of the journey we take a flight back to Kathmandu where we have another day to look around and buy souvenirs.
Join an international group with active travelers of all ages. Most will come from the Netherlands and Belgium. You will find the majority of the group has a superb command of English. Your guide addresses the group in Dutch and English. 
Come with us for a truly cultural adventure!
Itinerary
Arrival Kathmandu
Kathmandu - Bhaktapur - Nagarkot
Nagarkot - Kathmandu
Kathmandu - Syabrubensi
Syabrubensi - Jilong
Jilong - Tingri
Tingri - Sakya
Sakya – Shigatse
Shigatze
Shigatze - Gyantze
Gyantze - Samye Cloister
Samye Cloister - Lhasa
Lhasa
Lhasa, excursion to Ganden and Drak Yerpa Cloister
Lhasa
Lhasa - Flight to Kathmandu
Kathmandu
Kathmandu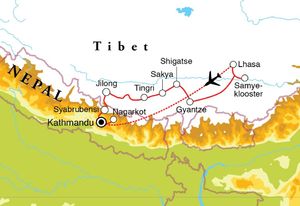 Day by day
Dates and prices
Conditions "Guaranteed leave"
Practical information
Photos & video
Book Trip/Trip Inquiry
                                                       BOOK MY TRIP 

•Begin your reservation process by filling in this TRIP INFO REQUEST and send to us via the website. We will confirm dates and prices, and answer any questions you may have about the trip.
•Download and complete the BOOKING FORM including all participants passport information and payment information. Email a PDF, scan, or clear photo of your completed BOOKING FORM to lukedjoser@gmail.com. All participants over 18 should sign the form.
• A deposit of 20% of total costs will be due upon booking in order to hold your place on the trip. The balance will be due 90 days prior to departure.
• Payments can be made by personal check or ACH wire transfer (domestic wire only). We will send you wire instructions.
• Upon receipt of your form, we will email you a receipt and confirmation of your booking.
• If paying by check, make check out to DJOSER, INC., Mail to Djoser, Inc. – Bookings 420 N. Oakland Drive, #6, Pasadena, CA 91101.
Questions? Call Luke Neal 484-995-2964. (West Coast)