Thailand Cooking Tour, 13 Days
Thai cuisine is famous for its deliciously varied dishes. Join our cooking tour with our international groups  to learn to prepare Thai dishes yourself!!  During this trip through beautiful Thailand. We travel to different places where you can learn to cook in a traditional Thai way, in local settings. In addition to preparing delicious authentic Thai dishes, there is also plenty of time to visit various places of interest, to enjoy the beautiful Thai nature and laze on the beach
Join our international groups with active travelers, of all ages. Most will come from Holland and Belgium, but you will find they have an excellent command of English. Your tour leader addresses the group in Dutch and English. Our skilled land crew have worked with Djoser for many years and make sure things run smoothly.
Itinerary
Arrival Bangkok - Land program begins afternoon
Bangkok, cookery course and visit Yaowarat
Bangkok, cooking course
Bangkok - Ampawa
Ampawa - Khao Yai NP
Khao Yai NP, cooking course
Khao Yai NP, trekking - Chiang Mai (night train)
arrival Chiang Mai
Chiang Mai, cooking course
Chiang Mai, cooking course
Chiang Mai - Bangkok (night train)
Arrival Bangkok - Hua Hin
Hua Hin - Bangkok (land ends evening)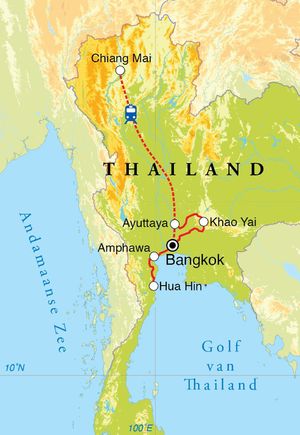 Day by day

Bangkok
Day 1 (transit day for most)
Day 2 arrival Bangkok (LAND PROGRAM BEGINS)
rWe arrive in Bangkok in the afternoon, where we are met by the local tour guide who takes us from the airport to our hotel. In the afternoon you have the opportunity to view Bangkok. An organized city tour is an option, but you can also explore the area on your own.. Visit different temples, the 'Grand Palace', or take a boat trip on the canals of Bangkok. In the evening you can enjoy the delicious Thai cuisine
Cooking courses
Day 3 Bangkok, half day cooking course & evening visit Yaowarat
Day 4 Bangkok, cooking course
The next day you will receive your first cooking class. The lesson takes place in a traditional Thai house. You will learn how to use different Thai ingredients and to taste the meal with local spices. In a Thai meal the balance between the five main flavors - sour, sweet, bitter, salty and spicy - should be good. In the afternoon you have free time to discover Bangkok yourself.
In the evening we pick you up at the hotel to visit Yaowarat, Bangkok's Chinatown. The district has a long Chinese-Thai tradition in the field of food and restaurants. We will meet local street vendors and renowned restaurants. Of course we taste the most delicious dishes, but we get an up-close experience of this lively neighborhood like few visitors experience.
With the knowledge gained from the products and the different dishes on the market, we will cook the entire day. We get acquainted with the different curries and the preparation of these dishes.
Khao Yai National Park
Day 5 Bangkok - visit market Mae Klong - Amphawa
Day 6 Amphawa - Khao Yai national park
Day 7 Khao Yai NP, cooking course
Day 8 Khao Yai NP, trekking - Ayutthaya - night train to Chiang Mai
We leave Bangkok and board a local train to visit the market in Mae Klong. This is a special market in that the train runs straight through, between all the market stalls! As soon as a train passes by, the sellers quickly pick up their merchandise. In Amphawa we meet the other residents of our guesthouse. We have lunch here and then visit a fishing village. In Ampawa there is another floating market which is unknown to most tourists. You can buy ingredients, but also purchase complete meals, from boats.
Early risers can can get acquainted with a recurring Thai phenomenon, before breakfast. Thai monks receive gifts with their begging bowl at temples or along the roadside. Later, we travel by bus to the Khao Yai National Park.
In addition to a cooking course of half a day, where you learn the Isan way of cooking, you will also take a walk through the park. You walk through a beautiful area with many waterfalls accompanied by a guide. He or she will draw your attention to the special flora and fauna. Isan is the name of the northeastern region of Thailand. In the dishes that are prepared here you will find many influences from Laotian cuisine. The dishes are generally stronger in taste than in the rest of the country. After the walk in the park we travel by bus to Ayutthaya. Here we can freshen up in a hotel before we take the night train to Chiang Mai, the capital of the north.
Chiang Mai
Day 9 arrival Chiang Mai, afternoon cooking course
Day 10 Chiang Mai, morning cooking course
Day 11 Chiang Mai, morning fruit cutting lesson
Day 12 Chiang Mai - night train to Bangkok
In the morning you have time to view this walled city, at the foot of Mount Doi Suthep and on the river Ping. You can get to the many temples by bike or public transport such as Wat Phra Sing and Wat Chedi Luang. In the suburbs you can admire the craftsmen who weave silk, make lacquer boxes and parasols, forge silver and work wood. In the afternoon we organize a cooking workshop.
In Chiang Mai you will learn how to make Northern Thai dishes in our two-day stay. The meals here have a much gentler taste and usually there are several bowls with roasted meat, rice and vegetables. Everyone eats, sitting on the ground. Finally, in the afternoon, we pay attention to Thai desserts, which usually consist of artfully cut fruit. We learn the intricacies of fruit cutting. Loaded with new Thai cooking skills, we travel back to Bangkok with the night train.
Beach of Hua Hin
Day 13 arrival Bangkok - Hua Hin (Beach)
Day 14 Hua Hin (beach) - Bangkok (Land ends late evening)
After arriving in Bangkok we drive to Hua Hin by bus. This place on the beach is used by many residents of Bangkok to escape the bustle of the city. You can relax here and in the evening, visit the night market, and then eat in one of the many restaurants before we drive to Bangkok the next day where our program comes to a close.
Dates and prices
Conditions "Guaranteed leave"
Price includes
Transport by bus & night train with couchettes
Hotel stays with breakfast
Foodie tour on day 3 and half-day cooking course
Full day cooking course on day 4
Half day cooking course on day 7, 9 and 10
Half day decorative fruit cutting course on day 11
Visit Mea Klong market
Guided walk in Khao Yai National Park
Local, English-speaking guide
Cost Overview
Below is a summary of additional costs 

$350 . - Additional for a single room 

$300 . -  Estimated out of pocket, weekly (other meals, entry fees) 
$50 .  -   Joint Tip pot (for driver, hotel staff - does not include tip for guide)

Bangkok Extension hotel night at beginning or end of trip 
$70.00 .  Double Room 
$60.00 .  Single Room 
Meals - Breakfasts included, 4 lunches and 4 dinners. 
Practical information
Accommodations & Meals
We spend the night in centrally located, tourist class hotels, where the rooms have their own shower / toilet and usually have air conditioning. We stay a night in a guesthouse. All rooms have air conditioning or fan and private shower and toilet. There are opportunities everywhere to do your laundry or to have it done.
Below are examples of our lodgings: (Subject to change)
Bangkok .                   Pinnacle Lumpinee
Amphawa                   NR Amphawa Homestay
Khao Yai                    Khao Yai Nature Life Resort
Chiang Mai                The Park Hotel
Hua Hin                      Golden Beach Cha-am

Single room
Individual travelers are, in matched with other single travelers of the same sex. You may request a singler room on your booking form for an additional charge (see Prices & Dates)
Meals
Breakfast is included in this trip. The other meals are not included during the trip, so you are free to choose where and when you will eat. During the cooking courses you learn to prepare all sorts of different dishes and of course you can eat them yourself afterwards.
On the days that there is no cooking course, there is plenty of opportunity to enjoy delicious dishes at local eateries.
The basis of the Thai meal is rice. A large variety of tasty meat and vegetable dishes are served, often seasoned spicy or flavored with fresh coriander and ginger. 'On the street' you can eat for often only one or two euros, you have a delicious meal and a drink. A lot of fresh fish is prepared on the coast. In the larger towns there are also plenty of restaurants with western cuisine.
Hotel extension

An extension can be booked with accommodation in Bangkok and Hua Hin. In Bangkok you will stay in a centrally located tourist class hotel before or afterwards.Airport transfers are not included.  See Prices and Dates page. 
The price for Hua Hin is on request.
Flights & Transportation
We offer the LAND PROGRAM ONLY so you will need to arrange your own flights.The majority of participants will arrive together on a flight, from Amsterdam. So that you do not miss any portion of the program, or the first group meeting, schedule your flight to arrive prior to, or at the same time as the flight arriving from the Netherlands.
Arrival Day 1 - Arrive by 1 AM
Depart Day 13 - Plan to leave late evening
Airport transfers are not included with the land program. However, if your flight departs from Bangkok at the same time or within an hour or two of the Dutch travelers' flight, (see schedule below), you are welcome to take group bus transfer with the Dutch travelers to the airport, free of charge.

The Dutch travelers will be flying with:
Qatar Airways - subject to changes:

Bangkok 1 PM - Dutch & Belgians arrive
Bangkok 2 AM (Day 14)
When booking a land arrangement, keep in mind that a minimum number of participants applies to all our journeys. Do not book your flights until you receive email verification that we have adequate bookings for the trip to go. (Typically 10, but this varies) 
Transport
In Thailand we cover most of the journey with a private bus. Traveling with own transport has the advantage that we can stop regularly in the villages and places we drive through, for example to visit a small local market or other attractions. Bus transport is air conditioned throughout the year.
From Ayutthaya to Chiang Mai and from Chiang Mai to Bangkok we travel with a comfortable night train, where couchettes are reserved. Sheets and blankets are provided in the train.
In the various villages and cities you can use a typical local means of transport, the tuk-tuk, a kind of covered moped. In addition, it is possible in some places to explore the area on a rented bike if the sights are not within walking distance.
Money Matters
In Thailand you pay with the baht. Look for the current rate on oanda.com .
ATM: cash dispensers can be found in virtually all places in Thailand.
Cash: 
Credit cards: are accepted in major cities and at the more luxurious stores.
 
As a guideline for expenses that are not included in the fare, such as meals, entrance fees, optional excursions and personal expenses, you should budget minimum of $285  per person per week applies.
It is customary in Thailand to give a tip for services rendered. In order to avoid having to always dispose of tips, a tip jar is set at the beginning of the trip from which tipping is paid to the bus driver, hotel staff and others. The guideline for the tip jar is approximately  $45 per person. 
Excursions

There is lots of group time, but you will have ample time to explore independently, as well. At Djoser you decide which sights you prefer to visit. One may enjoy ambling the streets and shopping , another may want to explore temples, or sit down on the terrace, to observe daily life while enjoying a delicious Thai meal. In most cases you can get to interesting places on foot or with local transport on your own or with fellow travelers. Join the guide to explore or go out on your own.  As you can follow your preferences, admission fees are not included in the cost, but we have provided a weekly estimate of out-of-pocket expenses (for usual entry fees and meals which are not listed as included).  
Some interesting places are difficult to reach or are 'en route' to our next lodging.  Such excursions are included in the program at Djoser. For all excursions included in the program, the entrance fee is exclusive.
During this trip the following excursions are included in the program:
Bangkok - half-day cooking class followed by self-made lunch
Bangkok - in the evening foodie tour in Yaowarat with tasting
Bangkok - cook all day with homemade lunch and dinner
Amphawa - visit to Mae Klong market and fishing village, lunch and dinner
Khao Yai NP - half-day cooking class followed by self-made lunch
Khao Yai NP - walk with ranger (excluding entrance park)
Chiang Mai - half day cooking class with self-made dinner
Chiang Mai - half-day fruit cutting course
Many other excursions are possible on the spot. In Bangkok there are many possibilities such as a visit to the impressive Grand Palace in Bangkok.
Health Issues & Insurance
For this trip is recommendations are;
Vaccinations against DTP and hepatitis A.
It is wise to pay some attention to what you eat. We also advise you to take a small medical kit with ao aspirin and medicines for intestinal disorders. The tour guide is in possession of a medical kit containing sterile medical equipment.
Tour Leaders & Support Staff
 The tour guide on this trip is an English-speaking, local tour guide who tells you extensively about the local customs, nature and cultural backgrounds of Thailand. Together with our local representative on site, he is responsible for the organizational aspects of the trip.
Climate & Geography
 
Thailand has a tropical climate. The rainy season runs from June to September. There is no long-term rainfall, but possibly one or two intense showers of rain per day, usually at the end of the day or at night. The rain makes nature lush and green in this period. Three seasons can be distinguished:
From March to mid June: hot and dry, daytime temperature about 30-35 ° C.
Mid-June to September: hot and humid, daytime temperature about 28-32 ° C.
From October to February: relatively cool and fairly dry, around 18-32 ° C during the day.
Photos & video
Book Trip/Trip Inquiry
Are you ready to book a trip?

* Submit this form to begin your reservation process.  Confirm that names exactly as they appear on a current passports.  If names on your international, domestic flights or visas (if applicable) do not match your name as it appears on your passport, some countries will deny you entry.
TIP:  Also verify your name on your flight records, within 24 hours after reserving to avoid change or cancellation penalties.   
* Pay by personal check or credit card:  Visa, Mastercard, American Express
* Call us with your charge card information.  Your place will be reserved upon receipt of funds for required deposit.
* Refer to the Prices & Dates page for an overview of your total costs & deposit 

* Download the Booking Form with Terms and Conditions
* Fax for with signatures for all participants 18 and over to  484-595-9140 . Or scan to us at luke@djoserusa.com
* Or mail Djoser, Inc., 154 Woodgate Lane, Paoli, PA 19301 - Attn: Luke Neal