Sri Lanka Safari, 14 days
 Sri Lanka has beautiful well protected national parks with a surprising variety of flora and fauna. Because of its isolated location, it has special native species. Nowhere in Asia is biodiversity as big as in Sri Lanka. For the nature lover and birdwatcher, the exotic island is a true paradise. During this trip we visit the best national parks, but also have a look at a number of cultural attractions.
Itinerary
Colombo - Negombo
Negombo - Wilpattu national park
Wilpattu NP, full day safari
Wilpattu NP - Anuradhapura - Habarana
Habarana, Sigiriya - Minneriya national park, 'game drive'
Habarana - cycling tour Kandalamameer - Dambulla - Kandy
Kandy, hike Knuckles Mountain Range
Kandy - train to Nuwara Eliya
Nuwara Eliya, walk Horton Plain
Nuwara Eliya - Yala national park, 'game drive'
Yala NP, 'game drive' - Kalawana
Kalawana - walk Sinharaja rainforest - Anhangama
Anhangama, optional whale excursion Mirissa
Anhangama - Colombo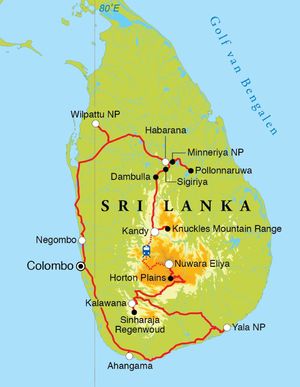 Day by day
 Wilpattu national park & ​​Anuradhapura
Day 1 Transit day (Hotel extension night recommended) 
Day 2 arrival Colombo (land program starts)   - Negombo
Day 3 Negombo - Anawilundawa Ramsar wetland - Wilpattu national park
Day 4 Wilpattu, 'game drive'
Day 5 Wilpattu - bike ride Anuradhapura - Habarana
After arriving in Sri Lanka we take a look at the daily we live and visit the fish market. We stay in Negombo in a hotel on the beach. The next day we travel to Wilpattu, Sri Lanka's largest park. On the way we visit Anawilundawa Ramsar Wetland, which consists of a number of irrigation lakes. The place is an important foraging area for migratory birds and local bird species.
pUpon arrival in Wilpattu we stay in attractive safari tents. The next day we take a full day safari in the park with jeeps. In terms of landscape, this is Sri Lanka's most beautiful park. Large lakes, dense forests, savanna and swamp areas alternate. We go in search of wild boar, buffalo, deer, crocodiles and mongoose. The most famous but shy inhabitants are the leopards and slot bears.
We continue our journey to Habarana. The grandeur of the old capital Anuradhapura is still clearly visible. The numerous historical monuments are easy to visit by bicycle.
Rock Fort Sigiriya, Minneriya National Park
Day 6 Habarana, visit Sigiriya - safari in Minneriya National Park
Day 7 Habarana, Cycle Tour Kandala Lake & Rock Stamps from Dambulla - Kandy
On a high rock plateau King Kashyapa built his impregnable Syigirya lion fortress. Iron stairs lead you up a steep cliff. On the way you will pass the beautiful frescoes in the 4th century. The climb is rewarded with a spectacular view of the green surroundings.
After lunch we transfer to jeeps for a safari in Minneriya National Park . We enter the open field on bumpy roads through dense forests. Undoubtedly we see large herds of grazing elephants here, sometimes 100 together, locally called The Gathering; it is an idyllic scene! Brightly colored bee-eaters, ospreys, herons, storks and other special bird species will have you grabbing for your binoculars. The park has no less than 160 bird species.
We leave Habarana and travel to Kandy. En route we explore the beautiful surroundings of Kandala Lake the next morning by bicycle. We are greeted in the villages by friendly children. Our local guide shows us the different bird species, which are attracted by the lake. The special rock stamps of Dambula are richly painted and contain ancient Buddha statues.
Kandy, Knuckles Mountains & Horton Plains
Day 8 Kandy, hike Knuckles Mountains
Day 9 Kandy - train to Nuwara Eliya
Day 10 Nuwara Eliya, hike Horton Plains
In the cool of the morning we explore the Knuckles Mountain range on foot. Our walk leads through a dense forest, along rivers and splashing waterfalls. The views on the mountains are nothing short of spectacular. Many plant species in this environment are endemic. Beautifully colored flycatchers, parakeets, bulbuls and crested beard birds attract your attention.
In Kandy, the Temple of the Tooth is the most important Buddhist temple in the country. Here an important relic, a tooth of Buddha, is shown to believers daily in a ceremonial way. We visit this complex in the morning, then we drop off at the train station. As soon as you put your hand out of the train window, you will feel that the heat from the lowlands is being replaced by cooler mountain air. The train ride to Nuwara Eliya leads through bright green tea plantations, where women in colorful saris fill the baskets on their backs with tea leaves. In the satdion nets where we stop, time seems to have stood still and you can see everything.
Minibuses take us to the Horton Plains the next day. An area that is crossed by a few large rivers. Typical for this park are large groups of Sambar deer who graze seemingly undisturbed. Our walk leads to a well-known viewpoint World's End and along the Baker Waterfall. Our guide points us to bird species that are not only indigenous, but some of which occur exclusively here.
Yala national park & ​​Sinharaja rainforest
Day 11 Nuwara Eliya - Yala National Park , 'game drive'
Day 12 Yala national park, morning 'game drive' - Kalawana
Day 13 Walk Sinharaja rainforest - Anhangame
You are most likely to see the real star of the animal kingdom, the leopard, in  Yala National Park . As true models they pose for your camera and look at you arrogantly and fearlessly. The park, which consists of dry forest land and a few open plains, forms a habitat for many different mammals. With our jeeps we walk through the park in the afternoon and look for elephants, sambar, wild buffalo, various mongooses, jackals, civet cats and cheeky monkeys that seem to have jumped out of Kipling's Jungle Book.
After an overnight stay in Tissamaharama we make a 'game drive' in this beautiful park in the morning. The rainforest of Sinharaja is on the world heritage list. This is a very different humid environment with lush impenetrable forests, rivers and waterfalls. During a walk we look for the residents, where we focus on the endemic plant species, the no less than 45 different types of reptiles, including beautifully colored boas, vipers, agamis and chameleons and special birds. We end our '' hike '' with a dive at a waterfall.
Anhangama & whale safari
Day 14 Anhangama, optional whale trip
Day 15 Anhangama - Colombo - 
After our tour of the island, it is wonderful to stay in a hotel on the beach of Anhangama. Here you can enjoy an idyllic sight or take a trip on your own to the Galle founded by the VOC, the early Dutch trading company.
But also in the Indian ocean, which surrounds the island, is full of animal life. The town Mirissa is a good location for spotting different sea mammals. Optionally a boat trip can be made here. Many dolphins are spotted in the waters around Sri Lanka. With some luck you spot ordinary dolphins, risso dolphins or jumping bottlenose dolphins. Even more impressive, however, is an encounter with the biggest giant from the ocean: the blue whale. We travel back to Colombo where our trip comes to an end. 
Dates and prices
Conditions "Guaranteed leave"
Price includes
Land program
Hotel stays with breakfast
\Dinners during stay in Wilpattu National Park 
Guide accompanied - Speaks Dutch and English
Local English speaking naturalist
Transport by air-conditioned bus
Game drives'per jeeps according to program
Bike ride near Anuradhapura
Cycling tour Kandala more
Entrance fee Wilpattu National Park 
Entrance fee to Minneriya National Park 
Entrance fee Yala National Park 
Entrance fee Sinharaja rainforest
Cost Overview

$450.00 - SIngle Supplement 
$360 .   Estimated out of pocket expenses weekly for meals, entry fees, tips and incidentals. 
  
$50 .   Group Tip Pot (for driver, porters - does not include a tip for your tour guide. TIpping is appreciated and the amount is up to uyou. 
Colombo . - Extension hotel room 
 Please inquire 
Ahangama - Extension hotel Room 
$150.00
$120.00
Practical information
Accommodations & Meals
 At the hotels that are centrally located, you can easily visit the center on foot. At the hotels that are more remote, you can use a taxi to get to the center.
In the remote Wilpattu national park we spend the night in a tent camp. Your safari tent has a normal bed and a sanitary area. A mosquito net hangs above the bed. Due to the remote location of this park, breakfast and dinner are included at this property.

Our typical hotels
Negombo Beacon Beach Hotel
Wilpattu NP Big Game Camp
Habarana Joes Habarana Hotel
Kandy Hotel Hill Top
Kandy Hotel Thilanka
Tissamaharama Chandrika Hotel
Kalawana Blue Magpie Hotel
Anhangama Insight Resort
Single Room
Single travelers will be matched with a roommate of the same sex. If we cannot match you, there is no additional charge.

If you wish to have a single room, please indicate on your booking form (extra cost).
Breakfast  is included in all places. During the stay in the remote Wilpattu national park are also included the dinners. The other meals are not included, so you are free to decide what, where and when you eat. The tour guide can advise you on cozy restaurants, where the food is tasty and good. Please note that during this trip there are not many options for eating out in a few places. All hotels also have their own restaurant.
The breakfast in the hotels is good and varied. From toast and eggs to a real Sri Lankan breakfast with rice. The food in Sri Lanka has the main ingredient rice. A traditional Singhalese meal also consists of so-called curries. You get all small dishes with very different contents: from spicy 'pickles' to heat-soothing coconut scallop. There are fish, meat and vegetarian curries. Be sure to try such an extensive meal. The menus in the restaurants are varied so that everyone can eat what he or she wants. Sri Lanka is also known for its delicious and diverse fish dishes, varying from shrimp to shark.
Flights & Transportation
 
We provide the land program only. You will be meeting the guide and hotel at the first hotel. Because the bulk of the travelers will arrive from Amsterdam, our land program begins and ends based on their scheduled flight arrival and departure.
So that you will not miss the Welcome meeting or first activity. book your flights based on the flight times of Dutch participants below
Arrive COLOMBO - 8:40 AM . Arrive prior to or same time *
Depart COLOMBO - 10:05 AM . Depart anytime after check out
*As the land program begins in the A.M. we recommend that you book an extension hotel night for the prior night. Please indicate your preference on your booking form.
Excursions
Your guide will have a daily plan. You are free to join the guide and group or explore on your own.  Entry fees are not included so you should not feel  obligated to participate. We believe independent explorations are also important for a successful trip.   
During this trip through Sri Lanka the following excursions are included in the itinerary:
Full day (day 3) safari with jeeps in Wilpattu national park (including entrance park)
Cycle tour Anuradhapura (excluding entrance archaeological site)
Half day (day 5) safari with jeeps in Minneriya national park (including entrance park)
Cycling along the Kandala lake
An afternoon (day 10) and a morning (day 11) safari with jeeps in Yala national park (including entrance park)
Guided walk (day 12) with guide in Sinharaja rainforest (including entrance park)
On the way we stop our bus at a number of places, for which you only have to pay the entrance fee to go inside:
• Visit to Buddhist monastery Ritigala (day 4)
• Sigirya Lion Castle, spectacularly situated on a rock plateau (day 5)
• Visit to the famous Dambulla rock dams (day 6)
• Walk through the Knuckles Mountains on day 7
• Kandy - visit the Temple of the Tooth (day 8)
Photos & video
Book Trip/Trip Inquiry
                                                       BOOK MY TRIP 

•Begin your reservation process by filling in this TRIP INFO REQUEST and send to us via the website. We will confirm dates and prices, and answer any questions you may have about the trip.
•Download and complete the BOOKING FORM including all participants passport information and payment information. Email a PDF, scan, or clear photo of your completed BOOKING FORM to lukedjoser@gmail.com. All participants over 18 should sign the form.
• A deposit of 20% of total costs will be due upon booking in order to hold your place on the trip. The balance will be due 90 days prior to departure.
• Payments can be made by personal check or ACH wire transfer (domestic wire only). We will send you wire instructions.
• Upon receipt of your form, we will email you a receipt and confirmation of your booking.
• If paying by check, make check out to DJOSER, INC., Mail to Djoser, Inc. – Bookings 420 N. Oakland Drive, #6, Pasadena, CA 91101.
Questions? Call Luke Neal 484-995-2964. (West Coast)