Russia & Finland - The Hunt for the Northern Lights. 10 days
 
Join us on the hunt for the magical green light in the far north of Russia and Finland.This is  journey to observe the timeless phenomenon: the aurora borealis or the Northern Lights! We look for the lights in the north of Russia and in Finland. Winter in the far north of the European continent is also worthwhile even if you we aren't able to see the lights.
Join our active, international groups of all ages. Most will come from the Netherlands and Belgium which adds to the cultural aspect of this trip. You will find almost all of your fellow travelers speak great English!. Our guide addresses the group in Dutch and English. 
Itinerary
St. Petersburg
St. Petersburg
St. Petersburg- night train to Kirovsk
arrival Kirovsk
Kirovsk - evening train to Murmansk
Murmansk
Murmansk, excursion Teriberka
Murmansk - Ivalo
Ivalo
Ivalo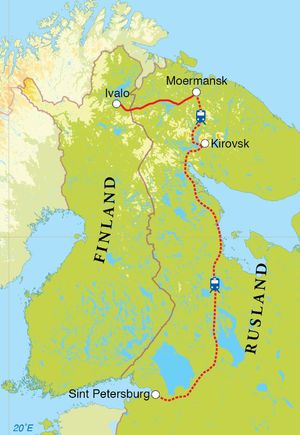 Day by day
UNDER CONSTRUCTION  - 14 day trip
Dates and prices
Conditions "Guaranteed leave"
Practical information
Accommodations & Meals

We spend the night in tourist-class hotels, where the rooms are always equipped with their own shower and toilet. The Russian hotels were built in the 1970s and 1980s in the typical rectilinear Soviet version. A dying phenomenon in the Russian hotel system is the dezjoernaja, the floor lady, who manages the room key, and provides drinks and hot water for tea. In St. Petersburg we stay in Gostevoy Fond, situated in a good location in one of the typical Soviet buildings in the city. North of the Arctic Circle, the accommodation is traditionally furnished with all the amenities for a cold winter.
Typical hotels: 
Kirovsk          Gornaya Dolina
Murmansk     Moryak
Ivalo              Hotel Ivalo
Ivalo              Kultahippu Hotel
Single room
Individual travelers are matched with other single travelers of the same sex. If you do not want to be classified with another participant, you can book a single room for the listed additional charge. 
Hotel extension
Extension or advance can be booked with accommodation in Saint Petersburg or Ivalo.
Meals
Breakfast is included with this trip. Breakfast consists of bread, a dish with cheese and sausage and a fried or boiled egg. Sometimes there is fruit juice and yogurt, at least tea and coffee. You can make your choice for lunch and dinner. In the larger cities, a large number of new restaurants have come in recent years, in the smaller cities the choice is more limited. In the big hotels and restaurants, ordinary European dishes are prepared: soup, meat / fish with rice or potatoes. Yoghurt and salads are widely available. The dessert is usually limited to ice cream.
The national drink in Russia is tea. Coffee, always served black, is much less drunk. Tap water is good and clean, but does not always taste good. In Saint Petersburg, drinking tap water is not recommended. Here you can use the best bottles of water.
Flights & Transportation
 We provide the land program only therefore you will need to book your own international flights. Since the majority of the participants are Dutch and Belgian, and will be arriving from Amsterdam, our start and end times for the land program are based on their arrival and departure times.  You should organize your own flights to correspond with their arrival times. Make sure you arrive at the same time or prior to their scheduled arrival so you will not miss the welcome meeting or any activity. 
The Dutch participants will arrive:
Saint Petersburg . 7:00 AM
Ivalo - 13:55
If your scheduled flight leaves at the same time or within an hour or two after, you are welcome to join the Dutch participants on the bus to the airport, at no additional charge. 
Transport
We travel partly in Russia and Finland by train and with a comfortable bus.From St. Petersburg to Apatity we travel with a comfortable train; this journey takes about 24hr. This is actually the best way of traveling Russia. In the 2nd class coupés there are 4 beds and sheets and a blanket is provided. We can stretch our legs in the aisle and the restoration car is open for a large part of the day. During the trip there is also a regular stop and you can usually go outside. We also travel by train from Apatity to Murmansk.
From Apatity to Kirovsk and back we travel by bus. From the departure from Murmansk we continue with a private bus to Ivalo. We can stop in this way wherever we want to stretch our legs, take a picture or visit a beautiful place.
In St. Petersburg metro, tram and taxi are convenient means of transport.
Money Matters
 Included:
Land Program 
Transport by bus
Hotel stays with breakfast
Overnight stays in train in 2nd class coupés (4 people)
City walk through Saint Petersburg
Snow shoe tour near Teriberka on the Barents Sea
Tour Leader assisted
Money matters
In Russia there is paid with the Russian ruble (RBL). The Euro is used in Finland. Look for the current prices on oanda.com .
ATMS: there are ATMs in most of the big places where overnight. 
Cash: you can change dollars at banks. 
Credit cards: can be used in many places.
You will need to budget for  expenses that are not included in the fare, such as meals, entrance fees, optional excursions and personal expenses. 
It is customary to give tips for services rendered. In order to avoid having to always dispose of tips, a tip jar is set up at the start of the trip, from which the (joint) tips are paid to the drivers, guides, hotel staff, etc. The guideline for the tip jar for this trip is around $25. 
For all estimated costs, see COST SUMMARY on Dates & Prices section. 
Excursions
Your tour leader will have many activities planned. You are free to join the group and guide or you may go exploring on your own. The cost of entry fees are not included so you can select those things that you would like to do. 
You can not miss some places of interest, are difficult to reach or are 'en route' to our next place to stay. Such excursions are included in the program at Djoser. The admission fee is also exclusive for excursions included in the program.
During this trip the following excursions and points of interest are included in the itinerary:
City walk through Saint Petersburg with Nevsky Prospekt, the Hermitage and the Peter and Paul fortress.
Stay in the outdoor sports area in Kirovsk
Snowshoe tour near Teriberka village on the coast of the Barents Se.
 
During the trip, other excursions are possible that are certainly worthwhile.
A short distance from Saint Petersburg, for example, are imposing outdoor residences of the 18th-century tsars that can be visited. These are out-of pocket costs. 
Skiing or other snow sports in Kirovsk
Visit to Saami community in Russia
Reindeer safari in Ivalo or Murmansk
Visit to the Siida Saami museum in Inari
 
Travel Documents
Visa for Russia is needed.  We will provide further information. 
Passport - must be valid for 6 months beyond exit from country 
About 4 weeks before departure you will receive more information about the visa application
It is important that, in your passport, two blank pages are free for the visa.
Health Issues & Insurance
No vaccinations are recommended for this trip. It is wise to take a medical kit with aspirin and medicines for intestinal disorders. The tour guide is also in possession of a medical kit containing sterile medical equipment.
Group Composition
 Minimum group size: 10  Maximum: 20
You will join an international group with active  travelers of all ages.  We will be happy to provide the group demographics upon request (age range, male/female, # singles). 
As we partner with Djoser, Netherlands for this trip, most participants will be arriving from Holland and Belgium.  You will find most have a superb command of English.  The international make-up of the group adds to the cultural experience. 
Tour Leaders & Support Staff
 A Dutch tour leader will accompany the group and will address the group in Dutch and in English. He or she will make sure that you get the important information. The tour leader is a logistics coordinator and not a lecturer. They have good knowledge of the area and in addition to coordinating planned activities, can suggest fun things for independent activities and dining.
We work closely with our in-country representatives who help us insure that our trips run smoothly. They have years of experience working with Djoser
Climate & Geography
In Russia and Finland it becomes cold in the winter. The days are very short, but often clear and sunny. Temperatures in St. Petersburg are falling below freezing. In the coldest month, January, it's average at -10 ° C. In the Murmansk and Finnish Lapland oblast it is often even colder, so thermo clothing is not a luxury. In the winter there is also a lot of snow, of course indispensable for the necessary snow fun!
The primeval landscape is characterized by its untouched nature with many pine forests and thousands of clear lakes.
Photos & video
Book Trip/Trip Inquiry
                                                       BOOK MY TRIP 

•Begin your reservation process by filling in this TRIP INFO REQUEST and send to us via the website. We will confirm dates and prices, and answer any questions you may have about the trip.
•Download and complete the BOOKING FORM including all participants passport information and payment information. Email a PDF, scan, or clear photo of your completed BOOKING FORM to lukedjoser@gmail.com. All participants over 18 should sign the form.
• A deposit of 20% of total costs will be due upon booking in order to hold your place on the trip. The balance will be due 90 days prior to departure.
• Payments can be made by personal check or ACH wire transfer (domestic wire only). We will send you wire instructions.
• Upon receipt of your form, we will email you a receipt and confirmation of your booking.
• If paying by check, make check out to DJOSER, INC., Mail to Djoser, Inc. – Bookings 420 N. Oakland Drive, #6, Pasadena, CA 91101.
Questions? Call Luke Neal 484-995-2964. (West Coast)