Poland Tour, 14 days
 Anyone traveling through Poland will soon discover that the country is extremely diverse. You will find high mountains in the south, low plains with meadows and primeval forest in the central part of the country and a 440 km coastline in the north. And not only the landscape is diverse, cities such as Gdansk, Wroclaw, Krakow and Warsaw each have their own charm in which the historical heritage is clearly visible and tangible.
Join our international groups with active travelers, of all ages. Most will come from Holland and Belgium, but you will find they have an excellent command of English. Your tour leader addresses the group in Dutch and English. Our skilled land crew have worked with Djoser for many years and make sure things run smoothly.
There is ample time for group exploration. Count on lots of walking. But sometimes, it is great to be able to break off and explore on your own. Your guide can make some great suggestions.
Join us for unforgettable cultural, nature and local experiences!
Itinerary
Warsaw
Warsaw
Warsaw - Bialowieza national park
Bialowieza NP - Hitlers Wolfsschanze - Masuria
Masuria - Marienburg - Gdansk Palace
Gdansk
Gdansk - Torun - Poznan
Wroclaw - Auschwitz - Krakow
Krakow
Krakow, optional Wieliczka salt mine
Krakow - Zakopane
Zakopane
Zakopane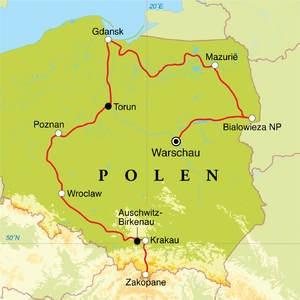 Day by day
(Text editing in progress)

Day 1. Warsaw
Day 2. Warsaw
Day 3. Warsaw - Białowieża NP
Day 4. Białowieża - Masuria
The land program begins at our first hotel in Warsaw where you will meet the tour leader and participants who have arrived from Amsterdam. 
Warsaw was founded in the 13th century. The name would come from two lovers who lived here: War and Sawa. Perhaps this history was one of the greatest sources of inspiration for the world famous composer from the Romantic period, Frederic Chopin. He was born in the Hertogdom of Warsaw and in the current capital we find many references to his presence and greatness.
Warsaw was almost completely destroyed in WWII and in the period after the war the old center was restored in detail. And this is so skilfully done, that the city has since gone through life as the 'wonder of Warsaw' and also on UNESCO's World Heritage List. The city is divided into an old and new center.
The old part of the city is like a ring around the Oude Stadsmarkt and the new part is all around, how could it be otherwise, the Nieuwe Stadsmarkt. For example, walk the Royal Route that takes you to many places of interest. The route starts at the Slotplein (Plac Zamkowy) and through various palaces the route ends at the Wilanow Palace, baroque summer residence from the 17th century surrounded by beautiful gardens. It is also advisable to take a bike ride through the center and get a good feeling of the city.
In the center of Warsaw we see the memory of a rich past, but the Poles have also started to live in the future after WWII. This is clearly visible in the development of the arts. The Museum of Modern Art in the city offers exhibitions of national and international artists and there are dozens of small art galleries in the city where young talent can find a platform to showcase their skills. A modern museum that is reminiscent of history is the Warsaw Rising museum. Polish cuisine has many soups and stews. Taste the delicious pierogi in one of the eateries(dough packets filled with cabbage and cheese), and certainly try bigos , a Polish hunting dish of (sour) cabbage, carrots, and various types of meat, such as sausage, beef, pork, lamb and / or game.
From Warsaw we leave for the east for a special stop: the primeval forest of Białowieża . This national park houses one of Europe's oldest forests and has a famous resident, the wisent.Only 300 of these bison-like animals live in the wild at the moment. You will also find deer, wolves, lynx, beavers and about 120 different bird species. We have the time to take a nice walk through this ancient forest or take a bike out. One of the best vodkas comes from these regions and the name is Zubrowka, which can be traced back to the Polish word for wisent, 'Zubr'.
Mazury and Hanseatic city of Gdansk
Day 5. Masuria - Gdansk
Day 6. Gdansk
Day 7. Gdansk - Poznan, visit Torun
Day 8. Poznan - Wroclaw
The next day we drive north to historic Mazurythat once was part of East Prussia. The region is known for the more than 2000 lakes and attracts many water sports enthusiasts every year. Of course, this wetland area is also a paradise for birdwatchers. This is the habitat of cormorants, (black) swans and sea eagles among others.
Gdańsk- formerly known under the German name Danzig - is according to some the most beautiful city in Poland. This port city has a (maritime) history that dates back to 1000 years and is full of rich traders and foreign influences. This is reflected in the elegant buildings and narrow stone streets that give the city a unique atmosphere. Wander through the pleasant streets, admire the red brick churches and relax at one of the characteristic cafés. In the Golden Age there was a lot of trade with the Netherlands and much of the red brick and the style of the houses remind of this time. Around the so-called Ulilca Dluga and Dlugi Targ is the cosiness in this cozy city.
It is possible to take a boat trip along the shipyards to the Westerplatte. This is the point where on September 1, 1939 the Second World War broke out. Another historical event took place at these shipyards in 1979 where Lech Walesa was employed. He founded the trade union Solidarnosc and in that year he rebelled against the regime.
Another ancient city is Poznan. It is exactly in the middle of the route between Moscow and Paris, making it a well-visited and vibrant city in the past. Now it is an atmospheric student city where, in addition to many sights, you can also enjoy a pleasant nightlife until the wee hours. Poznan has a rich history and here too a Royal Imperial route leads past the sights. On theOstrow Tumski cathedral island we find the Peter and Paul basilica and a number of museums that tell stories about the history of this island. Pope John Paul once said that Poland began at that point.
Torun Djoser square church PolandThe medieval city of Torun enjoys fame thanks to its world-famous resident Nicolaus Copernicus , but also has a well-preserved, historic town that has been on the UNESCO World Heritage List since 1987. The ginger bread from Torun is famous, so try to get a piece of it.
The next city in our program is Wroclaw, also called the 'Venice of Poland' thanks to the no less than 127 bridges that connect the more than 12 islands in the Oer River. You pronounce the name Wroclaw as 'Vrotswav'. This city has always been a melting pot of different states and cultures over the years. You will find beautiful Gothic churches, mansions in renaissance style and palaces from the Baroque.
Krakow and Auschwitz-Birkenau
Day 9. Wroclaw - Krakow, visit Auschwitz
Day 10. Krakow, optional visit Wieliczka salt mine
Day 11. Krakow
From Wroclaw it is about 2 hours drive to the concentration camp Auschwitz-Birkenau. In WWII this former army base was used as a concentration camp. 1.1 million people have died here. Despite the fact that history is known to everyone, this camp makes a big impression on all visitors. The complex is visited with an English speaking guide. After this impressive experience we drive to Krakowwhich, besides a lot of history, also offers a lot of fun. You almost trip over the sights and it is also the most visited city in Poland. Stroll through the old town at ease and be led to the Cloth Hall or Sukiennice: a 16th-century market hall with still existing merchant stalls where you can buy souvenirs for the home front. Dive into one of the many beautiful churches, view city palaces, merchant houses and other richly decorated buildings that are rich in Krakow.
A few kilometers outside of Krakow there is another special attraction: the Wieliczka Salt Mine. It is one of the largest salt mines in the world and the mines below the town are 300 km long and 350 meters deep. The corridors are filled with salts of historical and mythical figures such as Pope John Paul II and a picture of the last supper of Leonardo da Vinci. Wonderful to see! The acoustics in the beautiful underground chapel are fantastic and concerts are regularly organized. In 1830, a "Wieliczka" Salt Mine Brass Band was even established that is not only known in Poland.
Tatra Mountains
Day 12. Krakow - Zakopane
Day 13. Zakopane
Day 14. Zakopane - Krakow -
The last stop of our trip is the picturesque town of Zakopanethat at about 1000 meters altitude lies at the foot of the Tatra Mountains. On the way to the mountain village we can make a stop and descend the Dunajec river on traditional rafts . We sail through gorges surrounded by impressive mountains and forests. Zakopane in the winter is Poland's place for skiing and cross-country skiing. In the spring and summer, the mountains invite you to take beautiful walks. Also stroll through the cozy street Krupówki, this is one of Poland's most famous streets that is more than 1 km long and consists of shops, restaurants and hotels. After a few wonderful days full of nature our trip comes to an end.  
Dates and prices
Departure dates 2023
Departure dates 2024
| Land Begins | Land Ends | Price | Availability | |
| --- | --- | --- | --- | --- |
| May-18-24 | May-31-24 | $2,685 | 22 seats | book now > |
| Jun-08-24 | Jun-21-24 | $2,750 | 22 seats | book now > |
| Jun-15-24 | Jun-28-24 | $2,750 | 22 seats | book now > |
Conditions "Guaranteed leave"
Price includes
Land package
Tour guide assistance
Transport
Hotel stays with breakfast
Visit the primeval forest of Bialowieza
Excursion to Mariënburg Castle
Visit Auschwitz-Birkenau with English speaking guide
Price excludes
 International flight
Airport transfers
Meals
Entry fees
Tips and personal expenses
Cost Overview

$430   Single Room 
$210 .    Estimate for Out of Pocket Expenses (weekly)
$25 .      Tip Pot 
Warsaw Extension hotel room 
$130 .   - Double Room 
$90 .     -  Single Room 
Krakow Extension hotel room 
$130 - Double Room 
$100 - Single Room 
Trips denoted with the green "G" or most likely to reach adequate enrollment to go, based on prior years booking patterns. 
Practical information
Accommodations & Meals
We spend the night in middle class hotels, where the rooms are always equipped with their own shower and toilet. A number of hotels have been renovated in recent years. This means that they are fully equipped. Some guesthouses are cozy and characteristic, other hotels are larger and more impersonal. They are generally within walking distance of the inner cities. Sometimes you take a taxi or travel with locals in a local bus or tram to get to the center. In the Tatra Mountains we stay in a good tourist class hotel situated in a fantastic location.
This selection gives a good picture of the hotels where we stay on this trip.
Flights & Transportation
We provide the land program only, so you will need to arrange your own flights.  So that you will be on hand for the first group meeting or activity...
WHEN ORGANIZING YOUR FLIGHT
ARRIVE: no later than  11: 30 AM on first day.  Take a taxi to the hotel to meet the group. 
DEPART: Plan on leaving in the afternoon. If you arrange your flight to depart at 5:00 PM or shortly after, you can join the group on the bus to the airport, free of charge. Otherwise, you can take a taxi to the airport.
Do not book your flight until you have email confirmation from us that we have adequate enrollment for the trip to go.  
Participants arriving from the Netherlands scheduled flights. 
ARRIVAL Warsaw Arrival  11:40 AM
DEPARTURE Zakopane .  4:50 PM
Local Transport
During the tour we have our own buses on the travel days, which are equipped with air conditioning and heating if necessary. Along the way there is often a lot to see and because the transport is entirely at our disposal, we can stop where we want to stretch our legs, take a picture or visit a nice place or market along the way. Of course, we stop in various interesting places along the way.
Money Matters
In Poland, the Polish Zloty is the valid currency. Look for the current prices on oanda.com. 

ATMs: is possible in all cities. 
Cash: Zloty's 
Credit cards: accepted almost everywhere. 
Health Issues & Insurance
No vaccinations are recommended for Poland. We recommend to take a small medical kit with painkillers and medicines for intestinal disorders.
Climate & Geography
 In Poland there is a continental climate with warm summers and very cold winters. In the spring and autumn (April, May and October) you have to take into account cool days and cold nights. The temperature during the day then fluctuates between 10 ° and 20 ° C. In the summer months the temperature is higher, but then there is an occasional shower. In the months of May, June and September the temperatures are generally very pleasant, both during the day and in the evening.
Photos & video
Book Trip/Trip Inquiry
                                                       BOOK MY TRIP 

•Begin your reservation process by filling in this TRIP INFO REQUEST and send to us via the website. We will confirm dates and prices, and answer any questions you may have about the trip.
•Download and complete the BOOKING FORM including all participants passport information and payment information. Email a PDF, scan, or clear photo of your completed BOOKING FORM to lukedjoser@gmail.com. All participants over 18 should sign the form.
• A deposit of 20% of total costs will be due upon booking in order to hold your place on the trip. The balance will be due 90 days prior to departure.
• Payments can be made by personal check or ACH wire transfer (domestic wire only). We will send you wire instructions.
• Upon receipt of your form, we will email you a receipt and confirmation of your booking.
• If paying by check, make check out to DJOSER, INC., Mail to Djoser, Inc. – Bookings 420 N. Oakland Drive, #6, Pasadena, CA 91101.
Questions? Call Luke Neal 484-995-2964. (West Coast)