Peru Tour, 20 days
Discover the magnificent Andes in Peru, the mysterious Inca ruins and the colorful, traditional Indian populations. We visit the famous Inca ruin Machu Picchu from Cuzco, the ancient capital of the Incas. It is also possible to book a hike on the  Inca Trail. Cusco and Arequipa have a beautiful colonial center with a central square full of cozy restaurants and cafes. In the desert we sleep in the oasis Huacachina and of course, the Nasca lines is in the program. From Arequipa we go to the Colca Canyon. On Amantani on Lake Titicaca we stay at a family home.
Join our international groups with active travelers, of all ages. Most will come from Holland and Belgium, but you will find they have an excellent command of English. Your tour leader addresses the group in Dutch and English. Our skilled land crew have worked with Djoser for many years and make sure things run smoothly.
There is ample time for group exploration. Count on lots of walking. But sometimes, it is great to be able to break off and explore on your own. Your guide can make some great suggestions.
Join us for unforgettable cultural, nature and local experiences!
Itinerary
Lima
Lima
Lima - Pisco
Pisco - Huacachina
Huacachina - Nasca
Nasca, Nasca Lines tour and Cauchilla
Nasca - Arequipa
Arequipa
Arequipa - Colca Canyon
Colca Canyon, visit Cruz del Condor
Colca Canyon - Puno
Puno - Uros Island - Amantani (Lake Titicaca)
Amantani - Taquile - Puno
Puno - Raqchi - Andahuaylillas - Cusco
Cusco
Cusco
Cusco - Machu Picchu (train)
Machu Picchu - Cusco (train)
Cusco
Cusco - Lima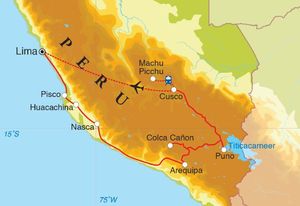 Day by day
On the road with Djoser

At our travel is not a tightly scheduled itinerary. The travel days of course are fixed, but locally, the program is determined between the  group and the tour leader. The tour guide t offers a program most days with a  number of excursions  but you are  certainly not obligated to participate. Who would rather to go out on their own are fee to do so.  Keep in mind though, that the nature of the trips and the countries of unforeseen circumstances, so some activities may not proceed or may need to be modified. On average, groups consist of 16 participants. The maximum group size is 20 people.  This are international groups with participants of all ages from Holland, Belgium and the U.S.

Lima
Day 1 Lima
Day 2 Lima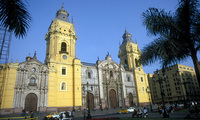 We start our tour in the impressive capital of Peru, where you have a day to explore the city. zyhe old colonial part of Lima is interesting because of the many beautiful churches, squares and buildings. In recent years, no expense was spared to restore to the old city to its former glory.  Lima also has a number of museums that are worth visiting, such as the Museo de Oro, where an impressive collection of weapons with armor of the conquistadores and even the sword of Pizarro can be seen. It is also fun to visit  the elite Parque Kennedy district in Miraflores. This is where the rich live in Peru. Here you will find the greatest restaurants of the city.

Pisco and Huacachina
Day 3 Lima - Pisco
Day 4 Pisco - Huacachina
From the capital we head to Pisco on the Pacific coast. This village is the starting point for two optional excursions to the National Park Paracas and the Ballestas Islands. In the national park you can see colonies of flamingos and beautiful rock formations on the beach.

On the tour to the Ballestas we first sail along the "Candelabra", a huge figure drawn in the sand, for which no one knows the origin. There are many theories. On the islands live many different species  of birds, sea lions and even penguins. The birds have been around since the time of the Incas : their droppings are an excellent type of manure, 'guano'.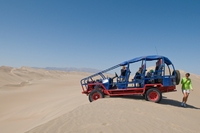 Then we leave the coast and drive inland to Huacachina. We spend the night here in the middle of the beautiful oasis in a desert with sand dunes. You can rent a buggy to explore the desert or sand boards. The lodgings are quite basic but this beautiful area is a memorable one. Remember that you are in the middle of the desert and so take water and a hat with you! You can also visit the nearby Ica, with an interesting museum. Want to relax, you can also enjoy the pool at the hotel.

Nasca
Day 5 Huacachina - Nasca
Day 6 Nasca

Next we will look at one of the most mysterious places in Peru: the Nasca lines. It's still a mystery how the huge figures were ever drawn on the floor of the desert. Nobody knows what the meaning of the lines is and who made them.   The person who had the most influence in the study of the lines, is the German Maria Reiche, a mathematician who has studied the lines all of her life lines. They assumed that the lines were an astronomical calendar for agriculture. 

From the tower you can see three of the lines.  Just outside Nasca we visit a special place: the Chauchilla cemetery. Here you can see mummies and various remains from the Nasca period, which are very well preserved by the extreme drought. They are impressive, but also a bit sinister! The temperature here is pleasant all year pleasant, so a dip in the pool at the end of the day is always nice.

Arequipa and Colca Canyon
Day 7 Nasca - Arequipa
Day 8 Arequipa
Day 9 Arequipa - Colca Canyon
Day 10 Colca Canyon, visit Cruz del Condor,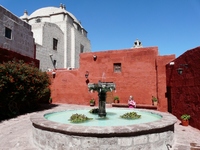 We make a long journey through the desert, where we can stop along the way often for nice photo opportunities with  aview of the sea.   Arequipa  is situated at 2325 meters altitude. You can explore the lovely Plaza de Armas with the big white cathedral. The city is also known as the White City because of the many buildings in the center that are made from white volcanic rock. Everywhere in the city you have a view on the high Misti volcano. A visit to the Santa Catalina Monastery should not be missed here. This monastery is actually a small town in itself with buildings  of all colors, with narrow streets, squares and patios. Here  you can spend hours browsing.

 The next day we go high into the Andes on the way to the Colca Canyon. En route  we cross a pass of 4900 meters!  This day you will need to take it easy to get used to the high altitude. Make sure you drink plenty of water and adjust your pace. The ride is really beautiful; high Andean mountains,  passing small villages and herds of llamas and alpacas. With a little luck you can also see the vicuña, a "brother" of the llama, which appear much less. It is  smaller and slimmer than the woolly llamas and alpacas. These animals give the best wool and are therefore are very popular, It is now a protected species. Westay overnight in the 3700-meter high village of Chivay in a lodge. The days in the Colca Canyon are assisted by  a local guide who can tell you more about the beautiful surroundings and the customs in the region.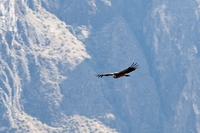 The next morning we drive to the lookout point "Cruz del Condor, where you can see the impressive condor in flight. The Colca Canyon is one of the deepest canyons in the world with dizzying height. There live here many condors awho come here often early morning float high in the canyon. As you stand at the edge of the canyon at the gazebo, they come here close by you then float away. Very impressive, because these birds can reach a wingspan of three meters. 

Puno and Lake Titicaca
Day 11 Colca Canyon - Puno
Day 12 Puno - Uros Islands -Amantaní
Day 13 Amantani - Taquile - Puno
From Chivay we travel to Puno, on the shore from the famous Lake Titicaca. En route you can enjoy beautiful vistas weather, snowy peaks and grazing alpacas and llamas. Near Puno are the floating reed islands that are inhabited by approximately 300 Uros Indians. They offer all kinds of souvenirs and you can make a ride on a homemade reed boats. The islands themselves move a little bit when you walk over it. If you pause on one spot to long, the area sinks a bit and the water flows very slowly over your shoes. We visit these islands on the way to Amantaní, one of the "fixed" islands on the lake.


Here we stay in a family home.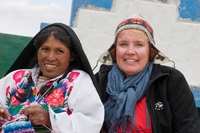 Upon arrival, the 'Mamacitas' greet us in their colorful skirts already waiting for us.  We walk from the harbor to different cabins to, sometimes making a  steep climb. You need to communicate with your hands and feet, for the people on the island only speak the indigenous language, Quechua. The accommodation is primitive, an there is no possibility of showering. You may bring a sleeping bag liner from home, but there are plenty of blankets. The family will prepare a simple but often highly nutritious meal for you.
When you wake in the morning the house looks out over the blue lake or the abandoned farm fields of the locals, you'll feel really in a very special world. The island is still very traditional, there are no cars and only in recent years , for a few hours a day  electricity is available.  You can take beautiful walks on the island , for example the ruins of the Temple of Pachamama, Mother Earth. On Lake Titicaca we also will have a local guide, so you get more information about the local customs.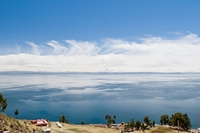 On the way back to Puno we sail along the neighboring island of Taquile, where you also have the time to look around. Again, life here is very traditional and there is hardly any electricity. The island is best known for its handicraft tradition. The women of the island weaving while the men knit here. They learn at a young age. So do not be surprised if your knitting men see on the street, which is very common here!

Cusco and Machu Picchu / Inca Trail
Day 14 Puno - Raqchi - Andahuaylillas - Cusco
Day 15 Cusco
Day 16 Cusco
Day 17 Train to Machu Picchu
Day 18 Machu Picchu - Cusco
Or: 

Day 15 Cusco - starting Inca Trail    Day 2 Inca Trail
Day 16 
Day 17 Day 3 Inca Trail
Day 18 Day 4 Inca Trail / Aguas Calientes - Cusco
Day 19 Cusco
Day 20 Cusco - Lima

From Puno we take the bus to Cusco, a beautiful trip of about eight hours through the Andean landscape. On the way we make stops at small villages and to take pictures of the beautiful scenery. Raqchi is a lesser-known Inca ruins. The temple complex is a tribute to the god Viracocha. In the small Andahuaylillas is a beautiful church that we can visit. This church is also known as the Sistine Chapel of Latin America.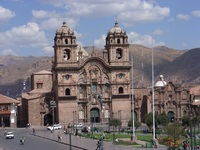 Cusco is one of the most beautiful cities in Latin America. It is the former capital of the Incas and there are still many remains clearly visible from the Inca period. We spend the night in a centrally located hotel, the main attractions are all within walking distance. The main square is beautiful and everywhere are bars and restaurants with balconies overlooking the square. There is a good atmosphere here. In the center are very old colonial buildings and churches. The museums teach you a lot about the history and culture of the Incas. In the heart of San Blas contains are many small souvenir shops. Above the town are the impressive Inca ruins of Sacsayhuaman, a huge complex of walls, where you can walk with a steep climb. From here you have a beautiful view over the city. 

The Sacred Valley of the Incas is lower than Cusco and the temperature is a little warmer. During a day trip here you usually visit the market and the ruins of Pisac and Ollantaytambo. You're also totally free to take a local bus to go walking in Pisac and the overlying ruins. It is advisable to visit the Sacred Valley before heading to Machu Picchu. Many of the stories you hear about the history of the Incas, are again very interesting for the explanation you get later in Machu Picchu.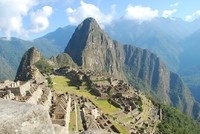 Of course we also visit the famous Inca city of Machu Picchu. The city is very well preserved thanks to the fact that the Spaniards never found the city. Until 1911 the city was discovered by Hiram Bingham. The ruins are located in a beautiful setting between high mountain peaks. To get to Machu Picchu we take the train to the village of Aguas Calientes. We spend the night here, so in the morning in the early hours we visit the ruins with a guide.  He provides an explanation of 1 to 2 hours, but  we still have time to to wander around the city on your own  In the afternoon we get back on the train to Cusco.

Inca Trail
The more athletic participants may choose to walk the famous Inca Trail from Cusco. This is a wonderful 4-day camping trip, taking you over the old path of the Incas. This is a medium to challenging  hike. For this tour you have to have a very fit condition, because in particular the extent it is a tough journey. Especially the second day is hard, as you are at 4198 meters over the pass of Warmiwañusca, or Dead Woman in Quechua (which incidentally is name,because of the shape of the mountain) have to get. Walking over the Inca stairs is tough these days.  Avcook, and carriers haul heavy items such as tents and cooking utensils. It is incredible to see how quickly these men go up the mountain, while you often need to rest after each step. Three times a day the chefs create a delicious, nutritious meal for you.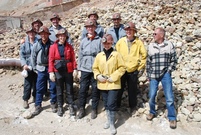 During the tour you walk through the beautiful Andean countryside and along the way you will pass several Inca ruins. The last morning you stand up very early to walk to the Sun Gate to be there in time to see the sun come up with a bit of luck. After a journey of a few days you will be rewarded with a magnificent spectacle: Machu Picchu ! You then have the rest of the day to wander through the deserted town of Aguas Calientes where you can have a nice meal. At the end of the day you step back on the train that takes you to Cusco. 
If you wish to hike the trail, you will need to request a place in advance of the trip soon after booking.   Especially in high season, places fill quickly. There are only a limited number of hikers allowed on the trail per day by the local authorities.
The price for the Inca trail is about $330,-. This price includes meals during the trek (breakfast, lunch and dinner), a guide, porters and nights in dome tents.

The entrance to the trail itself and Machu Picchu is included. However, this amount of US $90, is subject to change. Price increases are passed on to clients.  For hiking the Inca trail a warm sleeping bag is needed which can can  be rented in Cusco. The other camping equipment is on site.You will be given a mattress  at the beginning of the journey which you have to carry yourself as well as your own backpack with all personal belongings. The other camping gear is carried by the carriers who also provide meals and put up your tent. It is also possible to hire a carrier (approximately US $ 110) that carries your bag containing including your sleeping bag and mat. Then you would only carry your small daypack, for example, your camera and a bottle of water. Notify us  before departure if you would like additional support.  The additional cost for the carrier you can  pay on the spot. For the trail you will need sturdy shoes with a good tread, a rain jacket, flashlight and a towel. The carriers provide  boiled water that can refill your water bottle with so you have safe drinking water during the trek. Also, there are plenty of streams to fill a water bottle, but do not forget to pre-buy in Cusco water purifying tablets.   
Think carefully before you sign up for the Inca trail as it is a tough journey for which proper preparation is necessary.  IAfter our visit to Machu Picchu, there is a day to look around in the fascinating city of Cusco. The last day in Peru we fly early in the morning to Lima, where the trip comes to an end in the early evening.
Dates and prices
Departure dates 2023
| Land Begins | Land Ends | Price | Availability | |
| --- | --- | --- | --- | --- |
| | May-07-23 | $3,775 | 9 seats | book now > |
| | May-21-23 | $3,710 | 8 seats | book now > |
| | May-28-23 | $3,710 | 1 seats | book now > |
| | Jun-18-23 | $3,580 | 10 seats | book now > |
| | Jun-26-23 | $3,645 | 7 seats | book now > |
| Jul-10-23 | Jul-30-23 | $3,515 | 19 seats | book now > |
| Jul-17-23 | Aug-06-23 | $3,515 | 18 seats | book now > |
| Jul-24-23 | Aug-13-23 | $3,645 | 18 seats | book now > |
| Jul-30-23 | Aug-19-23 | $3,710 | 20 seats | book now > |
| Aug-07-23 | Aug-27-23 | $3,580 | 17 seats | book now > |
| Aug-14-23 | Sep-03-23 | $3,580 | 20 seats | book now > |
| Sep-04-23 | Sep-24-23 | $3,775 | 13 seats | book now > |
| Sep-11-23 | Oct-01-23 | $3,775 | 11 seats | book now > |
| Sep-18-23 | Oct-08-23 | $3,515 | 20 seats | book now > |
| Sep-25-23 | Oct-15-23 | $3,515 | 20 seats | book now > |
| Oct-02-23 | Oct-22-23 | $3,515 | 18 seats | book now > |
| Oct-16-23 | Nov-05-23 | $3,580 | 20 seats | book now > |
Departure dates 2024
| Land Begins | Land Ends | Price | Availability | |
| --- | --- | --- | --- | --- |
| Apr-15-24 | May-05-24 | $3,515 | 20 seats | book now > |
| Apr-29-24 | May-19-24 | $3,515 | 20 seats | book now > |
| May-06-24 | May-26-24 | $3,515 | 20 seats | book now > |
| May-27-24 | Jun-16-24 | $3,515 | 20 seats | book now > |
| Jun-11-24 | Jul-01-24 | $3,515 | 20 seats | book now > |
Conditions "Guaranteed leave"
Price includes
Domestic flight Cusco - Lima
Dutch tour leader (speaks Dutch & English - Logistics coordinator) 
Local Guide Colca Canyon and Lake Titicaca
Tour Machu Picchu
Transportation by private bus
Train ride to Machu PicchuHotel stays including breakfast
Overnight in Huacachina
Tour Nasca Lines (watchtower) & Chauchilla
Visit Colca Canyon, Cruz del Condor
Cruise on Lake Titicaca
Tour Uros Islands
Overnight at family home on Lake Titicaca
1x lunch, breakfast and dinner included in Amantani
Price excludes
International flights to Peru and back. Meals and entry fees not listed as included.  (See estimated out of pocket expenses for budgeting). 
Inca Trail - 4-day hike/camping
For hikers there is the possibility of walking the famous Inca trail. This is a wonderful 4-day camping trip, where you have an old Inca trail leads to Machu Picchu. During the trip you'll be accompanied by a guide, a cook and several porters eg for cooking and camping equipment. The chefs create delicious three large meals per day to get ready. Prior to the trip, you can sign up at Djoser for the Inca trail. The price of the trail is $355. This price includes meals during the trek, a guide, porters for the camping gear and nights in dome tents. This amount includes the entrance to the trail and Machu Picchu included. At this moment, the US $ 90 entrance fee. (subject to changes). Price increases and reductions will be passed on to client. After booking you will receive more information about the trip. You will receive a reply slip by e-mail or mailed directly to you which you can sign up for the trail. Send this reply slip to us as soon as possible after booking since local authorities provide only a limited number of places per day. The trail quickly becomes fully booked. If the Inca Trail is fully booked, you can also opt for the Larestrek, a beautiful four-day trek near Machu Picchu.
Cost Overview
Single Room:  $275
Estimated out of pocket expenses, weekly:  $295
Hotel Extension:
   Lima - Double Room   $60     Single Room  $40
   Cusco - Double Room  $70   Single Room  $50
Optional Inca Trail Hike - 4 days camping/hike - $355 (includes entrance fee to trail). Subject to change.
Deposit  - 20% of Land price  ($500 minimum)
Deposit due:  60 days prior to departure
Practical information
Accommodations & Meals
Some examples of our usual hotels (subject to change)

Lima                   Hostal Mami Panchita
huacachina        Hotel El Huacachinero
Nasca                Hotel Oro Viejo
Arequipa            Hostal Casona Solar
Puno                  Hotel El Buho
Cusco                Hotel Los Aticos
This selection gives a good picture of the hotels we stay on this trip.
Single room - Djoser is single friendly! If you are traveling solo, we will match you with a same-sex roommate. There are no singles availableon the island Amantani.  Also if you reserve a place on the INCA TRAIL hike, there are no single rooms available. 
If we cannot match you, there will be no additional room charge. For a reasonable charge, you may request single accommodations, subject to availability. Just indicate this preference on your booking form. You will find pricing for single accommodations on "Dates & Prices" page.
Hotel extensions - It is always great to be well rested when you begin a journey such as this. If you would like to book an extension hotel night upon arrival in the city where the land program begins, let us know on your booking form. You will find the prices for extension nights listed on the "Dates & Prices" page.
Meals - Breakfast on our Peru tour is included in all inclusive nights. For other meals you can decide where, what and with whom you want to eat. Of course you can eat with the group, but you are also free to find a restaurant to dine independently. The other meals are therefore not included in the trip.
It's also nice to buy food at the market such as a tasty 'salteña-roll' or a 'empanada'. In the evening you can buy something at a local shop. The tour guide can often give you tips for a good restaurant or a nice cafe. For breakfast you can trip the traditional "desayuno" . On many occasions you can order a Western breakfast, sometimes with delicious fresh fruit. Around noon you can find many local venues an inexpensive menu, "almuerzo. This generally consists of soup, bread, main course, coffee or tea and often a simple dessert. It may not always be a culinary delights, but it's a fun way to get in touch with the local population.
In the evening the peña is a fun place to go. Here alongside live music performances snacks or meals. Are served Try the famous coca tea once; this is not only good for altitude sickness but also it is simply delicious. Or the chicha beverage, brewed for centuries by Native Americans from yucca and corn. European meals are also served almost everywhere.
Flights & Transportation
 Booking your international flight -We provide the land package and transportation within the program as described. We do not arrange international flights from or to the United States or Canada. The land program will begin approximately two hours after the arrival of the Netherlands (NL) participants who will be arrive from Amsterdam. The land program will end about 4 hours prior to their scheduled departure time, which allows for time to get to the airport. The proposed flights for the Dutch participants and the land beginning and end times are listed in this section. They are subject to change based on flight delays or changes. We will keep you posted of any flight changes that we are aware of prior to the trip. When scheduling your flights, keep the following times in mind:
Dutch participants' proposed flights: (subject to change)
Airline:
NL participants arrive:
NL participants depart:
Before you book your flight - To avoid flight change or cancellation costs get email confirmation from our office that the trip has enough participants to be a "GO".
Verify the spelling of your name-within 24 hours - When you book your flights, double check your flight records to confirm that your name is spelled on your ticket exactly as it appears on your passport. Some companies (for example, ORBITZ) will only allow a 24 hour window to correct any errors without penalty. You may incur heavy fees for changes, forfeiture of your flight ticket, or even worse, you could be denied entry to a border upon arrival.
Send us a copy of your flight itinerary - We will forward to the tour leader so they will know when to expect you at the hotel and when you will be departing.
Keep in mind hotel extensions - If the Dutch travelers arrive early in the morning, we recommend that you arrange to fly in the day or night before so you will be meet the group. Some trips involve an immediate transfer from airport to the next town so make sure you will arrive before the others so you don't miss the first meeting or transfer to the next location. We can arrange an extension hotel night for you. Prices for hotel extensions can be found in the "Dates & Prices" section
If the Dutch participants arrive in the late evening - Should they arrive very late in the evening, the group will have their first meeting in the morning in the hotel lobby. You can check in earlier and relax or explore on your own.
Airport transfer to/from hotel – not Included - If you will be arriving and or departing on the same flight as the Dutch travelers let us know. Then you can join them on the bus for the group transfer at no additional charge. Notify us in advance so we can alert the tour leader. If you schedule your flight at the same time as theirs, or later, you can join them on the group transfer to the airport at no additional charge. Otherwise, you can take an authorized taxi to the first hotel on the list we have provided for you. Private airport transfers can be very costly . If your flight is delayed, they are difficult to reschedule or cancel. With a taxi, you are not charged for waiting time or cancellations.
Useful Links for booking your flights
Orbitz.com
Expedia.com
Kaykak.com
Local transportation - In Peru we use a comfortable private bus. Along the way, we stop frequently to stretch our legs, to take photographs or to visit a village and get a bite to eat. Some travel days are longer, even though the mileage is not great as the roads are sometimes less passable. But the bus rides are mostly wonderful as the roads in the Andes offer beautiful views of the mountains. When we have groups with 10 or fewer participants, for the route Puno - Cusco we use a comfortable public bus. This bus makes several interesting stops along the way. To Machu Picchu we travel by local train. On Lake Titicaca, we of course use boats.
Money Matters
A summary of all trip costs can be found on our "Dates & Prices" page. Prices may fluctuate throughout the year depending on currency exchange, gas costs, etc.
Included in price of our Bolivia and Peru tour package
When you book a trip
•
Deposit of 25% of the total costs. (Or minimum of $500 per person). Deposits are non-refundable.
•
Payments by charge card or check are accepted
•
Balance is due 60 days prior to departure date
While you are traveling
Local Currency:
Peru - Nuevo Sol,
ATM Machines:
Widely available
Credit Cards:
Accepted in larger cities
Tipping - It is customary to tip for services rendered. The tour leader will organize a tip jar at the beginning of the trip, from which tips to drivers, guides, hotel staff are paid. Depending on the size of the group, each participant will be asked to contribute $40 to $50. This does not include a tip for your tour leader. Tipping the tour leader is appreciated and the amount up to your discretion.
** You will find a list of all trip costs in the "Dates & Prices" section, including your estimated out of pocket costs.
Excursions
 Freedom and choice are important elements of a Djoser trip. In addition to scheduled group activities, wherever possible, you may decide which attractions you wish to visit, and with whom. Unless otherwise indicated, entrance fees are not included in the price, so you have the freedom to make your own choices. One person may prefer to stroll through the market in search of bargains, while someone else may want to relax by the pool, go to a museum, or take a bike ride. Join the guide or break off with others in the group to explore on foot or with the local transport. Some attractions should not be missed, or they are not easily accessible, or are en route to our next overnight location and are therefore built into the program. In the "Dates & Prices" section you will find the estimated out-of-pocket, weekly expenses that have calculated in typical entry fees in addition to meals and other costs.
During Peru group tour, the following excursions are included in the program:
Travel Documents
When you book a trip we will provide you with more details about necessary documents. Passports should be current and valid for at least 6 months beyond your departure date. If a visa is required, you may need extra pages in your passport for your stamps. Check all visa requirements carefully and leave yourself plenty of time to send and receive documents before your trip.
Travel documents needed
Peru tourist visa needed – NO 
Visa expeditor - If you are anxious about the visa process, or if you are short of time, you can pay an additional fee for an expediting service. They will look over your paperwork and should be able to guaranty a swift return of your visa or passport. We can recommend TRAVISA. 
Health Issues & Insurance
Health - Check for the Center for Disease Control – Travelers information for recommendations. Keep in mind that they may recommend an inoculation or medication such as malaria pills, which may be necessary for one specific part of a country but not another, or for a particular season. Shots are expensive. Make sure to get only what is needed. We recommend asking your doctor for a prescription to combat a more serious intestinal disorder.

When you book a trip we will provide you with information regarding the usual recommendations for the region we will visit. You will be responsible to check with your travel clinic or physician to review your plans and to find out the most up-to-date recommendations and needs for your particular situation. Plan to get your inoculations four to six weeks in advance of your trip. Some offices may need to preorder the medicines so call in advance.It is wise to pay careful attention to what you eat. Also, we recommend you bring medicines such as pain-killer and for remedy for intestinal disorders (such as IMMODIUM). Bring a small first aid kit. Tweezers, band-aids, antiseptic cream, insect repellent , salt rehydration tablets. The tour leader will have a first aid kit.

Climate and altitude changes can sometimes cause illness. Be sure to drink plenty of water. Bottled water is readily available. Excessive alcohol intake contributes to dehydration and makes you more vulnerable to illness. Make sure that you get plenty of rest and enough food and drink during the trip.

Recommended
• Vaccinations against DTP, hepatitis A

Insurance - For piece of mind, we recommend that you procure travel insurance. In the event of an illness or injury, an emergency evacuation can be incredibly expensive and you would want access to the best possible facility. Also, lost baggage or missed flights can mean added expenses, Even events at home may prevent you from taking a trip, such as a lost job or ailing family member. It is important to get travel insurance immediately after booking. Most companies have a brief window (within 10 days of booking) for coverage for a preexisting condition. You will be asked to provide us with travel insurance contact information before your departure.
You are free to choose your own provider. Over the years, we have recommended TRAVELEX. They offer a variety of plans and most importantly, they are responsive. Should you choose to go with TRAVELEX, you will contact them directly and the cost of your coverage will depend on the plan you choose. The cost will be based over the total cost of your trip and flights, and the amount is also subject to your age. Ask about the TRAVEL PLUS plan and the more economical TRAVEL LITE plan.
* Arrange for insurance immediately after booking your trip so that you are covered for any pre-existing situation. TRAVELEX 1-800-228-9792
Group Composition
Djoser travelers are active, enthusiastic travelers of all ages. Join an international group with travelers from the Netherlands, Belgium and North America, who will be the minority group on these trips. Most of our trips range from a minimum of eight participants to a maximum of 20 or 22. You will find couple and singles on our trips. Feel free to call us if you wish to know the demographic make-up of a particular trips (number of singles and age range).
Minimum group size: 8
Maximum group size: 20
What to expect when traveling with an international group - Djoser, Inc. (the United States office) has been a Peru tour operator for over 10 years. Djoser, B.V. (the Netherlands office) has been a Bolivia and Peru tour operator for over 25 years. So together we bring vast experience. Most of our trips are arranged in cooperation with Djoser, B.V. in the Netherlands. Because they cater to the voracious travel appetites of the Dutch, we can offer a vast number of programs around the world with hard-to-find itineraries, with numerous departure dates.

On our Peru group tour, you will travel with an international group, with most participants from Holland and Belgium. The international make-up of our groups is the attraction for many regular Djoser travelers and adds another cultural element to the trip. Typically, there are only one to five North Americans per group. You will find that almost all of your fellow travelers have an excellent command of English and most are very willing to socialize. It's a great idea to extend an invitation to a few travel mates for coffee or a drink early in the trip. They will appreciate your effort and this is a great way to break the ice. It will be easier for them to test out their English skills in a quiet, one-on-one setting. Group members tend to warm up to one another in a day or two. As with every tour group, compatibility has most to do with individual personalities.
The Dutch are experienced and hearty travelers. We attract travelers of all ages and we enjoy the mix! You will find our participants welcome opportunities for independent explorations in addition to group activities. No matter their age, Djoser travelers expect, and are up to lots of walking, hiking, biking, or whatever comes our way. The Dutch and Belgian travelers will fly as a group from Amsterdam. You will meet the group and tour leader at the hotel where you will begin the land program with the group.
 
Tour Leaders & Support Staff
 Our trips are guided by an experienced Dutch guide who speaks Dutch and English. He or she will be responsible for the organizational and technical aspects of the trip. He/she coordinates with the driver, hotels, and other vendors along the way. The tour leader has extensive travel experience and expertise as well as a comprehensive training.
Our experienced land representatives are situated in the destination country you will visit. We work closely with them and they function as the liaison between our office, the guide, drivers and hotels. They are also available in the case of an emergency and their number will be provided on your emergency contact list.
Climate & Geography
 Our trips are organized with weather conditions in mind. On our website, we will provide you with a weather summary of the region: Check temperature and rainfall for specific cities on your trip, during your month of travel at http://worldweather.wmo.int/en/home.html
In Peru, the climate is quite varied by region. But despite its location near the equator the average temperature is generally lower than one would expect. Lake Titicaca is located at approximately 12,000 feet . Again, the temperature drops at night often below freezing.
The rainy season in Peru runs from December to March. In summer there are is often fog and clouds.However, the rainy season is not necessarily an obstacle to travel; nature is precisely at its best and the temperatures are much more pleasant. In the winter months (our summer) it freezes at night, but during the day it is usually sunny and very bright. The temperature rises in the winter months during the day to about 53 F to 64F and the radiant heat from the sun at noon in the sun as enjoyable. Once the sun is low, especially in the morning and afternoon, the temperature drops and warm clothing is necessary. Also the hotel can be cold at night as they are not always heated.
Photos & video
Book Trip/Trip Inquiry
                                                       BOOK MY TRIP 

•Begin your reservation process by filling in this TRIP INFO REQUEST and send to us via the website. We will confirm dates and prices, and answer any questions you may have about the trip.
•Download and complete the BOOKING FORM including all participants passport information and payment information. Email a PDF, scan, or clear photo of your completed BOOKING FORM to lukedjoser@gmail.com. All participants over 18 should sign the form.
• A deposit of 20% of total costs will be due upon booking in order to hold your place on the trip. The balance will be due 90 days prior to departure.
• Payments can be made by personal check or ACH wire transfer (domestic wire only). We will send you wire instructions.
• Upon receipt of your form, we will email you a receipt and confirmation of your booking.
• If paying by check, make check out to DJOSER, INC., Mail to Djoser, Inc. – Bookings 420 N. Oakland Drive, #6, Pasadena, CA 91101.
Questions? Call Luke Neal 484-995-2964. (West Coast)