Namibia tour & safari (Camping), 20 days
The vast endless nature of Namibia stirs everyones imagination. The bustling Epupa Waterfall forms a contrast to the immense sand dunes in Sossusvlei, the immense Fish River Canyon and the dry Kaokoveld. The traditional culture of the Bushmen, Himba and Herero are fascinating and a fascinating contrast to modern aspects of the country.
Join our international groups with active travelers, of all ages. Most will come from Holland and Belgium, but you will find they have an excellent command of English. Your tour leader addresses the group in Dutch and English. Our skilled land crew have worked with Djoser for many years.
Join us for unforgettable cultural, nature and local experiences!
Itinerary
Windhoek
Windhoek - Mariental - Kalahari Dessert
Kalahari Dessert - Fish River Canyon
Fish River Canyon - Duwisib Castle
Duwisib Castle - Namib Naukluft
Namib Naukluft - visit Sossuvlei & Deadvlei
Namib Naukluft - Swakopmund
Swakopmund
Swakopmund - Cape Cross - Brandberg
Brandberg - Twyfelfontein
Twyfelfontein - Palmwag
Palmwag
Palmwag - Epupa Falls
Epupa Falls
Epupa Falls - Opuwa (Himba)
Opuwo - Kamanjab, visit Cheeta Farm
Kamanjab - Etosha N. P.
Etosha N. P.
Etosha N. P. - Windhoek
Windhoek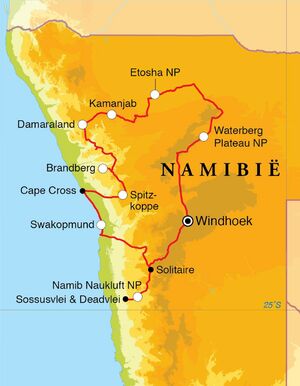 Day by day
On the Road with Djoser
Djoser's active journeys offer an ideal balance of guidance and freedom. Our guide-assisted adventures cover the globe and feature wildlife, beautiful natural settings, historic sights and authentic cultural experiences. For most Djoser trips the daily schedule is not rigidly set, however on safari, the route and safety issues in national parks will often dictate our daily schedule and activity options.
Our travel days are obviously fixed, but each day the program may deviate depending on the preferences of the group, in consultation with the tour leader. The tour guide offers a program daily, with planned excursions. You are never obligated to participate. Those who desire more freedom may go out exploring or may dine on their own. Your tour leader can offer suggestions for safe explorations and fun restaurants. You will find that Djoser participants will take advantage of this flexibility. We believe a sense of discovery is an integral element of a great trip.
We offer the land program only. Below, you will find the day-to-day description days numbered to correspond with that of the Dutch participants (which includes their transit days from/to Amsterdam). This is so that when you are traveling and refer to this day-to-day description, all travelers will be "on the same page" or the same day number.

Windhoek
Day 1 Transit day for most participants
Day 2 Windhoek (land begins)
We start our Namibia safari in the capital of Namibia: Windhoek. Even though it has a small populaition, Windhoek is the largest town in Namibia. We stay the night in a hotel. In the afternoon you will have the opportunity to explore the city center on your own. The center has a mix with German colonial buildings and modern architecture.
The Lutheran church on Peter Muller street is absolutely worth a visi and a useful recognition point as you talk a wilk through the city. Behind this church you will find the Tinten Palace, which is where the parliament is located nowadays. You should defintly take a walk on the Independence Avenue where you can find shops, restaurants and souvenir shops.
Worth seeing here is the Meteorites Fountain, where a many fragments of meteorites adorn a modern steel construction. In the same neighboorhood you will also find some nice terraces where you can sit down and get a good impression of the daily life here. The very nicely dressed Herero woman will surely catch your eye!

Kalahari Desert & Fish River Canyon
Day 3 Windhoek - Mariental - Stampriet
Day 4 Stampriet (Kalahari) - quiver trees Forest - Fish River Canyon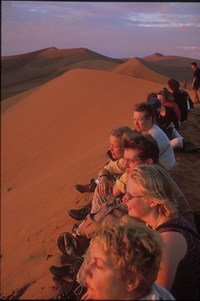 We leave Windhoek to the south on the B1. The well-maintained road toward the south will first lead us to the ittle town Rehoboth. Kalkrand is the next village which is quite interesting. Later on we will be passing the Tropic of Capricorn. Near Mariental we turn towards Stampriet. Soon we see the glow of the red sand of the Kalahari. A lodge is in the middle of the desert where we will pitch our tents for the first time.
In this area ostriches, mongooses, springbok, oryx, kudu and desert foxes live. Enjoy the beautiful views, and take a nice refreshing swim in the pool or take part in an optional tour to look for wildlife. The tour will end with a nice drink on top of the sand dunes during sunset.
The next day we stop by the box-tree forest near Keetmanshoop. The quiver tree is part of the Aloe family and can survive in very dry areas. We exchange the maintained paved road for gravel road and continue our journey to the Fish River Canyon. Over the years the river has eroaded an impressive gap of 99 miles long and 341 miles deep.
At sunset we drive to the gap to enjoy a breathtaking view. Don't forget to enter your name in the guestbook. If you look carefully you will notice that wildlife lives in this dry environment. The inhabitants of the park are oryx, zebras and baboons.

Duwisib Castle
Day 5 Fish River Canyon - Duwiseb Castle
Gravel roads bring us northwards. In a remote valley of the Namib Desert we will find one of Namibia's most famous and most extraordinary buildings; the Castle of Duwisib. The castle was built in 1909 by the eccentric army Baron Hans-Heinrich von Wolf. All materials for the castle were brought in bullock carts and went through the desert from the coastal town of Lüderitz. This took several years. In the shadow of the Jacarnada trees in the courtyard you can sit back and relax. Inside you will find a collection of antique weapons and furniture. Captain Hans never really had a chance to enjoy his castle because he was killed at the Somme in France during World War I.

Sossusvlei
Day 6 Duwisib Castle - Sesriem (Namib Naukluft)
Day 7 Sesriem - Sossusvlei & Deadvlei
On unpaved roads we drive up north to the edge of the Namib Naukluft National Park. In the afternoon you can take a nice swim in the pool or take a short walk to the small but impressive Sesriem Canyon, about 2.4 miles away from our campsite. Over the year the Tsauchab River has enroaded an 18 mile deep and 0.6 mile long gap.
The next morning we will make a visit to the Sossusvlei. We go here early so we the heat will not bother us. In order to get here we will enter the Namib-Naukluft park. The Sossusvlei, an impressive dune surface, is surrounded by the world's highest sand dunes. The view on this sea of sand is particularly stunning to see in the evening and early morning. The sea of sand glows in the red evening light. It takes considerable effort to climb the dunes of 650 ft, but the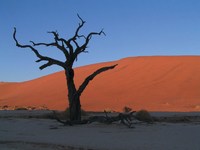 view you will see here of the eerie moonscape is worth it.
You have the opportunity to tealk a walk in this strange looking area and discover how tough the plants are here bravely resisting the harsh conditions of the desert. Do not forget to visit the nearby 'Deadvlei'  where dead trees live on a thin salt crust.




Swakopmund
Day 8 Sossusvlei - Solitaire - Swakopmund
Day 9 Swakopmund
We drive through the rough nature of the Namib Naukluft Park towards the coast. We cross Solitaire's mighty Kuiseb Canyon and reach the coast at Walvis Bay. Although Swakopmund is considered as a resort by the white inhabitants of Namibia the seawater is usually icy cold. We spend the night in a guesthouse.
While walking along the wide Arnold Shad Promenade you are more likely to see sea lions in the sea than swimmers. We stay here in a dormitory, where you will share the bathroom with the other travelers. Swakopmund is a bizarre left over from the German colonial period. You find German street names, German beer and inhabitants with German roots, giving this place a special atmosphere. In the center you can admire some colonial buildings. The old train station is worth seeing. At night you can not only enjoy some nicely prepared wild beast, but "bratwurst" is often included on the menu in some of the restaurants. The next day you'll have time to explore Swakopmund or to participate in optional activities such as quad biking through the sand dunes or sandboarding. It is also possible to book flights over the Skeleton Coast or to make a boat trip on the sea. During this trip from Whale Bay you will see fur seals, pelicans, dolphins and you can sample some delicious oysters.

Swakopmund & Brandenberg
Day 10 Swakopmund - Cape Cross - Brandberg (White Lady)
A salt trail takes us out of Swakopmund the next day. Just a little up north of the city, salt is extracted. Then we leave the civilization behind us and drive along one of the more merciless coasts of Africa; the Skeleton Coast. This 25-mile-wide coastal strip forms a buffer between the sea and Kaokoland and Damara, which are located behind the coast. The landscape here is completely empty and the only landmarks are the distance poles, which mark the number of "miles" of Swakopmund.
We stop by at the wreck of the fishing boat Zelda. Along the coast there are gravel and sand plains. Each year, nomore than 3 inches of rain falls. The scarce flora and fauna have adjusted to the dryness here and get their moisture from the morning mist. Later on we will stop at Cape Cross. This is where the Portuguese navigator Diego Cao set foot on the Namibian coast as the first Europian.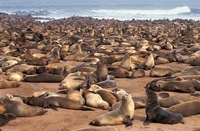 Besides the historical importance of Cape Cross, it is also known for its large colony of seals. There are an estimated 75,000 seals on the rocky coast or at sea here. The sight, the noise, but especially the pungent fishy smell, will remain with you for a few days. Jackals go in search of the weak newborns during autumn.
We drive towards the land to the highest mountain in Namibia; King Stein. Plains change into mountains. We pitch our tents in the shade of trees near the dry nullah of the Ugab River. Brandenberg is known for the White lady a world famous petroglyph of a shaman. We make a two-hour guided walk to this special place. 

Twyfelfontijn & Damaraland
Day 11 Brandenberg - Twyfelfontijn
Day 12 Twijfelfontijn - Damaraland (Palmwag)
Day 13 Damaraland (Palmwag)
In the area of the Twyfelfontijn are over 2,000 rock engravings of Bushmen are found. We make a short, guided walk here. Images of giraffes, elephants and other wildlife are silent witnesses of the time when this region was more fertile than today. We also stop at some geological curiosities like the "organ pipes". The organ pipes were formed by the erosion of columns of 150 million year old volcanic rock. At night we camp on a dry nullah. With any luck you'll catch a glimpse of the extraordinary desert elephants.
Further north you will be delighted by the beautiful Etendeka Mountains and the rough area of Damaraland. The Palmwag Lodge is located in the private concession area. This is a true oasis in this dy environment. The next morning you can participate in an optional game drive where we go looking for desert elephants, rhinos and other animals in this desolate area. The rangers are true experts and track the elusive black rhino, an unforgettable experience. Of course you can also take a dip in the pool where elephants sometimes come to have a drink!

Epupa Falls and Kunene river Palmwag
Day 14 Epupa Falls
Day 15 Epupa Falls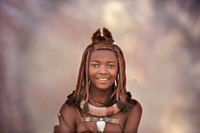 Further up north we reach the remote Kaokoland, the habitat of the still living traditional Himba. Through the village Okangwati we reach the Epupa rapids in the Kunene River. This river forms the division between Namibia and Angola. The banks are overgrown with swaying reeds and palm trees. Crocodiles bathe in the sun on the shores and beautiful birds make their presence known.
In this paradise we camp under palm trees on the river. The last hours before sunset is the best time to see the beautiful rapids and numerous small waterfalls. Age-old baobabs anchor on rock islands making the fairytale setting particularly photogenic. The landscape is overwhelming!

Cheetahs and Himba
Day 16 Epupa Falls - Opuwo - visit Himba
Day 17 Opuwo - Kamanjab
The next day we drive back to Opuwo, the dusty capital city and the administrative center of Kaokoveld. We stay the night on a campsite runned by the Himba. In the afternoon we are guided in their small village and we get to know their culture. This population is mostly known because they rub red mud and animal fat in their hair, on their bodies and leather coverings. They have been seemingly untouched by Western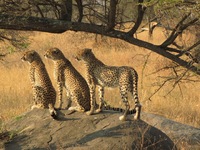 influence and hold on to their pride of their traditional nomadic way of life.
In Kamanjab we visit an organization that researches and takes care of cheetahs. On the farm some cheetahs run around and they look more like cats. In a matter of fact most cheetahs here are forced to live here, because they hunted by the neighboring cattle farmers.

Etosha National Park
Day 18 Kamanjab - Etosha National Park
Day 19 Etosha National Park
Day 20 Etosha National Park - Windhoek
Day 21 Windhoek (Land ends)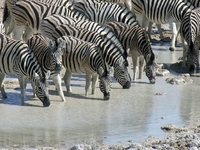 Etosha is undoubtedly one of the best and largest game reserves in southern Africa. The following two days we will take game drives (game quests). The name Etosha means "great white place of dry water". This name refers to the vast, dazzling salt pan that covers a large part of the park. Only a few days a year you will find a small amount of water here where flamingos and other water birds are attracted.
Most of the large game prefer to stay in the adjacent grasslands and mopane bushes. This is where we also will find herds of zebras and wildebeest. In the beautiful campgrounds in the park there have been permanent waterholes dug for the animals. At our campsite you can also take observe the drinking hole, which is also illuminated at night. From far you can see herds of elephants and zebras coming to quench their thirst. In the park we make several game drives with our own truck.
Dates and prices
Conditions "Guaranteed leave"
Price includes
Included in our Namibia safari package: land package (begins & ends at the hotel), transportation by safari truck, hotel, guesthouse and camping accommodation, use of camping equipment, field trips and game drives by program, local English speaking driver / tour guide, three meals a day during camping nights, national park fees.
Price excludes
Excluded in our Namibia safari package: international flights from/to United States, meals, and optional excursions, entrance fees if not specifically named as included, Namibia tourist visa, exit taxes (if applicable), tips, personal expenses, travel insurance, airport transfers at arrival & departure. 
Cost Overview
| | |
| --- | --- |
| Single accommodations | $155 |
|   |   |
| Estimated out-of-pocket, weekly | $210 |
|   |   |
| Extension hotel (Double Room) | $ |
| Extension hotel (Single)  | $ |
|   | .  |
Payment Schedule 
Deposit is due upon booking to hold your place
25% of total costs due (or $500 minimum) 
Payments by charge card or check accepted
Balance is due 60 days prior to departure date.
USEFUL WEBSITES
Center for Disease Control (CDC): http://wwwnc.cdc.gov/travel/destinations/list
Weather:   http://worldweather.wmo.int/en/home.html
Consulate List:   http://www.state.gov/misc/list/index.htm
Passport/Visa Expeditor:   TRAVISA   http://www.travisa.com/
Travel Insurance Quote:  TRAVELEX 1-800-228-9792  http://www.travelexinsurance.com/quote/?nc=1  
Currency Conversion Cheat Sheet : http://www.oanda.com/currency/travel-exchange-rates
Practical information
Accommodations & Meals
Accommodations - During our Namibia safari we stay primarily in large, easy to set up dome tents, which are provided. Tents are equipped with mosquito netting. We provide all camping gear, except for (warm) sleeping bag.  Foam sleeping mats are provided. Bath facilities in the camps in Namibia are of good quality. Occasionally there are wonderful hot showers and you can take a refreshing dip in the pool! Often you will find a small shop and a bar with cold drinks. We spend the night in Windhoek in a centrally located hotel. In the Swakopmund we often sleep in a guesthouse dormitory. It is not allowed to bring your own tent. 
Some examples of our typical hotels (subject to change)

Single room - Djoser is single friendly! If you are traveling solo, we will match you with a same-sex roommate. If we cannot match you, there will be no additional room charge. For a reasonable charge, you may request single accommodations, subject to availability. Just indicate this preference on your booking form. You will find pricing for single accommodations on "Dates & Prices" page.

Hotel extensions - It is always great to be well rested when you begin a journey such as this. If you would like to book an extension hotel night upon arrival in the city where the land program begins, let us know on your booking form. You will find the prices for extension nights listed on the "Dates & Prices"  page.

Meals - Meals during all camping nights are included in the fare on our Namibia safari. A traveling camp courier / cook is responsible for the purchase of food and prepares three meals a day. Each participant will be expected to assist with cooking and clean-up on a rotational basis. (Also participants will help guides to load and unload the luggage from the truck). The prepared meals are tailored to Western tastes. During the nights in Windhoek and Swakopmund in the guesthouse, only breakfasts are included. This has the advantage that you are free to determine where and with whom you will eat. The basic dish of Namibia's is a maize porridge. In southern Africa, this is called sadza. It is usually eaten with beef or goat with a sauce, called "relish". It tastes best when you eat it with your hands. A local specialty is Mahango, a kind of millet or  porridge. In some better restaurants you can get mostly Western-style dishes. French fries, pastas, steaks and other meats are available. In the larger towns you will find take-out restaurants and pizzerias. The most famous local snack in southern Africa is biltong (similar to "jerky").  This dried meat of beef or game is usually eaten as an appetizer, but also as a snack in between meals. On most sites you will find soda sold such as Coke, Fanta and Sprite. Also, mineral water is everywhere, sometimes refrigerated or no. Regarding alcohol the local beers such as Windhoek Lager are recommended.
Flights & Transportation
Booking your international flight - We provide the land package and transportation within the program as described. We do not arrange international flights from or to the United States or Canada. The land program will begin approximately two hours after the arrival of the Netherlands (NL) participants who will be arrive from Amsterdam. The land program will end about 4 hours prior to their scheduled departure time, which allows for time to get to the airport. The proposed flights for the Dutch participants and the land beginning and end times are listed in this section. They are subject to change based on flight delays or changes. We will keep you posted of any flight changes that we are aware of prior to the trip. When scheduling your flights, keep the following times in mind.
Dutch participants' proposed flights: (subject to change)
Flight with . KLM
Windhoek - Arrival
10:10 *
Windhoek - Depart 16:25
Before you book your flight - To avoid flight change or cancellation costs get email confirmation from our office that the trip has enough participants to be a "GO".
Verify the spelling of your name-within 24 hours - When you book your flights, double check your flight records to confirm that your name is spelled on your ticket exactly as it appears on your passport. Some companies (for example, ORBITZ) will only allow a 24 hour window to correct any errors without penalty. You may incur heavy fees for changes, forfeiture of your flight ticket, or even worse, you could be denied entry to a border upon arrival.
Send us a copy of your flight itinerary - We will forward to the tour leader so they will know when to expect you at the hotel and when you will be departing.
Keep in mind hotel extensions - If the Dutch travelers arrive early in the morning, we recommend that you arrange to fly in the day or night before so you will be meet the group. Some trips involve an immediate transfer from airport to the next town so make sure you will arrive before the others so you don't miss the first meeting or transfer to the next location. We can arrange an extension hotel night for you. Prices for hotel extensions can be found in the "Dates & Prices" section
If the Dutch participants arrive in the late evening - Should they arrive very late in the evening, the group will have their first meeting in the morning in the hotel lobby. You can check in earlier and relax or explore on your own.
Airport transfer to/from hotel (not Included) - If you will be arriving and or departing on the same flight as the Dutch travelers let us know. Then you can join them on the bus for the group transfer at no additional charge. Notify us in advance so we can alert the tour leader. If you schedule your flight at the same time as theirs, or later, you can join them on the group transfer to the airport at no additional charge. Otherwise, you can take an authorized taxi to the first hotel on the list we have provided for you. Private airport transfers can be very costly . If your flight is delayed, they are difficult to reschedule or cancel. With a taxi, you are not charged for waiting time or cancellations.
Useful Links for booking your flights
Orbitz.com
Expedia.com
Kaykak.com

Local transportation - During the trip, we use specially equipped vehicles for safaris. You will travel by safari truck with storage space for luggage, camping equipment and supplies. Our trucks are equipped with comfortable, forward-facing seats and sliding glass windows. We have full access to these vehicles, so we can stop wherever we like along the way. The roads in Namibia are usually of good quality and paved. However, some parts of the road are unpaved, especially in the wildlife parks and in the north-western region. In larger cities like Windhoek and Swakopmund our truck is not available to us; it is also more fun to explore this city on foot or with a (cheap) taxi.

Money Matters
A summary of all trip costs can be found on our "Dates & Prices" page. Prices may fluctuate throughout the year depending on currency exchange, gas costs, etc.
Included in our Namibia safari prices
Land package (begins & ends at hotel)
Transport by safari truck
Hotel /guesthouses and camping overnights
Use of camping equipment
Excursions according to program
English speaking driver / tour guide
National park fees and meals included during camping safari.
 
When you book a trip
Deposit of 25% of total costs due upon booking 
Payments by charge card or check are accepted
Balance is due 60 days prior to departure date

While you are traveling
| | |
| --- | --- |
| Local currency:  | Namibian Dollar |
| ATM machines: | Found in lagers cities WIndhoek, Swakopmund, Khorixas, Keetmanshoop |
| Charge cards:  | Dollars in small denominations, newer bills  |
| Types of cash accepted:  | Widely accepted  |

Tipping - It is customary to tip for services rendered. The tour leader will organize a tip jar at the beginning of the trip, from which tips to drivers, guides, hotel staff are paid. Depending on the size of the group, each participant will be asked to contribute $40 to $50. This does not include a tip for your tour leader. Tipping the tour leader is appreciated and the amount up to your discretion.

** You will find a list of all trip costs in the "Dates & Prices" section, including your estimated out of pocket costs.
Excursions
Freedom and choice are important elements of a Djoser trip. In addition to scheduled group activities, wherever possible, you may decide which attractions you wish to visit, and with whom. Unless otherwise indicated, entrance fees are not included in the price, so you have the freedom to make your own choices. One person may prefer to stroll through the market in search of bargains, while someone else may want to relax by the pool, go to a museum, or take a bike ride. Join the guide or break off with others in the group to explore on foot or with the local transport. Some attractions should not be missed, or they are not easily accessible, or are en route to our next overnight location and are therefore built into the program. In the "Dates & Prices" section you will find the estimated out-of-pocket, weekly expenses that have calculated in typical entry fees in addition to meals and other costs.
During our Namibia safari tours, the following excursions are included in the program:
Visit Sleeve Trees Forest near Keetmanshoop
The National Park Fish River Canyon; we drive to a number of viewpoints to view the gap
We visit the  Deadvlei Gravelyard and Sossusvlei located within the Namib Naukluft National Park
Visit the fur seal colony at Cape Cross on the Skeleton Coast
Brandenberg; led by a guide, we take a two hour walk to famous Bushmen ; White Lady rock painting 
Twyfelfontein; short walk guided to rock carvings Bushmen
Opuwo; visit a Himba village
Kamanjab; Visiting a cheetah sanctuary
Etosha National Park; we take our own safari trucks two game drives per day to observe wildlife


Travel Documents
When you book a trip we will provide you with more details about necessary documents. Passports should be current and valid for at least 6 months beyond your departure date. If a visa is required, you may need extra pages in your passport for your stamps. Check all visa requirements carefully and leave yourself plenty of time to send and receive documents before your trip.

Travel documents needed
Namibia tourist visa needed - No  Consulate link
Visa & Passport Expeditor – For an extra fee, you can hire an expediting service to process your visa application. They will look over your paperwork and they can offer a faster return of your visa or passport. We recommend TRAVISA
Health Issues & Insurance
Health - Check for the Center for Disease Control – Travelers information for recommendations. Keep in mind that they may recommend an inoculation or medication such as malaria pills, which may be necessary for one specific part of a country but not another, or for a particular season. Shots are expensive. Make sure to get only what is needed. We recommend asking your doctor for a prescription to combat a more serious intestinal disorder.
When you book a trip we will provide you with information regarding the usual recommendations for the region we will visit. You will be responsible to check with your travel clinic or physician to review your plans and to find out the most up-to-date recommendations and needs for your particular situation. Plan to get your inoculations four to six weeks in advance of your trip. Some offices may need to preorder the medicines so call in advance. It is wise to pay careful attention to what you eat. Also, we recommend you bring medicines such as pain-killer and for remedy for intestinal disorders (such as IMMODIUM) Bring a small first aid kit. Tweezers, band-aids, antiseptic cream, insect repellant, salt rehydration tablets. The tour leader will have a first aid kit.
Climate and altitude changes can sometimes cause illness. Be sure to drink plenty of water. Bottled water is readily available. Excessive alcohol intake contributes to dehydration and makes you more vulnerable to illness. Make sure that you get plenty of rest and enough food and drink during the trip.
Most people are recommended to get
Vaccinations against DTP, typhoid and hepatitis A
Malaria tablets
Insurance - For peace of mind, we recommend that you procure travel insurance. In the event of an illness or injury, an emergency evacuation can be incredibly expensive and you would want access to the best possible facility. Also, lost baggage or missed flights can mean added expenses. Even events at home may prevent you from taking a trip, such as a lost job or ailing family member. It is important to get travel insurance immediately after booking. Most companies have a brief window (within 10 days of booking) for coverage for a preexisting condition. You will be asked to provide us with travel insurance contact information before your departure.
You are free to choose your own provider. Over the years, we have recommended TRAVELEX. They offer a variety of plans and most importantly, they are responsive. Should you choose to go with TRAVELEX, you will contact them directly and the cost of your coverage will depend on the plan you choose. The cost will be based over the total cost of your trip and flights, and the amount is also subject to your age. Ask about the TRAVEL PLUS plan and the more economical TRAVEL LITE plan. * Arrange for insurance immediately after booking your trip so that you are covered for any pre-existing situation. TRAVELEX  1-800-228-9792
 
Group Composition
Djoser travelers are active, enthusiastic travelers of all ages. Join an international group with travelers from the Netherlands, Belgium and North America, who will be the minority group on these trips. Most of our trips range from a minimum of eight participants to a maximum of 20 or 22. You will find couple and singles on our trips. Feel free to call us if you wish to know the demographic make-up of a particular trips (number of singles and age range).
Minimum group size: 8 
Maximum group size: 20

What to expect when traveling with an international group - Djoser, Inc. (the United States office) has been a Namibia tour operator for over 10 years. Djoser, B.V. (the Netherlands office) has been a Namibia tour operator for over 25 years. So together we bring vast experience. Most of our trips are arranged in cooperation with Djoser, B.V. in the Netherlands. Because they cater to the voracious travel appetites of the Dutch, we can offer a vast number of programs around the world with hard-to-find itineraries, with numerous departure dates.
On our Namibia safari tours, you will travel with an international group, with most participants from Holland and Belgium. The international make-up of our groups is the attraction for many regular Djoser travelers and adds another cultural element to the trip. Typically, there are only one to five North Americans per group. You will find that almost all of your fellow travelers have an excellent command of English and most are very willing to socialize. It's a great idea to extend an invitation to a few travel mates for coffee or a drink early in the trip. They will appreciate your effort and this is a great way to break the ice. It will be easier for them to test out their English skills in a quiet, one-on-one setting. Group members tend to warm up to one another in a day or two. As with every tour group, compatibility has most to do with individual personalities.
The Dutch are experienced and hearty travelers. We attract travelers of all ages and we enjoy the mix! You will find our participants welcome opportunities for independent explorations in addition to group activities. No matter their age, Djoser travelers expect, and are up to lots of walking, hiking, biking, or whatever comes our way. The Dutch and Belgian travelers will fly as a group from Amsterdam. You will meet the group and tour leader at the hotel where you will begin the land program with the group.
Tour Leaders & Support Staff
The tour will be guided by an experienced English-speaking tour guide / driver who has led tours for years in Africa. He or she can tell you about the nature and culture of Namibia. The guide is assisted by a camp courier who is responsible for purchasing and preparing meals during camping nights.
Climate & Geography
Throughout the year the weather is good in Namibia. In general, the seasons are opposite to ours because Namibia is located in the southern hemisphere. July is the coldest month (day 77 F), January, the warmest (95 F +). In general, you find dry winters with average temperatures ranging between 59-58 F °.  In the morning and evening, however, in (our summer) the desert areas are pretty cool, so bring warm clothes and a warm sleeping bag. In winter months the average night temperatures are about ten degrees higher.
Our trips are organized with weather conditions in mind. On our website, we will provide you with a weather summary of the region: Check temperature and rainfall for specific cities on your trip, during your month of travel at worldweather.org
Photos & video
Book Trip/Trip Inquiry
                                                       BOOK MY TRIP 

•Begin your reservation process by filling in this TRIP INFO REQUEST and send to us via the website. We will confirm dates and prices, and answer any questions you may have about the trip.
•Download and complete the BOOKING FORM including all participants passport information and payment information. Email a PDF, scan, or clear photo of your completed BOOKING FORM to lukedjoser@gmail.com. All participants over 18 should sign the form.
• A deposit of 20% of total costs will be due upon booking in order to hold your place on the trip. The balance will be due 90 days prior to departure.
• Payments can be made by personal check or ACH wire transfer (domestic wire only). We will send you wire instructions.
• Upon receipt of your form, we will email you a receipt and confirmation of your booking.
• If paying by check, make check out to DJOSER, INC., Mail to Djoser, Inc. – Bookings 420 N. Oakland Drive, #6, Pasadena, CA 91101.
Questions? Call Luke Neal 484-995-2964. (West Coast)