Morocco tour, 20 days
 Djosers tour to Morocco offers a visit to the  city of Casablanca, to the great Hassan II Mosque, and the colorful famous royal cities Fez, Meknes and Marrakech. Experience the old medina wih the hustle and bustle of the narrow streets, with colorful wools draped overhead by the dyers. We make a journey through the desert and explore a few Berber villages in the Atlas where you become familiar with these friendly residents.  A highlight is an overnight stay in the desert in Bedouin tents. We end the trip in the fishing town of Essaouria where you can relax at one of the beach side terraces. 
Join our international groups with active travelers, of all ages. Most will come from Holland and Belgium, but you will find they have an excellent command of English.  Your tour leader addresses the group in Dutch and English. 
Join us for a truly cultural experience. 
Itinerary
Casablanca
Casablanca - Rabat
Rabat - Chefchaouen
Chefchaouen
Chefchaouen - Volubilis - Meknès - Fès
Fès
Fès
Fès - Azrou - Midelt - Erfoud
Erfoud, desert safari Erg Chebbi
Erg Chebbi - Tinghir - Dadès Gorge
Dadès Gorge
Dadès Gorge - El Keela M'Gouna - Ouarzazate - Zagora
Zagora
Zagora - Aït Benhaddou - Marrakech
Marrakech
Marrakech - Essaouira
Essaouira
Essaouira
Essaouira - Marrakech
Marrakech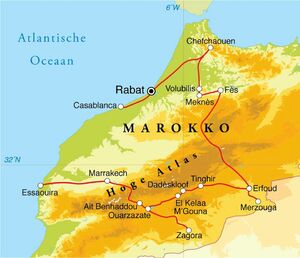 Land program begins in Casablanca at hotel around 3:30 PM
Land program ends in  Marrakech early morning
Day by day
 On Djoser trips, the days are not rigidly structured. You may decide which activities you wish to join. There will be ample room for independent explorations. Your guide can advise you for alternate activities or dining options. 
Rabat

Day 1 Casablanca 
Day 2 Casablanca - Rabat

We begin our journey in Casablanca. Be sure to exchange some money at the airport. The next morning before we leave Casablanca, we make a stop at Hassan II mosque . "Casa", as the Moroccans call Casablanca, many buildings iconic for this city. There is a wide selection of restaurants here. 
We drive two hours to Rabat, where we stay in a cozy hotel in the city center. From the beautiful terrace you can observe the Moroccans easy-going life. The capital Rabat is one of the four ancient royal cities. In the medina you can wander into winding alleys, where there are merchants selling gold, silver and spices. Practice negotiating in the mellah, the lively Jewish Quarter. If you want to hunt for goodies, then you should not miss the Rue des Consuls. Also in small groups or with the tour leader you can visit Chellah, an ancient Roman settlement. Here you will find many storks and ibis, who have built their nests on the ruins and the minarets of an ancient mosque.

A grand mausoleum was built in memory of King Mohammed V in Rabat. The changing of the guard is interesting. "Jardins d'Essai" is a great stop for nature lovers.

Chefchaouen

Day 3 Rabat - Chefchaouen 
Day 4 Chefchaouen

During the drive to Chefchaouen , you can enjoy beautiful views. The city has a distinct Spanish feel, which comes from the time when the area was a protectorate of Spain. Chefchaouen is beautifully situated against the mountains. In the 15th century it served as refuge to fleeing Muslims and Jews. For centuries it remained closed to the outside world, which explains the unique atmosphere.
The medina reflects the multicultural character of the city; there are Moroccan, Andalusian, Berber and Jewish areas, although the differences today are minimal. You come across many textile workers on a tour through the city, who make everything from carpets to djellabas. You can also take a nice, challenging hike, accompanied by a guide.
Fez
Day 5 Chefchaouen - Volubilis - Meknes - Fez 
Day 6 Fez 
Day 7 Fez
A bus ride through the Rif takes us through Volubilis, Moulay Idriss, and Meknes to Fez (Fès). The Roman ruin city of Volubilis was once at the center of a fertile agricultural region, where corn and olives were grown, and where wild animals lived. Beautiful mosaics can still be found in a number of Roman villas.
Moulay Idriss is the holiest place in Morocco. Until 1912, non-Muslims were not allowed to enter Moulay Idriss. A wooden beam blocked the street and notified them that "Christians and pack animals" were not allowed to proceed. In Meknes the magnificent mausoleum of Sultan Moulay Ismail is the main attraction. The courtyard has a fountain in the middle and the walls and floors are covered with beautiful mosaics. 
Fez is the oldest royal city of Morocco and the religious center of the country. The medina of Fez extends over a hill. In the highest section is the district of the potters, lower class housing, and workshops of the tanners and dyers. The dyers have given the neighborhood a colorful appearance as the dyed wools hang in strands overhead in the streets or are stored in huge earthenware jugs.
The medina in Fez is very busy and chaotic. You can even buy herbs for amulets against the evil eye. A possible excursion is a guided walk through the medina, which will take you to places you would not otherwise encounter, such as a beautiful old Koran school or a mosque. Also, you could go to a hammam (bath house) for a thorough scrubdown and for total relaxation.
Erfoud
Day 8: Fez - Erfoud 
Day 9 Erfoud, desert safari Erg Chebbi
The day's journey from Fez to Erfoud is a wonderful journey across the Middle Atlas. You can see how this affects the climate ridge on both sides: from a predominantly green region we enter a desert area on the other side of the ridge.
We pass the mountain village of Azrou, and the Berber life of sheep and goat herding. We pass through the cedar forests in Azrou where monkeys live in the trees. Along the way we can have lunch in Midelt, a place with many dining options. It is possible that while en route route we will pass nomad tents, and perhaps we will get an an invitation to tea. The route we follow is a beautiful with rugged rock formations interspersed with green valleys with kasbahs and villages.
By evening we arrive in Erfoud, where we stay in a hotel with a pool. The next day we take an unforgettable desert safari where you travel further with land rovers to Erg Chebbi, where the small desert begins. After arriving at the camp we can take a camel ride, and we view the sunset from the high sand dunes. After returning to the camp we have a typical Berber dinner in a Bedouin tent. Also in the early morning we can experience sunrise over the sand dunes. Beds and sheets are provided and there are toilets and showers. After breakfast we drive back to Erfoud.
Dadès Gorge
Day 10 Erg Chebbi - Tinghir - El Keela - M'Gouna – Dadès Gorge 
Day 11 Dadès Gorge
We drive a few hours of Erfoud to Tinghir, where we make a stop at the famous Gorge du Todra. The flowing waters of a stream formed an impressive gorge here. We then drive to another nature reserve, the Dadès Gorge, where we arrive at the beginning of the evening. We make a brief stop in El Keela and M'Gouna, famous for the annual rose festival. Here you have a whole day to explore the rugged landscape. Several walks are possible in this area, from one hour to almost a full day. You can choose a simple walk with the hotel as a starting point. Experienced mountain hikers can be dropped off with a van in the gap.
Zagora
Day 12 Dadès Gorge - Ouarzazate - Zagora 
Day 13 Zagora
On the way to the southern Zagora we drive through the Valley of a Thousand Kasbahs. In this green valley we see many castles. Some are still inhabited, others are only ruins. After four hours we break the journey for lunch in Ouarzazate . At the end of the afternoon we arrive in Zagora.
Here you will stay in a nice hotel in the palm grove, with a restaurant and pool. Characteristic of this small village are the mud houses and the large square, where daily life goes on. Men dressed in the traditional jalabiya sit together in groups; you continually hear the clatter of dominoes. Zagora is located in a desert region and is a quiet place from which you take beautiful walks or take a camel ride in the desert.
Marrakech
Day 14 Zagora - Ait Benhaddou - Marrakech 
Day 15 Marrakech
We leave early for the day of travel to Marrakech, one of the royal cities. The trip from Zagora starts with a drive through the green valley of the Draa, where dozens of Kasbahs can be seen. Some are still inhabited, others only shadows of their former glory. This is Morocco's main area for date cultivation. We interrupt the trip for lunch at Ait Benhaddou. We pass the highest point of the Atlas mountains at 7414 ft where you have a phenomenal view of the area.
We arrive late afternoon in Marrakech. Djemaa el-Fna is the heart of the city. In the morning you can visit the most colorful market of Morocco. In the afternoon the square turns into a big attraction. Magicians, snake charmers, fortune tellers and beggars mingle among sellers and offer a fascinating spectacle. Near the square is the striking Koutoubia mosque with a square tower.
Furthermore, you can indulge yourself in the beautiful architecture of Marrakech rich in palaces and kasbahs. There are some beautiful parks such as the Jardin Majorelle .
Essaouira
Day 16: Marrakech - Essaouira 
Day 17 Essaouira 
Day 18 Essaouira
From Marrakech, we drive to the fishing village of Essaouira , where we have three nights in a centrally located hotel. The constant winds make for pleasant temperatures. The fortress with its weathered white houses, numerous coffee houses, and terraces makes this town feel more Portuguese than Moroccan. The town is mostly car-free.
By the sea you find major forts; Essaouira, with special tax exemptions, was a thriving trading center. Later, the city was also renowned as a resort. You can make beautiful long beach walks and eat delicious seafood dishes. Essaouira is known for a special type of woodcarving.
Marrakech
Day 19 Essaouira - Marrakech 
Day 20 Marrakech
The last night of your stay in Morocco will be spent in Marrakech. 
Dates and prices
Departure dates 2023
| Land Begins | Land Ends | Price | Availability | |
| --- | --- | --- | --- | --- |
| Apr-03-23 | Apr-23-23 | $2,635 | 15 seats | book now > |
| Apr-24-23 | May-14-23 | $2,765 | 0 seats | |
| May-15-23 | Jun-04-23 | $2,895 | 0 seats | |
| | Aug-07-23 | $2,635 | 9 seats | book now > |
| Jul-25-23 | Aug-14-23 | $2,505 | 16 seats | book now > |
| | Sep-25-23 | $2,765 | 9 seats | book now > |
| Sep-19-23 | Oct-09-23 | $2,765 | 18 seats | book now > |
| Oct-10-23 | Oct-30-23 | $2,635 | 20 seats | book now > |
| Oct-17-23 | Nov-06-23 | $2,570 | 20 seats | book now > |
Departure dates 2024
| Land Begins | Land Ends | Price | Availability | |
| --- | --- | --- | --- | --- |
| Apr-09-24 | Apr-29-24 | $2,570 | 20 seats | book now > |
| Apr-30-24 | May-20-24 | $2,440 | 20 seats | book now > |
| May-21-24 | Jun-10-24 | $2,440 | 20 seats | book now > |
Conditions "Guaranteed leave"
Price includes
 Land program
Guide assistance (as logistics coordinator/not lecturer)
Transport by bus and jeep
Hotel stays including breakfast
Night in a Bedouin tent with dinner and breakfast
Camel Excursion Erg Chebbi
Price excludes
 Excluded from our Morocco tour package: international flights from/to United States, meals, and optional excursions, entrance fees if not specifically named as included, visa(if applicable), exit taxes (if applicable), tips, personal expenses, travel insurance, airport transfers at arrival & departure.
Cost Overview
| | |
| --- | --- |
| Single accommodations | $250 |
|   |   |
| Extension hotel city #1 | Essouira |
| Double room per person | $50 |
| Single room | $63 |
| Extension hotel city #2 | Casablanca |
| Double room per person | $38 |
| Single room | $50 |
|   |   |
| Estimated out-of-pocket, weekly | $200 |
|   |   |
| Deposit due upon booking |   |
|   | * Deposit based on 20% of minimum land price, or $500 minimum |
|   | * Balance due 60 days prior to departure.  |
Practical information
Accommodations & Meals
  Accommodations - In Morocco we stay in cozy and comfortable hotels with Wi-Fi. Most hotels have a pool. Everywhere there is a shower and toilet and in most hotels is air conditioning. We use hotels selected for the location, facilities and attractions in the area. Breakfast is included.
In the Sahara we stay one night in a Bedouin tent under the stars. You will sleep in a bed with sheets and warm blankets. During this stay the dinner and breakfast included.
Some examples of our usual hotel (subject to change)
Casablanca       Moroccan House Hotel
Rebate               Hotel Balima
Chefchaouen    Hotel Madrid
Fès Hotel           Batha
Erfoud               Hotel Riad Salam
Zagora               Tinsouline
Marrakech         Moroccan House Hotel
Essaouira          Hotel Souiri

Single room - Djoser is single friendly! If you are traveling solo, we will match you with a same-sex roommate. If we cannot match you, there will be no additional room charge. For a reasonable charge, you may request single accommodations, subject to availability. Just indicate this preference on your booking form. You will find pricing for single accommodations on"Dates & Prices" page.

Hotel extensions - It is always great to be well rested when you begin a journey such as this. If you would like to book an extension hotel night upon arrival in the city where the land program begins, let us know on your booking form. You will find the prices for extension nights listed on the "Dates & Prices" page.

Meals - Breakfast during our Morocco tour is included and usually consists of (rod) bread, butter and jam or honey. The food in Morocco is varied, good and not expensive. You pay between $7 - and $12 for a meal. During the desert night dinner is also included. There is a famous Moroccan tajine, a stew of meat and vegetables; you can order it for little money in every restaurant and terrace. Also you encounter couscous in all varieties and price ranges. In addition, the French colonial rule left its mark in the menu. Besides bread at breakfast is the "Salad Niçoise" is frequently served. On the coast you can eat a lot of perfectly cooked fish: especially in Essaouira. Typically Arabic are the many salads, which are often served as a side dish.Popular are also skewers with meat, a kind of Moroccan satay.
Flights & Transportation
 Land program begins in Casablanca at hotel around 3:30 PM
Land program ends in  Marrakech early morning
 Land program begins: approx. 3:30 PM at hotel
Land program ends:  Early morning. Dutch participants depart approx. 6AM for airport (you may travel with them or check out later) 
Booking your international flight - We provide the land package and transportation within the program as described. We do not arrange international flights from or to the United States or Canada. The land program will begin approximately two hours after the arrival of the Netherlands (NL) participants who will be arrive from Amsterdam. The land program will end about 4 hours prior to their scheduled departure time, which allows for time to get to the airport. The proposed flights for the Dutch participants and the land beginning and end times are listed in this section. They are subject to change based on flight delays or changes. We will keep you posted of any flight changes that we are aware of prior to the trip. When scheduling your flights, keep the following times in mind:
Dutch participants' proposed flights: (subject to change)
Airline: Transavia
NL participants arrive:  Casablanca  13:25
NL participants depart: Marrakech    10:10 
Before you book your flight - To avoid flight change or cancellation costs get email confirmation from our office that the trip has enough participants to be a "GO".
Verify the spelling of your name-within 24 hours - When you book your flights, double check your flight records to confirm that your name is spelled on your ticket exactly as it appears on your passport. Some companies (for example, ORBITZ) will only allow a 24 hour window to correct any errors without penalty. You may incur heavy fees for changes, forfeiture of your flight ticket, or even worse, you could be denied entry to a border upon arrival.
Send us a copy of your flight itinerary - We will forward to the tour leader so they will know when to expect you at the hotel and when you will be departing.
Keep in mind hotel extensions - If the Dutch travelers arrive early in the morning, we recommend that you arrange to fly in the day or night before so you will be meet the group. Some trips involve an immediate transfer from airport to the next town so make sure you will arrive before the others so you don't miss the first meeting or transfer to the next location. We can arrange an extension hotel night for you. Prices for hotel extensions can be found in the "Dates & Prices" section
If the Dutch participants arrive in the late evening - Should they arrive very late in the evening, the group will have their first meeting in the morning in the hotel lobby. You can check in earlier and relax or explore on your own.
Airport transfer to/from hotel – not Included - If you will be arriving and or departing on the same flight as the Dutch travelers let us know. Then you can join them on the bus for the group transfer at no additional charge. Notify us in advance so we can alert the tour leader. If you schedule your flight at the same time as theirs, or later, you can join them on the group transfer to the airport at no additional charge. Otherwise, you can take an authorized taxi to the first hotel on the list we have provided for you. Private airport transfers can be very costly . If your flight is delayed, they are difficult to reschedule or cancel. With a taxi, you are not charged for waiting time or cancellations.
Useful Links for booking your flights
Orbitz.com
Expedia.com
Kaykak.com

Local transportation - We ride with a comfortable bus with own driver. Because we have our own transport, it is always possible to stop for a photo, a visit to a market, or get off at a beautiful piece of nature. A number of travel days lasts the entire day, as the day traveling from Fez to Erfoud and Zagora to Marrakech. You'll arrive at the end of the day at the destination, but throughout the day we stop to look at attractions. In the 'medinas' you explore on foot the maze of small streets.
From Erfoud to the Bedouin camp in Merzouga we travel by jeep. On site you can take a camel ride, which is included in the program.
Money Matters
  A summary of all trip costs can be found on our "Dates & Prices" page. Prices may fluctuate throughout the year depending on currency exchange, gas costs, etc.
Included in price of our Morocco tour package
Land package (begins & ends at hotel)
Local English / Dutch-speaking tour guide
Transport by bus and jeep
Hotel stays including breakfast
Night in a Bedouin tent with dinner and breakfast
Camels Excursion Merzouga
 
When you book a trip
$500 deposit is due upon booking to hold your place
Payments by charge card or check are accepted
Balance is due 60 days prior to departure date

While you are traveling
| | |
| --- | --- |
| Local Currency:  | Dirham |
| ATM Machines: | Widely available  |
| Credit Cards | Accepted most places |
| Types of Cash Accepted: | A few dollars for emergencies. Small denominations. Undamaged bills newer than 10 years old |

Tipping - It is customary to tip for services rendered. The tour leader will organize a tip jar at the beginning of the trip, from which tips to drivers, guides, hotel staff are paid. Depending on the size of the group, each participant will be asked to contribute $40 to $50. This does not include a tip for your tour leader. Tipping the tour leader is appreciated and the amount up to your discretion. 

**You will find a list of all trip costs in the "Dates & Prices" section, including your estimated out of pocket costs.
Excursions
  In Djoser you decide which sights you wish to visit. One person may stroll through the Medina looking for bargains, the other may want to explore a  museum or to relax in one of the many tea houses or in a park to observe daily life. In most cases, you can explore yourself or with peers, with or without the help of our tour guide, on foot or by local transport . Entrance fees are not included in the price, so you have the freedom to determine your own plans.
Some sights not to be missed, are they difficult to reach or are en route to our next overnight. Such excursions are built into the schedule. Even with these excursions the entrance fees are not included. We provide an estimate of out of pocket expenses on Prices/Dates page.
 
During this trip, the following excursions in the itinerary included:
A stop in royal cities Volubilis and Meknes
A stop in the picturesque mountain village of Azrou
Desert safari by jeep to Erg Chebbi, incl. A camel ride
A stop in the Todra Gorge  Tinghir and the pink town of El Keela M'Gouna
A stop in Ouarzazate, where famous Hollywood films included
Visit impressive kasbah Ait Ben Haddou
A stop in El Jadida with visiting old Portuguese fortress
In Morocco there are other excursions that are definitely worth seeing. A city tour of Fez, led by a guide, which includes a nice viewpoint and visit to several tanneries will reveal a lot about the history of this city. In Dadès Valley you can take a guided scenic walks, including a hike to the impressive Dadès Gorge.  A visit to the Djemaa el Fna square in Marrakesh must. In Marrakech you can visit the square and the souks, opt for a walk through one of the beautiful parks and gardens. It is also possible to explore the city by bike. The trip will end in Essaouira, where you can experience the daily life of fishermen in the picturesque fishing port.
Travel Documents
  When you book a trip we will provide you with more details about necessary documents. Passports should be current and valid for at least 6 months beyond your departure date. If a visa is required, you may need extra pages in your passport for your stamps. Check all visa requirements carefully and leave yourself plenty of time to send and receive documents before your trip.
Travel documents needed
Morocco tourist visa needed - NO Consulate link

Visa expeditor - If you are anxious about the visa process, or if you are short of time, you can pay an additional fee for an expediting service. They will look over your paperwork and should be able to guaranty a swift return of your visa or passport. We can recommend TRAVISA. 
Health Issues & Insurance
 Health - Check for the Center for Disease Control – Travelers information for recommendations. Keep in mind that they may recommend an inoculation or medication such as malaria pills, which may be necessary for one specific part of a country but not another, or for a particular season. Shots are expensive. Make sure to get only what is needed. We recommend asking your doctor for a prescription to combat a more serious intestinal disorder.
When you book a trip we will provide you with information regarding the usual recommendations for the region we will visit. You will be responsible to check with your travel clinic or physician to review your plans and to find out the most up-to-date recommendations and needs for your particular situation. Plan to get your inoculations four to six weeks in advance of your trip. Some offices may need to preorder the medicines so call in advance.It is wise to pay careful attention to what you eat. Also, we recommend you bring medicines such as pain-killer and for remedy for intestinal disorders (such as IMMODIUM). Bring a small first aid kit. Tweezers, band-aids, antiseptic cream, insect repellent , salt rehydration tablets. The tour leader will have a first aid kit.
Climate and altitude changes can sometimes cause illness. Be sure to drink plenty of water. Bottled water is readily available. Excessive alcohol intake contributes to dehydration and makes you more vulnerable to illness. Make sure that you get plenty of rest and enough food and drink during the trip.
Most people are recommended to get
Vaccination against DTP and hepatitis A
 
Insurance - For piece of mind, we recommend that you procure travel insurance. In the event of an illness or injury, an emergency evacuation can be incredibly expensive and you would want access to the best possible facility. Also, lost baggage or missed flights can mean added expenses, Even events at home may prevent you from taking a trip, such as a lost job or ailing family member. It is important to get travel insurance immediately after booking. Most companies have a brief window (within 10 days of booking) for coverage for a preexisting condition. You will be asked to provide us with travel insurance contact information before your departure.
You are free to choose your own provider. Over the years, we have recommended TRAVELEX. They offer a variety of plans and most importantly, they are responsive. Should you choose to go with TRAVELEX, you will contact them directly and the cost of your coverage will depend on the plan you choose. The cost will be based over the total cost of your trip and flights, and the amount is also subject to your age. Ask about the TRAVEL PLUS plan and the more economical TRAVEL LITE plan. * Arrange for insurance immediately after booking your trip so that you are covered for any pre-existing situation. TRAVELEX 1-800-228-9792
Group Composition
Djoser travelers are active, enthusiastic travelers of all ages. Join an international group with travelers from the Netherlands, Belgium and North America, who will be the minority group on these trips. Most of our trips range from a minimum of eight participants to a maximum of 20 or 22. You will find couple and singles on our trips. Feel free to call us if you wish to know the demographic make-up of a particular trips (number of singles and age range).
Minimum group size: 8 
Maximum group size: 20

What to expect when traveling with an international group - Djoser, Inc. (the United States office) has been a Morocco tour operator for over 15 years. Djoser, B.V. (the Netherlands office) has been a Morocco tour operator for over 25 years. So together we bring vast experience. Most of our trips are arranged in cooperation with Djoser, B.V. in the Netherlands. Because they cater to the voracious travel appetites of the Dutch, we can offer a vast number of programs around the world with hard-to-find itineraries, with numerous departure dates.
On our Morocco group tour, you will travel with an international group, with most participants from Holland and Belgium. The international make-up of our groups is the attraction for many regular Djoser travelers and adds another cultural element to the trip. Typically, there are only one to five North Americans per group. You will find that almost all of your fellow travelers have an excellent command of English and most are very willing to socialize. It's a great idea to extend an invitation to a few travel mates for coffee or a drink early in the trip. They will appreciate your effort and this is a great way to break the ice. It will be easier for them to test out their English skills in a quiet, one-on-one setting. Group members tend to warm up to one another in a day or two. As with every tour group, compatibility has most to do with individual personalities.
The Dutch are experienced and hearty travelers. We attract travelers of all ages and we enjoy the mix! You will find our participants welcome opportunities for independent explorations in addition to group activities. No matter their age, Djoser travelers expect, and are up to lots of walking, hiking, biking, or whatever comes our way. The Dutch and Belgian travelers will fly as a group from Amsterdam. You will meet the group and tour leader at the hotel where you will begin the land program with the group. 
Tour Leaders & Support Staff
  Our trips are guided by an experienced Dutch guide who speaks Dutch and English. He or she will be responsible for the organizational and technical aspects of the trip. He/she coordinates with the driver, hotels, and other vendors along the way. The tour leader has extensive travel experience and expertise as well as a comprehensive training.
Our experienced land representatives are situated in the destination country you will visit. We work closely with them and they function as the liaison between our office, the guide, drivers and hotels. They are also available in the case of an emergency and their number will be provided on your emergency contact list.
Climate & Geography
  Our trips are organized with weather conditions in mind. On our website, we will provide you with a weather summary of the region: Check temperature and rainfall for specific cities on your trip, during your month of travel at worldweather.org
Morocco has a temperate climate with cool winters and warm summers. The mountains and the sea temperature is different from that of the interior: in the mountains it is cooler and at the sea, the climate is milder.
In spring and autumn it can be chilly in the mountains and you need a sweater or jacket. Summers are hot in Morocco, but also dry, allowing the heat to be tolerated more easily than a moist heat.. In the mountains and the sea, it is also cool in the summer, so you need a sweater.
Photos & video
Book Trip/Trip Inquiry
                                                       BOOK MY TRIP 

•Begin your reservation process by filling in this TRIP INFO REQUEST and send to us via the website. We will confirm dates and prices, and answer any questions you may have about the trip.
•Download and complete the BOOKING FORM including all participants passport information and payment information. Email a PDF, scan, or clear photo of your completed BOOKING FORM to lukedjoser@gmail.com. All participants over 18 should sign the form.
• A deposit of 20% of total costs will be due upon booking in order to hold your place on the trip. The balance will be due 90 days prior to departure.
• Payments can be made by personal check or ACH wire transfer (domestic wire only). We will send you wire instructions.
• Upon receipt of your form, we will email you a receipt and confirmation of your booking.
• If paying by check, make check out to DJOSER, INC., Mail to Djoser, Inc. – Bookings 420 N. Oakland Drive, #6, Pasadena, CA 91101.
Questions? Call Luke Neal 484-995-2964. (West Coast)