Morocco tour, 15 days
This diverse tour introduces you to the four Moroccan imperial cities, where you can enjoy the Orient and crafts in the medinas. You sleep in the desert, visit the impressive Dadès Gorge and relax at the lovely beach of Essaouira. 
Join our international groups with active travelers, of all ages. Most will come from Holland and Belgium, but you will find they have an excellent command of English. Your tour leader addresses the group in Dutch and English.
Join us for a truly cultural experience.
Itinerary
Casablanca
Casablanca - Rabat
Rabat - Meknès - Volubilis - Fès
Fès
Fès - Midelt
Midelt - Erfoud, jeep desert safari - Merzouga, overnight desert stay in Bedouin
Merzouga - Erfoud - Tinghir - El Kelaa M'Gouna - Dadès Gorge
Dadè Gorge
Dadè Gorge - Ouarzazate - Ait Benhaddou
Ait Benhaddou - Marrakech
Marrakech
Marrakech - Essaouira
Essaouira
Essaouira - Casablanca
Casablanca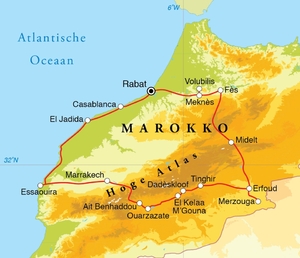 Land program begins: Casablanca 3:30 PM
Land program ends: Casablanca 10 AM

Subject to change
Day by day
On the Road with Djoser
Djoser's active journeys offer an ideal balance of guidance and freedom. Our guide-assisted adventures cover the globe and feature wildlife, beautiful natural settings, historic sights and authentic cultural experiences. During Djoser travels, the daily schedule is not rigidly set.
The day-to-day descriptions describe the anticipated, or possible daily activities. Our travel days are obviously fixed, but each day the program may deviate depending on the preferences of the group, in consultation with the tour leader. The tour guide offers a program daily, with planned excursions. You are never obligated to participate. Those who desire more freedom may go out exploring or may dine on their own. Your tour leader can offer suggestions for safe explorations and fun restaurants. You will find that Djoser participants will take advantage of this flexibility. We believe a sense of discovery is an integral element of a great trip.
We offer the land program only. Below, you will find the day-to-day description days numbered to correspond with that of the Dutch participants (which includes their transit days from/to Amsterdam). This is so that when you are traveling and refer to this day-to-day description, all travelers will be "on the same page" or the same day number.
Rabat, Meknes and Volubilis
Day 1 Casablanca
Day 2 Casablanca - Rabat
Day 3 Rabat - Meknes - Volubilis - Fez
We begin our Morocco tour in Casablanca. The Hassan II Mosque is a "must see". It is the largest mosque in Morocco and the fifth largest in the world. Non-Muslims are allowed inside here.
In Rabat, the second of the four imperial cities, you can take a look at the striking Hassan Tower and the Mausoleum of Mohammed V, built to commemorate the king. The changing of the guard always attracts lots of attention. A visit to the Oudayatuinen is worth a visit. Across the Rif we drive via Volubilis and Meknes to Fez. Meknes is the fifth largest city in Morocco. We visit the mausoleum of Moulay Ismail, who died in 1727. Everywhere you look you will see stunning architecture. The imposing city walls and gates turn a golden yellow color in the evening light. Volubilis was a flourishing Roman settlement in the 2nd and 3rd centuries. Highlights include the basilica, the triumphal arch, and a number of well-preserved mosaics. The city flourished particularly from the olive oil trade. In the 18th century, Volubilis was damaged because Sultan Moulay Ismail used the city as a quarry for the reconstruction of Meknes. Volubilis and Meknes were named to the the UNESCO World Heritage List.

Fez
Day 4 Fez
We continue to Fez, which is nearby. Our hotel in Fez is centrally located near the old Medina and the Spanish-Moorish Dar Batha Museum. Through the Bab Bou Jeloud you enter into the medieval medina. It is a maze of crowded alleys and streets full of men hauling their wares, donkey carts, and children playing. Merchants have their goods in stalls and displayed on the ground. In the cluttered shops you will always find something to your liking. A guided walk through the medina will take you to places you would not normally come across such as a beautiful old Koran school, tanneries or a beautiful mosque. The numerous mosques, Islamic schools and palaces indicate a rich past. We sleep two nights in Fez. You can relax in the garden by the pool at our hotel. You can also visit a traditional hammam and get a "scrub down" and experience total relaxation.

Fez, Midelt, Erfoud and Merzouga
Day 5 Fez - Midelt
Day 6 Midelt - Erfoud - Merzouga
We drive through the Middle Atlas with bare rocks and cedar forests. We pass the Berber village of Azrou, where you get a look at the Berber life of sheep and goat herders. We pass cedar forests where monkeys live in the trees. After a night in Midelt we travel through the Ziz River and several Berber villages to Erfoud, where we board our jeeps for a beautiful ride through the Erg Chebbi desert. In Merzouga we stay in Bedouin tents and enjoy a wonderful dinner together. The sunset and sand dunes are unforgettable.

Dadès Valley
Day 7 Merzouga - Erfoud - Tinghir - El Kelaa M'Gouna – Dadès Gorge
Day 8 Dadès Gorge
We get up early and drive through the beautiful countryside in the direction of Dadès Valley. We stop at the immense Todra Gorge, Tinghir and El Keela M'Gouna. This city is known for its rose festival, which takes place every year in May. In Dadès Valley you can take beautiful guided hikes, including the impressive Dadè Gorge. 

Aït Benhaddou, Marrakech
Day 9 Dadè Gorge - Ouarzazate - Ait Benhaddou
Day 10 Aït Benhaddou - Marrakech
Day 11 Marrakech
Day 12 Marrakech - Essaouira
We travel through the desert town of Ouarzazate, the "Hollywood of Morocco" with one of the biggest film studios in the world. Many famous films were shot here. We continue our way to the fortified city of Aït Benhaddou. The many towers of this kasbah are decorated with diamond motifs. In 750 the city was founded by Berbers, led by Benhaddou, who is rumored to be buried somewhere within the kasbah. Aït Benhaddou, where about 150 people live, is on the UNESCO World Heritage List and served as a background for many desert films, such as "Jewel of the Nile," Jesus of Nazareth "," The Gladiator" and "Laurence of Arabia".
From Tizi-n-Tichka at about 7414 ft high, we drive to Marrakech. This beautiful, exciting city, is also known as the red city because of the color of the houses. Within the walls of the largest medina in Morocco is the Koutoubia Mosque with its distinctive square minaret of the 12th century. On the Djemaa el-Fna square there is a unique oriental atmosphere. There is always something to do. Fire eaters, snake charmers and acrobats show off their skills. Women can paint your hands with henna in artistic patterns. You can spend the day sampling delicious food in the square. Get comfortable at one of the long dining tables and discover the Moroccan cuisine. Escape the hustle and bustle of the souk in a restful garden or take a nice walk through the city and take a look at the fortress gates. You can also hire a carriage to look around. If you wish to get out of town into nature, you can make a day trip to the Ourika Valley, reached via a beautiful winding road through the foothills of the Atlas Mountains. The valley is higher than Marrakech and it is therefore cool. You can take long or short walks along seven waterfalls. In the charming village of Setti Fatma, you can have lunch. We drive to the coastal town of Essaouira on the Atlantic Ocean.

Essaouira
Day 13 Essaouira
Day 14 Essaouira - Casablanca
Day 15 Casablanca (Land ends)
Essaouira, also known as "the pearl of the Atlantic ', has won a place on the UNESCO World Heritage list. Here you see and feel the charm of bygone days. The houses are strongly reminiscent of the white villages of Andalusia. For centuries, it has been a melting pot of people, cultures and religions. The bay of Essaouira is a paradise for windsurfers and other wind and water sports, thanks to the firm and constant northwest wind. You also take a swim or relax here. The last night we stay in Casablanca before our trip ends the following day.
Dates and prices
Departure dates 2023
| Land Begins | Land Ends | Price | Availability | |
| --- | --- | --- | --- | --- |
| | Apr-07-23 | $2,320 | 1 seats | book now > |
| Apr-07-23 | Apr-21-23 | $2,320 | 15 seats | book now > |
| Apr-21-23 | May-05-23 | $2,450 | 0 seats | |
| May-05-23 | May-19-23 | $2,255 | 12 seats | book now > |
| May-19-23 | Jun-02-23 | $2,190 | 20 seats | book now > |
| Jun-02-23 | Jun-16-23 | $2,190 | 20 seats | book now > |
| Jul-14-23 | Jul-28-23 | $2,190 | 20 seats | book now > |
| | Aug-11-23 | $2,385 | 8 seats | book now > |
| Sep-08-23 | Sep-22-23 | $2,230 | 18 seats | book now > |
| Sep-22-23 | Oct-06-23 | $2,230 | 18 seats | book now > |
| Oct-06-23 | Oct-20-23 | $2,450 | 19 seats | book now > |
| Oct-20-23 | Nov-03-23 | $2,230 | 20 seats | book now > |
| Nov-04-23 | Nov-18-23 | $2,230 | 20 seats | book now > |
| Dec-23-23 | Jan-06-24 | $2,320 | 20 seats | book now > |
Departure dates 2024
| Land Begins | Land Ends | Price | Availability | |
| --- | --- | --- | --- | --- |
| Mar-23-24 | Apr-06-24 | $2,255 | 20 seats | book now > |
| Apr-13-24 | Apr-27-24 | $2,190 | 20 seats | book now > |
| Apr-19-24 | May-03-24 | $2,255 | 20 seats | book now > |
| May-10-24 | May-24-24 | $2,125 | 20 seats | book now > |
| Jun-07-24 | Jun-21-24 | $1,930 | 20 seats | book now > |
Conditions "Guaranteed leave"
Price includes
Included in our Morocco tour package: land program begins and ends at hotel, transportation, hotel accommodation with breakfast, desert night including dinner and breakfast, excursions according to program, tour guide (speaks Dutch & English).
Price excludes
Excluded in our Morocco tour package: international flights from/to United States, meals, and optional excursions, entrance fees if not specifically named as included, visa(if applicable), exit taxes (if applicable), tips, personal expenses, travel insurance, airport transfers at arrival & departure.
Cost Overview
| | |
| --- | --- |
| Land price from | $1,785 |
| Single accommodations | $200 |
|   |   |
| Extension hotel city #1 | Essouira |
| Double room per person | $50 |
| Single room | $63 |
| Extension hotel city #2 | Casablanca |
| Double room per person | $38 |
| Single room | $50 |
|   |   |
| Estimated out-of-pocket, weekly | $200 |
|   |   |
| Deposit due upon booking | $500 |
|   | * Deposit based on 20% of minimum land price, or $500 minimum |
|   | * Balance due 60 days prior to departure.  |
Practical information
Accommodations & Meals
Accommodations - During our Morocco tour we stay in cozy, comfortable hotels with Wi-Fi. Most hotels have a pool. Everywhere there is a shower and toilet and a number of hotels have air conditioning. We use hotels selected for their location, facilities and attractions in the area. Breakfast is included In the Sahara we stay one night in a Bedouin tent under the stars. You will sleep in a bed with sheets and warm blankets. During this stay the dinner and breakfast are included. When you book a Morocco trip in the summer, it's nice to cool off in the pool. Many hotels we stay at during this trip make use of a swimming pool. In Essaioura you can also take a dip in the sea.
Some examples of our usual hotel (subject to change)

Single room - Djoser is single friendly! If you are traveling solo, we will match you with a same-sex roommate. If we cannot match you, there will be no additional room charge. For a reasonable charge, you may request single accommodations, subject to availability. Just indicate this preference on your booking form. You will find pricing for single accommodations on"Dates & Prices" page.

Hotel extensions - It is always great to be well rested when you begin a journey such as this. If you would like to book an extension hotel night upon arrival in the city where the land program begins, let us know on your booking form. You will find the prices for extension nights listed on the "Dates & Prices" page.

Meals - Breakfast during our Morocco tour is included and usually consists of (rod) bread, butter and jam or honey. The food in Morocco is varied, good and not expensive. You pay between $7 - and $12 for a meal. During the desert night dinner is also included. There is a famous Moroccan tajine, a stew of meat and vegetables; you can order it for little money in every restaurant and terrace. Also you encounter couscous in all varieties and price ranges. In addition, the French colonial rule left its mark in the menu. Besides bread at breakfast is the "Salad Niçoise" is frequently served. On the coast you can eat a lot of perfectly cooked fish: especially in Essaouira. Typically Arabic are the many salads, which are often served as a side dish.Popular are also skewers with meat, a kind of Moroccan satay.
Flights & Transportation

Land program begins: Casablanca 3:30 PM
Land program ends: Casablanca 10 AM

Subject to change
Booking your international flight - We provide the land package and transportation within the program as described. We do not arrange international flights from or to the United States or Canada. The land program will begin approximately two hours after the arrival of the Netherlands (NL) participants who will be arrive from Amsterdam. The land program will end about 4 hours prior to their scheduled departure time, which allows for time to get to the airport. The proposed flights for the Dutch participants and the land beginning and end times are listed in this section. They are subject to change based on flight delays or changes. We will keep you posted of any flight changes that we are aware of prior to the trip. When scheduling your flights, keep the following times in mind:
Dutch participants' proposed flights: (subject to change)
Airline: Transavia
NL participants arrive: Casablanca 3:30 PM
NL participants depart: Casablanca 2:10 PM
Before you book your flight - To avoid flight change or cancellation costs get email confirmation from our office that the trip has enough participants to be a "GO".
Verify the spelling of your name-within 24 hours - When you book your flights, double check your flight records to confirm that your name is spelled on your ticket exactly as it appears on your passport. Some companies (for example, ORBITZ) will only allow a 24 hour window to correct any errors without penalty. You may incur heavy fees for changes, forfeiture of your flight ticket, or even worse, you could be denied entry to a border upon arrival.
Send us a copy of your flight itinerary - We will forward to the tour leader so they will know when to expect you at the hotel and when you will be departing.
Keep in mind hotel extensions - If the Dutch travelers arrive early in the morning, we recommend that you arrange to fly in the day or night before so you will be meet the group. Some trips involve an immediate transfer from airport to the next town so make sure you will arrive before the others so you don't miss the first meeting or transfer to the next location. We can arrange an extension hotel night for you. Prices for hotel extensions can be found in the "Dates & Prices" section
If the Dutch participants arrive in the late evening - Should they arrive very late in the evening, the group will have their first meeting in the morning in the hotel lobby. You can check in earlier and relax or explore on your own.
Airport transfer to/from hotel – not Included - If you will be arriving and or departing on the same flight as the Dutch travelers let us know. Then you can join them on the bus for the group transfer at no additional charge. Notify us in advance so we can alert the tour leader. If you schedule your flight at the same time as theirs, or later, you can join them on the group transfer to the airport at no additional charge. Otherwise, you can take an authorized taxi to the first hotel on the list we have provided for you. Private airport transfers can be very costly . If your flight is delayed, they are difficult to reschedule or cancel. With a taxi, you are not charged for waiting time or cancellations.
Useful Links for booking your flights
Orbitz.com
Expedia.com
Kaykak.com

Local transportation -  We ride with a comfortable bus with own driver. Because we have our own transport, it is always possible to stop for a photo, visit a market or get off at a beautiful piece of nature. In the medina we wander the maze of small streets. Erfoud to the Bedouin camp in Merzouga we travel in vehicles. On site you can take a camel ride, which is included in the program.
 
Money Matters
A summary of all trip costs can be found on our "Dates & Prices" page. Prices may fluctuate throughout the year depending on currency exchange, gas costs, etc.
Included in price of our Morocco tour package
Land package (begins & ends at hotel)
Local English / Dutch-speaking tour guide
Transport by bus and jeep
Hotel stays including breakfast
Night in a Bedouin tent with dinner and breakfast
Camels Excursion Merzouga
 
When you book a trip
$500 deposit is due upon booking to hold your place
Payments by charge card or check are accepted
Balance is due 60 days prior to departure date

While you are traveling
| | |
| --- | --- |
| Local Currency:  | Dirham |
| ATM Machines: | Widely available  |
| Credit Cards | Accepted most places |
| Types of Cash Accepted: | A few dollars for emergencies. Small denominations. Undamaged bills newer than 10 years old |

Tipping - It is customary to tip for services rendered. The tour leader will organize a tip jar at the beginning of the trip, from which tips to drivers, guides, hotel staff are paid. Depending on the size of the group, each participant will be asked to contribute $40 to $50. This does not include a tip for your tour leader. Tipping the tour leader is appreciated and the amount up to your discretion. 

**You will find a list of all trip costs in the "Dates & Prices" section, including your estimated out of pocket costs.
Excursions
Freedom and choice are important elements of a Djoser trip. In addition to scheduled group activities, wherever possible, you may decide which attractions you wish to visit, and with whom. Unless otherwise indicated, entrance fees are not included in the price, so you have the freedom to make your own choices. One person may prefer to stroll through the market in search of bargains, while someone else may want to relax by the pool, go to a museum, or take a bike ride. Join the guide or break off with others in the group to explore on foot or with the local transport. Some attractions should not be missed, or they are not easily accessible, or are en route to our next overnight location and are therefore built into the program. In the "Dates & Prices" section you will find the estimated out-of-pocket, weekly expenses that have calculated in typical entry fees in addition to meals and other costs.
During our Morocco group tour, the following excursions are included in the program:
A stop in royal cities Meknes and Volubilis
Desert safari by jeep to Merzouga, incl. A camel rid.
A stop in the Todra Cliff Tinghir and the pink town of El Keela M'Gouna
Day 9; a stop in Ouarzazate, where famous Hollywood movies were made and visit impressive kasba
Ait Ben Haddou
In Morocco are other excursions well worth doing. You can take a city tour of Fez, led by a guide, which includes a nice viewpoint. Visit several tanneries and also learn a lot about the history of this city. In Dadès Valley you can take guided scenic walks, including to the impressive Dadès Cliff. A visit to the Djemaa el Fna square in Marrakesh is a must. In Marrakech visit the square and the souks, or opt for a walk through one of the beautiful parks and gardens. It is also possible to explore the city by bike. The trip will end in Essaouira, where you can experience the daily life of fishermen in the picturesque fishing port.
Travel Documents
When you book a trip we will provide you with more details about necessary documents. Passports should be current and valid for at least 6 months beyond your departure date. If a visa is required, you may need extra pages in your passport for your stamps. Check all visa requirements carefully and leave yourself plenty of time to send and receive documents before your trip.
Travel documents needed
Morocco tourist visa needed - NO Consulate link

Visa expeditor - If you are anxious about the visa process, or if you are short of time, you can pay an additional fee for an expediting service. They will look over your paperwork and should be able to guaranty a swift return of your visa or passport. We can recommend TRAVISA. 
Health Issues & Insurance
Health - Check for the Center for Disease Control – Travelers information for recommendations. Keep in mind that they may recommend an inoculation or medication such as malaria pills, which may be necessary for one specific part of a country but not another, or for a particular season. Shots are expensive. Make sure to get only what is needed. We recommend asking your doctor for a prescription to combat a more serious intestinal disorder.
When you book a trip we will provide you with information regarding the usual recommendations for the region we will visit. You will be responsible to check with your travel clinic or physician to review your plans and to find out the most up-to-date recommendations and needs for your particular situation. Plan to get your inoculations four to six weeks in advance of your trip. Some offices may need to preorder the medicines so call in advance.It is wise to pay careful attention to what you eat. Also, we recommend you bring medicines such as pain-killer and for remedy for intestinal disorders (such as IMMODIUM). Bring a small first aid kit. Tweezers, band-aids, antiseptic cream, insect repellent , salt rehydration tablets. The tour leader will have a first aid kit.
Climate and altitude changes can sometimes cause illness. Be sure to drink plenty of water. Bottled water is readily available. Excessive alcohol intake contributes to dehydration and makes you more vulnerable to illness. Make sure that you get plenty of rest and enough food and drink during the trip.
Most people are recommended to get
Vaccination against DTP and hepatitis A
 
Insurance - For piece of mind, we recommend that you procure travel insurance. In the event of an illness or injury, an emergency evacuation can be incredibly expensive and you would want access to the best possible facility. Also, lost baggage or missed flights can mean added expenses, Even events at home may prevent you from taking a trip, such as a lost job or ailing family member. It is important to get travel insurance immediately after booking. Most companies have a brief window (within 10 days of booking) for coverage for a preexisting condition. You will be asked to provide us with travel insurance contact information before your departure.
You are free to choose your own provider. Over the years, we have recommended TRAVELEX. They offer a variety of plans and most importantly, they are responsive. Should you choose to go with TRAVELEX, you will contact them directly and the cost of your coverage will depend on the plan you choose. The cost will be based over the total cost of your trip and flights, and the amount is also subject to your age. Ask about the TRAVEL PLUS plan and the more economical TRAVEL LITE plan. * Arrange for insurance immediately after booking your trip so that you are covered for any pre-existing situation. TRAVELEX 1-800-228-9792
Group Composition
Djoser travelers are active, enthusiastic travelers of all ages. Join an international group with travelers from the Netherlands, Belgium and North America, who will be the minority group on these trips. Most of our trips range from a minimum of eight participants to a maximum of 20 or 22. You will find couple and singles on our trips. Feel free to call us if you wish to know the demographic make-up of a particular trips (number of singles and age range).
Minimum group size: 8 
Maximum group size: 20

What to expect when traveling with an international group - Djoser, Inc. (the United States office) has been a Morocco tour operator for over 15 years. Djoser, B.V. (the Netherlands office) has been a Morocco tour operator for over 25 years. So together we bring vast experience. Most of our trips are arranged in cooperation with Djoser, B.V. in the Netherlands. Because they cater to the voracious travel appetites of the Dutch, we can offer a vast number of programs around the world with hard-to-find itineraries, with numerous departure dates.
On our Morocco group tour, you will travel with an international group, with most participants from Holland and Belgium. The international make-up of our groups is the attraction for many regular Djoser travelers and adds another cultural element to the trip. Typically, there are only one to five North Americans per group. You will find that almost all of your fellow travelers have an excellent command of English and most are very willing to socialize. It's a great idea to extend an invitation to a few travel mates for coffee or a drink early in the trip. They will appreciate your effort and this is a great way to break the ice. It will be easier for them to test out their English skills in a quiet, one-on-one setting. Group members tend to warm up to one another in a day or two. As with every tour group, compatibility has most to do with individual personalities.
The Dutch are experienced and hearty travelers. We attract travelers of all ages and we enjoy the mix! You will find our participants welcome opportunities for independent explorations in addition to group activities. No matter their age, Djoser travelers expect, and are up to lots of walking, hiking, biking, or whatever comes our way. The Dutch and Belgian travelers will fly as a group from Amsterdam. You will meet the group and tour leader at the hotel where you will begin the land program with the group.
Tour Leaders & Support Staff
Our trips are guided by an experienced Dutch guide who speaks Dutch and English. He or she will be responsible for the organizational and technical aspects of the trip. He/she coordinates with the driver, hotels, and other vendors along the way. The tour leader has extensive travel experience and expertise as well as a comprehensive training.
Our experienced land representatives are situated in the destination country you will visit. We work closely with them and they function as the liaison between our office, the guide, drivers and hotels. They are also available in the case of an emergency and their number will be provided on your emergency contact list.
Climate & Geography
Our trips are organized with weather conditions in mind. On our website, we will provide you with a weather summary of the region: Check temperature and rainfall for specific cities on your trip, during your month of travel at worldweather.org
Morocco has a temperate climate with cool winters and warm summers. The mountains and the sea temperature is different from that of the interior: in the mountains it is cooler and at the sea, the climate is milder.
In spring and autumn it can be chilly in the mountains and you need a sweater or jacket. Summers are hot in Morocco, but also dry, allowing the heat to be tolerated more easily than a moist heat.. In the mountains and the sea, it is also cool in the summer, so you need a sweater.
Photos & video
Book Trip/Trip Inquiry
                                                       BOOK MY TRIP 

•Begin your reservation process by filling in this TRIP INFO REQUEST and send to us via the website. We will confirm dates and prices, and answer any questions you may have about the trip.
•Download and complete the BOOKING FORM including all participants passport information and payment information. Email a PDF, scan, or clear photo of your completed BOOKING FORM to lukedjoser@gmail.com. All participants over 18 should sign the form.
• A deposit of 20% of total costs will be due upon booking in order to hold your place on the trip. The balance will be due 90 days prior to departure.
• Payments can be made by personal check or ACH wire transfer (domestic wire only). We will send you wire instructions.
• Upon receipt of your form, we will email you a receipt and confirmation of your booking.
• If paying by check, make check out to DJOSER, INC., Mail to Djoser, Inc. – Bookings 420 N. Oakland Drive, #6, Pasadena, CA 91101.
Questions? Call Luke Neal 484-995-2964. (West Coast)