Madagascar & Mauritius, 21 days
 The unique flora and fauna of Madagascar can be found in the beautiful national parks of Périnet, Ranomafana and Isalo. Walking in the spectacular rainforest we go looking for tropical animals and beautiful flora. The thermal baths of Antsirabe lend themselves to a relaxing hour. With the white beaches, azure water and the beautiful coral reefs of Mauritius we decide this tour. Here you can sunbathe, swim, snorkel or join a diving trip. In Mauritius you can also visit cities or villages and enjoy nature. Nature lovers and hikers will find something to their delight in the Black River Gorges National Park, a beautiful nature reserve where the rare flora and fauna of the rainforest is protected.
Join our active groups, of all ages. The international international make-up of our groups add to your cultural experience. Most of your fellow travelers will come from Holland and Belgium (almost all have a superb command of English). You guide addresses the group in Dutch and English.
This program is land only. We will provide information so you can organize your flights to correspond with the arrival of travelers coming from Europe.
Itinerary
Arrival Antananarivo
Antananarivo - Andasibe - Périnet Reserve
Périnet Reserve
Périnet Reserve - Antsirabe
Antsirabe, cycling tour lakes Andraikiba & Tritriva
Antsirabe - Ambositra - Ranomafana NP
Ranomafana NP
Ranomafana NP - Fianarantsoa, boat trip Matsiatra River
Fianarantsoa - Ambalavao
Ambalavao - Ranohira
Ranohira - trekking Isalo national park
Isalo NP - Ranohira
Ranohira - Tulear - Ifaty
Ifaty
Ifaty
Ifaty - Tulear - flight to Antananarivo (flight included)
Antananarivo - flight to Mauritius (flight not included)
Mauritius
Mauritius
Mauritius
Mauritius - Land Ends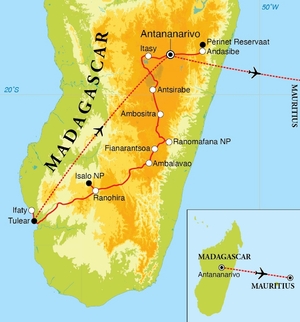 Day by day
Antananarivo
Day 1 (transit day for most)
Day 2 arrival Antananarivo
You will meet your tour leader and the other participants, who have arrived from Amsterdam, at the first hotel. You can walk around on the first day in Tana, as Antananarivo is also called by its inhabitants. The city is built on twelve hills that are connected by wide steps. It lends itself perfectly for wandering through the characteristic neighborhoods with churches, squares, alleys and nice markets. Apart from Asian and African influences you will encounter relics from the French colonial era. The ruin of the palace, called the Rova, is certainly worth a visit.
Périnet reserve
Day 3 Antananarivo - Andasibe - Périnet reserve
Day 4 Périnet reserve
Andasibe is located at about 1,000 meters altitude. Nearby is the nature reserve Perinet, one of the oldest reserves in Madagascar. We spend the night here in cottages that are beautifully situated on the Analamazoatra river. The reserve is located on the other side of the water. During a walk through the spectacular rainforest you can let the penetrating call of the Indri indri get through to you.
The indri is Madagascar's largest lemur species, which often stays high in the trees. You can participate in a nocturnal walk to look for typical nocturnal animals such as the endearing mouse and dwarf mounds. Do not forget to bring your flashlight!
The next day, in the morning with the help of a guide, we travel further into the dense forest to see the special flora and fauna. With some luck, you can capture beautifully colored chameleons or one of the special endemic bird species that occur here on the sensitive plate.
Antsirabe
Day 5 Périnet reserve - Antsirabe
Day 6 Antsirabe, bike tour
Antsirabe is located on the central highland. This city was a luxury spa for the French because of the cool climate and various thermal baths. Many old buildings are recall French colonial times. The grandeur of various buildings, including the impressive Hotel des Thermes, testify to this. Antsirabe is mainly populated by the Merina with a striking Asian appearance. It is worth a visit to the cathedral where you will find beautiful stained glass windows. A good way to explore the city is a trip by pousse-pousse, a motorized rickshaw. The generous owners are happy to tour you and, for example, take you to one of the lively markets Antsirabe has.
From Antsirabe we make a nice bike ride to Lac Andraikiba and Lac Tririva. We start on a paved road towards Lac Andraikiba (7 km). From here the tour continues on a piste to Lac Tritriva (12km). It is occasionally steep and fall. When we arrive at Tritriva, we take a walk around the lake with a local guide.  Then we enjoy a picnic lunch in a nearby village. In the afternoon we return to Antsirabe.
Ranomafana National Park
Day 7 Antsirabe - Ambositra - Ranomafana National Park
Day 8 Ranomafana NP
We continue our way south. Ambositra is surrounded by photogenic rice terraces and is known for its artistic woodworkers. Ranomafana, our next destination, is the base for a visit to the famous Ranomafana Parc National . Ranomafana is a quiet village that, like Antsirabe, has a thermal bath. In the adjoining park of the same name you can choose from different walks; You can spot no less than twelve different lemurs here, some of which are unique.
The shortest walk takes about two hours, while the longest takes half a day. With the help of hired guides, we go out in groups. The search through the rainforest for the beautiful diadem sifaki, the red-bellied lemur and the extinct golden bamboo lemur makes an unforgettable impression.
For ornithologists, the park is a true paradise. The park has no less than 96 bird species, many of which are endemic. In the evening we can see specific night people like the striped civet cat and the endearing mouse lemur. In addition to the special fauna, the eye-catching orchids, giant bamboo, special palms and tree ferns are certainly worth your attention.
Fianarantsoa & Ambalavao
Day 9 Ranomafana NP - Fianarantsoa, ​​boat trip on the Matsiatrarivier
Day 10 Fianarantsoa - Ambalavao
Day 11 Ambalavao - Ranohira
We travel to the Fianarantsoa, ​​popularly called Fianar, on the Haut Plateaux. The high historic city center has beautiful buildings. From here you have a panoramic view of the surroundings and Basse Ville. The next day it is an hour and a half bumping over a rough road to the Matsiatra River. Here we make a boat trip where we visit a village school and take a picnic lunch.
We continue our journey via Fianarantsoa to Ambalavao. The centrally located Fianarantsoa is the capital of Betsileo and is known as the intellectual center of Madagascar. It is surrounded by tea plantations, rice fields and vineyards. The city has a few restaurants, where you can taste the locally produced wine. In the messy Basse-Ville it is always busy and you are surrounded by children who want to sell postcards. Fianar, as Fianarantsoa is also called, is dominated by the 1400 meter high Mt. Kianjasoa.
The city of Ambalavao has typical Betsileo architecture and a factory where the famous Antaimoropapier is made. This paper is artfully decorated with fresh flowers. The pieces of paper hang to dry outside the factory.
The bus runs through impressive black granite formations with special vegetation towards Ihosy, the capital of the Bara tribe. After a steep climb we reach their steppe-like meadow area, the Horombe plateau.
The Bara unite their Malaysian-Polynesian origin with strong African influences. The cattle is important for the status of the Bara-man. The more zebus (bull cattle) he has, the higher his position on the social ladder. The Bara are the only polygamous tribe, but the number of wives does not count for the importance of the men. At the end of the day we reach Ranohira in the Isalo Mountains.
Isalo national park
Day 12 Ranohira - trekking in Isalo national park
Day 13 Isalo NP - Ranohira - Tulear
From Ranohira we explore the Isalo national park. The images range from vast plains to classic wild-west landscapes. We walk through the park with a guide and carriers. Because of the rugged landscape, we regularly walk inclines. 
Highlights are the sandstone formations that have been given special forms by erosion: the Piscine Naturelle, an attractive 'natural swimming pool' in the form of a deep green pool framed with lush exotic vegetation, and the Canyon des Singes, a gorge where you can run different types of lemurs to see, for example the famous ring tailed lemurs. We store our tents for an overnight stay in the park. Meals are taken care of. The next morning it is mainly descending in the direction of Ranohira. From here we drive further south to the port of Tulear. The landscape is getting dryer. We pass a palm valley and see the typical African monkey bread tree or baobab. The Mahafaly, a traditional tribe that practices ancestor worship,
Ifaty
Day 14 Tulear - Ifaty
Day 15 Ifaty
Day 16 Ifaty
Day 17 Ifaty - Tulear - flight to Antananarivo
After the efforts of the past few days, it is good to stay in the bungalows at the seaside near Ifaty. Palm trees flank the coastline here and during a walk along the beach you pass some picturesque fishing villages. The hinterland of this coastal region consists of semi-desert with a unique spine vegetation known as 'spiny forest' that you should definitely visit in the morning. Some species such as the Didierea and jugbaabs are endemic here and certainly because of their bizarre forms photogenic.
Off the coast at Ifaty is a vast coral reef. Local fishermen will gladly take you here with their piroques. While snorkeling you can let the colorful underwater life pass by your diving mask. Between the end of July and mid-October you can look out for migratory humpback whales that migrate through the strait here. From Tulear we fly back to Antananarivo. The next day we take the plane to Port Louis on Mauritius.
Mauritius
Day 18 Antananarivo - flight to Mauritius
Day 19 Mauritius
Day 20 Mauritius
Day 21 Mauritius
Day 22 Mauritius - Amsterdam
We fly the next day from Antananarivo to Mauritius (this flight it not included in your land price). This beautiful island is best known for its beautiful beaches and clear blue sea where you can dive and snorkel. We stay in a comfortable half-board hotel on a beautiful, quiet beach.
Here you can sunbathe, swim, snorkel or join a diving trip. Well-known dive spots are Le Morne, Flic & Flac and Trou Aux Biches. At Grand Bay there is an interesting volcanic crater, often visited by sharks and rays. There are also beautiful coral reefs and shipwrecks, some of which have sunk to serve as artificial reefs. In addition, there are dozens of 'real' shipwrecks, some of which go back to the time of the pirates. Popular is the wreck of the Sirius, a 19th century frigate that sank against the French after a sea battle.
The remains of the Stella Maru, Silver Star and Jabeda are also located on the white sandy bottom in the turquoise blue water.

The 'cathedral' at Flic & Flac is the most famous diving location. After a drop of 35 meters you can enter a cave at the bottom, which has a ceiling of 10 meters. Large schools of fish, rays and lobsters keep up in this cave. More information about diving on Mauritius can be found here. 
But for those who do not want to get wet feet, there is much more to discover in Mauritius. Port Louis is a bustling port city and an important stopover between Africa and India. In the streets you see women in Indian saris, but also veiled Muslim women. The contrast between modern buildings and traditional wooden architecture is great. In the Caudan Waterfront you will find all kinds of shops and restaurants. Also take a look at the Natural History Museum where you can learn all about the dodo.
World famous is the botanical garden of Sir Seewoosagur. Almost 300 years ago the then French governor opened his private garden to the public. Since then, this garden is public and is known as the Sir Seewoosagur Botanical Garden. A visit is a must. The gardens are so big that you need a few days to see all the corners. Special are the no less than 85 different types of palms that have been brought together from all corners of the world. But the giant fig trees, baobabs and enormous quantities of medicinal plants and spices also catch the eye. In the ponds beautiful lilies float and the giant Victoria Regina floats.
Mauritius Landscape DjoserNature lovers and hikers will find something to their delight in the Black River Gorges National Park, a beautiful nature reserve where the rare flora and fauna of the rainforest is protected. Different plant species in Mauritius are endemic and are not found anywhere else in the world. The only hardwood trees of the island can be found within the boundaries of the park. For hikers, several hiking trails have been set out to explore the park. The 'Maccabee Forest Trail' is an excellent hiking trail to view the Black River Gorges NP.
You can walk here to the highest point of the island, the Black River Peak. Your efforts will be rewarded with a breathtaking view. You can find many more activities on this fascinating island on the official website of the Ministry of Tourism from Mauritius. After three days of relaxation, our trip comes to an end. 
Dates and prices
Departure dates 2023
| Land Begins | Land Ends | Price | Availability | |
| --- | --- | --- | --- | --- |
| | Jun-11-23 | $4,530 | 1 seats | book now > |
| Jun-09-23 | Jul-02-23 | $4,530 | 9 seats | book now > |
| Jul-21-23 | Aug-13-23 | $4,920 | 0 seats | |
| Aug-11-23 | Sep-03-23 | $4,920 | 0 seats | |
| Sep-08-23 | Oct-01-23 | $4,270 | 9 seats | book now > |
| Sep-15-23 | Oct-08-23 | $4,270 | 17 seats | book now > |
| Sep-29-23 | Oct-22-23 | $4,075 | 15 seats | book now > |
| Oct-06-23 | Oct-29-23 | $4,075 | 15 seats | book now > |
| Oct-20-23 | Nov-12-23 | $4,075 | 17 seats | book now > |
Departure dates 2024
| Land Begins | Land Ends | Price | Availability | |
| --- | --- | --- | --- | --- |
| May-10-24 | Jun-02-24 | $4,075 | 18 seats | book now > |
| Jun-07-24 | Jun-30-24 | $4,075 | 18 seats | book now > |
Conditions "Guaranteed leave"
Price includes
Land package
Domestic flight Tulear - Antananarivo
Dutch travel guide - speaks Dutch and English.
Transport by bus
Hotel nights
Stay Mauritius on half board
Meals + carriers during 2-day trek
Use camping equipment in Isalo National Park
Cycling to the crater lakes Andraikiba and Tritriva with lunch
Boat trip on the Matsiatra River with lunch
Price excludes
Flights to Madagascar and from Mauritius
Airport transfers
Meals other than those mentioned
Entry Fees
Optional excursions
Tips
Personal expenses
Visas
Cost Overview
$480 - Single Accommodation 

$300-$400 - Connect flight Antanarivo to Mauritius -Estimate
$270 - Weekly Out of Pocket expenses
$40 .-  Tip Pot (does not include tour leader) 
Breakfasts are provided in Mauritius. All meals provided on 2-day hike. 
 
Practical information
Group Composition
 Minimum group - 10 . Maximum - 20
International group, with most coming from Holland and Belgium. Active travelers of all ages, with singles and couples.  Usually 1 to 4 North Americans.  
We can give you the demographic of our participants upon request: # males/females, age range, # of singles, 
Photos & video
Book Trip/Trip Inquiry
                                                       BOOK MY TRIP 

•Begin your reservation process by filling in this TRIP INFO REQUEST and send to us via the website. We will confirm dates and prices, and answer any questions you may have about the trip.
•Download and complete the BOOKING FORM including all participants passport information and payment information. Email a PDF, scan, or clear photo of your completed BOOKING FORM to lukedjoser@gmail.com. All participants over 18 should sign the form.
• A deposit of 20% of total costs will be due upon booking in order to hold your place on the trip. The balance will be due 90 days prior to departure.
• Payments can be made by personal check or ACH wire transfer (domestic wire only). We will send you wire instructions.
• Upon receipt of your form, we will email you a receipt and confirmation of your booking.
• If paying by check, make check out to DJOSER, INC., Mail to Djoser, Inc. – Bookings 420 N. Oakland Drive, #6, Pasadena, CA 91101.
Questions? Call Luke Neal 484-995-2964. (West Coast)