Kenya Safari - Camping, 15 days
 If a safari in Africa is high on your 'bucket list' then you are in the right place in Kenya. There is no better country in Africa than Kenya to spot the Big Five. You experience the beautiful nature of the country by camping in the middle of the game parks. During this camping trip we cross the safari parks Samburu, Naivasha and Masai Mara with our safari truck. By boat we explore the Baringo lake and we are also on foot eye to eye with game. At the end of the trip you can relax on the Indian Ocean in a comfortable lodge right on the beach.
Itinerary
Nairobi
Nairobi - Mount Kenya
Mount Kenya - Samburu reserve, 'game drive'
Samburu reserve, morning and afternoon game drive
Samburu reserve - Nyahururu Waterfall
Nyahururu - Baringo lake
Baringo lake, optional boat trip
Baringo lake - Naivasha lake
Naivasha lake, 'gamewalk' Crescent Island
Naivasha lake - Masai Mara, afternoon 'game drive'
Masai Mara, morning and afternoon game drive
Masai Mara - Nairobi - flight Mombasa - Bamburi Beach
Bamburi Beach
Bamburi Beach
Bamburi Beach - Mombasa - flight Nairobi (scheduled arrival 7:50 PM)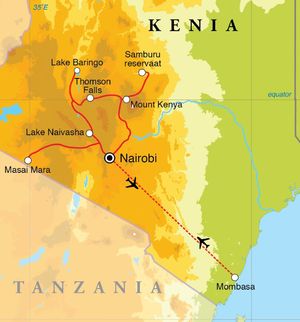 Day by day
 Nairobi
Day 1  Nairobi
You will meet the tour leader and the participants arriving from Amsterdam at the first hotel.  The tour leader will schedule a WELCOME MEETING to introduce the group and give you the game plan for the coming days.  Here we meet our Kenyan driver.  Nairobi, with more than one million inhabitants, is an administrative, cultural and commercial center in Africa. The Somalis, Arabs, Nubians, Indians, Pakistani, Japanese and Westerners live relatively easily with the African majority. The cosmopolitan character of Nairobi is evidenced by, among other things, the presence of mosques, temples, synagogues and churches.
Mount Kenya
Day 2 Nairobi - Mount Kenya
The next day our safari starts. In the morning we leave the busy Nairobi with the safari truck. At a number of hours drive from Nairobi lies the holy mountain of the Kikuyu, the Mount Kenya. This is the home of their god Ngei who also maintains the mysterious white - the eternal snow. When the first travelers returned from this area around 1890, they were laughed at when they told about the eternal snow on the equator. It was not until around 1930 that the summit of Mount Kenya was reached.
The area around Mount Kenya consists of various mountain ridges, snow fields, glaciers, ponds, lakes, waterfalls and giant scree hills. At the foot of the mountains there are dense rain forests, the habitat for many types of game. During our stay you are free to explore the deciduous forests around Mount Kenya on foot or by mountain bike.
Samburu wildlife sanctuary & Nyahururu waterfalls
Day 3 Mount Kenya - Samburu wildlife sanctuary, game drive
Day 4 Samburu wildlife sanctuary, morning and afternoon game drive
Day 5 Samburu Game Reserve - Nyahururu . Waterfall
The journey continues to the Samburu Game Reserve which is located to the north of Isiolo. The last part of the ride is a sandy road through the area of ​​the Samburu, a pastoral people. The park is known for the beautiful Grevy's zebra, giants, net giraffes and Somali ostriches. In addition, there is a good chance of seeing elephants, crocodiles and lions. The landscape is dominated by lava plains, deep channels and round hill tops. The vegetation consists mainly of thorn bushes and acacias with along the Ewaso Nyiro River gallery forests and palm trees. We park our camp near the river and take the next day in the morning and in the afternoon the time to explore this beautiful park.
The Samburu, who live mainly from their goats and cattle, are closely related to the Masai; they speak the same language, the Maa, and also wear red and purple-colored clothing. There is an opportunity to visit a Samburu village. The next day we leave the park early and drive south. In clear weather we can perhaps catch a glimpse of the glaciers of Mount Kenya. We spend the night in a green environment near the high town of Nyahururu. Trekpleister in the village is the spectacular waterfall. Because of the high location, we often meet Kenyan athletes who are at altitude training.
Lake Baringo
Day 6 Nyahururu waterfalls - Lake Baringo
Day 7 Lake Baringo, optional boat trip
We descend from Nyahururu to the Lake Baringo. On the way we enjoy beautiful views. In this environment a lot of coffee and tea is grown. Lake Baringo is the absolute highlight for the bird lover. It is the center for birdwatchers from all parts of the world to catch a glimpse of the more than 450 bird species that are found around the lake. We organize an (optional) boat trip on the lake to spot birds and watch out for crocodiles and hippos.
Hippos come out of the water at night to graze their daily 60 kilos of grass. Chances are that they scurry around your tent. They can also reach speeds of about 40 km per hour. Of course we are also looking for the impressive fish eagles that are very common here. In the evening we can take a look in the small village of Kampi ya Samaki where it is often nice until the small hours.
Lake Naivasha, Masai Mara
Day 8 Lake Baring Lake - Lake Naivasha
Day 9 Lake Naivasha, visit crescent island
Lake Naivasha is the highest lake in the Rift Valley. In the afternoon you can participate in an optional boat trip on the lake, where you will certainly encounter the many hippos that the lake is rich. In addition, the lake has a large diversity of birds. On the banks of the lake lies the villa Elsamere, the residence of the Adamson family, which is known from the book 'Born Free'. If we are welcome we can look around here. In the garden there are a number of black and white colobus monkeys, which can easily be photographed.
Naivasha's best kept secret is the Crescent Island peninsula. We make a nice excursion here. The banks form a stopping place for pelicans, kingfishers, herons and ospreys. There is a large concentration of game in the park. Under the guidance of a guide you can watch the herd of waterbucks, wildebeest and giraffes here. From the top of the island you have a 360 degree view of volcano Longonot, Emburu to the Aberdareg Mountains. In the golden evening sun with the grazing animals and the shimmering Lake Navaza at your feet, you experience Africa at its best.
Masai Mara
Day 10 Naivasha - Masai Mara national park, afternoon game drive
Day 11 Masai Mara national park, morning and afternoon game drive
From the Naivasha we drive to Masai Mara. During our two-day stay you have plenty of time to study the different game and bird species from close by. We make different 'game drive here and do our best to get the game for your camera lens. During a trip through Kenya, almost everyone visits this vast area on the border with Tanzania  because the number of game species is gigantic. Frequently, you can see lions that are hunting. The large immigration of the wildebeest from the south in July / August and back in northern direction in October is a great experience.

The 'Mara' is characterized by undulating grassland, in which acacias provide a typical African image. This is also the residential area of ​​the Masai. Masai Mara has the status of National Reserve, which means that, in contrast to national parks, human habitation is possible. The Masai may have their cattle grazed in the reserve. When they are threatened with life by danger, they have the right to kill this animal. Several Masai are involved in the protection of the park. We can leave the truck here to explore the area around the park on foot and meet the Masai in their manyatta's.

Mombasa, Bamburi Beach
Day 12 Masai Mara national park - Nairobi - flight to Mombasa
Day 13 Mombasa - Bamburi beach
Day 14 Mombasa - Bamburi beach
Day 15 Mombasa - flight to Nairobi -
Via the town of Narok we drive back to Nairobi, where we take the plane to Mombasa. In clear weather you may catch a glimpse of Kilimanjaro, Africa's highest mountain. The flight takes about an hour. Upon arrival in Mombasa we are taken by bus to the beach of Bamburi.
Severin Sea Lodge Kenya Bamburi is about 20 km north of Mombasa. We spend the night here in a comfortable hotel on the beach. The complex also has a swimming pool and a nice garden. The beaches of fine, white sand are protected behind the coral reefs, where you can observe many species of fish in the clear and warm seawater. The population of the coastal area of ​​Kenya is known for its quiet life rhythm.
From Bamburi you can easily visit the port city of Mombasa on your own, interesting because of the mix of an Asian atmosphere, narrow streets and the bustle of a large port city. Mombasa has a rich colonial past and a special mix of Swahili and Arabic culture. The narrow streets of the old town form a true labyrinth. Fort Jesus, built by the Portuguese, is well worth a visit. The last day we leave early in the morning to fly from Mombasa to Nairobi. Here we say goodbye to our fellow travelers as the trip comes to and end. 
Dates and prices
Conditions "Guaranteed leave"
Price includes
Land program
domestic flights Nairobi - Mombasa vv.
lodge nights at the coast with breakfast
camping nights
transport by safari truck
3 game drives in Samburu national park
3 game drives in Masai Mara
use camping equipment
three meals, coffee, tea, juice per day during camping nights (day 2 to 11)
entrance fees from all national parks and reserves
walk to Crescent Island
English speaking driver
Price excludes
International flights, airport transfers, travel insurance, meals, other entrance fees, optional excursions, tips, personal expenses,  
Cost Overview
$500 .   Single Room Supplement
$210 .    Estimated out of pocket expenses, weekly 
$50 .      Group tip pot (driver & couriers - does not include guide) 

Nairobi .  Extension hotel room 
Please inquire 
Bamburi Beach - Extension hotel room 
$210.00 .  Double Room 
$200.00 .  Single room 
Included
10 - Breakfasts
10 . Lunches
10 - Dinners 
Payment Schedule
Deposit of 20% of total costs due upon booking - Non-refundable
Balance due 60 days prior to departure day 
Please refer to terms and conditions on booking forms to see cancellation penalties, which increase the close cancellation falls to departure date. 
Practical information
Accommodations & Meals
 Upon arrival in Nairobi, we spend the night at the edge of the center in attractive safari tents or chalets. These are equipped with beds and plumbing and located in a beautiful garden. During the safari you sleep in spacious, easy to set domes with mosquito netting. All camping equipment such as chairs with handrails, comfortable foam mattresses, kitchen utensils, etc. are available. Except for your (warm) sleeping bag, you do not need to take anything with you. The facilities on camping sites in Kenya are simple, but there are always toilets and showers to refresh you.
The last days you stay on the Bamburi beach north of Mombasa. The lodge is located on the beautiful sandy beach. There is also a swimming pool in the lush tropical garden. 
Nairobi                    Wildebeast Eco Camp
Bamburu beach       Severin Sealodge
Single Supplement
Single accommodations are available for an additional charge. You can request on your booking form.  If you are willing to share, we will match you with another single travelers of the same sex. 
Flights & Transportation
  Booking your international flight - We provide the land package and transportation within the program as described. We do not arrange international flights from or to the United States or Canada. The land program will begin approximately two hours after the arrival of the Netherlands (NL) participants who will be arrive from Amsterdam. The land program will end about 4 hours prior to their scheduled departure time, which allows for time to get to the airport. The proposed flights for the Dutch participants and the land beginning and end times are listed in this section. They are subject to change based on flight delays or changes. We will keep you posted of any flight changes that we are aware of prior to the trip. When scheduling your flights, keep the following times in mind:
Dutch participants' proposed flights: (subject to change)
Arrive NAIROBI 21:50 
Group flight Mombasa to Nairobi.  Arrives Nairobi 7:50 PM final day. 

Before you book your flight - To avoid flight change or cancellation costs get email confirmation from our office that the trip has enough participants to be a "GO".
Verify the spelling of your name-within 24 hours - When you book your flights, double check your flight records to confirm that your name is spelled on your ticket exactly as it appears on your passport. Some companies (for example, ORBITZ) will only allow a 24 hour window to correct any errors without penalty. You may incur heavy fees for changes, forfeiture of your flight ticket, or even worse, you could be denied entry to a border upon arrival.
Send us a copy of your flight itinerary - We will forward to the tour leader so they will know when to expect you at the hotel and when you will be departing.
Keep in mind hotel extensions - If the Dutch travelers arrive early in the morning, we recommend that you arrange to fly in the day or night before so you will be meet the group. Some trips involve an immediate transfer from airport to the next town so make sure you will arrive before the others so you don't miss the first meeting or transfer to the next location. We can arrange an extension hotel night for you. Prices for hotel extensions can be found in the "Dates & Prices" section
If the Dutch participants arrive in the late evening - Should they arrive very late in the evening, the group will have their first meeting in the morning in the hotel lobby. You can check in earlier and relax or explore on your own.
Airport transfer to/from hotel – not Included - If you will be arriving and or departing on the same flight as the Dutch travelers let us know. Then you can join them on the bus for the group transfer at no additional charge. Notify us in advance so we can alert the tour leader. If you schedule your flight at the same time as theirs, or later, you can join them on the group transfer to the airport at no additional charge. Otherwise, you can take an authorized taxi to the first hotel on the list we have provided for you. Private airport transfers can be very costly . If your flight is delayed, they are difficult to reschedule or cancel. With a taxi, you are not charged for waiting time or cancellations.
Useful Links for booking your flights
Orbitz.com
Expedia.com
Kayak.com
Local transportation - During this safari through Kenya we use a well-equipped safari truck, which can handle the partly unpaved roads. The transfers from the airport in Mombasa to the beach Bamburi take place by bus. The flight from Nairobi to Mombasa is operated by Kenya Airways and takes about an hour.
Money Matters
 In Kenya the currency is the shilling. Look for the current prices on oanda.com .
It is now permitted to enter this currency. At the border, however, it is also easy to change, it is useful to take euros or dollars in cash for this.
ATMS: : possible in a few places in the big cities like Nairobi, 
Cash: US dollars, in denominations not exceeding 50. New bills.
Credit cards: are accepted in a few places. 
As guide amount for expenses that are not included in the fare, such as meals, other entrance fees, optional excursions and personal expenses, a minimum of $200 per person per week applies. All admission fees for national parks and meals during the safari are included in the fare.
It is customary to give tips for services rendered. In order to avoid having to always dispose of tips, a tip jar is set up at the start of the trip, from which the (joint) tips are paid to the drivers, guides, hotel staff, etc. The guideline for the tip jar for this trip is $40
COST INCLUDES
Land program
domestic flights Nairobi - Mombasa v.v.
lodge nights at the coast with breakfast
camping nights
transport by safari truck
3 game drives in Samburu national park
3 game drives in Masai Mara
use camping equipment
three meals, coffee, tea, juice per day during camping nights (day 2 to 11)
entrance fees from all national parks and reserves
walk to Crescent Island
English speaking driver
 vehicle
Park entrance fees worth $700
PAYMENT SCHEDULE
20% Deposit of total costs due upon booking - non-refundable
Balance is due 60 days prior to departure.
See Terms and Liabilities on booking form which describe cancellation penalties, wnich are higher as you get closer to the trip.
Excursions
 You should not miss some places of interest. Some places are  difficult to reach or are 'en route' to our next place to stay. Such excursions are included in the program. With an inevitable entrance, such as from a national park where you stay or visit, that entrance fee is included. In other cases, this entrance fee is exclusive.
During this trip the following excursions, 'game drives' and entrance fees from the national parks are included:
Entrance fee and afternoon 'game drive' with own truck in Samburu Game Reserve (day 3)
Entrance fee, morning and afternoon game drive with own truck in Samburu Game Reserve (day 4)
Visit Samburudorp (excluding entrance fee)
Visit Nyahururu waterfalls (excluding entrance fees) (day 5)
Excursion including entrance to Crescent island (Lake Navaisha on day 9)
Entrance fee and afternoon 'game drive' with own truck in Masai Mara
Entrance fee, morning and afternoon game drive with own truck in Masai Mara
Visit Masai village (excluding entrance fee)
Travel Documents
 Visa needed for Kenya
Passport should be valid for 6 months beyond exit from Kenya. 
Health Issues & Insurance
 Vaccinations against DTP, hepatitis A.
Malaria tablets
The hygienic conditions in Kenya are moderate. It is wise to pay close attention to what you eat. It is always good to take a medicine against intestinal disorders, but remember that only a stopping remedy does not cure the symptoms. A saline solution (ORS) resolves dehydration symptoms. The tour guide has a medical kit with sterile emergency equipment.
Group Composition
  Djoser travelers are active, enthusiastic travelers of all ages. Join an international group with travelers from the Netherlands, Belgium and North America, who will be the minority group on these trips. Most of our trips range from a minimum of eight participants to a maximum of 20 or 22. You will find couple and singles on our trips. Feel free to call us if you wish to know the demographic make-up of a particular trips (number of singles and age range).
Minimum group size: 10
Maximum group size: 20
What to expect when traveling with an international group - Djoser, Inc. (the United States office) has been a Tanzania tour operator for over 10 years. Djoser, B.V. (the Netherlands office) has been a Tanzania tour operator for over 25 years. So together we bring vast experience. Most of our trips are arranged in cooperation with Djoser, B.V. in the Netherlands. Because they cater to the voracious travel appetites of the Dutch, we can offer a vast number of programs around the world with hard-to-find itineraries, with numerous departure dates.
On our safari tours, you will travel with an international group, with most participants from Holland and Belgium. The international make-up of our groups is the attraction for many regular Djoser travelers and adds another cultural element to the trip. Typically, there are only one to four North Americans per group.
You will find that almost all of your fellow travelers have an excellent command of English and most are very willing to socialize. It's a great idea to extend an invitation to a few travel mates for coffee or a drink early in the trip. They will appreciate your effort and this is a great way to break the ice. It will be easier for them to test out their English skills in a quiet, one-on-one setting. Group members tend to warm up to one another in a day or two. As with every tour group, compatibility has most to do with individual personalities.
We attract experienced and hearty travelers. WE have t travelers of all ages and we enjoy the mix! You will find our participants welcome opportunities for independent explorations in addition to group activities. No matter their age, Djoser travelers expect, and are up to lots of walking, hiking, biking, or whatever comes our way.
The Dutch and Belgian travelers will fly as a group from Amsterdam. You will meet the group and tour leader at the hotel where you will begin the land program with the group.
Tour Leaders & Support Staff
  The journey will be accompanied by a local English speaking crew. The crew consists of an experienced driver and a tour guide and camp courier. The guide is responsible for the organizational and technical aspects of the journey. Their extensive travel experience, and expertise adds value to your trip. The camp courier shops for groceries and prepares meals during camping nights.
Our experienced land representatives are situated in the destination country you will visit. We work closely with them and they function as the liaison between our office, the guide, drivers and hotels. They are also available in the case of an emergency and their number will be provided on your emergency contact list.
Climate & Geography
  Due to the geographical diversity in Kenya, there are also quite large climatic differences. In Nairobi, at 1670 meters altitude, the average annual temperature is 17 ° C. It is therefore recommended to bring warm clothing for the evenings.
The rain falls in the 'long rainy season' from March to May and in the 'short rainy season' between mid-October and December. Rain showers usually fall against the evening, are short and heavy and certainly do not prevent you from traveling during this period. The coastal area has a humid tropical climate and the temperature fluctuates around 30 ° C all year round. Although the traditional safari season falls in December / January,  you can travel in Kenya throughout the year.
Photos & video
Book Trip/Trip Inquiry
                                                       BOOK MY TRIP 

•Begin your reservation process by filling in this TRIP INFO REQUEST and send to us via the website. We will confirm dates and prices, and answer any questions you may have about the trip.
•Download and complete the BOOKING FORM including all participants passport information and payment information. Email a PDF, scan, or clear photo of your completed BOOKING FORM to lukedjoser@gmail.com. All participants over 18 should sign the form.
• A deposit of 20% of total costs will be due upon booking in order to hold your place on the trip. The balance will be due 90 days prior to departure.
• Payments can be made by personal check or ACH wire transfer (domestic wire only). We will send you wire instructions.
• Upon receipt of your form, we will email you a receipt and confirmation of your booking.
• If paying by check, make check out to DJOSER, INC., Mail to Djoser, Inc. – Bookings 420 N. Oakland Drive, #6, Pasadena, CA 91101.
Questions? Call Luke Neal 484-995-2964. (West Coast)