Japan Tour, 9 days
On this tour of Japan we visit various highlights of this special country. There is ample time to visit the various sights. In Tokyo you experience the hip culture in the Shibuya and Harajuku districts, but also special temples like Meiji Jingū and Sensōji. Kyoto is known for its temples that often lie on the edge of the city in the woods and beautiful neighborhoods like Gion and Higashiyama where time seems to have stood still. We conclude this trip through Japan in Osaka. It is a  lively city with an extensive food culture. 
Join our international groups with active travelers, of all ages. Most will come from Holland and Belgium, but you will find they have an excellent command of English. Your tour leader addresses the group in Dutch and English. Our skilled land crew have worked with Djoser for many years and make sure things run smoothly.
There is ample time for group exploration. Count on lots of walking. But sometimes, it is great to be able to break off and explore on your own. Your guide can make some great suggestions.
Join us for unforgettable cultural, nature and local experiences!
Itinerary
Tokyo
Tokyo
Tokyo, Kamakura excursion
Toyko - Kyoto
Kyoto
Kyoto
Kyoto - Osaka
Osaka
Osaka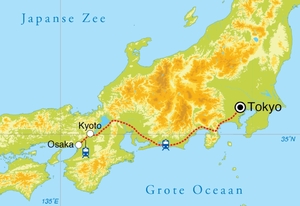 Day by day
This is a 9 day land program. The texts below to correspond with the Dutch travelers, including the travel 
Tokyo, city with many faces
Day 1 (travel day)
Day 2 arrival Tokyo  (LAND PROGRAM BEGINS) 
Day 3 Tokyo
Day 4 Tokyo, excursion by train to Kamakura
You will meet the group and guide at our first  hotel where we will have a group meeting before we start to discover this special city. Tokyo is located on the east side of Honshu, the largest island in Japan, on the Tokyo-wan bay. You can immerse yourself in the bustling city life and get to know this lively city with its many facets. You can also relax in one of the many parks that are located in the heart of Tokyo.
The famous Ginza district is well worth a visit. With its bustling business center and expensive stores, Ginza is the symbol of the rise of Japan. The Akihabara and Shinjuku districts also show the success of Japan as a producer of modern cars and electronics. Here are the latest electronic gadgets for sale. In the Shibuya district you will find many large department stores and trendy shops for hip youth and Harajuku is known for the chic international fashion shops and many small boutiques with trendy clothes.
In the Asakusa district you will find the well-known and well-visited Sensōji temple. The street to the temple is full of small souvenir shops and has a history of hundreds of years. At the shinto Meiji temple, which lies on the other side of the city in a large forest, you can leave the crowds behind.
 From Tokyo we make a day trip to Kamakura, in the 13th century the imperial capital of Japan. Kamakura lies on the azure blue Pacific Ocean and is surrounded by forested hills on the other three sides. In the north of the town are beautiful temples in the woods. You can walk here nicely, but we can also choose to explore the city and temples by bike. You can not miss the big bronze Buddha statue in the 13th century Tsurugaoka shrine. In addition to this impressive image, Kamakura is full of large and small Zen temples that are often located in gardens or atmospheric parks. The architecture here breathes the atmosphere of times long ago. You will also find good examples of the special Japanese garden architecture in Kamakura and you can relax on the beach.
Walk through the beautiful districts of Kyoto
Day 5 Tokyo - Kyoto by Shinkansen
Day 6 Kyoto
Day 7 Kyoto
From Tokyo we go to Kyoto with the fast Shinkansen, so you have the whole afternoon for your first contact with the city. For more than 1,000 years, Kyoto was the residence of the emperor and thus the capital of Japan. The city still houses more than 2,000 temples, the most notable of which are in the area around the station, such as the large wooden Higashi-Honganji and the Toji temple from 796. The Kinkaku-ji(Golden Pavilion) is also a good example of the beautiful temple architecture. Kyoto has, in addition to the many famous monumental buildings and temples, many undiscovered picturesque spots. In the area around the Kiyomizu-dera temple you will find small shops selling traditional artisan products.
The gardens around the temples and palaces testify to centuries of dedication. This is where the Japanese garden architecture has been developed, where beautiful landscapes are imitated on a small scale. For example, at the Ryoanji temple you can see a rocky landscape without any greenery. During a walk through the old amusement district Gion with many 'ochaya' or tea houses where geisha's still work, you get the idea that time has stood still. A nice way to discover the city is by bike. The Japanese, often bike on the sidewalks.
You can also do the famous Philosophers Walk in the east of the city. This path runs along a canal with restaurants, boutiques and arts and crafts shops and is a popular walking route among the Japanese. The two kilometer long route starts (or ends) at the Ginkakuji, Silver Temple.
Experience the energy of lively Osaka
Day 8 Kyoto - Osaka by train
Day 9 Osaka
Day 10 Osaka (LAND ENDS )
From Kyoto we travel for anhour by train to Osaka where we arrive in the morning. The city has a lively center, full of neon signs, where you can eat in the evening in one of the many restaurants. The district Dōtonbori, with a channel which reflects the city lights, is a popular spot. The many shops in the city give a good insight into the Japanese shop culture, not for nothing is Japan still the third largest economy in the world! Well-known attractions include the castle that extends above the city and the aquarium which is one of the largest in the world.
 From Osaka it is possible to take a day trip to Naramake in the 8th century the capital of Japan. The city was built to model Chang-an, the capital of China during the Tang Dynasty. This city includes the Todaiji temple, the largest wooden building in the world. Visiting Himeji with the beautiful Himejijō, the 'White heron castle' is also possible.
It is also possible to visit the famous city of Hiroshima from Osaka. In this pleasant city you will find the impressive atomic bomb museum.
.
Dates and prices
Departure dates 2023
| Land Begins | Land Ends | Price | Availability | |
| --- | --- | --- | --- | --- |
| Mar-22-23 | Apr-02-23 | $2,685 | 0 seats | |
| | Apr-05-23 | $2,685 | 3 seats | book now > |
| Apr-06-23 | Apr-16-23 | $2,620 | 0 seats | |
| Apr-27-23 | May-07-23 | $2,620 | 0 seats | |
| May-11-23 | May-21-23 | $2,750 | 0 seats | |
| | Jun-04-23 | $2,880 | 3 seats | book now > |
| | Jul-23-23 | $2,945 | 2 seats | book now > |
| | Jul-30-23 | $2,815 | 3 seats | book now > |
| Aug-03-23 | Aug-13-23 | $2,685 | 0 seats | |
| Sep-14-23 | Sep-24-23 | $2,555 | 20 seats | book now > |
| Oct-12-23 | Oct-22-23 | $2,685 | 16 seats | book now > |
| Oct-19-23 | Oct-29-23 | $2,685 | 17 seats | book now > |
Departure dates 2024
Conditions "Guaranteed leave"
Price includes
Land program
Transport by 'bullet train' Shinkansen and train
Dutch travel guide - speaks Dutch and English
Hotel rooms with private bathroom
Excursion temple and beach town Kamakura
Price excludes
 International flights 
Meals
Airport transfers
Tips and personal expenses. 
Cost Overview
$340 .  Single Room Supplement
$420    Minimum estimate out of pocket, weekly for meals, entry fees, personal expenses)
            
Hotel Extensions   
       
TOKYO -
$250 . Double Room 
$160 . Single Room 
OSAKA
$170 . Double Room
$120 . Single Room 
Payment Schedule
Deposit is due upon booking to hold your place, 20% of total costs due (or $500 minimum) - Non-refundable
Payments by charge card or check accepted
Balance is due 60 days prior to departure date.
Cancellation Penalties
Please note the cancellation penalties on your booking form.Penalties increase as your departure date nears.
Travel Insurance
We highly recommend that you obtain travelers insurance, Some insurance companies require immediate enrollment after booking to cover emergencies that could occur due to a pre-existing condition such as need to cancel or interrupt trip due to an illness or emergency at home.
Practical information
Accommodations & Meals
The hotels we stay in during the trip are comfortable tourist class hotels that are centrally located. They feature all modern amenities and a private bathroom. The staff is extremely service-conscious according to Japanese tradition.
Our typical hotels (subject to change)
Tokyo        Hotel Villa Fontaine Ueno
Kyoto .      El Inn
Osaka       Hotel Plaza Osaka

Single room
Solo travelers are, matched with other single travelers of the same sex. If you wish to have a single room (extra cost), please indicate on your booking form.
 
Extension Hotel Room
When the land program begins early in the A.M. (based on the time of  participants arriving on a flight from Amsterdam) we recommend that you book an extension hotel room for the prior night.  This way you will be well-rested, and ready to meet the group for the group meeting. 
Extensions are available in Tokyo and Osaka. (See Dates & Prices)
Meals
During the trip you can decide where, how or what you want to eat. The meals are therefore not included in the trip. The tour guide gives you tips for a good restaurant, a café or suggestions for going out.
Japan is a paradise for lovers of good food and the diversity is enormous. Tokyo, Kyoto, Osaka and Kobe together have more than 500 restaurants with one or more Michelin stars. The food in the less expensive restaurants is of course also delicious and of high quality, and very affordable! Tokyo alone has more than 160,000 eateries !
If you like fish, then you will definitely enjoy yourself in Japan. Usually you get a huge bowl, richly filled with all kinds of delicacies from the ocean. You will be surprised by the number of sushi bars with delicious fresh sushi.
In the many large department stores you can also get fresh sushi or a complete Bento package; typical Japanese lunch package with small boxes with different dishes.
Other classic dishes are Shabu-shabu; two dishes with vegetables and meat that you bake at the table in hot oil and the Tempura dishes; breaded and fried vegetables and shrimps. You also encounter Yakitori frequently; chicken on a skewer marinated in a sweet sauce. You will also find other delicious dishes such as Udon, Ramen, Tonkatsu, Kobe steak, Sukiyaki, Okonomiyaki etc. etc. Japanese cuisine is one of the most diverse in the world. At almost every meal free green tea and water is served. Read more about the various dishes here.
If you are ready for a Western bite, then there is plenty of choice in Japan. In every city there are restaurants with, for example, pizza, pasta, hamburgers or French cuisine.
 
Flights & Transportation
We provide the LAND PROGRAM only so you will need to arrange your own flights. Airport transfers are not provided so you will need to take a taxi to the first hotel to meet the group. 
You will be meet up with Dutch and Belgian participants who will arrive together from Amsterdam so it is important that you arrange your flights with their arrival and departure time in mind, so that you will not miss the first group meeting, or any activity  
The Dutch & Belgian travelers arriving from Amsterdam are scheduled as follows: (Subject to change)

WHEN YOU BOOK YOUR FLIGHTS:
YOUR ARRIVAL: Europe participants arrive: Tokyo 8:40 AM (on KLM) . * Schedule your flight to arrive prior to 8:30 AM
EXTENSION HOTEL: Since they will arrive so early in the A.M. we recommend arriving the prior day. This way you will be well rested and ready to meet the group for the morning meeting.  
YOUR DEPARTURE:  Europe participants depart  Osaka - 10:25 AM (KLM). If you wish to join the European participants on the free bus group transfer, schedule your flights for 10:25 AM or within the following hours. Or you are free to check out later than the group and you can take a taxi to the airport. 
During this trip we travel by train and Shinkansen. Thanks to these time-saving train journeys, more time is left for the many highlights that Japan has to offer. The train in Japan is very punctual and normally runs on the second. Traveling between the Japanese is a cultural experience in itself. What is striking is the peaceful mood on the train where you find many snoozing passengers. In cities we travel by train, metro or bus, and we also do lots of walking. 
In most cities you can also bike to explore. Kyoto lends itself perfectly for this.
On the Tokyo - Kyoto route we use the famous Shinkansen bullet train. These very comfortable trains have excellent service on board and the beautiful wagons offer ample opportunity to view the beautiful and varied surroundings. Because you are only three hours on the road, of which 2.5 hours in the Shinkansen, you still have the whole afternoon in Kyoto.
Luggage transport system
During two journeys on this journey you use the luggage transport system 'Takkyubin' . This is a widely used system in Japan where the large baggage is sent ahead.
Money Matters
Price includes

Price excludes
Excluded in our Japan tour package: international flights from/to United States, meals, and optional excursions, entrance fees if not specifically named as included, visa(if applicable), exit taxes (if applicable), tips, personal expenses, travel insurance, airport transfers at arrival & departure.
Group trip dates denoted with the green "G" (Most Likely to GO)
The dates you see listed in our group tours that are marked with a green "G" are MOST LIKELY TO GO based on this trip's past booking history, for a similar date. Typically, trips go once we have 10 participants. This can depend on the trip and date so be sure to get an email confirmation from our office before you book your flights. Occasionally, trips will go with 8.
Djoser is not responsible for costs for flight changes or cancellations if a trip must be cancelled due to insufficient enrollment, which might include a booking cancellation after the trip has been deemed to have sufficient bookings for a "GO".
Estimated Out-Of-Pocket Expenses
On our Dates and Prices page, you can find an estimate for weekly out of pocket expenses (meals, entry fees, etc>)

Payment Schedule
Deposit is due upon booking to hold your place, 20% of total costs due (or $500 minimum) - Non-refundable
Payments by charge card or check accepted
Balance is due 60 days prior to departure date.
In your pre-trip information we will send you more information about money matters such as information about local currencies, charge cards, ATM's, currency exchange, etc.
Local Currency : Yen
Cash accepted: Yen. Easy exchange at hotels
ATMs: Widely available
Credit Cards: Accepted most places
Tipping - It is customary to tip for services rendered. The tour leader will organize a tip jar at the beginning of the trip, from which tips to drivers, guides, hotel staff are paid. Depending on the size of the group, each participant will be asked to contribute $40 to $50. This does not include a tip for your tour leader. Tipping the tour leader is appreciated and the amount up to your discretion.
Excursions
 There is lots of group time, but you will have ample time to explore independently, as well. At Djoser you decide which sights you prefer to visit. One may enjoy ambling the streets and shopping , another may want to explore temples, or sit down on the terrace, to observe daily life while enjoying a delicious Thai meal. In most cases you can get to interesting places on foot or with local transport on your own or with fellow travelers. Join the guide to explore or go out on your own. As you can follow your preferences, admission fees are not included in the cost, but we have provided a weekly estimate of out-of-pocket expenses (for usual entry fees and meals which are not listed as included).
During this trip through Japan, the following excursions are included in the itinerary:
From Tokyo we make a day trip to Kamakura, in the 13th century the imperial capital of Japan. In Kamakura there are beautiful temples in the wooded hills.
In addition, there are several other attractions to visit, some of which are even free, such as:
In Tokyo there are too many possibilities to mention, but (free) sights that are certainly worth a visit, are the Meiji temple and the trendy districts Shibuya and Harajuku.

In Kyoto there is an abundance of special temples and gardens of which you must visit some, such as the Golden and Silver temple.
In Osaka you can visit the world-famous aquarium and castle.
On the spot there are many other places of interest to visit. A visit to a Noh or Kabuki show is also possible.
Kyoto lies between the mountains, but the city itself is largely flat. This allows you to discover the city by bicycle. Renting a bicycle costs less than € 10 per day.
From Osaka you can visit Hiroshima, where the famous atomic bomb museum is located. You can also visit Himeji with the beautiful Himejijō, the 'White Heron Castle' from Osaka.
From Kyoto or Osaka you can also visit Nara, an ancient capital with the impressive Todaiji temple, the largest wooden building in the world.
Travel Documents
Passport should be valid for 6 months from return. 
A visa is not required for travel to Japan for American travelers. 
Health Issues & Insurance
You do not need any vaccinations for a tour of Japan. The hygienic conditions are comparable to those here at home and there is therefore no increased risk. Of course it is wise to pack a small 'travel pharmacy' with some bandaids, aspirin, betadine / iodine, sunburn, mosquito repellent etc., 
Group Composition

Djoser travelers are active, enthusiastic travelers of all ages. Join an international group with travelers from the Netherlands, Belgium. North Americans will be in the minority but you will find that almost all participants speak fluent English. 
You will find couples and singles on our trips. Feel free to call us if you wish to know the demographic make-up of a particular trips (number of singles, males, females, and age range).
Minimum group size: 10 
Maximum group size: 20
* call us to confirm that we have adequate bookings before you book your flights. 
Traveling With Our International Groups
On our Japan group tour, you will travel with an international group, with most participants from Holland and Belgium. The international make-up of our groups is the attraction for many regular Djoser travelers and adds another cultural element to the trip. Typically, there are only one to four North Americans per group.
You will find that almost all of your fellow travelers have an excellent command of English. Group members tend to warm up to one another in a day or two. As some will be brushing off rusty English skills, extending an invitation to some fellow travelers for a coffee or beer is a great way to break the ice in a relaxed environment.  
Climate & Geography

Since Japan, from the north to the south, is about 3,000 km long, the climate depends on where you travel and the time of the year. Japan has four seasons, just like Europe, and the seasons are similar to those in the United States.
The temperatures of North Honshu are comparable with those of the Northern U.S. states and the temperatures of South Honshu and Kyushu are comparable to those of the Southern U.S. states. 
Late March and early April are the time of the cherry blossom, a period of reflection and celebrations for the Japanese. During the Hanami Matsuri 'flower-eye festival', Japanese people sit with family, friends and colleagues on dresses or at tables under the blossoming trees. Seeing the cherry blossoms is difficult to plan because the flowering depends heavily on the temperature. An early or late spring can therefore easily disrupt carefully made plans. In the spring, April and May are the most beautiful months; the weather starts to warm up nicely, it is mainly dry and in April there is still a lot of blossom to see.
In the autumn, the period from mid-September to mid-November is the best time to travel to Japan. The temperatures are still very pleasant and from about mid October the leaves begin to change colors, a beautiful spectacle in the parks and mountains of Japan, especially the bright red Japanese ash is impressive. June, and to a lesser extent (beginning) September, is rainy. In July and August it is warm and you have to take into account the chance of a high humidity.

In this period, however, it is still fine to travel if you take into account the temperature and occasional rainfall.
Photos & video
Book Trip/Trip Inquiry
                                                       BOOK MY TRIP 

•Begin your reservation process by filling in this TRIP INFO REQUEST and send to us via the website. We will confirm dates and prices, and answer any questions you may have about the trip.
•Download and complete the BOOKING FORM including all participants passport information and payment information. Email a PDF, scan, or clear photo of your completed BOOKING FORM to lukedjoser@gmail.com. All participants over 18 should sign the form.
• A deposit of 20% of total costs will be due upon booking in order to hold your place on the trip. The balance will be due 90 days prior to departure.
• Payments can be made by personal check or ACH wire transfer (domestic wire only). We will send you wire instructions.
• Upon receipt of your form, we will email you a receipt and confirmation of your booking.
• If paying by check, make check out to DJOSER, INC., Mail to Djoser, Inc. – Bookings 420 N. Oakland Drive, #6, Pasadena, CA 91101.
Questions? Call Luke Neal 484-995-2964. (West Coast)