India (Southern) tour, 20 days
 Southern India has often been overlooked for the north. The lesser known south has a lot to offer including a unique, relaxed and diverse and beautiful natural environment. You can see colorful temple towns, wonderful tropical beaches, visit the historic port city of Cochin where you can easily envision the earlier trading culture of the historic port city, Cochin. Spot wildlife in Periyar National Park and take an unforgettable overnight cruise through the stunning and colorful backwaters of Kerala.
Join our international groups with active travelers, of all ages. Most will come from Holland and Belgium, but you will find they have an excellent command of English. Your tour leader addresses the group in Dutch and English. Our skilled land crew have worked with Djoser for many years and make sure things run smoothly.There is ample time for group exploration. Count on lots of walking. But sometimes, it is great to be able to break off and explore on your own. Your guide can make some great suggestions.Join us for unforgettable cultural, nature and local experiences!
Itinerary
Mahabalipuram - (Kanchipuram)
Mahabalipuram
Mahabalipuram, excursie temple complex
Mahabalipuram - Pondicherry
Pondicherry - boat trip mangrove Forrest - Darasuram - Thanjavur
Thanjavur
Thanjavur - Madurai
Madurai, visit procession
Madurai - Periyar N. P.
Periyar N. P.
Periyar NP - Vandiperiyar - Kovalam
Kovalam
Kovalam - Aleppey
Aleppey, back water boat tour
Back water boat tour - Cochin
Cochin
Cochin - Musore
Mysore, excursion Somnathpur
Mysore - Bangalore
Bangalore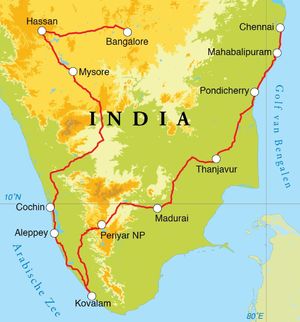 Day by day
 On the Road with Djoser
Djoser's active journeys offer an ideal balance of guidance and freedom. Our guide-assisted adventures cover the globe and feature wildlife, beautiful natural settings, historic sights and authentic cultural experiences. During Djoser travels, the daily schedule is not rigidly set.
The day-to-day descriptions describe the anticipated, or possible daily activities. Our travel days are obviously fixed, but each day the program may deviate depending on the preferences of the group, in consultation with the tour leader. The tour guide offers a program daily, with planned excursions. You are never obligated to participate. Those who desire more freedom may go out exploring or may dine on their own. Your tour leader can offer suggestions for safe explorations and fun restaurants. You will find that Djoser participants will take advantage of this flexibility. We believe a sense of discovery is an integral element of a great trip.
LAND PROGRAM 20 days - 
EXTENSION HOTEL NIGHT:  recommended at beginning of trip since participants arriving from Europe arrive very early A.M..  Please call us to request an airport transfer, for an additional fee, to Mahabalipuram.
We offer the land program only. Below, you will find the day-to-day description days numbered to correspond with that of the Dutch participants (which includes their transit days from/to Amsterdam). This is so that when you are traveling and refer to this day-to-day description, all travelers will be "on the same page" or the same day number.

 
Mahabalipuram
Day 1 Travel day for most participants
Day 2 Mahabalipuram  (Land begins early A.M.) 
Day 3 Mahabalipuram 
Day 4 Mahabalipuram excursion temple complex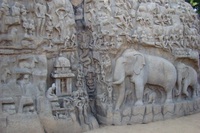 Our trip begins in the relaxed harbor town of Mahabalipuram, which can be identified from the numerous temples close to the sea and the famous 82 ft high relief known as Arjuna's Penance, with carved images of gods and elephants. On the beach is the Jalasayana temple, dating back to the 7th-century. Another special feature is the large round rock teetering atop a hill, known as Krishna's Butterball.
During the stay in Mahabalipuram is the possibility to make an excursion to Kanchipuram, one of the seven sacred cities of the Hindus and also one of the oldest in India. You can see many beautiful temples from the 6th and 7th centuries, including the 606 ft high Ekambareswara. The origin of the nickname, "golden city of 1000 temples" becomes quite clear.

Pondicherry, Thanjavur 
Day 5 Mahabalipuram - Pondicherry 
Day 6 Pondicherry - mangrove boat tour 
Day 7 Darasuram - Thanjavur
We travel south to the former French colony of Pondicherry,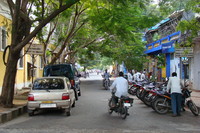 which still has French street names. 
The wide boulevards, police with the familiar French caps (kepis) and the many eateries resemble a little slice of the Riviera. In recent years, Pondicherry became famous because of the Aurobindo Ashram, a meditation center that mainly attracts Westerners to this region. Seven miles outside of Pondicherry is Auroville, built to be "a universal town where men and women of all countries are able to live in peace and progressive harmony". Walks along the peaceful flower lined pathways make for a peaceful afternoon. The large gold dome resembles a scene from the Wizard of Oz and it is a relaxing place to take a picnic lunch and to reflect.
Through the mangrove forest and the village of Panchivaram Darasuram we drive through a beautiful rural route to Thanjavur, formerly known as Tanjore. The place is located in an area that is made very fertile by the Kauvery River, which flows through it. This river is considered by the Tamils as the southern Ganges. The 10th-century Brihadishvara temple, dedicated to Shiva, is an important point of the city. The gates are guarded by two demonic-looking temple guards. In the temple stands a huge statue of Nandi, the bull which Shiva rides. The top of the temple is formed by a block of stone of about 80 tons. In the center of town you can visit the 17th-century Palace of the Nayaka Dynasty.


Madurai
Day 8 Thanjavur - Madurai 
Day 9 Madurai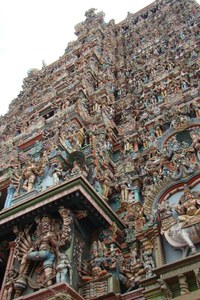 From Thanjavur it is a short drive to Trichy. The skyline of the city is dominated by the Rock Fort. The fort is a 272 ft high sacred rock that is about 3800 million years old. A beautiful road leads you to Madurai, which according to some scientists, is the oldest city in South India. This vibrant city if filled with pilgrims and does a bustling trade in the big bazaar, packed with shops, street stalls and sanctuaries.
Madurai has a medieval feeling. Many travelers find this the most spectacular city of the south. An undisputed highlight and core of all activities is the Shree Meenakshi Temple. Under the guidance of ancient Tamil Hymns and drums, Shiva is brought to the bedroom of Parvati each evening and back and every morning. Believers, sadhus and many priests make this a daily ritual.

Periyar, Kovalam 
Day 10 Madurai - Periyar National Park 
Day 11 Periyar NP 
Day 12 Periyar NP - Vandiperiyar - Kovalam 
Day 13 Kovalam
After leaving the state of Tamil Nadu we travel through the smaller Kerala. The Periyar National Park, also known as Thekkady is one of the most beautiful and important wildlife parks of South India and provides a welcome change from the our visits to the temple towns. Wildlife here consists mainly of elephants, deer, antelope and pigs. Thanks to the "Project Tiger" tigers have been able to survive here, but the chance to see one in person is unlikely. The bird population abounds in the park.
The park can be explored on foot, accompanied by a guide,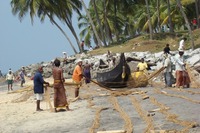 but also with a boat trip on the lake in the middle of the park. As a break from all impressions and temple visits, and after the game reserve, it is time for one of the most beautiful resorts of India: Kovalam. The beaches are around a huge granite fortress, which was a former palace of the kings of Travancore. It is now used as a luxury hotel. In Kovalam you can relax and reflect on your experiences of the last days. It is also the place to undergo a traditional Ayurveda treatment, a massage therapy using aromatic oils.

Cochin Backwater Tour 
Day 14 Kovalam - Aleppey 
Day 15 Aleppey, backwater tour 
Day 16 backwater tour - Cochin 
Day 17 Cochin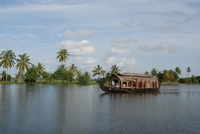 After relaxing time on the beach at Kovalam we travel to Aleppey. The first night we sleep on the mainland and get an early start as the next afternoon we take a beautiful cruise on the backwaters, an area of lagoons, canals, rivers and lakes with aquatic plants, interspersed with narrow, green islands. Rice fields, palm trees and small villages offer an unforgettable impression of the Indian rural life. On our own traditional houseboats, (kettuvallam), we make an unforgettable trip through this beautiful area. We spend one night on these boats. A cook serves three meals on board, which are included in the fare. For those who are willing to rise early, sunrise on the water is magical. The mist hangs over the water, the "early birds" swim and poke their heads into the water to catch fish, and sometimes you hear the beautiful chanting of a boatman as he takes a morning swim before his workday.
The next morning we come ashore and travel by bus to Cochin. In the center of this old town you can find many traces of the colonial period, when the East Indies Company had dominion. The old port area in Fort Cochin, the typical Chinese fishing nets, the old synagogue, and the Dutch Palace are the highlights of this place. Furthermore, in the old town there are many antique shops where you certainly can spend an afternoon. 
Cochin is also famous for the "Kathakali dance" which is characterized by exaggerated gestures and costumes and a very extensive makeup application, which you can observe in the small theatre if you arrive early. In the evening it is possible to attend such a dance performance. It is fantastic!

Mysore, Bangalore
Day 18 Cochin - Mysore 
Day 19 Mysore 
Day 20 Mysore - Bangalore 
Day 21 Bangalore - Land ends in A.M. 
We make a long drive to the city of Mysore, a center where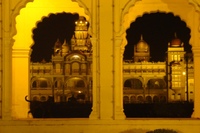 products such as sandalwood, perfume, silk and incense are sold. The main attraction is the huge palace of the Maharaja. This luxury building is located in the center of this quiet, green city with markets full of fruits and flowers. South of the city on Chamundi Hill, you can walk around a temple built for Shiva.
On the outskirts of the city is a former residence of the Maharaja, which has been converted to a hotel. Here you can get a cup of tea or swim in the pool in the beautiful garden. You will see from the countless movie billboards the India passion for films. It can be fun to take in a wonderfulyl melodramatic Indian film in one of the big cinemas within walking distance of the hotel. You can visit the temples located outside the city of Somnathpur.
A short drive finally brings us to the last stop on this varied trip: Bangalore, known as the main computer city of the country. You are free to spend the afternoon as you wish before our program gomes to an end.
Dates and prices
Departure dates 2023
| Land Begins | Land Ends | Price | Availability | |
| --- | --- | --- | --- | --- |
| Feb-11-23 | Mar-04-23 | $2,530 | 0 seats | |
| Sep-16-23 | Oct-07-23 | $2,595 | 14 seats | book now > |
| | Oct-27-23 | $2,790 | 7 seats | book now > |
| Dec-16-23 | Jan-06-24 | $2,985 | 20 seats | book now > |
Departure dates 2024
| Land Begins | Land Ends | Price | Availability | |
| --- | --- | --- | --- | --- |
| Jan-13-24 | Feb-03-24 | $2,530 | 20 seats | book now > |
| Feb-10-24 | Mar-02-24 | $2,530 | 20 seats | book now > |
Conditions "Guaranteed leave"
Price includes
 Included in our Southern India tour package: land package (begins & ends at hotel), lodgings, tour leader (as a logistics coordinator, not a lecturer) speaks Dutch & English, city-to-city transport by private bus, excursions according to program, overnight backwater trip with meals.
Price excludes
 Excluded in our Southern India tour package: international flights from/to United States, meals, and optional excursions, entrance fees if not specifically named as included, India tourist visa, exit taxes (if applicable), tips, personal expenses, travel insurance, airport transfers at arrival & departure.
Group trip dates denoted with the green "G" 
The dates you see listed in our group tours that are marked with a green "G" are SCHEDULED as a "GO" based the enrollment numbers. Before booking your flights it is important that you check with us to see if the group has enough participants for the trip to GO. However, Djoser is not responsible for costs for flight changes or cancellations if a trip must be cancelled due to insufficient enrollment, which might include a booking cancellation after the trip has been deemed to have sufficient bookings for a "GO". 
Cost Overview
 Costs are listed in U.S. Dollars
Single room from:  $465
Estimated Out of Pocket Costs Weekly (for meals, excursions and extra not listed as included)   $240
| | |
| --- | --- |
| Extension hotel city #1 | CHENNAI |
| Double room - total from | Please inquire  |
| Single room  from |   |
| Extension hotel city #2 | BANGALORE |
| Double room total from |  Please inquire  |
| Single room from  | $ |
Payment Schedule 
Deposit is due upon booking to hold your place
20% of total costs due (or $500 minimum) 
Payments by charge card or check accepted
Balance is due 60 days prior to departure date. 
USEFUL WEBSITES
Weather:   http://worldweather.wmo.int/en/home.html
Consulate List:   http://www.state.gov/misc/list/index.htm
Passport/Visa Expeditor:   TRAVISA   http://www.travisa.com/
Travel Insurance Quote:  TRAVELEX 1-800-228-9792  http://www.travelexinsurance.com/quote/?nc=1  
Currency Conversion Cheat Sheet : http://www.oanda.com/currency/travel-exchange-rates
Practical information
Accommodations & Meals
 Our accommodations during our Southern India tour provide a pleasant haven in the busy Indian streets. Our centrally located hotels have air conditioning, private shower and toilet. Often there is a good restaurant at the hotel. In the backwaters we sleep a night on a rice barge, which has been converted into a charming houseboat with 3 or 4 bedrooms. Shower and toilet are shared with fellow travelers.
Some examples of our usual hotels (subject to change)

Single room - Djoser is single friendly! If you are traveling solo, we will match you with a same-sex roommate. If we cannot match you, there will be no additional room charge. For a reasonable charge, you may request single accommodations, subject to availability. Just indicate this preference on your booking form. You will find pricing for single accommodations on "Dates & Prices" page.

Hotel extensions - It is always great to be well-rested when you begin a journey such as this. If you would like to book an extension hotel night upon arrival in the city where the land program begins, let us know on your booking form. You will find the prices for extension nights listed in the "Dates & Prices" page.

Meals - Meals during our Souther India tour are not included on the tour. This leaves you plenty of freedom to go out and look for restaurants of your choice, with the tour leader's assistance. In India, a "thali" could be your meal choice, which is a Hindi word, literally translated as "plate". On it you find different types of food to be eaten with rice and bread. A special yogurt drink, lassie, sometimes mixed with fruit is surprisingly refreshing in warm weather. Good, cheap Indian meals are found in every place, but often pastas and pizza are on the menu. Indian cuisine, with a variety of curries is world famous and delicious. You could order a 'thali. Thali means board in Hindi. This contains a great variety of dishes combined with rice and bread. A wonderfully refreshing drink is the lassi, a yogurt drink that is sometimes mixed with fruit.
Note: Many hotels in India organize a special celebration dinner with entertainment for guests on Christmas and New Year's Eve For this, a mandatory fee usually charged, regardless of whether one may or may not participate in this dinner. The amount of this fee can be up to $45 - per person.
Flights & Transportation
 Booking your international flight - We provide the land package and transportation within the program as described. We do not arrange international flights from or to the United States or Canada. The land program will begin approximately two hours after the arrival of the Netherlands (NL) participants who will be arrive from Amsterdam. The land program will end about 4 hours prior to their scheduled departure time, which allows for time to get to the airport. The proposed flights for the Dutch participants and the land beginning and end times are listed in this section. They are subject to change based on flight delays or changes. We will keep you posted of any flight changes that we are aware of prior to the trip. When scheduling your flights, keep the following times in mind:
Note: The Dutch participants will arrive in Chennai at 8:15 A.M.  and transfer directly to  Mahabalipuram.  You will need to book your flight into Chennai. Call us to arrange a transfer to Mahabalipuram.  
Dutch participants' proposed flights: (subject to change)
Airline: Emirates
NL participants arrive: Chennai 8:15 AM
NL participants depart: Bangalore 10:20 AM
Before you book your flight - To avoid flight change or cancellation costs get email confirmation from our office that the trip has enough participants to be a "GO".
Verify the spelling of your name-within 24 hours - When you book your flights, double check your flight records to confirm that your name is spelled on your ticket exactly as it appears on your passport. Some companies (for example, ORBITZ) will only allow a 24 hour window to correct any errors without penalty. You may incur heavy fees for changes, forfeiture of your flight ticket, or even worse, you could be denied entry to a border upon arrival.
Send us a copy of your flight itinerary - We will forward to the tour leader so they will know when to expect you at the hotel and when you will be departing.
Keep in mind hotel extensions - If the Dutch travelers arrive early in the morning, we recommend that you arrange to fly in the day or night before so you will be meet the group. Some trips involve an immediate transfer from airport to the next town so make sure you will arrive before the others so you don't miss the first meeting or transfer to the next location. We can arrange an extension hotel night for you. Prices for hotel extensions can be found in the "Dates & Prices" section
If the Dutch participants arrive in the late evening - Should they arrive very late in the evening, the group will have their first meeting in the morning in the hotel lobby. You can check in earlier and relax or explore on your own.
Airport transfer to/from hotel – not Included - If you will be arriving and or departing on the same flight as the Dutch travelers let us know. Then you can join them on the bus for the group transfer at no additional charge. Notify us in advance so we can alert the tour leader. If you schedule your flight at the same time as theirs, or later, you can join them on the group transfer to the airport at no additional charge. Otherwise, you can take an authorized taxi to the first hotel on the list we have provided for you. Private airport transfers can be very costly . If your flight is delayed, they are difficult to reschedule or cancel. With a taxi, you are not charged for waiting time or cancellations.
Useful Links for booking your flights
Orbitz.com
Expedia.com
Kayak.com

Local transportation -  Throughout the trip, we use a private bus. Traveling by car has the advantage, especially during a long day of travel, we can stop regularly in the villages and places that we pass through, for example, to visit a local market or sights. Throughout the year our buses include air conditioning. The towns are best explored on foot. Of course you can also use the familiar cycle or motorized rickshaws for longer distances. In some places it is possible to rent a bike.
Money Matters
 A summary of all trip costs can be found on our "Dates & Prices" Page. Prices may fluctuate throughout the year depending on currency exchange, gas costs, etc.
Included in price of our Southern India tour package
Land package (begins & ends at hotel)
Tour leader (logistics coordinator, not a lecturer), speaks Dutch & English
City-to-city transport by private bus, sometimes internal flights, trains or boats
Local guide
Transport by air-conditioned bus
Hotel Accommodation – comfortable tourist class
Two-day backwater tour including meals
Excursions Somnathpur
Tour Chola Temples Sarasuram
Payment Schedule 
Deposit is due upon booking to hold your place
20% of total costs due (or $500 minimum) 
Payments by charge card or check accepted
Balance is due 60 days prior to departure date.

While you are traveling
In your pre-trip information we will send you more information about money matters such as information about local currencies, charge cards, ATM's, currency exchange, etc.
| | |
| --- | --- |
| Local Currency:  | Indian Rupee |
| Other currency accepted: | Dollars in small denominations |
| ATMs:  | Available in major cities  |
| Charge Cards: | Accepted in major cities in India  |

Tipping - It is customary to tip for services rendered. The tour leader will organize a tip jar at the beginning of the trip, from which tips to drivers, guides, hotel staff are paid. Depending on the size of the group, each participant will be asked to contribute $40 to $50. This does not include a tip for your tour leader. Tipping the tour leader is appreciated and the amount up to your discretion.

** You will find a list of all trip costs in the "Dates & Prices" section, including your estimated out of pocket costs.
Excursions
 Freedom and choice are important elements of a Djoser trip. In addition to scheduled group activities, wherever possible, you may decide which attractions you wish to visit, and with whom. Unless otherwise indicated, entrance fees are not included in the price, so you have the freedom to make your own choices. One person may prefer to stroll through the market in search of bargains, while someone else may want to relax by the pool, go to a museum, or take a bike ride. Join the guide or break off with others in the group to explore on foot or with the local transport. Some attractions should not be missed, or they are not easily accessible, or are en route to our next overnight location and are therefore built into the program. In the "Dates & Prices" section you will find the estimated out-of-pocket, weekly expenses that have calculated in typical entry fees in addition to meals and other costs.

During our Southern India group tour, the following excursions in the travel program are included:
Excursion temple complex. By bike or bus we can visit Mahabalipuram Shiva Temple Vedahahisirshvara, also known as the Eagle Stamp
Boat trip through the mangrove forest of Pichavaram
Visit procession Shree Meenakshi temple; every night the image of Shiva is brought to the bedroom of Parvati accommanied by drums and flutes
Backwater Tour; from our own rice boat we explore the 'backwaters' of South India. Cruising you get a picture of daily life around the water. Meals are included
Tour Somnatphur. This temple complex is a good example of Hoysala architecture, richly decorated with images of Vishnu, among others, dancers, musicians and hunters
On the way of our Southern India group tour, our bus stops at a number of places where you will pay entrance fees to access:
On the way we stop at Thanjavur Darasuram where some old Chola Tamples stand
On the way to Kovalam we visit a tea factory in Vandiperiyar
During the trip are other excursions that are definitely possible. From Mahabalipuram Kanchipuram you can visit one of the "seven sacred cities of India." We can stop at Trichy to Madurai. The centerpiece of the town is the 'Rock Fort' located on a 83 meter high sacred rock. A visit to one of the herb gardens near Periyar is an absolute must. A boat trip can be made by the Cochin harbor and a Kathakali dance performance attended.
Travel Documents
 When you book a trip we will provide you with more details about necessary documents. Passports should be current and valid for at least 6 months beyond your departure date. If a visa is required, you may need extra pages in your passport for your stamps. Check all visa requirements carefully and leave yourself plenty of time to send and receive documents before your trip.

Travel documents needed
India tourist visa- YES Consulate link
Doucment expeditor - If you need a rapid turnaround for passport or visa, we recommend that you contact  TRAVISA. 
Health Issues & Insurance
 Health - Check for the Center for Disease Control – Travelers information for recommendations. Keep in mind that they may recommend an inoculation or medication such as malaria pills, which may be necessary for one specific part of a country but not another, or for a particular season. Shots are expensive. Make sure to get only what is needed. We recommend asking your doctor for a prescription to combat a more serious intestinal disorder.
When you book a trip we will provide you with information regarding the usual recommendations for the region we will visit. You will be responsible to check with your travel clinic or physician to review your plans and to find out the most up-to-date recommendations and needs for your particular situation. Plan to get your inoculations four to six weeks in advance of your trip. Some offices may need to preorder the medicines so call in advance.It is wise to pay careful attention to what you eat. Also, we recommend you bring medicines such as pain-killer and for remedy for intestinal disorders (such as IMMODIUM). Bring a small first aid kit. Tweezers, band-aids, antiseptic cream, insect repellent , salt rehydration tablets. The tour leader will have a first aid kit.
Climate and altitude changes can sometimes cause illness. Be sure to drink plenty of water. Bottled water is readily available. Excessive alcohol intake contributes to dehydration and makes you more vulnerable to illness. Make sure that you get plenty of rest and enough food and drink during the trip.
Most people are recommended to get
DTP vaccinations, typhoid and hepatitis A
Malaria tablets
Insurance - For piece of mind, we recommend that you procure travel insurance. In the event of an illness or injury, an emergency evacuation can be incredibly expensive and you would want access to the best possible facility. Also, lost baggage or missed flights can mean added expenses, Even events at home may prevent you from taking a trip, such as a lost job or ailing family member. It is important to get travel insurance immediately after booking. Most companies have a brief window (within 10 days of booking) for coverage for a preexisting condition. You will be asked to provide us with travel insurance contact information before your departure.
You are free to choose your own provider. Over the years, we have recommended TRAVELEX. They offer a variety of plans and most importantly, they are responsive. Should you choose to go with TRAVELEX, you will contact them directly and the cost of your coverage will depend on the plan you choose. The cost will be based over the total cost of your trip and flights, and the amount is also subject to your age. Ask about the TRAVEL PLUS plan and the more economical TRAVEL LITE plan. * Arrange for insurance immediately after booking your trip so that you are covered for any pre-existing situation. TRAVELEX 1-800-228-9792
Group Composition
 Djoser travelers are active, enthusiastic travelers of all ages. Join an international group with travelers from the Netherlands, Belgium and North America, who will be the minority group on these trips. Most of our trips range from a minimum of eight participants to a maximum of 20 or 22. You will find couple and singles on our trips. Feel free to call us if you wish to know the demographic make-up of a particular trips (number of singles and age range).
Minimum group size: 10
Maximum group size: 20

What to expect when traveling with an international group - Djoser, Inc. (the United States office) has been an India tour operator for over 15 years. Djoser, B.V. (the Netherlands office) has been an India tour operator for over 25 years. So together we bring vast experience. Most of our trips are arranged in cooperation with Djoser, B.V. in the Netherlands. Because they cater to the voracious travel appetites of the Dutch, we can offer a vast number of programs around the world with hard-to-find itineraries, with numerous departure dates.
On our Southern India group tour, you will travel with an international group, with most participants from Holland and Belgium. The international make-up of our groups is the attraction for many regular Djoser travelers and adds another cultural element to the trip. Typically, there are only one to five North Americans per group. You will find that almost all of your fellow travelers have an excellent command of English and most are very willing to socialize. It's a great idea to extend an invitation to a few travel mates for coffee or a drink early in the trip. They will appreciate your effort and this is a great way to break the ice. It will be easier for them to test out their English skills in a quiet, one-on-one setting. Group members tend to warm up to one another in a day or two. As with every tour group, compatibility has most to do with individual personalities.
We attract travelers of all ages and we enjoy the mix! You will find our participants welcome opportunities for independent explorations in addition to group activities. No matter their age, Djoser travelers expect, and are up to lots of walking, hiking, biking, or whatever comes our way. The Dutch and Belgian travelers will fly as a group from Amsterdam. You will meet the group and tour leader at the hotel where you will begin the land program with the group.
Tour Leaders & Support Staff
 Our trips will be guided by an experienced Dutch guide who speaks Dutch and English. He or she will be responsible for the organizational and technical aspects of the trip. He/she coordinates with the driver , hotels, and other vendors along the way. The tour leader has extensive travel experience and expertise as well as a comprehensive training.
Our experienced land representatives are situated in the destination country you will visit. We work closely with them and they function as the liaison between our office, the guide, drivers and hotels. They are also available in the case of an emergency and their number will be provided on your emergency contact list.
Climate & Geography
 Our trips are organized with weather conditions in mind. On our website, we will provide you with a weather summary of the region: Check temperature and rainfall for specific cities on your trip, during your month of travel at worldweather.org

In South India it is actually warm the whole year, Inland there is in particular a dry heat, usually comfortable. The coastal areas are often more humid. It is wise to go out in the morning and in the late afternoon and take it easy at lunchtime. In winter (December and January), it is pleasantly warm during the day, while it can 'cooll off in the evenings. The summer can be quite hot throughout India. The weather in India can vary greatly depending on the season. In winter, daytime temperatures are pleasant and nights can be refreshing, even cold. In summer, temperatures can reach tropical highs, but humidity is low and the heat is surprisingly easy to bear. In summer it is wise to start the day early, take it easy around noon and go out again at the end of the day. The monsoon season in India lasts from July to the end of August. Starting in the south, the monsoon reaches the north in the middle of July. Traveling in the rainy season does not have to adversely affect your holiday. The rains usually do not last long and nature flourishes.
Photos & video
Book Trip/Trip Inquiry
                                                       BOOK MY TRIP 

•Begin your reservation process by filling in this TRIP INFO REQUEST and send to us via the website. We will confirm dates and prices, and answer any questions you may have about the trip.
•Download and complete the BOOKING FORM including all participants passport information and payment information. Email a PDF, scan, or clear photo of your completed BOOKING FORM to lukedjoser@gmail.com. All participants over 18 should sign the form.
• A deposit of 20% of total costs will be due upon booking in order to hold your place on the trip. The balance will be due 90 days prior to departure.
• Payments can be made by personal check or ACH wire transfer (domestic wire only). We will send you wire instructions.
• Upon receipt of your form, we will email you a receipt and confirmation of your booking.
• If paying by check, make check out to DJOSER, INC., Mail to Djoser, Inc. – Bookings 420 N. Oakland Drive, #6, Pasadena, CA 91101.
Questions? Call Luke Neal 484-995-2964. (West Coast)