India (Rajasthan) & Nepal Tour, 30 days
Join Djoser's international groups for a comprehensive tour through the north of India, Rajasthan and Nepal. Visit the cultural highlights of North India such as the Taj Mahal and the holy city of Varanasi. In Nepal you get acquainted with the varied nature in the Chitwan national park and the snow-covered peaks of the Himalayas.
Join our international groups with active travelers, of all ages. Most will come from Holland and Belgium, but you will find they have an excellent command of English. Your tour leader addresses the group in Dutch and English. Our skilled land crew have worked with Djoser for many years and make sure things run smoothly.
There is ample time for group exploration. Count on lots of walking. But sometimes, it is great to be able to break off and explore on your own. Your guide can make some great suggestions.
Join us for unforgettable cultural, nature and local experiences!
Itinerary
Delhi
Delhi
Delhi - Mandawa
Mandawa - Fatehpur - Bikaner
Bikaner, camel safari, overnight camping in desert
Bikaner - Phalodi - Jaisalmer
Jaisalmer
Jaisalmer - Jodhpur, excursion Mehrangarh Fort
Jodhpur - Ranakpur - Udaipur
Udaipur
Udaipur - Bijaynagar
Bijaynagar - Pushkar
Pushkar - Jaipur
Jaipur, excursion Amber Fort
Jaipur - Ranthambore National Park
Ranthambore National Park
Ranthambore National Park - Fatehpur Sikri - Agra
Agra, night train to Varanasi
Varanasi, Ganges boat trip
Varanasi
Varanasi - Shivpatinagar
Shivpatinagar - Chitwan N. P.
Chitwan N.P. Jeep safari, 20,000 Lakes
Chitwan N. P.
Chitwan N. P. - Pokhara
Pohkara
Pokhara - Kathmandu
Kathmandu, excursion royal city Bhaktapur
Kathmandu
Kathmandu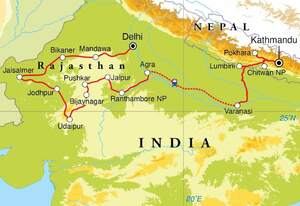 Day by day
Delhi, India
Day 1 Delhi
Day 2 Delhi
The journey starts in Delhi, the capital of India. The old and new parts of the city are both rich in sights. The street life in the old center is impressive, rickshaws and countless street vendors make the bargain-hunting an unforgettable experience here. In and around the center of Old Delhi is a large number of attractions.
There are a few possibilities: the imposing Red Fort from the Moghul era, the Jama Mashid Mosque (the largest in India), the Raj Ghat, the place where Mahatma Ghandi was cremated and Chandni Chowk, the big bazaar street in the old part from Delhi. The modern office and shopping center is located around Connaught Place in New Delhi, where the parliament and India Gate are located. The Humayun 's tomb is outside the center, the huge minaret Qutab Minar and the hypermodern Bahai temple, built in the shape of a lotus flower are among the most important sights.
In vast Delhi, the auto rickshaw or the old-fashioned taxi are the most convenient means of transport. Discuss the price in advance, to avoid surprises. Our hotel is located in the pleasant district of Karol Bagh, where locals like to shop.
Mandawa, Bikaner
Day 3 Delhi - Mandawa
Day 4 Mandawa - Fatehpur - Bikaner

From Delhi we travel with our own bus to the colorful state of Rajasthan. It is one of the most colorful and fairytale like regions in India. You can recognize the men of Rajasthan by their giant turbans and the women by their striking silver jewelry and saris in striking colors. Many of the impressive forts and palaces of the Rajputs, (the rules of Rajasthan for ten centuries), have been preserved, although they have now often been transformed into hotels or museums. In the Rajasthan province of Shekawati each of these places is a feast for the eyes.
The havelis, which we can visit in Mandawa and Fatehpur, among others, are made of golden yellow sandstone and are provided with rich sculptures.
Bikaner, Jaisalmer
Day 5 Bikaner, camel safari and camping trip in desert
Day 6 Bikaner - Phalodi - Jaisalmer
Day 7 Jaisalmer
Our next stop is Bikaner, formerly a trade center on the route between Central Asia and North India. You can visit several Jain temples, a palace and the Junagarh fort here. This fort is unique in Rajasthan, because the interior is completely from of the time of the former maharajas. About 30 kilometers away is the town of Deshnoke where you can possibly view the Karni Mata temple, which is populated by a huge population of holy rats, described in Hinduism as 'the mount of the popular god Ganesha'.
From Bikaner we travel through the Thar Deserta safari by camel, the means of transport par excellence in this region. During this safari you will spend the good part of the day(with regular breaks), on the back of a camel. Along the way we can visit colorful villages and you can get acquainted with the lifestyle of the local population. In the evening we store our tents at the edge of a village, sheets and blankets are present. Meals are included during this safari.
The bus ride from Bikaner to Jaisalmer goes through the Thar Desert. On our way to this desert city we visit Phalodi, also known as the salt city. As soon as we approach Jaisalmer you see the city rising up like a kind of mirage from the desert. It is one of the most impressive cities in India, located in the middle of the desert, where present and past literally come together. Walking through the narrow streets of the fort you imagine yourself in a world where rajputs and maharajas are in charge. In the old city you return to the busy Indian life.
Udaipur
Day 8 Jaisalmer - Jodhpur, excursion Mehrangarh Fort
Day 9 Jodhpur - Ranakpur - Udaipur
Day 10 Udaipur
Jodhpur is, like Jaisalmer, historically a trading center. However, the city has succeeded in maintaining this function in modern India. Nowadays it is, after Jaipur, the largest city of Rajasthan. In Jodhpur you can visit various temples and palaces alongside the impressive Mehrangarh Fort. From the fort you have a nice view of the blue district, where the Brahmans live. The walled old town with the market recognizable by the bell tower and also worth a visit. In the numerous, often tiny dark shops, the attractive Rajasthan handicraft products are manufactured in a traditional way.
In Ranakpur, you can visit the richly decorated marble Jaint Temple. This temple, from the 15th century, has no less than 1444 beautifully decorated columns. Jainism is a separation from Hinduism and is against the use of violence against all living beings.
After a wonderful bus ride through mountainous area, we arrive at the end of the day in Udaipur the 'city of the sunrise'. It is a veritable treasure trove full of elegant palaces, beautiful temples and havelis. The old city has countless small streets, temples, colorful markets.
From the islands in Lake Pichola, you can go by rowboat, when the water is high enough, where you have a beautiful view of the surroundings. The main attractions are the breathtaking City Palace and the fairy-tale Lake Palace, now an exclusive hotel in the middle of Lake Pichola. Film connoisseurs may recognize the building from the James Bond film 'Octopussy'.
Pushkar, Jaipur
Day 11 Udaipur - Bijaynagar
Day 12 Bijaynagar - Pushkar
Day 13 Pushkar - Jaipur
Day 14 Jaipur, excursion Amber Fort
In Bijaynagar, time seems to have stood still. During a ride with the ox cart you come into contact with rural life. The owners of the palace in which we stay acquaint us with Indian cooking during a cooking demonstration.
We travel to Pushkar, where believers immerse themselves in the holy water by the lake. Of course we visit the famous Amber Fort in Jaipur, known as the 'pink city' . Take a look at the magnificent Palace of Winds, with its 1000 richly decorated windows the most characteristic building of Jaipur. This building should definitely be on your list of places of interest. It is also fun to go to a Hindi film in one of the beautiful cinemas.

Ranthambore National Park & Agra
Day 15 Jaipur - Ranthambore National Park
Day 16 Ranthambore NP
Day 17 Ranthambore NP - Fatehpur Sikri - Agra
Day 18 Agra, night train to Varanasi
In Ranthambore National Park you have a good chance to encounter a tiger in the wild. The fort of Ranthambore, located on a hill, dates from the 10th century and is listed on the World Heritage List.
On the way to Agra, world famous for the Taj Mahal, we visit Fatehpur Sikri , the completely deserted 16th-century capital of the Moghul Empire. A visit to the Taj, the mausoleum for the wife of Moghulvorst Shah Jahan, at sunrise is a unique experience that you will not forget. The Agra Fort is near the lively old town, where you can find various palaces and mosques of pure marble. The rickshaw is also an excellent means of transport here, negotiating the price is a 'must'. You can also visit the town of Sikandra, where you will find Akbar's tomb.
We travel to Varanasi by comfortable night train, in which sleeping compartments are reserved.
Varanasi
Day 19 Varanasi, boat trip Ganges
Day 20 Varanasi

Varanasi, located on the holy river Ganges, is one of the most impressive and oldest still inhabited cities in the world. The activity on the ghats - river stairs - provides a fascinating spectacle. In the morning, Djoser offers a boat trip on the Ganges, an ideal way to experience this magical river. Hindu believers come from far and wide to take a cleansing bath before sunrise. Bodies are also regular cremated on the river banks; Hindus believe that those who die in Varanasi are freed from the cycle of rebirth.
The fascinating old town has a maze of alleys, where you sometimes get blocked by a holy cow. You can also have your future predicted by a real guru or a head massage. An optional excursion will take you to nearby Sarnath, where Buddha gave his first lessons in a deer park.
Chitwan national park, Nepal
Day 21 Varanasi - Shivpatinagar
Day 22 Shivpatinagar - Chitwan national park
Day 23 Chitwan NP, jeep safari 20,000 lakes
Day 24 Chitwan NP
We continue our route to Nepal. The unforgettable trip across the countryside is interrupted by an overnight stay in Shivpatinagar. Here we use an old colonial hotel: The Royal Retreat , located in a rural environment.
The first thing you see in Nepal is the lowland of the Terai. We stay in small houses in a beautiful garden, close to the entrance of the Chitwan National Park. You can take a walk through the jungle under the guidance of an experienced guide. A jeep safari to the 20,000 lakes - Bishazari Tal - takes you to a completely different part of the park. In this marsh area there is a wide variety of interesting flora and fauna. So with a bit of luck you can see the Bengal tiger and the Gavial (crocodile with long narrow snout).
When local conditions permit you can make a jeep safari in the adjacent park, the best place to spot the Indian rhinoceros . Chances are that you will come face to face with this impressive beast and if you are lucky you may still see a tiger.
Pokhara
Day 25 Chitwan NP - Pokhara
Day 26 Pokhara
Day 27 Pokhara - Kathmandu

We drive to Pokhara , located on the clear Phewa lake. Here are many opportunities for cycling and walking tours, whether or not accompanied by a guide. On clear days you can see in the distance the more than 8000 meters high peaks of the Annapurna Massif, of which several mountain peaks are covered with eternal snow. For example, you can take a long hike to or near Sarangkot, past villages and rice fields.

The real sports enthusiast can rent a mountain bike in Pokhara for a trip in the area or a village where Tibetan refugees have settled. Perhaps you are witnessing an impressive prayer service in one of the monasteries. You can also take it easy and take a boat trip on the lake or enjoy the peace in one of the gardens along the water.
Kathmandu
Day 28 Kathmandu, excursion king city Bakthapur
Day 29 Kathmandu
Day 30 Kathmandu

After a bus trip through mountainous areas, the Kathmandu valley stretches in front of you. The journey ends in Kathmandu, the capital of Nepal. Kathmandu is a fascinating city where you are surrounded by stupas, temples, pagodas and other shrines. The Thamel district is a pleasure town for shoppers, where you can enjoy live music in the cozy bars and restaurants. We also visit the royal city of Bhaktapur, 'city of the golden temples' , which is on the UNESCO World Heritage List. The Newar architecture, which characterizes this city, consists of a combination of unique masonry and wood carving. Our trip comes to an end in Kathmandu.
Those who want to see the sun rise over the Himalayas can book an overnight stay in Nagarkot.

On the road with Djoser
During our travels there is no rigidly planned itinerary. The travel days are set and the tour guide offers a program most days and a number of excursions are included. But the program can be determined daily in consulation between the guide and the group. But you are never obligated to participate. Those who prefer to go for it themselves have the freedom to do so. The guide can make suggestions for independent explorations.
On the Road with Djoser
Djoser's active journeys offer an ideal balance of guidance and freedom. Our guide-assisted adventures cover the globe and feature wildlife, beautiful natural settings, historic sights and authentic cultural experiences. 
Dates and prices
Departure dates 2023
| Land Begins | Land Ends | Price | Availability | |
| --- | --- | --- | --- | --- |
| | Feb-20-23 | $2,895 | 4 seats | book now > |
| Feb-18-23 | Mar-20-23 | $3,025 | 0 seats | |
| Mar-10-23 | Apr-08-23 | $2,765 | 20 seats | book now > |
| Sep-15-23 | Oct-14-23 | $2,895 | 20 seats | book now > |
| Oct-20-23 | Nov-18-23 | $2,895 | 18 seats | book now > |
| Nov-11-23 | Dec-10-23 | $2,895 | 20 seats | book now > |
| Dec-15-23 | Jan-13-24 | $3,025 | 20 seats | book now > |
Departure dates 2024
| Land Begins | Land Ends | Price | Availability | |
| --- | --- | --- | --- | --- |
| Jan-19-24 | Feb-17-24 | $2,765 | 20 seats | book now > |
| Feb-09-24 | Mar-09-24 | $2,765 | 20 seats | book now > |
| Mar-06-24 | Apr-04-24 | $2,765 | 20 seats | book now > |
Conditions "Guaranteed leave"
Price includes
Tour guide assistance  (speaks Dutch and English)
Transport by air-conditioned bus in India
Night train Agra - Varanasi
Hotel nights
Camping stay camel safari incl. Meals
Excursion Mehrangarh fort
Visit Ranakpu temple
Excursion Amber fort
Visit Fatehpur Sikri
Boat trip Ganges
Jeep safari in Chitwan NP
Price excludes
International flights
Travel insurance
Other meals
Airport transfers
Entrance fees
Optional excursions
Tips
Personal expenses
Cost Overview

$570.00 Single Room
$240.00 Out of Pocket cost estimate, weekly
$55.00 Tip Pot
DELHI – Extension hotel per night
$70.00 – Double Room
$60.00 - Single Room
KATHMANDU – Extension hotel per night
$70.00 – Double Room
$60.00 - Single Room
Payment Schedule 
Deposit is due upon booking to hold your place
20% of total costs due (or $500 minimum) 
Payments by charge card or check accepted
Balance is due 60 days prior to departure date. 
Useful Websites
Flights: https://www.farecompare.com/
Weather: http://worldweather.wmo.int/en/home.html
Consulate List: http://www.state.gov/misc/list/index.htm
Passport/Visa Expeditor: TRAVISA http://www.travisa.com/
Travel Insurance Quote: TRAVELEX 1-800-228-9792 http://www.travelexinsurance.com/quote/?nc=1 
Currency Conversion Cheat Sheet : http://www.oanda.com/currency/travel-exchange-rates
Practical information
Accommodations & Meals
Our accommodations are a pleasant escape from the busy Indian street life. We spend the night in centrally located tourist class hotels, where rooms are reserved with air conditioning, shower and toilet. Often there is a good restaurant. Some hotels in North India have a swimming pool, for a cooling dip or a relaxing afternoon.

In Bikaner we sleep under the starry sky, during the desert safari. You will feel like a Maharaja in the atmospheric palaces where we spend the night in Bijaynagar and Pushkar. You can walk to the Taj Mahal from our hotel in Agra for one of the highlights of this trip

At Chitwan NP we sleep in a lodge with a lush garden, where you can relax. The rooms are equipped with mosquito nets. From the hotel in Pokhara you can make beautiful walks in the breathtaking surroundings. The accommodation in Kathmandu is simple, but the location in the middle of the Thamel district and the cozy rooftop terrace more than make up for this.
Below are typical hotels that we use on this trip. You will stay in these hotels or similar establishments. We will send you a final hotel list about 10 days prior to the trip with phone numbers and addresses of all hotels, as well as emergency contact numbers. You should provide a copy of your final list to your home contacts.

Delhi                 Rockwell Plaza
Mandawa          Udai Vilas
Bikaner             Heritage Resort
Jaisalmer          Kalyan Bhawan
Jodhpur             Mapple Abhay
Udaipur              Paras Mahal
Bijaynagar         Bijay Niwas Palace
Pushkar            Jagat Palace
Jaipur                Hotel Libra
Ranthambore    Ankur Resort
Agra                   Hotel Amar
Shivpatinagar    The Royal Retreat
Chitwan             Rhino Lodge
Pokhara            Hotel Crown Himalayas
Kathmandu       Hotel Thamel

Hotel Extensions
You can book an extension in Delhi or in Kathmandu. Please consider extensions when booking your flight. (See Cost Overview for costs).

The mentioned prices are without change costs of the flight and do not include transfer from / to the airport.
Single Travelers
Individual travelers will be matched with other single travelers of the same sex. If you do not want to be classified with another participant, you can book a single room at the applicable supplement.
Meals
Meals are not included in the fare in India and Nepal. Lunch, dinner and breakfast are included during the camel safari. You can get an excellent Indian or Nepali meal in our hotels and other restaurants. The cost of your meals is included in your estimated out-of-pocket expenses . (See Costs Overview)

India, Nepal and Rajasthan - Indian cuisine, is world famous. You will be able to taste the many different curries. In Rajasthan you could order a so-called thali. Thali means plate in Hindi. On this you will find a large variety of dishes combined with rice and bread. A delicious cooling snack is the lassi, a yoghurt drink that is sometimes mixed with fruit.

In Nepal, the variety of Western and Oriental meals is inexhaustible. Besides the simple local dhal bhat, rice with lentils, moussaka, hamburgers and lasagna can be found here on the menus.
Many hotels in India organize a special party dinner on Christmas and New Year's Eve with entertainment for hotel guests. A compulsory supplement is usually levied for this, regardless of whether or not you participate in this dinner. The amount of this allowance can be as high as US $40 per person.

 
Flights & Transportation
We provide your land program. You will need to organize your own international flight.

As most travelers will arrive from the Netherlands, our program start and end dates are built around their arrival and departure times. Please schedule your flight to arrive prior the Dutch participants so that you will not miss any portion of the program.
Planning Your Flights 
NOTE: Do not book your flight until you receive an email confirmation of with the current itinerary and confirmation stating that we have reached sufficient enrollment for a trip to go. We are typically safe with 10 for a "GO". You can follow the enrollment postings on the website Dates & Prices page.
 
YOUR ARRIVAL FLIGHT:
Your should arrive in DELHI  in the afternoon or evening where you may check into our first hotel. 
The participants from Holland will arrive after midnight so you will meet up with participants the following morning.  
YOUR DEPARTURE FLIGHT
Our trip ends in Kathmandu on the final day. The Dutch travelers' flight departs at 12:55 PM. If you schedule a flight that departs at 1PM or after, you may join the Dutch travelers on the bus for the group transfer to the airport, at no additional charge. Otherwise, you will need to arrange your own airport transfer at the hotel front desk.
Scheduled flight for Dutch participants (subject to change)

TK 1952: 12.10 – 17:30 from Amsterdam – Istanbul
TK 716: 20:55 – 05:15 from Istanbul – Delhi (arrive 16 feb)
TK 727: 12:55 – 18:50 from Kathmandu – Istanbul
TK 1955: 19:55 – 21:35 from Istanbul - Amsterdam

Please send us a copy of your flight. This way the tour leader can track your arrival.

Transport
Throughout the journey we use our own bus, which is air-conditioned (in India). We are free to make various stops along the way such at villages, local markets, or other attractions.

From Bikaner we make a ride through the desert on the back of camels. We bridge the Agra - Varanasi route with a night train where we have reserved seats in air-conditioned sleeping compartments. Sheets and pillows are provided.

The cities are often best explored on foot. Of course you can also use the bicycle or motor rickshaw for the longer distances. It is possible to rent a bicycle in some places.
Money Matters
In India and Nepal the rupee is the local currency. Look for the current exchange rates on oanda.com.

ATM: available in many cities, both in India and in Nepal.
Cash: euros or U.S. dollars accepted in small denominations. Bring newer, undamaged bills (10 years old or less)
Credit card: usable in different places.

Out of Pocket Expenses
You should budget for expenses that are not included in the fare, such as meals, entrance fees, optional excursions and personal expenses. (See Costs Overview)
Tips
It is customary to give tips for services rendered. In order to avoid having to always dispose of tips, a tip jar is set up at the beginning of the trip, from which the (joint) tips are paid to the drivers, guides, hotel staff, etc. The amount of the tip pot depends on the group size and length of the trip. The amount per person is usually $25-$30 for shorter trips and $40-$50- for longer trips. This does not include a tip for your tour leader. Tipping your tour leader is appreciated. The amount is at your discretion. (See Costs Overview)
Payment Schedule 
Deposit is due upon booking to hold your place
20% of total costs due (or $500 minimum) (subject to other up front payments required by hotels or for internal flights)  
Payments by charge card or check accepted
Balance is due 60 days prior to departure date.

While you are traveling
In your pre-trip information we will send you more information about money matters such as information about local currencies, charge cards, ATM's, currency exchange, etc.
| | |
| --- | --- |
| Local Currency : | Indian & Nepal - Rupee |
| Other currency accepted: | Dollars in small denominations |
| ATMs: | Available in major cities |
| Charge Cards | Accepted in major cities in India |

Tipping - It is customary to tip for services rendered. Tipping the tour leader is appreciated and the amount up to your discretion.
See Cost Overview for all estimated costs. 



Excursions
Freedom and choice are important elements of a Djoser trip. According to your wishes, we can organize certain activities in advance.  We like to give you freedom to explore on your own on some days, of course, with the recommendations from your escort. We will give you an estimate of out of pocket expenses. 

The tour leader will plan many group excursions however Djoser trips allow for plenty of personal freedom. One person may prefer to roam over the market in Delhi or Kathmandu in search of bargains, while another wants to look around at a museum, the Red Fort, the Taj Mahal, or settle on a roof terrace to enjoy a drink and watch the daily life. In most cases you can go on your own or with fellow travelers, with or without help from our tour guide, on foot or with local transport. Admission fees are therefore not included in the fare, so you are free to choice, according to your personal preferences.

Some places of interest should not be missed or they are difficult to reach or are 'en route' to our next place of accommodation. Such excursions are included in the program. The admission fees are additional. You can find the estimated out-of-pocket expenses summarized in the Cost Overview (Dates & Prices section).

During this trip through India, the following excursions are included in the itinerary:

• India, Nepal and Rajasthan excursions include a camel safari and camping trip in the Thar Desert. During this safari, during the day you will spend a few hours camel back trekking through the desert. Along the way we visit colorful villages and you can get acquainted with the lifestyle of the local population. Meals are included.
• Excursion Mehrangarh fort. The impressive fortress towers over Jodhpur and lies on a major trade route from the 15th and 16th centuries.
• Excursion Amber fort. The fort is the former residence of the Moghul ruler Jai Singh I and has 4 courtyards, on different levels.
• Boat trip across the Ganges; watch the fascinating spectacle on the river stairs - ghats - from the water.
• Jeep safari 20,000 lakes; in this marsh area there is a wide variety of interesting flora and fauna.
• Excursion to the Royal City of Bhaktapur. One of the 3 royal cities included on the UNESCO World Heritage List. The various monumental buildings, built in the characteristic Newar architecture with terracotta and wood carved ornaments, richly carved palaces and temples, gilded temple roofs and intimate courtyards.

On the way our bus stops at a number of places, for which you will need to pay entrance fees:

• On our way to Bikaner we stop in Fatehpur, known for its - havelis - richly decorated merchant houses.
• On our way to Jodhpur we make a stop in the salt town of Phalodi. We visit a salt factories.
• Via Ranakpur we drive to Udaipur. Here we visit one of the most impressive Jain temples in India. Jainism has been important to Indian culture from the beginning.
• On the way to Agra we visit Fatehpur Sikri, the completely deserted 16th century capital of the Moghul Empire.

During the trip, other excursions are possible that are worthwhile. A visit to a Bollywood film in Jaipur is quite an experience. From our hotel in Agra you can walk to one of the highlights of this trip: the Taj Mahal. In Chitwan an optional jeep safari can be booked to spot the white rhinoceros. Walk into the mountains from your hotel in Pokhara and gaze at the spectacular views.

 
Travel Documents
When you book a trip we will provide you with more details about necessary documents. Passports should be current and valid for at least 6 months beyond your departure date. If a visa is required, you may need extra pages in your passport for your stamps. Check all visa requirements carefully and leave yourself plenty of time to send and receive documents before your trip.
Travel documents
For U.S. citizens.
• Passport, which is valid for at least six months after departure from each country.
• India - Visa (you can fill in e-visa online). We will provide you with needed information to complete this form. (DOUBLE ENTRY / 60 days)
• A visa for Nepal $25(obtain at the border - bring 2 color passport photos ).
Please verify your visa requirements on the appropriate embassy site for the country of your residence. Visa requirements can change. We will update you regarding requirements when you book your trip.
Health Issues & Insurance
Health - Check for the Center for Disease Control – Travelers information for recommendations. Keep in mind that they may recommend an inoculation or medication such as malaria pills, which may be necessary for one specific part of a country but not another, or for a particular season. Shots are expensive. Make sure to get only what is needed. We recommend asking your doctor for a prescription to combat a more serious intestinal disorder.
When you book a trip we will provide you with information regarding the usual recommendations for the region we will visit. You will be responsible to check with your travel clinic or physician to review your plans and to find out the most up-to-date recommendations and needs for your particular situation. Plan to get your inoculations four to six weeks in advance of your trip. Some offices may need to preorder the medicines so call in advance.It is wise to pay careful attention to what you eat. Also, we recommend you bring medicines such as pain-killer and for remedy for intestinal disorders (such as immodium). Bring a small first aid kit. Tweezers, band-aids, antiseptic cream, insect repellent , salt rehydration tablets. The tour leader will have a first aid kit.
Climate and altitude changes can sometimes cause illness. Be sure to drink plenty of water. Bottled water is readily available. Excessive alcohol intake contributes to dehydration and makes you more vulnerable to illness. Make sure that you get plenty of rest and enough food and drink during the trip.
Most people are recommended to get
• DTP vaccinations, typhoid and hepatitis A
• Malaria tablets

Insurance - For peace of mind, we recommend that you procure travel insurance. In the event of an illness or injury, an emergency evacuation can be incredibly expensive and you would want access to the best possible facility. Also, lost baggage or missed flights can mean added expenses, Even events at home may prevent you from taking a trip, such as a lost job or ailing family member. It is important to get travel insurance immediately after booking. Most companies have a brief window (within 10 days of booking) for coverage for a preexisting condition. You will be asked to provide us with travel insurance contact information before your departure.
You are free to choose your own provider. Over the years, we have recommended TRAVELEX for U.S. clients. They offer a variety of plans and most importantly, they are responsive. Should you choose to go with TRAVELEX, you will contact them directly and the cost of your coverage will depend on the plan you choose. The cost will be based over the total cost of your trip and flights, and the amount is also subject to your age. Ask about the TRAVEL PLUS plan and the more economical TRAVEL LITE plan. * Arrange for insurance immediately after booking your trip so that you are covered for any pre-existing situation. TRAVELEX 1-800-228-9792
 
Climate & Geography
Climate and Geography
In North India, weather conditions are highly dependent on the season. In the autumn (September to November) and spring (February to April) the temperatures are particularly pleasant, both during the day and at night. In the winter (December and January) it is warm during the day, while it can cool off considerably in the evening and at night. The summer can be quite warm throughout India, with temperatures reaching above 95 ° F. In Nepal it is almost always cooler than in India, except in the Terai, the lowland.
The monsoon falls all over India and Nepal from July to the end of August, which is unpredictable. Traveling in the rainy season does not, as one thinks, have to be disadvantageous. A rain shower is usually short and intense and freshens nature, the landscape looks greener in this period than in the other periods. However,  Nepal is often cloudy. 
Our trips are organized with weather conditions in mind. On our website, we will provide you with a weather summary of the region:
Check temperature and rainfall for specific cities on your trip, during your month of travel at worldweather.org
Photos & video
Book Trip/Trip Inquiry
                                                       BOOK MY TRIP 

•Begin your reservation process by filling in this TRIP INFO REQUEST and send to us via the website. We will confirm dates and prices, and answer any questions you may have about the trip.
•Download and complete the BOOKING FORM including all participants passport information and payment information. Email a PDF, scan, or clear photo of your completed BOOKING FORM to lukedjoser@gmail.com. All participants over 18 should sign the form.
• A deposit of 20% of total costs will be due upon booking in order to hold your place on the trip. The balance will be due 90 days prior to departure.
• Payments can be made by personal check or ACH wire transfer (domestic wire only). We will send you wire instructions.
• Upon receipt of your form, we will email you a receipt and confirmation of your booking.
• If paying by check, make check out to DJOSER, INC., Mail to Djoser, Inc. – Bookings 420 N. Oakland Drive, #6, Pasadena, CA 91101.
Questions? Call Luke Neal 484-995-2964. (West Coast)