India, Nepal, Tibet, China, 30 days Land & Air from Amsterdam
Delhi to Beijing
                 THIS TRIP BEGINS & ENDS IN AMSTERDAM
This trip will begin and end in Amsterdam, where you will meet the group at Schiphol Airport.   The flights from Amsterdam to India, and from China to Amsterdam are included. This also means that you will travel on the group visa with the other travelers to enter and exit Tibet.   
This trip is filled with stark contrasts. You are introduced  to India and China, superpowers that will help shape the world in the future. But in the Himalayan regions of Nepal and Tibet you travel to places where time seems to have stood still. A special feature of this trip is the train that takes you from Lhasa on the Tibetan plateau to China.
Join our international groups with active travelers, of all ages. Most will come from Holland and Belgium, but you will find they have an excellent command of English. Your tour leader addresses the group in Dutch and English. Our skilled land crew have worked with Djoser for many years and make sure things run smoothly.
There is ample time for group exploration. Count on lots of walking. But sometimes, it is great to be able to break off and explore on your own. Your guide can make some great suggestions.
Join us for unforgettable cultural, nature and local experiences!
Itinerary
Amsterdam flight to Delhi
Delhi
Delhi - Fatehpur Sikri - Agra
Agra, night train to Varanasi
Varanasi
Varanasi, boat trip Ganges
Varanasi - Shivpatinagar
Shivpatinagar – Chitwan N. P.
Chitwan NP, jungle walk
Chitwan NP - Bhaktapur
Bhaktapur – Nagarkot
Nagarkot - Kathmandu
Kathmandu
Kathmandu - Syabrebesi
Syabrebesi - Jilong / Gyirong Town
Jilong – / Gylrong Town - Tingri
Tinggri – Shigatse
Shigatse
Shigatse - Gyantse
Gyantse- Lhasa
Lhasa
Lhasa
Lhasa, train to Xi'an
Xi'an
Xi'an, excursion Terracotta Army
Xi'an, night train to Beijing
Beijing
Beijing, excursion to the Great Wall & Summer Palace
Beijing
Beijing flight to Amsterdam - program ends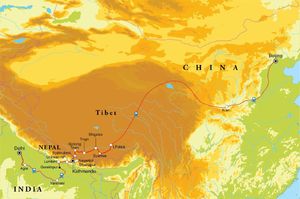 Day by day
On the Road with Djoser
Djoser's active journeys offer an ideal balance of guidance and freedom. Our guide-assisted adventures cover the globe and feature wildlife, beautiful natural settings, historic sights and authentic cultural experiences. During Djoser travels, the daily schedule is not rigidly set.
The day-to-day descriptions describe the anticipated, or possible daily activities. Our travel days are obviously fixed, but each day the program may deviate depending on the preferences of the group, in consultation with the tour leader. The tour guide offers a program daily, with planned excursions. You are never obligated to participate. Those who desire more freedom may go out exploring or may dine on their own. Your tour leader can offer suggestions for safe explorations and fun restaurants. You will find that Djoser participants will take advantage of this flexibility. We believe a sense of discovery is an integral element of a great trip.
 Below, you will find the day-to-day description of the program. 
Djoser has been a tour operator in India, Nepal Tibet and China with a great in-country support team who have worked with us for many years. You can trust that we have a high level of experience and know-how in the region. The Djoser team will do all we can to make this an unforgettable experience!


India
Amsterdam - Delhi, Jaipur
Day 1 Amsterdam- flght - in transit to Delhi
Day 2 Delhi (arrive 1:45 AM) 
Day 3 Delhi - Fatehpur Sikri - Agra
Day 4 Agra night train to Varanasi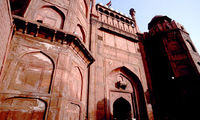 You will meet the group at Schiphol Airport in Amsterdam for your flight to Delhi.  We begin our India, Tibet, Nepal and China group tour in the Indian capital Delhi. The old and new parts of the city are both rich in sights. The streets in the old town is impressive. Tinkling rickshaw bells and countless street vendors make the discovery an unforgettable experience. In and around the center of Old Delhi there are a large number of sites. A few of the possibilities: the imposing Red Fort from the Moghul era, the Jama Masjid mosque (the largest in India), the Raj Ghat, where Mahatma Gandhi was cremated, and Chandni Chowk, the main bazaar street in the old part of Delhi.
 
The modern office and shopping center is around Connaught Place in New Delhi, where its parliament and India Gate are located. Outside the center are the tomb of Humayun, the huge minaret Qutab Minar, and the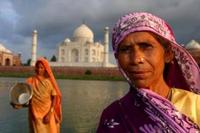 ultramodern Bahai Temple, built in the shape of a lotus flower. In the vast Delhi is the auto rickshaw or taxi are the most convenient means of transport. Negotiate the price in advance so there are not surprises. Our hotel is located in the pleasant district of Karol Bagh, where locals like to come shopping. From Delhi we drive to Agra. We stop at the ghost town of Fatehpur Sikri. Agra is the city with the world famous Taj Mahal, the mausoleum of Mumtaz, wife of another Moghulvorst Shah Jahan. A visit to the Taj at sunrise is a unique experience that will remain etched in your memory.

Varanasi
Day 5 arrival Varanasi
Day 6 Varanasi
Day 7 Varanasi - Shivpatinagar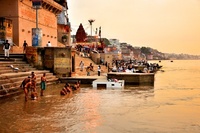 Agra Fort is located near the lively old town of Agra, where you can find several palaces and mosques of pure marble. The rickshaw is also an excellent means of transport here. Again, set a price up front. You can also visit the town of Sikandra, where you will find the tomb of Akbar. Varanasi is one of the most impressive cities in India and one of the oldest cities in the world. Djoser offers a morning cruise on the Ganges, an excellent way to experience this magical river. The bank of the river offers always a fantastic colorful spectacle. Indian believers come to their holy city of Varanasi at sunrise to take a cleansing bath in the Ganges. We row close to the ghats where this takes place. The old city is a maze of alleys, where sometimes the road is blocked by a sacred cow. In Varanasi, you can also have your fortune told by a real guru or get a head massage at one of the ghats. The city was for centuries the capital of the north. You can take an optional excursion to nearby Sarnath, where Buddha gave his first lessons in a deer park. From Varanasi we drive to Shivpatinagar, a small town close to the border, where we spend the night in an old colonial mansion.

Nepal
Chitwan National Park
Day 8 Shivpatinagar - Chitwan National Park
Day 9 Chitwan NP, jungle walk
Day 10 Chitwan National Park - Kathmandu
Day 11 Kathmandu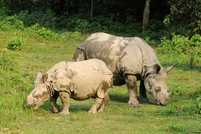 The next day we cross the border into Nepal and drive to Chitwan, where we stay near the entrance to the national park. In the park we go looking for one-horned rhinos.
The next place we visit is Kathmandu, the capital of the kingdom of Nepal, a fascinating city where you find stupas, temples, pagodas and shrines. Around Durbar Square, the center of the city, are the royal palace Hanuman Dokha, the Taleju temple, and the house of Kumari, the living goddess.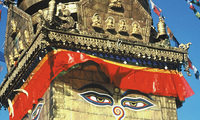 Near the city you will find the Buddhist stupas Swayambunath and Bodnath. Swayambunath, also called the "monkey temple", offers a combination of Buddhist and Hindu cultures and a beautiful view of the city and the valley. Bodnath has been a base for Tibetan refugees since the Chinese invasion of their country. In the early evening they come here for their daily pilgrimage around the stupa.
At the Hindu temple complex Pashupathinath you find the sacred Bagmathi River where cremations take place regularly. The cremation of the royal family, murdered in 2001, took place here. Another royal city, Patan, is accessible from Kathmandu by public transport or taxi. Kathmandu is also the ideal place to buy souvenirs; pictures, books, clothes, almost everything is for sale here.

Kathmandu, Bhaktapur
Day 12 Kathmandu - Bhaktapur
Day 13 Bhaktapur - Nagarkot
Day 14 Nagarkot - Zhangmu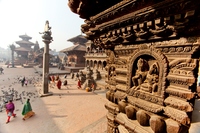 Bhaktapur is one of the most enchanting villages of Nepal. This small town has a maze of narrow alleys and several beautiful squares, and still breathes the atmosphere of the Middle Ages. From one of the nice terraces you can watch Nepalese daily life. When the majority of tourists return in the evening to Kathmandu, there is a special atmosphere. Also in the morning the quiet Bhaktapur offers unforgettable impressions. The Durbar Square and pottery square are well worth a visit.
Afterwards we visit the Hindu temple Bhaktapur Changu Narayan, one of the oldest temples in the country. Then, the road winds upwards to Nagarkot. We stay there at the top of a hill, where, in clear weather, you have the most incredible views of the Himalayas. The next morning you can get up early to see the sunrise over the Himalayas. We leave early from Nagarkot because of the time difference in Tibet (two hours and fifteen minutes later).
The road winds along rushing rivers and greenery to the border. At Kodari we cross the border via the Friendship Bridge and then we travel a bit to the Chinese border. After the formalities on the Chinese side, we stay in Zhangmu, a typical border town, which seems to be stuck against the mountains. The local population is a mix of Han Chinese, Tibetans and Nepalese. Because a lot of people in transit stay in the village, it has a special atmosphere.

Tibet
Day 15 Zhangmu - Nyalam
Day 16 Nyalam - Tingri
Day 17 Tinggri - Shigatse
Day 18 Shigatse
Day 19 Shigatse - Gyantse - Lhasa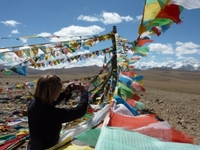 From the green rolling countryside in Nepal, our journey progresses to the high Tibetan plateau, which is increasingly volatile and inhospitable. The route from the border to the capital, Lhasa, may be called one of the most spectacular routes in the world. This "Friendship Highway", from Lhasa to Zhangmu 447 miles long, is a very special route over several high mountain passes through the impressive landscape of Tibet. Traveling on the "Roof of the World" reveals high Himalayan peaks, small Tibetan villages and grazing yaks.
It is a short drive from Zhangmu to Nyalam (12,303 ft), but we make the distances purposely in a relatively low pace to get used to the altitude. In the summer, rain can make the way impassable, so we need a lot of time to cover a short distance. In a few days, we ascend quite a distance. On the first days take it especially easy to avoid excesive physical discomfort so you can enjoy the surroundings. In Nyalam we stay in a simple place where there are no private showers or toilets in the rooms.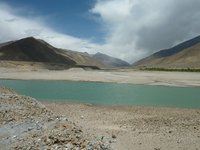 About Lung La Pass (17,060 ft!) we travel to Tingri. You have to dress appropriately for the cold and it is important to move slowly, because the thin air requires lots of your energy. In clear weather, we can see the snowy peaks of Mount Everest from Tingri. The Tibetan view of Mount Everest more impressive than from the Nepalese side. Mount Everest, at 29,035 ft, is the the highest mountain in the world).
In Tingri (14,599 ft) we spend the night in a simple Tibetan guesthouse. Usually there is no shower and toilet in the room. The toilet facilities are located in a building in the courtyard. The lack of comfort is compensated by the atmosphere of the rooms with their painted walls and furniture and thick down blankets on the beds. And of course there is the usual thermos with hot water, you can always make tea. In the evening everyone gathers around the cozy, nice heated kitchen and dining room.
Shigatse at 12,795 ft, is the second city of Tibet and the name means "beautiful place". You can visit the impressisve Tashilunpo Cloister the residence of the Panchen Lama and one of the main operating monasteries in Tibet. This monastery, was constructed in 1447, for the first Dalai Lama, and has always held a prominent place. Here spiritual and political leaders gathered to take the political and economic decisions for the country. At that time some 3,000 monks lived in the monastery. Now there are "only" 600.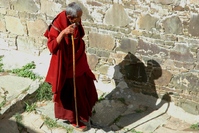 The monastery suffered little during the Cultural Revolution. A local guide accompanies us for a visit. Perhaps you can attend one of the many ceremonies. Monks, dressed in their traditional dark robes and golden hats, mutter concentrated prayers. Maybe you can sample a cup of yak butter tea. Tibetans drink dozens cups a day of this beverage with its special flavor, throughout the day. Actually it is not tea, but ground barley with yak butter, water and salt. Yak butter tea is definitely worth trying, even though most Western visitors are less than charmed by the flavor.
During the "kora", the pilgrimage to the monastery, you will encounter Tibetan pilgrims. You will also have lovely views of the monastery and of nearby Shigatse. Also the market in the historic Tibetan district overlooks the old fort. A beautiful drive takes us to the Tibetan capital Lhasa.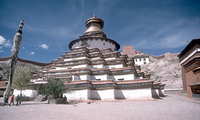 On the way to Lhasa we drive mainly by fertile agricultural regions to Gyantse. In this town the Chinese influences are not so great and the authentic Tibetan atmosphere still remains. Previously it was an important stopping place for wool traders on their way to India. Here you can see the impressive dzong (fortress) and you can admire the view of the monastery and the city. Inside the convent is the 114 ft high Kumbum Stupa, one of the most beautiful buildings in Tibet, within 112 chapels full of sculptures and murals.
After Gyantse you are treated to stunning views of snow-capped mountains and a glacier. The 16,322 ft high Kambapas gives a stunning view of the sacred turquoise Yamdrok Tso Lake. Along the side of the road many prayer flags and sacrificial stones are seen, which are meant to protect the traveler. The flapping of the flags on the lonely plain is impressive to hear and intended to alert the gods in the place where people worship them. After a final descent to about 11,811 ft we continue our journey and arrive in the holy city of Lhasa.

Lhasa
Day 20 Lhasa
Day 21 Lhasa
Day 22 Lhasa
Day 23 Lhasa train to Xian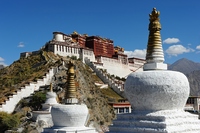 The first thing you see as you approach Lhasa is the Potala Palace, which was built on a hill high above the city towers. Although this palace was the winter residence of the Dalai Lama, it is not the most important religious building. That is the central Jokhang Temple, the oldest shrine of Tibetan Buddhism. The many pilgrims who come from far and wide, often traveling for days, throw themselves prone onto the ground, touching their foreheads to the holy land. So they pray, with their bodies, on their pilgrimage to the temple. The meeting point for pilgrims and visitors is the square in front of Jokhang, Barkhor. It is fascinating to see the pilgrims prepare for their prayers for happiness. It is almost impossible to imagine that for a time after the Cultural Revolution, this sanctuary, was used as a pension and cinema. Fortunately, the temple itself was not harmed. Also worthwhile is the Norbulingka, the former summer palace of the Dalai Lama. During the four-day stay in Lhasa, it is also possible to visit some important monastic sites outside the city, such as Drepung and Sera. Drepung is the richest monastery with most of monks.
At the cemetery just outside the Sera Monastery, the remains of the deceased are left prey to wild animals because there is not enough wood to burn the dead. In the garden of the Sera Monastery, in the afternoons, monks hold regular debates on religion and worldly affairs, an important part of their training. Before we leave Lhasa, interested parties can visit an orphanage or the Institute for the Blind. We board the train, referred by the Chinese appropriately as "the Sky Train" and we travel through Golmud and Xining to Xian.

China
Xian, Beijing
Day 24 arrival Xian
Day 25 Xian tour Terracotta Army
Day 26 Xian, night train to Beijing
Day 27 Beijing
Day 28 Beijing tour Great Wall
Day 29 Beijing
Day 30 Beijing – Flight to AMSTERDAM
After staying in Lhasa we board the train for an extraordinarily fascinating journey over the Tibetan plateau. For more than 1.5 days we travel on snowy passes, along green grass plains on the spectacular, newly built, railway from Lhasa via Golmud and Xining to Xian. Because at these heights the ground is permanently frozen, special techniques have been used in the construction of the railway line. Along the way you'll see the occasional yurts, yaks and cheerful children waving to the train, in the desolate mountains. Because by now we have spent time in the high altitudes, the altitude sickness symptoms are expected to be minimal. On the train, we use the hard sleeper class.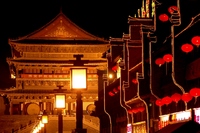 Xian in the past was the starting point of the Silk Road, and the city has a cosmopolitan character. In the center of town, just behind the Drum Tower, is an old Muslim quarter and a vast mosque complex with outbuildings and gardens. In this district you can very take pleasant walks and dine. Also you will find here many art and antique shops.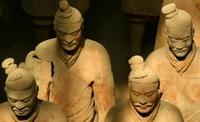 The old city of Xian has always been surrounded by a thick wall, which has been largely restored and you can walk or cycle here. A nice view over the city can ge had from the old bell tower, which is sounded each morning. Near the south wall is the Provincial Museum, which houses one of the largest collections of Chinese art treasures including pottery and calligraphy. Outside the walls you can visit the Large and Small Wild Goose Pagoda, both typical ancient Chinese buildings. We pull in Xian half a day to visit the world famous Terracotta Army of the first "Yellow Emperor of China: Qin Shihuang. This ancient army is about thirty miles outside of town and was only discovered in 1974 by farmers. This excursion is included in the price and is organized by the tour leader.
We travel by bus but the entrance fee is not included. We travel by train to Beijing, the capital and government center of China. The city has a population of about 15 million, which increases daily by a steady stream of people from the countryside. Beijing is a huge city and it is also the easiest to get around by subway, taxi or taxi-van. To illustrate: to get from one attraction to come to the other, by taxi it will usually take a half an hour!
The center of the city is around Tiananmen Square, where the famous Forbidden City, the mausoleum of Mao and the Great Hall of the People are located. One of the most beautiful parks in Beijing, Beihai Park, is located just behind the Forbidden City. Here you can rent a boat and recreate with the Beijing residents on the lake.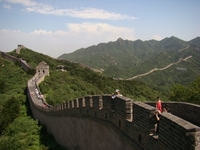 The hutongs, the famous old neighborhoods of Beijing, should not be missed. In the center, some of areas are protected against new construction. Of the countless temples that adorned the city earlier, there are some very worth your time. The Temple of Heaven, constructed entirely of wood, is located in the southeast of the city, and consists of several buildings and a large altar, which were all built in supreme symmetry. In the northeast of the city is called the Lama Temple, where today the weather lamaïstisch Buddhism is practiced. From Beijing Djoser provided transport to the Great Wall, where you have the time to a explore part of the largest construction in the world.
Transportation is included by the entry fee is additional. We combine the walk on the Great Wall with a relaxing visit to the Summer Palace, which is just north of Beijing on a special, man-made lake. In the evening, for example it is possible to pay a visit to experience Chinese Opera and to perhaps sample the specialty of Beijing: Peking duck to end this fascinating journey in style.
Note: It may be that we make part of the journey with four-wheel drive cars. This happens especially in the rainy season, when the roads are less accessible for the bus. Sometimes a path or portion of the route become inaccessible, and the route will need to be adjusted. Under exceptional weather the border line between Kodari (Nepal) and Nyalam (Tibet) can sometimes be impassable. An additional flight from Kathmandu to Lhasa would be required. We follow a customized program from Lhasa. The flight would brings additional costs, and we remind you that the cost would be the responsibility of the participants if such adjustments are necessary.

These route changes can usually only be determined locally, by the tour leader and the local agent in consultation with Djoser, and must be determined at the last minute. Your tour leader will notify you as the necessary adjustments are determined.
You will fly back to AMSTERDAM with the rest of the group participants where the trip will come to an end. 
Dates and prices
Departure dates 2021
| Land Begins | Land Ends | Price | Availability | |
| --- | --- | --- | --- | --- |
| Oct-02-21 | Oct-31-21 | $4,975 | 19 seats | book now > |
Departure dates 2022
| Land Begins | Land Ends | Price | Availability | |
| --- | --- | --- | --- | --- |
| Apr-23-22 | May-22-22 | $4,975 | 18 seats | book now > |
| May-21-22 | Jun-19-22 | $4,715 | 20 seats | book now > |
| Jul-23-22 | Aug-21-22 | $4,975 | 20 seats | book now > |
| Aug-27-22 | Sep-25-22 | $4,975 | 20 seats | book now > |
| Oct-01-22 | Oct-30-22 | $4,975 | 20 seats | book now > |
Departure dates 2023
| Land Begins | Land Ends | Price | Availability | |
| --- | --- | --- | --- | --- |
| Apr-15-23 | May-14-23 | $4,845 | 20 seats | book now > |
| Apr-22-23 | May-21-23 | $4,845 | 20 seats | book now > |
| May-20-23 | Jun-18-23 | $4,715 | 20 seats | book now > |
Conditions "Guaranteed leave"
Price includes
Flights from AMSTERDAM to DELHI and BEIJING TO AMSTERDAM
Airport transfers in Delhi and Beijing 
Land program 
International group - all ages
Tour leader (logistics coordinator, not a lecturer), speaks Dutch & English)
City-to-city transport
Transport by air-conditioned bus
Hotel Accommodation
Excursions according to program
Local guide in Tibet
Night train Agra - Varanasi
Sky Train Lhasa to Xian
Night train Xian - Beijng
Hotel Accommodation
Visit Fatehpur Sikri
Boat Ganges
Jungle walk Chitwan NP
Tour Terracotta Army
Tour Great Wall
 
Price excludes
Not included in our China, Nepal and India tour package
international flights to/from AMSTERDAM
meals, and optional excursions, entrance fees if not specifically named as included,
visas(if applicable),
exit taxes (if applicable),
tips,
personal expenses,
travel insurance, 
Charge for Tibet Permit  ($35 – subject to change) and group visa $115 charge for Tibet  (processed by Djoser) 
Visa for India
Visa for Nepal 
Group trip dates denoted with the green "G"  (Most Likely to GO)
The dates you see listed in our group tours that are marked with a green "G" are MOST LIKELY TO GO based on this trip's past booking history, for a similar date. Before booking your flights it is important that you check with us to see if the group has enough participants for the trip to GO. However, Djoser is not responsible for costs for flight changes or cancellations if a trip must be cancelled due to insufficient enrollment, which might include a booking cancellation after the trip has been deemed to have sufficient bookings for a "GO". 
Cost Overview
 
 
Single accommodations
$680
 

If you are a solo traveler and request a roommate but we can match you, you will not be charged additional for single accommodations

 
Extension hotel city #1
Delhi
Double room total
$60
Single room
$55
 
 
ENTRY PERMIT - TIBET 
$35 (appears on invoice) 
Estimated out-of-pocket, weekly

$275

$114 for China Visa (must be obtained with group in Nepal) 

 
 
DEPOSIT
Deposit based on 20% of total trip costs (land price, single room and extensions, if applicable)
 
 
 
Balance due 60 days prior to departure. 
Payment Schedule 
Deposit is due upon booking to hold your place
20% of total costs due (or $500 minimum) 
Payments by charge card or check accepted
Balance is due 60 days prior to departure date. 
USEFUL WEBSITES
Weather:   http://worldweather.wmo.int/en/home.html
Consulate List:   http://www.state.gov/misc/list/index.htm
Passport/Visa Expeditor:   TRAVISA   http://www.travisa.com/
Travel Insurance Quote:  TRAVELEX 1-800-228-9792  http://www.travelexinsurance.com/quote/?nc=1  
Currency Conversion Cheat Sheet : http://www.oanda.com/currency/travel-exchange-rates
Practical information
Accommodations & Meals
Accommodations - The accommodations during our India, Nepal, Tibet and China tour provide a pleasant haven to the busy Indian streets. Our centrally located hotels have air conditioning, private shower and toilet. Often there is a good restaurant at the hotel. Sometimes there is a swimming pool. In Nepal the accommodations are simpler. The rooms are still clean and, with the exception of the property in Bhaktapur equipped with private shower and toilet. In Tibet, the accommodations in the smaller towns Nyalam and Tingri are very basic. Shower and toilet are shared here with other travelers. On occasion, rooms may be shared by as many as four participants.

Some examples of our usual hotels (subject to change)

Single room - Djoser is single friendly! If you are traveling solo, we will match you with a same-sex roommate. If we cannot match you, there will be no additional room charge. For a reasonable charge, you may request single accommodations, subject to availability. Just indicate this preference on your booking form. You will find pricing for single accommodations on "Dates & Prices" page.

Hotel extensions - It is always great to be well-rested when you begin a journey such as this. If you would like to book an extension hotel night upon arrival in the city where the land program begins, let us know on your booking form. You will find the prices for extension nights listed in the "Dates & Prices" page.

Meals - Meals during our India, Nepal, Tibet and China tour are not included on the tour. This leaves you plenty of freedom to go out and look for restaurants of your choice, with the tour leader's assistance. In India, a "thali" could be your meal choice, which is a Hindi word, literally translated as "plate". On it you find different types of food to be eaten with rice and bread. A special yogurt drink, lassie, sometimes mixed with fruit is surprisingly refreshing in warm weather. Good, cheap Indian meals are found in every place, but often pastas and pizza are on the menu.
In Nepal, the variations of western and oriental dishes are inexhaustible. In addition to the simple local dhal bhat, rice with lentils, you can find moussaka, lasagna and burgers on the menus. In Kathmandu, you can find everything from pizzas to yak burgers and from Thai to French fries with mayo. Although the resources in Tibet are limited, the typical dishes like momos (stuffed dumplings) and thukpa (noodle soup) are good. Other specialties are yak cheese and dried yak meat, but also many Chinese dishes are available especially with vegetables and noodles.
For the culinary enthusiast a trip to China to sample the cuisine is one big adventure. Each region has its own specialties, especially as reflected in the preparation and use of herbs. In Beijing, for example, they eat the famous Peking Duck. Everywhere you can choose from a very wide range of all kinds of dishes, which come together on the table. Everyone at the table eats (with chopsticks). Another pleasant way of eating is a kind of Chinese fondue (hotpot), where you can get vegetables, meat and fish in a pot with boiling broth cooked at the table.Tea is the national drink in China, which you get automatically in many places, but mineral water, soft drinks and beer are also widely available. Yak butter tea, with its salty taste, is typically Tibetan, so you should definitely give it a try. In almost all Chinese accommodations you find hot water available for tea or instant coffee. Bottled water is available in almost all places. It is never advisable to drink water from the tap. In Tibet, in high altitudes it is important to drink a lot, or even 4 to 5 liters per day (water, tea, cola).
Note: Many hotels in India organize a special celebration dinner with entertainment for guests on Christmas and New Year's Eve For this, a mandatory fee usually charged, regardless of whether one may or may not participate in this dinner. The amount of this fee can be up to $45 - per person.
Flights & Transportation
Booking your international flight - 
This trip begins and ends in AMSTERDAM.
You will need to book your flight from the U.S. to Amsterdam where you will meet the Dutch group participants at Schiphol Airport.  Your flights from AMSTERDAM to DELHI and BEIJING to AMSTERDAM will be included in the cost of the trip.  
Because of strict visa restrictions for Tibet requiring participants to arrive and depart with the group, we no longer offer LAND ONLY for this trip. 
We provide the land package and transportation within the program as described. We do not arrange international flights from or to the United States or Canada. The land program will begin approximately two hours after the arrival of the Netherlands (NL) participants who will be arrive from Amsterdam. The land program will end about 4 hours prior to their scheduled departure time, which allows for time to get to the airport. The proposed flights for the Dutch participants and the land beginning and end times are listed in this section.They are subject to change based on flight delays or changes. We will keep you posted of any flight changes that we are aware of prior to the trip. When scheduling your flights, keep the following times in mind:
2020 schedule Dutch participants' proposed flights: (subject to change)
Airline: KLM
DEPART AMSTERDAM 14:20  arrive DELHI 1:45 AM
DEPART BEIJING 10:55 AM  arrive AMSTERDAM 15:15 
You will meet the Dutch participants at the airport in Amsterdam
Before you book your flight - To avoid flight change or cancellation costs get email confirmation from our office that the trip has enough participants to be a "GO".
Verify the spelling of your name-within 24 hours - When you book your flights, double check your flight records to confirm that your name is spelled on your ticket exactly as it appears on your passport. Some companies (for example, ORBITZ) will only allow a 24 hour window to correct any errors without penalty. You may incur heavy fees for changes, forfeiture of your flight ticket, or even worse, you could be denied entry to a border upon arrival.
Keep in mind hotel extensions - If the Dutch travelers arrive early in the morning, we recommend that you arrange to fly in the day or night before so you will be meet the group. Some trips involve an immediate transfer from airport to the next town so make sure you will arrive before the others so you don't miss the first meeting or transfer to the next location. We can arrange an extension hotel night for you. Prices for hotel extensions can be found in the "Dates & Prices" section
Useful Links for booking your flights
Orbitz.com
Expedia.com
Kaykak.com

Local transportation - While traveling in India and Kathmandu to Lhasa we use our own locally hired, with driver. We can stop regularly in the villages and places that we pass through, for example, to visit a small local market place or other sites. Please note that some distances are quite great, meaning longer travel days are inevitable, especially in Tibet. Several trips, depend on the weather and the condition of the road, and can take about 10 hours. The condition of the roads through the mountainous and windy Himalayan region, is very dependent on the weather. Please note therefore that journeys may take longer than expected longer and travel times listed are only a rough estimate.
Some longer routes (from Agra to Varanasi and Xian to Beijing) we bridge by night train, which we have reserved seats in second class compartments ; in China we will travel in the hard-sleepers (curtained compartments). One of the highlights of the trip is the spectacular train ride on the "roof of the world" from Lhasa to Xian.The cities are often best explored on foot. We do not use the bus once we are in a city. Of course you can also use the familiar cycle for longer distances or motor rickshaw. While the Dutch are known for biking, nothing compares to the thousands of cyclists you will see in China. A good place to explore by bike will be in the areas of Xian and Beijing. There are also taxis, minibuses and rickshaws that can take you anywhere for very little money. Beijing has an extensive and inexpensive metro.
Money Matters
A summary of all trip costs can be found on our "Dates & Prices" page. Prices may fluctuate throughout the year depending on currency exchange, gas costs, etc.
Included in price of our multi country tour package 
Flights from AMSTERDAM - DELHI,  BEIJING-AMSTERDAM
Land package 
International group - all ages 
Tour leader (logistics coordinator, not a lecturer), speaks Dutch & English)
City-to-city transport 
Transport by air-conditioned bus
Hotel Accommodation
Excursions according to program
Local guide in Tibet
Night train Agra - Varanasi
Sky Train Lhasa to Xian
Night train Xian - Beijng
Hotel Accommodation
Visit Fatehpur Sikri
Boat Ganges
Jungle walk Chitwan NP
Tour Terracotta Army
Tour Great Wall
Payment Schedule 
Deposit is due upon booking to hold your place
20% of total costs due (or $500 minimum) 
Payments by charge card or check accepted
Balance is due 60 days prior to departure date.

Money - When you travel to India, Nepal, Tibet and China 
In your pre-trip information we will send you more information about money matters such as information about local currencies, charge cards, ATM's, currency exchange, etc.
| | |
| --- | --- |
| Local Currency:     | Indian Rupee & Nepalese Rupee |
| Local Currency:    | Chinese Renminbi & Yusan) |
| Other currency accepted:  | Dollars in small denominations |
| ATMs: | Available in most cities  |
| Charge Cards:  | Accepted in many places |

Tipping - It is customary to tip for services rendered. The tour leader will organize a tip jar at the beginning of the trip, from which tips to drivers, guides, hotel staff are paid. Depending on the size of the group, each participant will be asked to contribute $40 to $50. This does not include a tip for your tour leader. Tipping the tour leader is appreciated and the amount up to your discretion.

** You will find a list of all trip costs in the "Dates & Prices" section, including your estimated out of pocket costs.
Excursions
Freedom and choice are important elements of a Djoser trip. In addition to scheduled group activities, wherever possible, you may decide which attractions you wish to visit, and with whom. Unless otherwise indicated, entrance fees are not included in the price, so you have the freedom to make your own choices. One person may prefer to stroll through the market in search of bargains, while someone else may want to relax by the pool, go to a museum, or take a bike ride. Join the guide or break off with others in the group to explore on foot or with the local transport. Some attractions should not be missed, or they are not easily accessible, or are en route to our next overnight location and are therefore built into the program. In the "Dates & Prices" section you will find the estimated out-of-pocket, weekly expenses that have calculated in typical entry fees in addition to meals and other costs.

Travel Documents
When you book a trip to India, Nepal, Tibet and China, we will provide you with more details about necessary documents. Passports should be current and valid for at least 6 months beyond your departure date. If a visa is required, you may need extra pages in your passport for your stamps. Check all visa requirements carefully and leave yourself plenty of time to send and receive documents before your trip.

Visas Needed 
For India you need to apply for a visa prior to the trip. You can request an e-Visa for this trip . After application you will receive the e-Visa within 72 hours, for DOUBLE-ENTRY with a validity of 60 days. You will receive more information about the procedures after booking. Do not start the application earlier than 4 weeks before departure because a visa is often only valid for a limited period. Check carefully that the payment went well and print the correct form before you leave for Schiphol.

The visa for Nepal is arranged at the border (US $ 25). Take a passport photo for this.

For the visit to China (incl. Tibet) the group visa (US $ 114) is arranged on the spot in Kathmandu. For this Djoser needs a copy of your passport. This amount will be charged on your invoice.
  (Subject to change - we will update you ) 
Health Issues & Insurance
Health - Check for the Center for Disease Control – Travelers information for recommendations. Keep in mind that they may recommend an inoculation or medication such as malaria pills, which may be necessary for one specific part of a country but not another, or for a particular season. Shots are expensive. Make sure to get only what is needed. We recommend asking your doctor for a prescription to combat a more serious intestinal disorder.
When you book a trip we will provide you with information regarding the usual recommended vaccinations for India, Nepal, Tibet and China. You will be responsible to check with your travel clinic or physician to review your plans and to find out the most up-to-date recommendations and needs for your particular situation. Plan to get your inoculations four to six weeks in advance of your trip. Some offices may need to preorder the medicines so call in advance.It is wise to pay careful attention to what you eat. Also, we recommend you bring medicines such as pain-killer and for remedy for intestinal disorders (such as immodium). Bring a small first aid kit. Tweezers, band-aids, antiseptic cream, insect repellent , salt rehydration tablets. The tour leader will have a first aid kit.
Climate and altitude changes can sometimes cause illness. Be sure to drink plenty of water. Bottled water is readily available. Excessive alcohol intake contributes to dehydration and makes you more vulnerable to illness. Make sure that you get plenty of rest and enough food and drink during the trip.
Usual recommended vaccinations for India, Nepal, Tibet & China
DTP vaccinations, typhoid and hepatitis A
Insurance - For peace of mind, we recommend that you procure travel insurance. In the event of an illness or injury, an emergency evacuation can be incredibly expensive and you would want access to the best possible facility. Also, lost baggage or missed flights can mean added expenses, Even events at home may prevent you from taking a trip, such as a lost job or ailing family member. It is important to get travel insurance immediately after booking. Most companies have a brief window (within 10 days of booking) for coverage for a preexisting condition. You will be asked to provide us with travel insurance contact information before your departure.
You are free to choose your own provider. Over the years, we have recommended TRAVELEX. They offer a variety of plans and most importantly, they are responsive. Should you choose to go with TRAVELEX, you will contact them directly and the cost of your coverage will depend on the plan you choose. The cost will be based over the total cost of your trip and flights, and the amount is also subject to your age. Ask about the TRAVEL PLUS plan and the more economical TRAVEL LITE plan. * Arrange for insurance immediately after booking your trip so that you are covered for any pre-existing situation. TRAVELEX 1-800-228-9792
Group Composition
Djoser travelers are active, enthusiastic travelers of all ages. Join an international group with travelers from the Netherlands, Belgium and North America, who will be the minority group on these trips. Most of our trips range from a minimum of eight participants to a maximum of 20 or 22. You will find couple and singles on our trips. Feel free to call us if you wish to know the demographic make-up of a particular trips (number of singles and age range).
Minimum group size: 8
Maximum group size: 20

What to expect when traveling with an international group - Djoser, Inc. (the United States office) has been a India, Tibet, Nepal and China tour operator for over 15 years. Djoser, B.V. (the Netherlands office) has been a India, Tibet, Nepal and China  tour operator for over 25 years. So together we bring vast experience. Most of our trips are arranged in cooperation with Djoser, B.V. in the Netherlands. Because they cater to the voracious travel appetites of the Dutch, we can offer a vast number of programs around the world with hard-to-find itineraries, with numerous departure dates.
On our India, Tibet, Nepal and China group tour you will travel with an international group, with most participants from Holland and Belgium. The international make-up of our groups is the attraction for many regular Djoser travelers and adds another cultural element to the trip. Typically, there are only one to five North Americans per group. You will find that almost all of your fellow travelers have an excellent command of English and most are very willing to socialize. It's a great idea to extend an invitation to a few travel mates for coffee or a drink early in the trip. They will appreciate your effort and this is a great way to break the ice. It will be easier for them to test out their English skills in a quiet, one-on-one setting. Group members tend to warm up to one another in a day or two. As with every tour group, compatibility has most to do with individual personalities.
The Dutch are experienced and hearty travelers. We attract travelers of all ages and we enjoy the mix! You will find our participants welcome opportunities for independent explorations in addition to group activities. No matter their age, Djoser travelers expect, and are up to lots of walking, hiking, biking, or whatever comes our way. The Dutch and Belgian travelers will fly as a group from Amsterdam. You will meet the group and tour leader at the hotel where you will begin the land program with the group.
Tour Leaders & Support Staff
Our trips will be guided by an experienced Dutch guide who speaks Dutch and English. He or she will be responsible for the organizational and technical aspects of the trip. He/she coordinates with the driver, hotels, and other vendors along the way. The tour leader has extensive travel experience and expertise as well as a comprehensive training.  On this trip a local Tibet tour guide will also assist us in Tibet. He/she will explain about the customs, religious influences and cultural aspects of the area.
Our experienced and trusted land representatives are situated in the destination country you will visit. They function as the liaison between the Djoser staff,  the tour leader, drivers and hotels. Djoser has worked with them for over 15 years and we can count on their support and expertise in the case of an emergency.
Climate & Geography
When you travel to India, keep in mind that the weather can vary greatly depending on the season. In winter, daytime temperatures are pleasant and nights can be refreshing, even cold. In summer, temperatures can reach tropical highs, but humidity is low and the heat is surprisingly easy to bear. In summer it is wise to start the day early, take it easy around noon and go out again at the end of the day. Nepal is always cooler than India. The monsoon season in India and Nepal lasts from July to the end of August. Starting in the south, the monsoon reaches the north in the middle of July. Traveling in the rainy season does not have to adversely affect your holiday. The rains usually do not last long and nature flourishes.
Because of the altitude in Tibet and winds, throughout the season there can be a biting cold, especially at the highest passes. The sun is at high altitude also very bright, so it can often be pleasant. The temperatures in the spring and fall drop to freezing. This time often offers best views of the mountains. When the sun comes through it can often be pleasantly warm, but it can cool down again in the evening.  The Chinese cities Xian and Beijing have a continental climate with warm temperatures in the summer (86° F); in the spring and autumn is generally pleasant, although the evenings can cool down quite a bit.
Our trips are organized with weather conditions in mind. On our website, we will provide you with a weather summary of the region:Check temperature and rainfall for specific cities on your trip, during your month of travel at worldweather.org
Photos & video
Book Trip/Trip Inquiry
Are you ready to book a trip?

* Submit this form to begin your reservation process.  Confirm that names exactly as they appear on a current passports.  If names on your international, domestic flights or visas (if applicable) do not match your name as it appears on your passport, some countries will deny you entry.
TIP:  Also verify your name on your flight records, within 24 hours after reserving to avoid change or cancellation penalties.   
* Pay by personal check or credit card:  Visa, Mastercard, American Express
* Call us with your charge card information.  Your place will be reserved upon receipt of funds for required deposit.
* Refer to the Prices & Dates page for an overview of your total costs & deposit 

* Download the Booking Form with Terms and Conditions
* Fax for with signatures for all participants 18 and over to  484-595-9140 . Or scan to us at luke@djoserusa.com
* Or mail Djoser, Inc., 154 Woodgate Lane, Paoli, PA 19301 - Attn: Luke Neal