Colombia Tour, 20 days
 On the tour through Colombia you will get acquainted with the beautiful nature and meet the most hospitable people of Latin America. Discover in Colombia the beautiful Andes, the mysterious San Agustín and the beautiful colonial cities. Taste Colombian coffee and enjoy the Caribbean beaches. In the coffee region, Armenia, we sleep in a hacienda on a coffee farm. We visit the white colonial town of Mompox and the Taryona national par is a stone's throw from Santa Marta where we spend the night. Cartagena de Indias is a colorful port city on the Caribbean coast with a turbulent past. Off the coast of Cartagena are the Islas del Rosario with its white beaches and amazing coral reefs.
Join our international groups with active travelers of all ages. Most will come from Holland and Belgium; you will find they speak great English. Our guide addresses the group in Dutch and English. Join us for a wonderful nature and cultural adventure!
Itinerary
Bogotá
Bogotá
Bogotá –Zipaquirá - Villa de Leyva
Villa de Leyva –Guatavita Lake - Bogota
Bogota - Villavieja
Villavieja - Tatocoa Desert - San Agustin
San Agustin -
San Agustin - Popayán
Popayán - optional Purace NP
Popayán - Quindio
Quindio - excursion to Slaento and Valle COcora
Quindio - Medellín
Medellín, optional excursion Peñon de Guatapé
Medellín - flight to Santa Marta
Santa Marta - Tayrona NP
Santa Marta - Mompox
Mompox
Mompox - Cartagena de Indias
Cartagena de Indias
Cartagena de Indias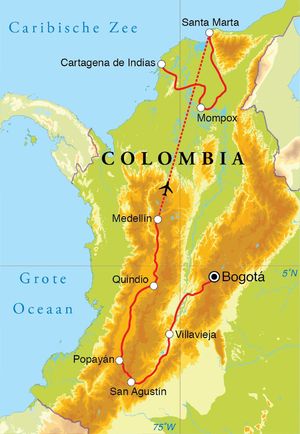 Day by day
 Bogotá
Day 1 Bogotá
Day 2 Bogotá
We start our tour in the impressive capital of Colombia. Bogotá is the largest city in Colombia and is located in the middle of the Andes at an altitude of over 2,600 meters. It is a modern city with universities, theaters and libraries, surrounded by high-rise buildings, colonial churches, but also slums. Stroll through the colonial streets and slowly wake up. The Plaza de Bolivar is the heart of the old colonial neighborhood of La Candelaria and is surrounded by the most important buildings of the city. There is the cathedral, the palace of justice and El Museo 20 de julio. Rent a bike and drive across the broad avenidas and the small carrera of the capital. And also visit the impressive Gold Museum, the Museo de Oro, or take the cable car to Cerro Monserrate. At a height of more than 3000 m is a beautiful church and you have a breathtaking view over the city.
Villa de Leyva, Guatavita Lake & Zipaquirá salt mine
Day 3 Bogotá - Zipaquira - Villa de Leyva
Day 4 Villa de Leyva - Lake Guatavita - Bogotá
In the morning we drive from Bogotá to the north, towards the beautiful Villa de Leyva. Before we arrive here, we stop at one of the main attractions of Colombia: the salt cathedral or the Catedral de Sal in Zipaquirá. This underground cathedral is laid out in an abandoned salt mine. The cathedral consists of a series of tunnels and goes up to 180 meters deep . After a visit to the Zipaquirá we travel to Villa de Leyva.
 Day 11. Armenia, excursion to Salento and Valle Cocora in a Jeep Willys
We spend the night in the charming Villa de Leya, one of the most beautiful colonial places in Colombia. The streets are paved with cobblestones and the houses are painted white. The residents like to have a chat on the largest central square in Colombia.
After the colonial Villa de Leyva, we visit a pre-colonial and pre-columbian place. Lake Guatavita is a sacred lagoon for the Muisca Indians because they performed their rituals there. The Muisca Indians threw golden objects into the lake as an offering to the gods. When the Spaniards discovered this ritual, the legend of 'El Dorado' was born. The turquoise-colored lagoon is located in a beautiful area of ​​tropical rainforest that offers shelter to various flora and fauna.
Tatacoa Desert & San Agustin
Day 5. Bogotá - Villavieja - Tatacoa desert
Day 6. Villavieja - San Agustín
Day 7. San Agustín In the
morning we leave for another imposing landscape in Colombia, the Tatacoa desert. This red spectacular landscape forms the habitat of unique flora and fauna. You will find towering cacti, unusual rock formations and discover interesting fossil remains there.
From the arid Tatacoa desert we travel to San Agustín, a beautiful drive of about eight hours through the picturesque countryside. San Agustín is one of the most important archaeological sites of Colombia. Before 3300 BC, the green hills of San Agustín were inhabited by a mysterious Indian tribe. They came here to honor their dead and did so by creating stone sculptures and tombs from volcanic rock. The images that have been left behind are extremely mysterious and seem to hide something.
Many excursions can be made in San Agustín. Be sure to visit the famous San Agustín archaeological park. The more than 500 statues that have remained in this park have the shape of animals, warriors and human faces and can be up to 7 meters high. Around this park, scattered in the mountains, there are even more fascinating images. If you want to know everything about these interesting archaeological finds, then choose to go with a local guide. It is recommended to take an optional horseback ride through the hills to discover these special images.
White villages with colorful flowers
Day 8. San Agustín - Popayán
Day 9. Popayán, optional Puracé
Day 10. Popayán - Armenia, Triangulo del Café
To get a taste of the coffee region where we will arrive in a few days, there is the possibility to visit a coffee plantation and learn everything about making coffee, from planting the grain to  tasting the actual cup of coffee. We drive to the colonial white city of Popayán where we spend the night. It is a beautiful colonial city where many poets and painters lived. Popayán is also the base for the beautiful Purace National Park. The Purace volcano is a small 5000m high and is continuously covered with snow. You can make walks in this area and enjoy geysers, hot springs and waterfalls. We travel to the so-called Triangulo del Café, or also called the Colombian coffee triangle.
Triángulo del Café & Medellín

Day 12. Armenia - Medellín
Day 13. Medellín, optional El Peñon de Guatapé
Day 14. Medellín, flight to Santa Marta
The coffee region in Armenia is one of the most beautiful areas from Colombia located near the snowy peaks of the Los Nevados National Park. We drive here through a so-called Mar de Café, or sea of ​​coffee. We spend the night in a traditional hacienda that used to function as a coffee farm; it is a wonderful environment to relax.
From the colorful town of Salento it is only a stone's throw away to the Valle de Cocora, where the 50-meter high wax palms adorn the special landscape of the valley. We are going into the valley here in and behind Jeep Willys; a fun way to get to know the area! In Valle Cocora you can opt for a hike or horseback ride through the beautiful cloud forest.
After 2 nights in this quiet environment we continue our journey to the third largest city in Colombia: Medellín. Medellín, with its eternal spring climate, is a vibrant and modern city where the extremely friendly locals, the Paisas, follow the latest fashion trends.
We have a full day to spend in Medellín. Explore the old center with the central Plaza Botero, which suffices with images of the artist of the same name. It is also nice to take a bike tour through the city along the edges of the city. We can optionally visit El Peñon de Guatapé, a huge granite rock that rises in the middle of the landscape and offers a great view of a lake with many small islands. It is located in a narrow valley originally inhabited by Aburras Indians.
Caribbean scenes and colonial past
Day 15. Santa Marta, optional Tayrona National Park 
Day 16. Santa Marta - Mompox
Day 17. Mompox
Colombia Santa Marta national park Tayrona Djoser We fly to the north coast of Colombia. In Santa Marta we can enjoy the wonderful climate and the Caribbean sea. Of course it is advisable to visit the National Park Tayrona.
The Tayrona national park is an area on the northern Atlantic coast that once was the territory of the Tayrona Indians. The park has a wide variety of landscapes. So you have beautiful beaches and bays, but also a rainforest that is 900 meters above sea level.
We continue our journey to the island of Mompox that actually lies in the Magdalena River. This river we are also in San Agustín and is here in a Delta with many branches. Mompox is another colonial pearl of this immense country; it used to be right on the trade route and it was known for the many goldsmiths.
Cartagena de Indias
Day 18. Mompox - Cartagena de Indias
Day 19 Cartagena de Indias
Day 20 Cartagena de Indias - flight to Bogotá - Amsterdam
Day 21 arrival Amsterdam
From Mompox we travel to our last destination: the beautiful Cartagena de Indias. Cartagena the indias, a colorful port city on the Caribbean coast, is the ideal conclusion to this beautiful journey! The historic old town is surrounded by city walls and contains beautiful colonial architecture, beautiful streets, squares and courtyards filled with flowers. Because of the history and beauty of the old town, Cartagena has been on the UNESCO World Heritage List since 1984. We stay here for two full days, so enough time to get to know this beautiful city.
Colombia Cartagena DjoserVisit one of the many museums, monasteries or churches in Cartagena or stroll through the beautiful streets. Together with a local guide you can make a city walk with which you can visit the monastery and the church of La Popa. Here you have a beautiful view of the city and the San Felipe de Barajas fortress. This fort was built on the hills of San Lázaro and defended the city against pirate attacks.
Off the coast of Cartagena are the Islas del Rosario with its white beaches and amazing coral reefs. Take a day out and enjoy a boat trip to this National Park. On the final day, you will say goodbye to your travel companions as our trip comes to a close. 
On the road with Djoser
On Djoser trips the travel days are of course fixed, but the program can be altered in consultation with the group and the tour guide. On most days, the tour guide has a plan for group activity. You can join the group and guide or you are always free to explore on your own. The guide can make recommendations.  Due to the nature of the trips and the countries, unforeseen circumstances can occur, as a result of which some activities may need to be canceled or may have to be changed. On average, the groups consist of 16 participants. The maximum group size is 20 people.
Dates and prices
Departure dates 2023
| Land Begins | Land Ends | Price | Availability | |
| --- | --- | --- | --- | --- |
| | Feb-18-23 | $3,465 | 2 seats | book now > |
| Feb-19-23 | Mar-11-23 | $3,465 | 0 seats | |
| Mar-12-23 | Apr-01-23 | $3,400 | 0 seats | |
| Apr-17-23 | May-07-23 | $3,465 | 16 seats | book now > |
| Jun-12-23 | Jul-02-23 | $3,465 | 20 seats | book now > |
| Jul-17-23 | Aug-06-23 | $3,465 | 20 seats | book now > |
| Jul-24-23 | Aug-13-23 | $3,465 | 16 seats | book now > |
| Jul-31-23 | Aug-20-23 | $3,465 | 20 seats | book now > |
| Sep-11-23 | Oct-01-23 | $3,465 | 16 seats | book now > |
| Sep-25-23 | Oct-15-23 | $3,465 | 18 seats | book now > |
| Oct-16-23 | Nov-05-23 | $3,465 | 20 seats | book now > |
| Nov-06-23 | Nov-26-23 | $3,440 | 20 seats | book now > |
| Nov-27-23 | Dec-17-23 | $3,530 | 19 seats | book now > |
| Dec-18-23 | Jan-07-24 | $3,400 | 18 seats | book now > |
Departure dates 2024
Conditions "Guaranteed leave"
Cost Overview
 
$430 - Single Supplement

$240 - Weekly out of pocket expenses, estimate
$50 - Group tip pot contribution per person (for driver, porters)

Bogata - Extension hotel room
$110.00 - Double
$90.00 - Single
Cartagena de Indias - Extension hotel room
$150.00 - Double
$120.00 - Single
Deposit of 20% of total costs due upon booking. Non-refundable
Balance due 60 days prior to departure date.
Please refer to Terms and Conditions on booking form for cancellation penalties. We recommend purchasing travelers's insurance to cover unexpected costs.
Practical information
Photos & video
Book Trip/Trip Inquiry
                                                       BOOK MY TRIP 

•Begin your reservation process by filling in this TRIP INFO REQUEST and send to us via the website. We will confirm dates and prices, and answer any questions you may have about the trip.
•Download and complete the BOOKING FORM including all participants passport information and payment information. Email a PDF, scan, or clear photo of your completed BOOKING FORM to lukedjoser@gmail.com. All participants over 18 should sign the form.
• A deposit of 20% of total costs will be due upon booking in order to hold your place on the trip. The balance will be due 90 days prior to departure.
• Payments can be made by personal check or ACH wire transfer (domestic wire only). We will send you wire instructions.
• Upon receipt of your form, we will email you a receipt and confirmation of your booking.
• If paying by check, make check out to DJOSER, INC., Mail to Djoser, Inc. – Bookings 420 N. Oakland Drive, #6, Pasadena, CA 91101.
Questions? Call Luke Neal 484-995-2964. (West Coast)