Colombia tour, 13 days
Join our tour of the highlights of the special and unique Colombia. Besides all the natural beauty in the Andes, the green coffee fields, the beautiful beaches on the Caribbean coast and the jungle in Tayrona National Park, Colombia also offers a rich cultural experience. We dive into the colonial past of the country, stay on an old coffee farm in a region where rural life reigns and we visit Bogotá and Medellín where we experience that today's Colombia is not standing still, but goes with modern times. A wonderful and beautiful country that besides all the sights also consists of hospitable people who like to share the beauties of their country.  
During the Argentina and Chile tour your visit will include Buenos Aires, Bariloche, Perito Moren-glacier, Ushuaia and Torres del Paine. The penguins, sea lions, orcas and whales on the Peninsula Valdés will undoubtedly make a lasting impression. On the vast pampas you can take beautiful walks and enjoy the spectacular scenery of Patagonia. Its immense glaciers and snowy peaks provide impressive views. At the tip of the savage Cape Horn, Fuego is the last stop before Antarctica. It is possible to extend this tour with a visit to the impressive Iguazu Falls on the border of Argentina and Brazil. To cap off this trip, spend time at the breathtaking Iguazu Falls.
Join our international groups with active travelers, of all ages. Most will come from Holland and Belgium, but you will find they have an excellent command of English. Your tour leader addresses the group in Dutch and English. Our skilled land crew have worked with Djoser for many years and make sure things run smoothly.
There is ample time for group exploration. Count on lots of walking. But sometimes, it is great to be able to break off and explore on your own. Your guide can make some great suggestions.
Join us for unforgettable cultural, nature and local experiences!
Itinerary
Bogotá
Bogotá
Bogotá - Zipaquirá - Villa de Leyva
Villa de Leyva - Guatavita - Bogotá
Bogotá - Quindio
Quindio, optional excursion to Salento and Valle Cocora
Quindio - Medellín
Medellín, optional excursion Peñon de Guatapé
Medellín - flight to Santa Marta
Santa Marta, optional excursion Tayrona NP
Santa Marta - Cartagena de Indias
Cartagena de Indias
Cartagena de Indias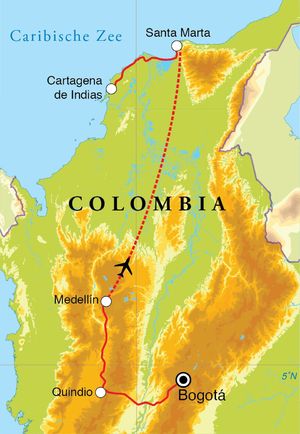 Day by day
 Bogotá
Day 1 Bogotá
Day 2 Bogotá
We start our tour in the impressive capital of Colombia. You will meet the tour leader and travelers arriving from the Netherlands and Belgium, at our first hotel. There will be a welcome meeting once all are settled in.
Bogotá is the largest city in Colombia and is located in the middle of the Andes at an altitude of over 2,600 meters. It is a modern city with universities, theaters and libraries, surrounded by high-rise buildings, colonial churches, and also slums. Stroll through the colonial streets and slowly wake up. The Plaza de Bolivar is the heart of the old colonial neighborhood of La Candelariaand is surrounded by the most important buildings of the city. There is the cathedral, the palace of justice and El Museo 20 de julio. Visit the Golden Museum or take the cable car to Cerro Monserrate. At a height of more than 3000 meters is a beautiful church and you have a breathtaking view over the city.
A mighty colonial square, Salt & Gold
Day 3 Bogotá - Zipaquirá - Villa de Leyva
Day 4 Villa de Leyva - Lake Guatavita - Bogotá.
r In the morning we drive from Bogotá to one of the main attractions of the country: El Catedral de Sal(salt cathedral) of Zipaquirá. This underground cathedral is laid out in an abandoned salt mine. The cathedral consists of a series of tunnels and goes up to 180 meters deep. After Zipaquira we can have lunch in for example Raquira, a colorful village known for its handmade pottery. We continue to Villa de Leyva , one of the most beautiful colonial places in Colombia. The streets are paved with cobblestones and the houses are all white painted. The residents like to have a chat on the large central square.
The Guatavita Lake is a sacred lagoon for the Muisca Indians because they performed their rituals there. The Muisca Indians threw golden objects into the lake as an offering to the gods. When the Spaniards discovered this ritual, the legend of 'El Dorado' was born. The turquoise-colored lagoon is located in a beautiful area of ​​tropical rainforest that offers shelter to various flora and fauna. We stay one night in Bogotá before we travel to the green mountains and valleys of the "Triángulo del Café", or the coffee triangle.
The coffee triangle: El Eje Cafetero
Day 5 Bogotá - Quindio
Day 6 Quindio, optional excursion Valle Cocora & Salento
From Bogotá we leave for a scenic drive through the mountains to the coffee region in Armenia, one of the most beautiful areas of Colombia located between the snow-covered peaks of the Los Nevados National Park. We spend the night in a hacienda that in the past functioned as a coffee farm. In this region you can learn everything about making coffee, from planting the grain to the actual cup of coffee. In addition, it is a wonderful environment to relax. From the colorful Salento you can drive in jeeps to the Valle de Cocora, where the 50-meter high wax palms adorn the special landscape of the valley. In Valle Cocora you can opt for a walk through the beautiful cloud forest or see the valley from a horse. It is truly a special experience to move through this surreal landscape of mountains and palm trees.
Medellin: city of eternal spring
Day 7 Armenia - Medellin
Day 8 Medellin - optional excursion El Peñon de Guatapé
Day 9 Medellin - Santa Marta
Through the beautiful mountainous region we travel to Medellín, the third largest city in Colombia. Medellín, with its eternal spring climate, is a vibrant and modern city where the locals, the Paisas, follow the latest fashion trends. Medellin is surrounded by mountains with the city center in the valley. By public transport it is possible to visit the surrounding mountains. You will be treated to a fantastic view of the city. In the cable cars you float high over a number of neighborhoods that resemble districts of the famous Pablo Escobar. Despite the fact that Medellin was his home base, we do not see many signs of this legendary figure in the street scene. The Colombians are far from proud of this part of their history and prefer to forget them. We find many sculptures on the central square in the city centerFernando Botero , the other world famous figure born here. We spend the night in the El Poblado district, a cozy and pleasant neighborhood full of cafes and restaurants and wonderful to explore in the evening.
It is possible to visit the special Peñon de Guatape. El Peñon is a huge granite rock that rises in the middle of the landscape and offers a great view of a lake with many small islands. It is located in a narrow valley originally inhabited by Aburras Indians. After two nights in Medellin we travel to the Caribbean coast.
Caribbean: Santa Marta, Tayrona NP and Cartagena de Indias
Day 10 Santa Marta, optional visit Tayrona NP
Day 11 Santa Marta - Cartagena de Indias
Day 12 Cartagena de Indias
Day 13 Cartagena de Indias - flight to Bogotá -
Santa Marta is a pleasant coastal town where the well-to-do middle class Colombian has an apartment for the summer. There are many restaurants and cafes and it is a perfect base for spending a day in the Tayrona National Park. The Tayrona national park is an area on the northern Atlantic coast that once was the territory of the ancient Tayrona people. The park has a wide variety of landscapes. So you have beautiful beaches and bays, but also a rainforest that is 900 meters above sea level. During a day trip it is possible to take a nice walk and also enjoy one of the many beaches.
Cartagena de Indias, a colorful port city on the Caribbean coast, is the ideal conclusion to this beautiful journey! The historic old town is surrounded by city walls and contains beautiful colonial architecture, beautiful streets, squares and courtyards filled with flowers. Because of the history and beauty of the city, Cartagena has been declared a UNESCO World Heritage Site. We stay here for two nights and have enough time to get to know this beautiful city.
Visit one of the many museums, monasteries or churches in Cartagena or stroll through the beautiful streets. Together with a local guide you can make a city walk with which you can visit the monastery and the church of La Popa. Here you have a beautiful view of the city and the San Felipe de Barajas fortress. This fort was built on the hills of San Lázaro and defended the city against pirate attacks.
The old walled city center and the district Getsemani are full of nice cafes, restaurants, nice boutiques and also music is made on the street and souvenirs are sold. It is a perfect ending to this journey that goes past the highlights of impressive Colombia.
Dates and prices
Conditions "Guaranteed leave"
Price includes
Land Program
Domestic flight Medellín - Santa Marta
Overnight stays in attractive and centrally located accommodations
Breakfasts
Visit Guatavita Lake
Excursion salt mine Zipaquirá
Dutch guide (speaks English and Dutch)
Transport by air-conditioned bus
Price excludes
International flights (for example from/to North American hubs)
AIrport transfers
Tips
Other meals, entry fees, optional excursions,
Visas
Cost Overview
$350 . SIngle Room
$300 Weekly out of pocket estimate
$40 . Tip pot - Does not include your tour leader tipo
Bogata - Extension Hotel Night
$110.00
$90.00
Cartagena de Indias- Extension Hotel Night
$150.00
$120.00
Practical information
Accommodations & Meals
 We spend the night in comfortable tourist class hotels, where the rooms are equipped with air conditioning. The location is central so that you can walk or take a metro to the sights. The hotels often have an attractive and colonial character. In Quindio we stay in a comfortable hacienda on a former coffee farm. The place is truly fantastic and this is a wonderful place to recover from all the impressions of the trip. In Medellin we stay in a nice modern hotel with all comforts in the pleasant neighborhood of El Poblado. We visit the National Park Tayrona from base Santa Marta where we spend the night in a comfortable hotel. In Cartagena we stay in a lovely hotel with all amenities with the beach in front of the door. Breakfast is included everywhere.
Typical hotels 
Bogotá .                  Hotel Dann Ave
Villa de Leyva         Hotel Abahunza
Quindio                   Finca la Tata
Medellín                  Hotel Poblado Alejandría
Santa Marta            Hotel BH La Sierra
Single Travelers
If you wish to have a single room, please indicate on your booking form.  Our single charges are very reasonable. (See Dates & Prices).    Otherwise, single travelers will be matched with another single of the same sex.  If we cannot match you, there is not additional charge. 
Hotel Extensions
If you would like an additional night at the beginning or end of our trip, please indicate on your booking form. We will arrange it in our first and/or last hotel, subject to availability.
If the land program is scheduled to begin early in the A.M. we recommend that you book an extension hotel night so you will be present for the first group meeting or activity.
Meals
During the trip you can decide where, what and with whom you want to eat. You can of course eat with the group, but you are also free to find a restaurant somewhere. Apart from the breakfasts, the meals are not included in the trip. It is also nice to buy a tasty 'arepa' or 'tamales' on the market or to visit a local tent in the evening. The tour guide can give you tips for a good restaurant or a nice café.
Around midday you can order a cheap menu, 'ejecutivo', in many local venues. This generally consists of a hot lunch with a salad, desert and a bottle of soda. They may not always be culinary delights, but it is a nice way to get in touch with the local population.
The food can vary per region. For example, on the coast you will find mainly fresh fish on the lunch and evening menu. The fresh ceviche is an absolute must. In Medellín the dish 'bandeja paisa' is typical for the environment: a complete meal dish with rice, kidney beans, fried egg, avocado, minced meat, chorizo ​​and bacon. This way every region has its own specialty.
Money Matters
 In Colombia tyou will use Colombian peso. Look for the current prices on oanda.com .
ATMS: In most places you can use your debit card
Cash: dollars in small denominations.
Travelers checks: in dollars.
Credit card: almost always accepted in better hotels, restaurants and shops.
As guide amount for out of pocket expenses that are not included in the fare, such as meals, entrance fees, optional excursions and personal expenses, budget a minimum of $275 per week per person. In addition to your debit card, we also advise you to bring dollars in cash.
It is customary to give tips for services rendered. In order to avoid having to always dispose of tips, a tip jar is set up at the start of the trip, from which the (joint) tips are paid to the drivers, guides, hotel staff, etc.
Excursions
On a daily basis the guide will organize walking tours and activities. Entry fees are not included. You are always free to join in with the group for a meal or activity or you can venture off on your own to explore. The tour leader will make suggestions.
During this trip through Colombia, the following excursions are included in the itinerary:
Exploratory city walk in Bogotá
Excursion to the salt mine el Catedral de Sal of Zipaquirá
Excursion to Guatavita Lake
In addition, there are various optional excursions such as:
Canopy in Armenia
Visit to Salento and the Valle de Cocora with Jeep Willys and a horseback ride
Visit to the granite rock El Peñon de Guatapé
Visit to a coffee plantation with tasting in Armenia
Day trip Isla Rosario from Cartagena
The tour guide is present to give tips about different sights along the way.
Health Issues & Insurance
 For this trip is recommended:
Recommended vacines:
Hepatitis A and DTP
Yellow Fever vaccination mandatory, take your vaccination booklet with you).
It is wise to pay some attention to what you eat. Although the hygienic conditions in Colombia are reasonable to good, it is advisable to take a medicine against intestinal disorders and saline (as ORS) against dehydration. Be careful with food and clean hands. In the first few days, take the time to acclimatize, to get used to the other temperature
We also advise you to take a small medical kit with band-aids, neosporin, and your personal medications. The tour guide is also in possession of a medical kit containing sterile medical equipment.
Group Composition
 Minimum group - 10
Maximum group - 20
International group of all ages. Active travelers can expect to do lots of walking,
Most of the group will come from Holland and Belgium, with only one to four North Americans per group. (You will find they have a superb command of English)
Tour Leaders & Support Staff
 
A Dutch tour leader will accompany the group. He/she speaks Dutch and English. The tour leader acts as a logistics coordinator, not a lecturer and he or she will make sure that you get all the important information. The tour leader can also make fun recommendations for independent activities and dining options.
Our professional, in-country land agents have partnered with us for many years and help us to insure that all trips run smoothly.
Photos & video
Book Trip/Trip Inquiry
                                                       BOOK MY TRIP 

•Begin your reservation process by filling in this TRIP INFO REQUEST and send to us via the website. We will confirm dates and prices, and answer any questions you may have about the trip.
•Download and complete the BOOKING FORM including all participants passport information and payment information. Email a PDF, scan, or clear photo of your completed BOOKING FORM to lukedjoser@gmail.com. All participants over 18 should sign the form.
• A deposit of 20% of total costs will be due upon booking in order to hold your place on the trip. The balance will be due 90 days prior to departure.
• Payments can be made by personal check or ACH wire transfer (domestic wire only). We will send you wire instructions.
• Upon receipt of your form, we will email you a receipt and confirmation of your booking.
• If paying by check, make check out to DJOSER, INC., Mail to Djoser, Inc. – Bookings 420 N. Oakland Drive, #6, Pasadena, CA 91101.
Questions? Call Luke Neal 484-995-2964. (West Coast)