Buenos Aires to Lima: Argentina, Bolivia & Peru Tour, 25 days
Argentina, Bolivia and Peru. Besides the many cultural similarities that share these countries as an omnipresent culture of Indians Pachamama, or Mother Earth is central and a rich Spanish colonial past, there are also many differences. These differences manifest themselves until today in the streets of everyday life. The countries share the impressive Andes mountain range and stand out simultaneously through the same mountain range. Brightly colored rock faces in Argentina, endless white salt flats in Bolivia and perfectly landscaped Inca terraces in Peru show a completely different image of the continent. A fantastic trip from the Atlantic to the Pacific.
Join our international groups with active travelers, of all ages. Most will come from Holland and Belgium, but you will find they have an excellent command of English. Your tour leader addresses the group in Dutch and English. Our skilled land crew have worked with Djoser for many years and make sure things run smoothly.
There is ample time for group exploration. Count on lots of walking. But sometimes, it is great to be able to break off and explore on your own. Your guide can make some great suggestions.
Join us for unforgettable cultural, nature and local experiences!
Itinerary
Buenos Aires
Buenos Aires
Buenos Aires
Buenos Aires - flight to Salta
Salta
Salta - Cafayate
Cafayate - Cachi - Salta
Salta - Purmamara - Tilcara
Tilcara - Humahuaca - Villazón - Uyuni
Uyuni, Uyuni salt lake excursion
Uyuni - Potosí
Potosí - Sucre
Sucre, market Tarabuco
Sucre - flight to La Paz
La Paz
La Paz - Tiwanaku - Puerto Pérez
Puerto Pérez - Copacabana - Isla del Sol
Isla del Sol - Puno
Puno
Puno - Cusco
Cusco
Cusco
Cusco - Machu Picchu
Machu Picchu - Cusco
Cusco - Flight to Lima
Lima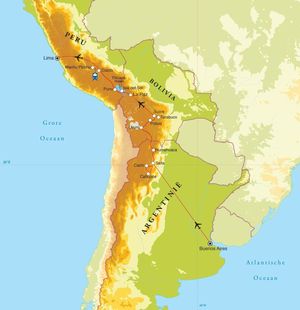 Day by day
This is a 25-day program. The program days are numbered to correspond with the Dutch traveler's, which includes their fly days.
Buenos Aires

Day 1 (Dutch participants in transit) (we recommend you arrive this day)
Day 2 arrival Buenos Aires (Land Begins – early morning)
Day 3 Buenos Aires
We start the trip in the metropolis Buenos Aires. We feel at home in this busy and yet very pleasant city that has a distinctive European character and has been called the Paris of the southern hemisphere. The Casa Rosada, or Pink House, is located at the Plaza de Mayo and to date is the seat of the Argentine government. The legendary Evita Peron spoke from the balcony to the Argentines. Until the year 2006 the " mothers of Plaza de Mayo" would make their daily rounds to demand justice for their lost husbands, sons and fathers who disappeard during the military regime. In addition to interesting museums in the center and the impressive cemetery in the Retiro district, there are other areas which are well worth a visit. Palermo with many good restaurants and Puerto Madero are recommended.
Salta, Cafayate
Day 4 Buenos Aires, flight to Salta
Day 5 Salta, optional excursion "Train to the Clouds"
Day 6 Salta - Cafayate
Day 7 Cafayate - Cachi - Salta
After short flight, we arrive in the Spanish colonial Salta, town characterized by the typical traditional style of the chessboard pattern and colorful houses. The Swiss cable car takes you to the San Bernardo Hill for a panoramic view of the city and the surrounding mountains. Salta is also the base for the beautiful surroundings. We drive to the wine village of Cafayate through the red mountains of the Quebrada de las Conchas. In Cafayate, we can taste the delicious Torrontes wine that comes from this region. Besides a bodega you can visit artists' studios here with especially ceramics. In the evening try a parillada, Argentine barbecue found in restaurants and often accompanied by music and dance around a fire in the courtyard. The famous Ruta 40 leads us to the charming white village of Cachi and runs parallel to the river Calchaque. The Hill of Seven Colors is best admire from the river side in Purmamarca.
Humahuaca, Uyuni
Day 8 Salta - Purmamarca - Tilcara
Day 9 Tilcara - Humahuaca - Villazón – Uyuni
Day 10 Uyuni excursion Salinas
By bus we continue our journey towards Humahuaca, This valley with its spectacular colors and shapes, and rich cultural landscape was added to the World Heritage List in 2003. The road through it already offers 10,000 years of history to the important cultural route, the Camino Inca. At Villazón we drive across the border to Bolivia. We stay two nights in the town of Uyuni and take an excursion to Salar de Uyuni, the second largest salt flat in the world with an area of 4085 square miles. It used to be a huge salt lake that covered a large part of Bolivia. Now it is a miracle of nature, because despite all the salt there are subtropical alpine meadows, rocky islands and walking trails through salty dunes. This is a great place to take pictures.
Potosi, Sucre
Day 11 Uyuni - Potosi
Day 12 Potosi - Sucre
Day 13 Sucre, visit market Tarabuco

We travel through the highest city in the world, Potosí, a city that owes its creation to the discovery of silver ore in 1545. We continue our trip to Sucre. The official capital is considered by many the most beautiful city of Bolivia. Thanks to the mild climate, pleasant squares and particular churches it is a popular city. We visit the colorful Indian market of Tarabuco.

La Paz
Day 14 Sucre flight to La Paz
Day 15 La Paz
A domestic flight takes us to La Paz, situated at 11,800 ft. Visit one of several museums, the Plaza Murillo, the main square, or take the Teleferico Mi ( Cable car) up to enjoy the amazing views of the snow-capped Andes mountains. There are also many different markets in La Paz, such as the special "witches market" in Calle Linares, where many herbs and mountains dried llama fetuses in a basket are offered as merchandise.
Lake Titicaca, Isla del Sol
Day 16 La Paz – Lake Titicaca
Day 17 Lake Titicaca, Isla del Sol overnight
Day 18 Isla del Sol - Puno
Day 19 Puno
After this vibrant city we travel to Lake Titicaca. This lake is on the border of Bolivia and Peru is the largest lake in South America and the highest lake in the world. We spend the night on an island in the middle of the lake: Isla del Sol. The Indians believe that the sun was born here. We cross the border to Peru. Near Puno are the floating reed islands, inhabited by about 300 Uros Indians. Take a ride with a reed boat and visit the islands. Sometimes you may a small school empty because the teacher does not come every day to the islands.
Cusco, Machu Picchu
Day 20 Puno - Cusco
Day 21 Cusco
Day 22 Cusco
Day 23 Cusco - train to Aguas Calientes, Machu Picchu
Day 24 Machu Picchu, train to Cusco

Cusco was the main city of the entire Inca Empire. Embark on a tour to archaeological ruins of Sacsayhuaman. Through the breathtaking Aguas Calientes we arrive at a definite highlight of the trip: Machu Picchu. Because the Spaniards never found this amazing urban center it remains as one of the best preserved remnants of the Inca era. The city is located at 7972 feet altitude in the midst of tropical mountain forests. After a night in the mountains, we take the train back to Cusco for an overnight stay in this cozy town.
Lima
Day 25 Cusco flight to Lima
Day 26 Lima – (land ends) -
We end our trip in the Peruvian capital Lima. Click here to visit the Plaza de Armas, the historic core of the city, the Museo de la Nacion, the best museum in Peru highlighting prehistoric cultures, or spend your last day on one of the terraces.

On the road with Djoser
Djoser trips do not include a rigidly scheduled itinerary. The travel days of course are fixed, but locally, the program can be determined between the group and the tour leader. On most days the tour guide provides a program. You are never required to participate and will have opportunities to explore independently as well, a great way to get to know a country. On average, classes consist of 16 participants. The maximum group size is 20 people
Dates and prices
Conditions "Guaranteed leave"
Price includes
Land Package
Domestic flight from Buenos Aires to Salta
Domestic flight from Sucre to La Paz
Domestic flight from Cusco to Lima
Transportation by air-conditioned bus
Hotel stays including breakfast
Excursion to Salar de Uyuni in Bolivia
Stay on Isla del SolDutch tour leader

 

(logistics coordinator) speaks Dutch and English
Price excludes
International flights from/to North American or other points of origin. Travel insurance, meals, entrance fees, optional excursions, gratuities, personal expenses,
Cost Overview
2016-2017 Additional Costs
Costs are listed in U.S. Dollars
Single room from: $570
Estimated Out of Pocket Costs Weekly (for meals, excursions and extra not listed as included)   $385
Hotel Extensions
   Buenos Aires - Double Room  $120
   Buenos Aires - Single Room $110
   LIma - Double Room  $70
   Lima - Single Room $55
Payment Schedule 
Deposit is due upon booking to hold your place
25% of total costs due (or $500 minimum) 
Payments by charge card or check accepted
Balance is due 60 days prior to departure date.
 
USEFUL WEBSITES
Weather:   http://worldweather.wmo.int/en/home.html
Consulate List:   http://www.state.gov/misc/list/index.htm
Passport/Visa Expeditor:   TRAVISA   http://www.travisa.com/
Travel Insurance Quote:  TRAVELEX 1-800-228-9792  http://www.travelexinsurance.com/quote/?nc=1  
Currency Conversion Cheat Sheet : http://www.oanda.com/currency/travel-exchange-rates
Practical information
Accommodations & Meals

We overnight in comfortable, centrally located hotels. We often choose small hotels with a cozy atmosphere and colonial character. Due to its central location, you're always close to the main attractions and nice restaurants.
Buenos Aires   Hotel Castelar
Salta                 Petit Hotel
Uyuni                Tonito Hotel
Sucre                Hotel Independencia
La Paz              Naira Hostal
Puno                Hotel Balsa
Cusco              Los Aticos
 
Hotel Extension
It is possible to book an extension in accommodations in Buenos Aires and Lima. In Buenos Aires the hotel is located in the center of the city on the famous Avenida de Mayo. It is a beautiful classic hotel which perfectly suits the glory of the Argentine capital.  Please see Cost Overview for hotel costs. 
Meals
The breakfast is included in the fare. For other meals, you can decide where, what, and with whom you want to eat. Of course you can eat with the group, but you are also free to explore and find a restaurant; the tour leader will give suggestions. The other meals are not included in the trip.
In Argentina meat is the most important part of the meal. However, there are a few vegetarian restaurants. The menus are similar to the European, but you often see local dishes. Casuelo the cabrito in Patagonia is a goat ragout, sopa is a native patty corn, eggs and cheese. Breakfast consists of toast and croissants.
In Bolivia and Peru, at the market,it is nice to buy a 'salteña-sandwich' or a 'empanada'. For breakfast, alongside the traditional 'desayuno', on many occasions you can also order a Western breakfast, sometimes with delicious fresh fruit. Around midday you can find a cheap menu in local shops where you can order "almuerzo". This generally consists of soup, bread, main course, coffee or tea and often a simple dessert. There may not always be culinary delights, but it's a fun way to get in touch with the locals. In the evening Peña is a nice place to be. Here you can enjoy live music performances with your snacks or meals. Try the famous coca tea once; This is not only good for altitude sickness it is also delicious. Or the chicha beverage, brewed for centuries by the Indians of yucca and corn. European dishes are also served almost everywhere.
Flights & Transportation
Djoser provides the land package only, which does not include your international flights from/to the U.S. or Canada. The bulk of the participants will arrive from Amsterdam. When you book your flights, you should arrange your arrival and departures to correspond with their arrival and departure.
ARRIVE: Be sure that you arrive at the same time or prior to the participants coming from Amsterdam so that you will not miss any portion of the trip.
EXTENSION HOTEL: Please note the Dutch arrive early in the morning. We suggest that you arrive the day or night before so that you will be available to begin the trip early in the morning with the rest of the group. You can request an extension hotel night on your booking form.
DEPART: Plan your departure for the same time or within an hour or two after the Dutch participants so that you can join them on the bus to the airport for a group transfer (at no additional charge). Otherwise, you will need to book your own transfer from the hotel. to the airport.
2016-2017 Flights for Dutch participants (subject to change)
Their carrier is KLM
Arriving Buenos Aires 05: 55 AM
Depart Lima – 20:15
Please do not book your flights until you have confirmation that we have enough participants for the trip to GO. Also, you should only book your flights after you receive a confirmation dated itinerary of the program to make sure that there are no changes from the posting on the website.

Internal Flights
This program does include internal flights within the program. Your guide will provide the flight tickets for you. You will not receive these flight tickets in advance of trip.

Transport
In Argentina, Bolivia and Peru we use a comfortable private bus. Along the way, we stop frequently to stretch our legs, to take a photo or to purchase food in a village. Some travel days are longer, this may be because we cover many miles or because the roads are sometimes a bit more rugged. Anyway, the bus rides are almost always beautiful. In the Andes you can enjoy the beautiful views of the mountains. On the salt flats we use sturdy jeeps. For the route Puno - Cusco we use a comfortable public bus. This bus makes a few interesting stops along the way. We travel to Machu Picchu by local train. On Lake Titicaca, we of course use boats. To save time, we have also a number of domestic flights scheduled for this trip. In Argentina we fly from Buenos Aires to Salta, in Bolivia from Sucre to La Paz, and in Peru from Cusco to Lima.
 
Money Matters
Currency: Argentine peso
Bolivia is the boliviano
Peru - Nuevo Sol
For current exchange rates please visit oanda.com.
ATM's: in large cities, many ATMs can be found.
It is important that your bank card has worldwide coverage, check this before departure at your bank. Keep in mind that the maximum withdrawal is equivalent to approximately $110.
Other currency accepted: Euro and / or US Dollars. The local conversion rate is better than the fixed rate applied by banks. So it's slightly cheaper to exchange money locally than to obtain from ATM. We advise you to take a minimum amount of $325 US dollars.

Credit cards: are accepted almost everywhere. Sometimes it is necessary to show your passport.
Traveler's checks: Not accepted everywhere. Can be difficult to exchange.
Estimated out-of-pocket expenses, weekly: $385
For meals, entry fees, personal expenses.
It is customary to give gratuities for services rendered. To prevent you having to share gratuities, a tip jar is established at the beginning of the trip, from which the tour leader can distribute tips to drivers, guides, hotel staff, etc. The approximate cost per person for the tip jar is $40. This does not include the tip for your tour leader. Tips are appreciated and the amount up to you based on your satisfaction of services provided.
Excursions
With Djoser you decide which sights you find worth visiting. In Buenos Aires you can stroll through the San Telmo market in Buenos Aires, while others may prefer the Recoleta cemetery, or the modern and trendy port, Puerto Madero. In Salta is the so-called "cloud train" is definitely worth your time! For outdoor activities, there are several options for you to choose from. In most cases you can go on your own or with peers, with or without the help of our tour guide, on foot or by local transport. Entrance fees are not included in the price, so you have the freedom to determine your own plans.

Some sights are not to be missed, are difficult to reach or are en route to our next overnight. Such excursions are built into the program, however you will need to pay entrance fees on the spot when you actually take part in the excursion.
During this trip through Argentina, Bolivia and Peru are the following excursions in the travel program included:

Visit to the Cerro de Colores in Purmamarca
Excursions with jeeps on the salt flats of Uyuni. This includes a look at a salt factory, stopping at the funny shaped ojos del salar, or "eyes of the salt flat". Travel to the beautiful Isla Pescado, a volcanic shaped 'island' full of enormous cacti.
A visit to the Indian market in Tarabuco from Sucre. Feast your eyes on the beautiful and colorfully dressed locals who come here to purchase supplies.

On the way from Puerto Perez to Isla del Sol we stop in Copacabana. In this place of pilgrimage be sure to visit the Moorish cathedral before you get on the boat to Isla del Sol.
We make a beautiful ride from Puno to Cusco, stopping at Raqchi, where we visit a small Inca ruin and in Andahuaylillas we visit a beautiful church.
We travel by train to Aguas Calientes. After one night in the morning we take one of the first buses to Machu Picchu and the local guide tells you about the impressive Inca ruins. After a tour of one to two hours, you can also have a look around.

Additionally, there are several attractions to visit or activities to be undertaken on the route, such as:
Tren a las Nubes, the Clouds Train through majestic mountains from Salta,
A visit to the vineyards in Torrontes including a wine tasting
 
Travel Documents
A passport that after returning home for at least 6 months validity.
Argentina: Reciprocity agreement and fee can be obtained online.
Bolivia: Tourist Visa rquired
Peru: No Visa required
 
Health Issues & Insurance
For this trip is recommended:
- Vaccinations against DTP, hepatitis A, yellow fever
It is wise to somewhat watch what you eat. We also recommend that you bring a small first aid kit with painkillers and include a remedy for intestinal disorders. The tour guide, moreover, has an emergency medical kit with him, containing sterile equipment.
In Argentina and particularly in Bolivia and Peru, the hygienic conditions can sometimes leave something to be desired. Of course it is useful to bring a remedy against intestinal disorders and a saline solution (ORS) for dehydration can come in handy.

The route is mapped out so that you can slowly adjust to the altitude. Severe forms of altitude sickness (soroche) are possible due to the lower oxygen content in the air sometimes causing headache, nausea, dizziness or shortness of breath. Especially after arriving in Potosí you will need to give your body a chance to get used to the altitude and you should avoid physical exertion. Take it ieasy in the first few days. It is also important to drink plenty of water, so that the oxygen is absorbed easier. Discuss your travel plans with the GP. Certainly travelers with heart and / or lung disease and people who are over sixty, are recommended to consult with the doctor. At first signs of 'soroche' rest and try the folk remedies, such as chewing coca leaves or drinking coca tea.
Insurance
For piece of mind, we recommend that you procure travel insurance. In the event of an illness or injury, an emergency evacuation can be incredibly expensive and you would want access to the best possible facility. Also, lost baggage or missed flights can mean added expenses, Even events at home may prevent you from taking a trip, such as a lost job or ailing family member. It is important to get travel insurance immediately after booking. Most companies have a brief window (within 10 days of booking) for coverage for a preexisting condition. You will be asked to provide us with travel insurance contact information before your departure.
You are free to choose your own provider. Over the years, we have recommended TRAVELEX. They offer a variety of plans and most importantly, they are responsive. Should you choose to go with TRAVELEX, you will contact them directly and the cost of your coverage will depend on the plan you choose. The cost will be based over the total cost of your trip and flights, and the amount is also subject to your age. Ask about the TRAVEL PLUS plan and the more economical TRAVEL LITE plan. * Arrange for insurance immediately after booking your trip so that you are covered for any pre-existing situation. TRAVELEX 1-800-228-9792
Group Composition
Djoser travelers are active, enthusiastic travelers of all ages. Join an international group with travelers from the Netherlands, Belgium and North America, who will be the minority group on these trips. Most of our trips range from a minimum of eight participants to a maximum of 20 or 22. You will find couple and singles on our trips. Feel free to call us if you wish to know the demographic make-up of a particular trips (number of singles and age range).
Minimum group size: 8
Maximum group size: 20
What to expect when traveling with an international group - Djoser, Inc. (the United States office) has been an Argentina and Chile tour operator for over 10 years. Djoser, B.V. (the Netherlands office) has been an Argentina and Chile tour operator for over 25 years. So together we bring vast experience. Most of our trips are arranged in cooperation with Djoser, B.V. in the Netherlands. Because they cater to the voracious travel appetites of the Dutch, we can offer a vast number of programs around the world with hard-to-find itineraries, with numerous departure dates.
On our Argentina and Chile group tour, you will travel with an international group, with most participants from Holland and Belgium. The international make-up of our groups is the attraction for many regular Djoser travelers and adds another cultural element to the trip. Typically, there are only one to five North Americans per group. You will find that almost all of your fellow travelers have an excellent command of English and most are very willing to socialize. It's a great idea to extend an invitation to a few travel mates for coffee or a drink early in the trip. They will appreciate your effort and this is a great way to break the ice. It will be easier for them to test out their English skills in a quiet, one-on-one setting. Group members tend to warm up to one another in a day or two. As with every tour group, compatibility has most to do with individual personalities.
The Dutch are experienced and hearty travelers. We attract travelers of all ages and we enjoy the mix! You will find our participants welcome opportunities for independent explorations in addition to group activities. No matter their age, Djoser travelers expect, and are up to lots of walking, hiking, biking, or whatever comes our way. The Dutch and Belgian travelers will fly as a group from Amsterdam. You will meet the group and tour leader at the hotel where you will begin the land program with the group.
 
Tour Leaders & Support Staff
Our trips are guided by an experienced Dutch guide who speaks Dutch and English. He or she will be responsible for the organizational and technical aspects of the trip. He/she coordinates with the driver, hotels, and other vendors along the way. The tour leader has extensive travel experience and expertise as well as a comprehensive training.

Our experienced land representatives are situated in the destination country you will visit. We work closely with them and they function as the liaison between our office, the guide, drivers and hotels. They are also available in the case of an emergency and their number will be provided on your emergency contact list.
Climate & Geography
Buenos Aires is like most of Argentina in the temperate zone of the southern hemisphere. January is the warmest month of the year with an average of around 77 °F , while the mercury in the middle of winter, in July, drops to an average of 55 ° F. The summer months are hot and stuffy.
The climate of Bolivia and Peru is quite variable by region. But despite its location near the equator (Bolivia is on the same latitude as Hawaii for instance), the average temperature is generally lower than one would expect. Bolivia is called the "roof of the New World" or "the Tibet of South America,". Aside from the milder climate of Santa Cruz and Sucre in Bolivia we visit the 9842 to 13,000 feet high Altiplano. In this barren and dry plateau mercury can be especially low at night and in our summer and fall. The salt flats at Uyuni are known for its almost Siberian night temperatures! Daytime temperatures are much higher and sometimes in winter you can walk around in a sweater or T-shirt. Lake Titicaca is located approximately 12,139 ft. Again, the temperature drops at night often below freezing.
The rainy season in these countries runs from December to March, their summer, and then there is often fog and clouds. However, the rainy season is not necessarily a barrier to travel; Nature is just at its best and the temperatures are much more pleasant. In the winter months (our summer) it freezes at night usually, but during the day it is usually sunny and very bright. The temperature rises in the winter months during the day to about 53-64 ° F and with the radiant heat of the sun from noon in the sun it is more pleasant. Once the sun is low, especially in the morning and afternoon, the temperature drops again and warm clothing is necessary. Also inside the buildings and in the hotel it is cold at night as it is not always heated. Bring warm layers.
 
Photos & video
Book Trip/Trip Inquiry
                                                       BOOK MY TRIP 

•Begin your reservation process by filling in this TRIP INFO REQUEST and send to us via the website. We will confirm dates and prices, and answer any questions you may have about the trip.
•Download and complete the BOOKING FORM including all participants passport information and payment information. Email a PDF, scan, or clear photo of your completed BOOKING FORM to lukedjoser@gmail.com. All participants over 18 should sign the form.
• A deposit of 20% of total costs will be due upon booking in order to hold your place on the trip. The balance will be due 90 days prior to departure.
• Payments can be made by personal check or ACH wire transfer (domestic wire only). We will send you wire instructions.
• Upon receipt of your form, we will email you a receipt and confirmation of your booking.
• If paying by check, make check out to DJOSER, INC., Mail to Djoser, Inc. – Bookings 420 N. Oakland Drive, #6, Pasadena, CA 91101.
Questions? Call Luke Neal 484-995-2964. (West Coast)