Bangkok to Beijing: Thailand, Laos, China tour, 26 days
 We travel to the metropolis Bangkok then through quiet northern Thailand to Laos. We stop in Khao Yai national park where we can spot wildlife. Along the way visit  Khmer temples in Laos as well as the beautiful cities of Vientiane and Luang Prabang. Here you will find unique architecture, lively markets and friendly people. We drive from the border of China to Kunming, with its famous Petrified Forest. In eastern China you will experience a special minority in Yonding and beautiful landscapes in Wuyishan. The impressive cities, Shanghai, Nanjing and Beijing bring this trip to a close. 
Join our international groups with active travelers, of all ages. Most will come from Holland and Belgium, but you will find they have an excellent command of English. Your tour leader addresses the group in Dutch and English. Our skilled land crew have worked with Djoser for many years and make sure things run smoothly.
There is ample time for group exploration. Count on lots of walking.  But sometimes, it is great to be able to break off and explore on your own. Your guide can make some great suggestions.
Join us for unforgettable cultural, nature and local experiences!
Itinerary
Bangkok
Bangkok, boat trip on Klongs
Bangkok- - Ayutthaya - Khao Yai National Park
Khao Yai NP
Khao Yai National Park - Phanomrung - Phimai - Khon Kaen
Khon Kaen - Vientiane
Vientiane
Vientiane - Luang Prabang
Luang Prabang
Luang Prabang - Luang Namtha
Luang Namtha - Jinghong
Jinghong - Kunming
Kunming - flight to Xiamen
Xiamen
Xiamen - Yonding
Yonding
Yonding - Xiamen - high speed train to Wuyishan
Wuyishan
Wuyishan - night train to Shanghai
Shanghai
Shanghai, Suzhou tour
Shanghai - Nanjing
Nanjing - high-speed train to Beijing
Beijing, tour Great Wall and Summer Palace
Beijing
Beijing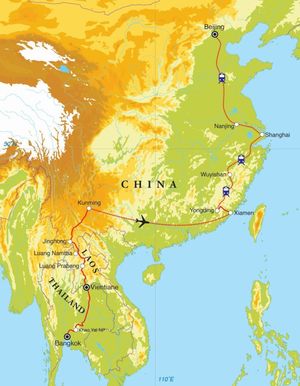 Day by day
The days in the program description are numbered to correspond with the program as denoted for the Dutch participants including their transit days. 
Day 1. Travel day 
Day 2. Bangkok arrival
Day 3. Bangkok, cruise on the Klongs

This trip starts by three countries in the impressive capital of Thailand, Bangkok. This city is a true metropolis and a mix of east and west. Golden palaces, modern shopping malls intermingle with monks dressed in orange robes. Well worth a  visit are the royal palace, including the Emerald Buddha, , as well as the lively Khao San Road. An important part of the daily life takes place along canals that traverse the "Venice of the East " . During a boat trip on the canals, called Klongs, you get a close look at  Thai life. The colorful markets in the city are ideal for testing all kinds of tropical delights, or you feast on a delicious Thai meal. 

Khao Yai National Park
Day 4. Bangkok - Ayutthaya - Khao Yai National Park
Day 5. Khao Yai National park

From Bangkok we leave the North. At the stop in Ayutthaya we dive into Thail  history  going back to the beginning of the 14th century. It is the period of the Siamese which was considered later in the new century as the strongest power in Southeast Asia.   Ayutthaya enjoyed over four centuries of economic and properity as the  capital of the empire. At the historical park, with the remains of the ancient city of Ayutthaya, (a World Heritage site) you can see lots of beautiful temples.

We continue to Khao Yai National Park. This park is the oldest national park in Thailand and is also seen as one of the best parks in the country to spot wildlife. In the park you can take a nice walk through the jungle and past waterfalls to go looking for wild animals such as elephants, monkeys and up to 300 bird species. There is even a small chance to see wild tigers here.  A special experience in this park can be experienced around sunset; this is the time that a current of more than thousands of bats fly out of their cave, a unique experience.

Phanomrung & Phimai
Day 6 Khao Yai National Park - Phanomrung - Phimai - Khon Kaen
Day 7. Khon Kaen - border - Vientiane (Laos)
Day 8 . Vientiane

The journey continues  east. We visit the historical park Phanomrung which is near the Cambodian border. The park is home to an impressive temple complex of Khmer architecture and is situated in a unique location, between the rice fields and on the slopes of a dormant volcano. The complex was built at the beginning of the 12th century and is the largest and one of the best preserved of Khmer architecture. The main entrance of the park towards the east is a real masterpiece and provides a stunning entry point.  The ruins of Prasat Phimai are located in a historical park. The place was once connected to Angkor Wat and the center of the Khmer empire so important to  traders and travelers and the religious. Today, the ruins are located in the center of the pleasant town of Phimai. Despite the location, it is an oasis of tranquility as you walk along the temples with beautifully landscaped gardens.

We cross the border and arrive in Vientiane. It is the capital of Laos but thanks to Asian standards, and small population  itfeels more like a large village and lacks the bustle of the capitals of neighboring countries. The city has a strong French influence which can still be seen in the architecture and wide boulevards that are in the city. In Vientiane, the golden Pha That Luang Stupa  is the important national symbol of the country. You can find this Buddhist stupa example on the banknotes of Laos. Another highlight of the capital is the beautiful Wat Si Saket. This park is located in the town and is often seen as the most beautiful temple complex in Vientiane. You will find more than 300 Buddhist and Hindu images that are spread over a huge garden. Another attraction is the Patuxai. The Arc de Triomphe in Laos you can climb, which offers a very nice view of town.

Luang Prabang
Day 9: Vientiane - Luang Prabang
Day 10: Luang Prabang

Luang Prabang is the former capital and residence of the royal family. Throughout the town are many ancient pagodas and temples to find which  have been proclaimed by UNESCO as  World Heritage sites. There are a surprisingly number of monks living  and studying in and around the city. Due to the presence of the many temples there is a  special atmosphere that is typical throughout Laos. One exceptional temple is the Wat Xieng Thong, regarded by many as the most beautiful temple of Laos. Another special place is Phu Si hill . After a short climb you can enjoy an amazing view of the city and its surroundings. Furthermore, the small city is very suitable for exploring on foot. In one day, you can get a good impression of the place. In between the Mekong and Nam Khan river, you can also take a boat trip to the beautiful nearby Pak Ou caves. Here you will see hundreds of Buddha statues in various shapes and sizes. Or take a bike ride and enjoy the beautiful surroundings of green rice fields, buffaloes and fishermen casting their nets in the traditional way.  At the pleasant morning and night markets you can buy  the most beautiful souvenirs.

Luang Namtha and Jinghong
Day 11. Luang Prabang - Luang Namtha
Day 12. Luang Namtha - border - Bohan (China) - Jinghong
Day 13 Jinghong - Kunming

The last stop in Laos we make in Luang Namtha before we cross the border with China. Luang Namtha is the largest city in northern Laos and located on the banks of the River Nam Tha from which she derived her name. It consists of an old and new part which are a few miles apart.  Most  facilities are located in the new area. We cross the border into China via the village of Bohan and finally arrive in Yunnan Province. We spend the night in Jinghong, located on the Lancang River. The town is surrounded by lush subtropical vegetation and is known for its beautiful peacocks that you find there. Also in Jinghong the folk culture of the minority groups of the region is represented. A well-known landmark is the pagodas to be found all over the region and each tell their own story.

Xiamen
Day 14. Kunming - flight to Xiamen
Day 15. Xiamen

If time permits, there may be a visit to Kunming the Stone Forest. This is one of China's most remarkable natural phenomena with sharp towering cliffs and peaks, which is particularly popular among Chinese day trippers. These rocks is from a shallow coral sea boosted after the erosion caught it got. By rainwater that ran along the cracks in the rock, originated the typical karst landscape. From Kunming we take a flight to Xiamen. Situated on an island just off the coast opposite Taiwan, Xiamen was in 1980 one of the earliest Special Economic Zones and important for  the Chinese government and the first foreign trade and investments. The city, formerly known as Amoy, dates back to the Ming Dynasty in the 14th century. Today it is a pleasant, charming port city with many students and a nice shopping street, Zhongshan Lu, with buildings in European style. Worth seeing are also the oldest Protestant church in China and the Nanputuo temple, where a prayer service is held daily.  Situated opposite Xiamen, with a ferry ride of 5 minutes, is the island Gulang Yu.  Many wealthy Europeans and Chinese settled here, from the mid 19th century. Soon the island was declared an international settlement and several countries founded consulates here. The architecture of the various houses and Victorian buildings that give the island, with its more narrow and steep street a Mediterranean ambience. Very special, at least for China is that no cars are allowed on the island.

Yongding
Day 16 Xiamen - Yongding
Day 17 Yongding

From Xiamen we travel about three hours inland to some of the special tulou towns in the province Fujian. Tulou are the characteristic houses of the Hakka population. The earth buildings resemble flats which are usually built in a circle, but you can find in this area square tulou as well. We visit the main tulou in near Nanjing and Yongding. One of the best known is the tulou in Tianluokeng, which consists of a square building surrounded by four round tulou. The oldest Tulou in Nanjing region is that of Yuchanglou dating from the early 14th century. These 'zigzag'-tulou, because the structure is tilted, has five floors and has a diameter of 36 meters.  The lovely village Taxia has both square and round tulou located on a canal. We stay overnight in the area in a traditional tulou. The rooms are simple with basic bath facilities, which are shared with your fellow travelers. It is a unique experience in early morning to experience the  village to life. The main tulou in the town Hongkheng has two rings of buildings, whose outer ring has four floors. In the center there is a hall where the ancestors are honored. Gaobei located in the UNESCO-protected 'king' of the tulou's: Chengqilou. The tulou from the early 18th century, have up to 4 rings of buildings. Just outside the village from a hill  you have a  nice overview of the collection of  tulou in the area.  The tulou in themselves are unusual sights, but also surrounded by hills and traditional villages. We have plenty of time to admire the tulou and villages before returning to Xiamen.

Wuyishan

Day 18. Yongding - Xiamen - night train to Wuyishan
Day 19. Wuyishan

We take the train to the city of Wuyishan in the north of the Fujian province. In this area protected by UNESCO, you can make several walks. The views from the various peaks are spectacular. On the "river of the nine bends" you can make a trip on a bamboo raft and enjoy the beautiful surroundings. The caves with their narrow passages are popular especially with Chinese tourists. The mountain range forms a natural barrier to cold winter winds from the north. Temperatures  in southern Wuyishan are also usually quite pleasant. In the town itself you can attend a tea ceremony. Another possibility is an excursion to the nearby traditional village Xiamei. Here you can find some beautiful houses dating from the Ming and Qing dynasties. After several day trains, for the first time on this trip also a night train and travel to the city of Xiamen.

Shanghai
Day 20. Wuyishan - overnight train to Shanghai
Day 21. Shanghai

In the metropolis and major port city of Shanghai, you can endlessly hike in the various interesting neighborhoods with impressive modern buildings and ancient temples. Shanghai, during the 30s was the world's most decadent city.  You still will find a mixture of Asian and European cultures. The famous boulevard, the Bund, gives a good picture of the typical European architecture from the thirties. The Bund is the meeting place where in the early morning you can witness many Chinese people who practice Tai Chi. In the evening, you can admire the illuminated modern buildings of Pudong financial district. In the district of Puxi, you can visit some special vestiges of old Shanghai: Yu Yuan Garden and the Jade Buddha Temple. Both temples are now crowded by locals. zyhe Yu Yuan garden is an interesting place for shopaholics. They may visit the major shopping street, Nanjing Lu and the market with knockoff goods, to the former French Quarter.  If you more of a culture buff, visit the Shanghai Museum, with its large collection of antiquities from China. One of the tallest towers in the world is the 468 meter high Pearl Tower in Pudong, where in recent years many modern buildings have risen. From the top of the tower you can enjoy a fantastic view of the frantic pace in a developing city. In August 2008, the Pearl Tower was surpassed in height by the building of the Shanghai World Financial Center, the fourth highest building in the world. What is striking is the large hole at the top of the tower of the building popularly called "the bottle opener" .  A cruise on the Huangpu River shows you the vast port of Shanghai. For the evening there is a wide choice of restaurants, bars and theaters where you can get an impression of Shanghai from a bygone era. Also, an acrobatic performance usually is a possibility.

Shanghai
Day. 22 Shanghai, Suzhou excursion
Day. 23 Shanghai - Nanjing

If you love trains and speed will enjoy the ride with the high-speed magnetic train Maglev, which takes us in half an hour to the pleasant Suzhou. This 2500 year old city is best known for its many classical Chinese gardens, waterways and the 1000-year-old bridge, which is depicted   in books. It is  often called the 'Venice of the East. There are several classical gardens with lovely names like "Garden of the Humble Driver",'  "Garden of the Master of Nets" and "The Blue Wave Pavilion".  These are wonderful resting places in the city. Additionally, you can also wander through the old city with the typical Chinese red lanterns, the channels and classical gardens. Just outside the city you'll find the Tiger Hill, Garden and the monastery of the cold mountain Hanshan si . Nearby are the pretty villages Zhouzhuang and Tongli, where you make an optional excursion.  At a bend in the Yangtze several hundred miles upstream from Shanghai is Nanjing.  During different periods this was the capital of China and it is the perfect destination for anyone who wants to taste more of the rich Chinese history than modern Shanghai has to offer. With the new high speed train it can be reached in  just over an hour.  It is perfect for a trip of several days. Besides almost countless historical sites, visitors of Nanjing also discover that with inner clear streets, peaceful parks, a modern subway and a large variety of dining options it is one of the most pleasant cities in China.

Beijing
Day 24 Nanjing - high-speed train to Beijing
Day 25 Beijing
Day 26 Beijing
Day 27 Beijing -

From Nanjing we travel about 4 hours by high speed train on to our final stop. The population of approximately 19 million, is increased daily by a steady stream of people from the countryside. The easiest way to get around is  by subway, bus or taxi or even by bicycle. China is a country full of bicycles: the people of Beijing for example, own nine million bicycles together. Tiananmen Square, in the center of the city,  is the largest of its kind. Around the square are the famous Forbidden City, the mausoleum of Mao Zedong and the Great Hall of the People (Parliament). The Forbidden City is a vast area of palaces and museums.  There is a nice view of the complex from the Coal Hill. In the center, are some of the old neighborhoods, the hutongs, protected from the emerging new buildings. There are  countless temples  worth visiting. The  Temple of Heaven, made completely of wood, consists of several buildings and a large altar, all of which are built in utter symmetry. In the morning you can see here many Beijing residents doing their tai chi exercises. In the northeast of the city is known as Lama Temple, a Buddhist site. From Beijing we are transported to the Great Wall. There you have the time to walk  over a portion of this main structure. This excursion is, in addition to the admission fee, included in the price. We combine the walk on the Great Wall with a relaxing visit to the Summer Palace. In the evening there is the possibility to visit the Chinese Opera or an acrobatic show. You can sample the culinary specialty of Beijing, Peking duck, in one of the specialty restaurants.
Dates and prices
Conditions "Guaranteed leave"
Price includes
Land program, guide assistance by Dutch guide (logistics coordinator, not lecturer). Lodgings as described, trains, one internal flight.
Price excludes
International flights from/to the U.S. or Canada.  Travel insurance, meals, visa Laos and China, entrance fees, optional excursions, gratuities, personal expenses,

Group trip dates denoted with the green "G"  (Most Likely to GO)
The dates you see listed in our group tours that are marked with a green "G" are MOST LIKELY TO GO based on this trip's past booking history, for a similar date. Before booking your flights it is important that you check with us to see if the group has enough participants for the trip to GO. However, Djoser is not responsible for costs for flight changes or cancellations if a trip must be cancelled due to insufficient enrollment, which might include a booking cancellation after the trip has been deemed to have sufficient bookings for a "GO". 
Cost Overview
 
 

Single Room from

$570
Estimated Out of Pocket Costs Weekly 

(for meals, excursions and extra not listed as included) 

$330
 
 
Extension Hotel - Double Room - BANGKOK
$50

Extension Hotel - Single Room - 

BANGKOK

$45
Extension Hotel - Double Room - BEIJING
$95

Extension Hotel - Single Room - BEIJING

$95
 
 

Payment Schedule 
Deposit is due upon booking to hold your place
25% of total costs due (or $500 minimum) 
Payments by charge card or check accepted
Balance is due 60 days prior to departure date. 
 
USEFUL WEBSITES
Weather: http://worldweather.wmo.int/en/home.html
Center for Disease Control: http://wwwnc.cdc.gov/travel/destinations/list
Consulate List: http://www.state.gov/misc/list/index.htm
Passport/Visa Expeditor: TRAVISA http://www.travisa.com/
Travel Insurance Quote: TRAVELEX 1-800-228-9792 http://www.travelexinsurance.com/ 
Currency Conversion Cheat Sheet : http://www.oanda.com/currency/travel-exchange-rates 
Practical information
Accommodations & Meals
We will stay in tourist class hotels, where the rooms have private shower / toilet are equipped with air conditioning  or fan. Some hotels have a swimming pool for a refreshing dip. In China in each room a big thermos with hot water ready so you there can put a nice fresh cup of tea or coffee. Almost all hotels offer opportunities to wash your clothes . 


Hotel Extension

Extension accommodations in Bangkok or Beijing are possible.  

In Bangkok you will stay before or after in a centrally located hotel, the price is from $25, -. Based on accommodation in a double room per person per night The price a double room costs from $50 -. per night 

The price in Beijing is from $50, - per person per night based on accommodation in a double room. The price for a single room is from $95 -. Per night. You stay in a good hotel conveniently located to the metro, the prices are no cost of the flight and transfer to / from the airport.
 
Singles
Singles will be matched with another traveler of the same sex. If you request to share a double room but we cannot match you, there will be no additional charge to you for the single.    You may  request single accommodations for an additional charge. See cost overview.
 
Meals
Meals are not included during the trip so you're free to choose where and when you eat.The basis of the Thai meal is rice. Here, a wide variety of tasty meat and vegetable dishes, often sharply spiced or flavored with fresh coriander and ginger. On the coast, fresh fish is prepared. In the larger cities, there are also plenty of restaurants offering Western cuisine. The Laotian cuisine is similar to Thai cuisine.

For the culinary enthusiast a trip to China and her cuisine is one big adventure. Each region has its own specialties, especially as reflected in the preparation and the use of herbs. A favorite lunch, even when the average westerner, the noodle soup, a rich noodle soup with different vegetables and / or meat. In the evening you can choose from an extensive range of dishes, which come together at the table. Everyone eats at the table (with chopsticks) . Another nice way of eating is a kind of Chinese fondue (hotpot), where you are served vegetables, meat and fish in a pot of boiling broth to cook at the table.

           
       
Flights & Transportation
We do not provide the flights from/to the U.S. or Canada.  Please arrange your flight to correspond with the arrival and departure of the bulk of the participants arriving from Amsterdam based on the flight schedule listed below.   You should plan to arrive before or at the same time as the group so you will not miss any activity.  Likewise, you should plan to leave at the same time or shortly after the group.
| | |
| --- | --- |
|   |  Scheduled flights for clients arriving from  Amsterdam . (Subject to Change)  |
| Airline | Lufhansa |
| Arrival | Bangkok  2:10 PM |
| Departure | Beijing  10:30 AM |
|   |   |

Airport Transfers:  Not provided for participants booking land programs. You will need to book a taxi from the airport to the hotel.  Then arrange a taxi to the airport from your hotel on your departure. If your flight leaves from the same airport as the Dutch participants, at the same time or shortly after, you are welcome to join them on the bus to the airport, at no additional charge. 
Transport
In Thailand and Laos we travel by car. Traveling by private transport has the advantage that we can regularly stop in the villages and places we drive through, for example, to visit a small local craft market and other attractions.  On some days we cover considerable distances, but each travel day, there is lots to see. In Laos, not all roads are paved. Expect  potholes and dust much more so than in Thailand.

In China we travel mainly by train. From Kunming we are flown to Xiamen. From Shanghai to Wuyi Shan we travel with a comfortable night train., A typical Chinese way of traveling. Chinese sleeper trains are divided into different compartments. We use six-person berths. This means that you sleep in an open compartment, with six people. In these berths are sheets, blankets and pillows, but a sleeping bag liner can be useful. Some of the stretches we do make a private bus. In Thailand and Laos we can stop wherever we want, for example, for a beautiful photo stop, a nice attraction, or a delicious Chinese meal on the go.
Money Matters
Currency:  Thailand  baht,  Laos     ,  China renminbi (yuan).
ATMS: in almost all places are ATMs available 
Other Cash accepted:  Euros 
Credit cards:  Accepted in the big cities and in the more luxurious shops. 


Out of pocket expenses:   Budget a minimum of  $300 per person per week
As a guideline for costs not included in the fare, such as meals, entrance fees, optional excursions and personal expenses.
Payment Schedule 
Deposit is due upon booking to hold your place
20% of total costs due (or $500 minimum) 
Payments by charge card or check accepted
Balance is due 60 days prior to departure date.
Tipping 
It is customary to tip for services rendered. To prevent you having to share gratuities from, a tip jar is established at the beginning of the trip, from which the  tips to drivers, guides, hotel staff, etc. are paid. The tip jar does not include a tip for your tour leader.  Tipping is appreciated and the amount is up to you based on your level of satisfaction.
 
Travel Documents
Passport valid at least six months after departure from Thailand is valid.
Visa for Laos, cost US $ 35, -. The visa is locally controlled at the border.
Visa for China 
Health Issues & Insurance
Recommended for this trip:

vaccinations against DTP, typhoid, and hepatitis A.
malaria tablets
 
Group Composition
Djoser travelers are active, enthusiastic travelers of all ages. Join an international group with travelers from the Netherlands, Belgium and North America, who will be the minority group on these trips. Most of our trips range from a minimum of eight participants to a maximum of 20 or 22. You will find couple and singles on our trips. Feel free to call us if you wish to know the demographic make-up of a particular trips (number of singles and age range).
Minimum group size: 8 
Maximum group size: 20
What to expect when traveling with an international group - Djoser, Inc. (the United States office) has been an India and Bhutan tour operator for over 15 years. Djoser, B.V. (the Netherlands office) has been an India and Bhutan tour operator for over 25 years. So together we bring vast experience. Most of our trips are arranged in cooperation with Djoser, B.V. in the Netherlands. Because they cater to the voracious travel appetites of the Dutch, we can offer a vast number of programs around the world with hard-to-find itineraries, with numerous departure dates.

On othis tour you will travel with an international group, with most participants from Holland and Belgium. The international make-up of our groups is the attraction for many regular Djoser travelers and adds another cultural element to the trip. Typically, there are only one to five North Americans per group. You will find that almost all of your fellow travelers have an excellent command of English and most are very willing to socialize. It can be more challenging for a single traveler if you are not particularly comfortable as the conversation initiator.  Ask your tour leader to help if you are having difficulty integrating.
It's a great idea to extend an invitation to a few travel mates for coffee or a drink early in the trip. They will appreciate your effort and this is a great way to break the ice. It will be easier for them to test out their English skills in a quiet, one-on-one setting. Group members tend to warm up to one another in a day or two. As with every tour group, compatibility has most to do with individual personalities.

The Dutch are experienced and hearty travelers. We attract travelers of all ages and we enjoy the mix! You will find our participants welcome opportunities for independent explorations in addition to group activities. No matter their age, Djoser travelers expect, and are up to lots of walking, hiking, biking, or whatever comes our way.The Dutch and Belgian travelers will fly as a group from Amsterdam. You will meet the group and tour leader at the hotel where you will begin the land program with the group.
Tour Leaders & Support Staff
This journey is guided by an experienced Dutch tour guide who speaks Dutch and English.  Our tour guides are responsible for the organizational and technical aspects of the trip. These are not lecture tours and you will get the important information.  Their extensive travel experience and expertise adds value to the Djoser tours. Careful and comprehensive training for this lays the foundation.In Thailand and Laos we have the assistance of a  local guide (speaks English)  who tells extensively about the country; local customs, religious influences to cultural backgrounds.
Climate & Geography
Thailand and Laos have a tropical climate. There are three seasons: from March to mid-June: hot and dry, daytime temperatures around 30-35 ° C. mid-June to September: hot and humid, daytime temperatures around 28-32 ° C. There is no sustained rainfall but possibly one or two spectacular tropical rainfalls per day. The beautiful green countryside is one of the benefits of traveling in this period. From October to February: it is relatively cool and fairly dry, daytime temperatures around 18-32 ° C. 


China is one of the largest countries in the world and therefore has very different geographical and climatic characteristics.Because of the vastness of the country you can expect a variety of  weather patterns.

Summers are in a large part of China's warm, with average temperatures above 30 ° C. In spring and autumn  in Beijing and Xian,   evenings can be quite chilly.  Keep in mind that China will see rain through the year  especially in the tropical south.  Rain often falls at the end of the day and night. The rains are usually short and intense .
 
Photos & video
Book Trip/Trip Inquiry
Are you ready to book a trip?

* Submit this form to begin your reservation process.  Confirm that names exactly as they appear on a current passports.  If names on your international, domestic flights or visas (if applicable) do not match your name as it appears on your passport, some countries will deny you entry.
TIP:  Also verify your name on your flight records, within 24 hours after reserving to avoid change or cancellation penalties.   
* Pay by personal check or credit card:  Visa, Mastercard, American Express
* Call us with your charge card information.  Your place will be reserved upon receipt of funds for required deposit.
* Refer to the Prices & Dates page for an overview of your total costs & deposit 

* Download the Booking Form with Terms and Conditions
* Fax for with signatures for all participants 18 and over to  484-595-9140 . Or scan to us at luke@djoserusa.com
* Or mail Djoser, Inc., 154 Woodgate Lane, Paoli, PA 19301 - Attn: Luke Neal