Argentina & Chile Tour, 21 days
 During the tour through Argentina & Chile you can visit Buenos Aires, Bariloche, the Perito-Moreno glacier, Ushuaia and Torres del Paine. The penguins, sea lions, orcas and whales on the Península Valdés undoubtedly impress. On the vast pampas you can make beautiful walks and the spectacular landscape of Patagonia, with immense glaciers and snowy peaks, provides impressive views. Cape Horn, at the very tip of the savage Tierra del Fuego, is the last stop for Antarctica. It is possible to extend this trip with a visit to the impressive Iguazu waterfalls on the border of Argentina and Brazil.
Join our international groups with active travelers, of all ages. Most will come from Holland and Belgium, but you will find they have an excellent command of English. Your tour leader addresses the group in Dutch and English. Our skilled land crew have worked with Djoser for many years and make sure things run smoothly.
There is ample time for group exploration. Count on lots of walking. But sometimes, it is great to be able to break off and explore on your own. Your guide can make some great suggestions.
Join us for unforgettable cultural, nature and local experiences!
Itinerary
Buenos Aires
Buenos Aires
Buenos Aires, night bus to Puerto Madryn
Puerto Madryn
Puerto Madryn, optional excursion Peninsula Valdés
Puerto Madryn - Esquel
Esquel - Los Alerces N. P. - Nahuel Huapi N. P. - Bariloche
Bariloche
Bariloche
Barliloche, flight to Calafate - El Chalten
El Chalten
Chalten - Calafate
Calafate, visit Perito-Moreno glacier
Calafate - Torres del Paine N. P.
Torres del Paine N. P.
Torres del Paine N. P. - Calafate
Calafate, flight to Ushuaia
Ushuaia
Ushuaia, flight to Buenos Aires
Buenos Aires
Buenos Aires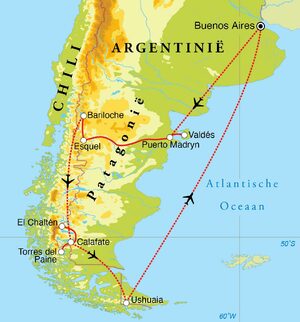 Day by day
21 day land program. 
Day 1  (Extension hotel night recommended here) 
Day 2 arrival Buenos Aires  (land begins) 
Day 3 Buenos Aires
You will meet the guide and other participants who arrive from Amsterdam, at the first hotel. Once everyone checks in, there will be a welcome meeting where you will meet everyone and get the lay of the land.  
We start and end our tour in the busy Argentine capital Buenos Aires, the city where the tango was born. But also the birthplace of Maradona and Máxima and the city of the famous writer Luis Borges. Buenos Aires, at first glance a cosmopolitan modern city, also has a somewhat Parisian or Madrilenian look with wide boulevards, colonial buildings and old-fashioned old chic.
Strolling along the Avenida de Mayo, which is the Plaza del Congreso with the well-known Plaza de Mayo, you will encounter buildings that would not be out of place in many European cities. The Porteños, as the inhabitants of Buenos Aires are called, are also genuinely proud of their city. You have time to visit the city center and the vast neighborhoods, the barrio's, both at the start and at the end of your journey.
Puerto Madryn, Valdes peninsula
Day 4 Buenos Aires - night bus to Puerto Madryn
Day 5 Puerto Madryn
Day 6 Puerto Madryn, optional excursion peninsula Valdés
rWe travel by comfortable night bus (more like Amtrak) to Puerto Madryn, a cozy seaside resort where many street names and tearooms still remind us of the founders of the city; immigrants from Wales. Nearby is the Valdés Peninsula, where a unique animal world has formed. The beaches of Valdés are the paradise for large numbers of sea lions and sea elephants who, as soon as the summer arrives, bring their youngsters into the world. Because they are no longer hunted on these animals they are easy to photograph. They are joined by penguins, flamingos and many seabirds including the king cormorant.
Less welcome guests, at least for the seals, are schools of orcas that skim the coasts to inattentive young sea lions. Many species of whales occur on the open sea, not far from the coast. Particularly between August and early December, the Australian whale, or Zuidkapers , occurs here . These couples off the coast and bring here boys world. According to experts, this is one of the best places in the world to see these impressive marine animals up close.
Esquel and Bariloche
Day 7 Puerto Madryn - Esquel
Day 8 Esquel - Los Alerces - Nahuel Huapi NP - Bariloche
Day 9 Bariloche
Day 10 Bariloche
We travel with our own bus to Esquel and Bariloche. On the way we visit the national park Los Alerces. The park is known for its trees, the imposing Patagonian cypresses, one of the longest living tree species in the world. There are alerces here that are 3000 years old. Short walks can be made in the park with a view of beautiful lakes.
Bariloche Argentina DjoserIn Nahuel Huapi, high peaks adjoin lakes and dry steppes. Bariloche is located on the Nahuel Huapi Lake. This place, loved by Argentineans, is popular in both summer and winter. With its typical alpine architecture you get the feeling that you have ended up in Switzerland. The many types of chocolate in the store windows, from neighboring chocolate factories, reinforce that feeling. And on the Plaza Independencia you can even have a chocolate Saint Bernard dog !
The next day you can participate in an optional boat trip on Lake Nahuel Huapi. Nahuel Huapi is characterized by a wide variety of landscapes. High peaks adjoin lakes, waterfalls, dry steppes and cypress forests, which yields an interesting mixture of flora and fauna. Many volcanoes are located in the region bordering Chile. One of these giants that decorates the landscape and is visible in good weather is the mighty volcano Tronador. In the afternoon you return to Bariloche.
You may find the environment more interesting. Beautiful views of the lake and the surrounding mountains you have from the Avenida 12 de Octobre. Bariloche is also a good starting point for beautiful walks in the area. The ski lift to Cerro Cathedral offers spectacular views over the surrounding mountain area. In winter, this place is the ski resort of Argentina, where you can sit behind the cheese fondue in Tyrolean mountain huts.
El Chaltén & Fitzroy Massif
Day 11 Bariloche - flight to Calafate - bus to El Chaltén
Day 12 El Chaltén
The next day the plane takes us to Calafate, then we travel by bus to the village El Chaltén, 220 km away. The road leads through endless steppes and on the way we have a chance to see ñandu's, the Argentinian version of the ostrich.
From El Chaltén, at the foot of the impressive granite Fitzroy Massif, spicy or less strenuous hikes in the area are possible that offer good views of the Fitzroy Mountains and the surrounding area. For a number of walks you have to take a full day out. Other walks are easier and can be done in half a day. Loose stones make some paths difficult to pass. Just outside the village, a path takes you to the lookout point on the imposing Cerro Torre.
From here you have a beautiful view of the granite peak of the Cerro Torre. Another trip takes you through the beautiful valley of the Chorillo del Salto to the green Laguna de los Tres. During this walk you have beautiful views of the different peaks of the Fitzroy massif. After such a long day in the fresh air, it is wonderfully tired and happy to fall asleep.
Calafate & Perito Moreno
Day 13 El Chaltén - Calafate
Day 14 Calafate, visit Perito-Moreno Glacier
Day 15 Calafate, Torres del Paine NP
Arriving in Calaf Perito Argentina Djoserate you can visit the national park Los Glaciares. Already in 1937 the government declared this area a national park and Unesco found it in 1981 a place on the list of world heritage. This park contains the largest and most impressive glaciers in the country. The no less than 50 glaciers within the park boundaries form part of the largest compact ice mass on the mainland; El Campo Hielo Sur. The ice mass covers Argentine and Chilean Patagonia and is the largest ice field in the world except for Antarctica.
The most spectacular is the world famous 'Perito Moreno', an ice river five kilometers wide and about 60 to 70 meters high that flows into the Argentino lake. The glacier is one of the few glaciers in the world that remains stable. The heavy snowfall at high altitudes causes the glacier to slowly move forward. The ice walls, however, are not resistant to the increasing weight and regularly break off meters high pieces of ice. A spectacular sight!
At a safe distance you can observe the ice mass from different hiking trails and viewpoints. Torres del Paine Day 15 Calafate, Torres del Paine NP Day 16 Torres del Paine NP Day 17 Torres del Paine - Calafate We travel by bus to the national park Torres del Paine
. This is the most famous park in Chilean Patagonia and has been described by UNESCO as the most beautiful park in the world due to its enormous variety of plants and animal species. The glaciers, icebergs, waterfalls, turquoise-colored lakes, swirling rivers and many high rising snowy peaks from which the park derives its name, make this a unique hiking and trekking paradise. At Lago Gray it is possible to take a leisurely walk to the viewpoint Ferrier or to book a boat trip to the Gray glacier.
We stay on the edge of the National Park where we have a beautiful and complete view over the entire massif. There are simpler and certainly spicy walks in the park to undertake. The trails in the park are well marked so you can easily find your way. Along the way you have beautiful views of beautifully colored lakes, surrounded by primeval forests and broad glaciers and you share the landscape with ñandus, Patagonian hares, foxes, the rare puma, the guanacos belonging to the lama family and various bird species, including the impressive condor.
Ushuaia
Day 18 Calafate - flight to Ushuaia
Day 19 Ushuaia, visit Tierra del Fuego
A domestic flight takes us to the southernmost city in the world, Ushuaia. This windy city on the Beagle Channel, surrounded by mountains with snowy peaks and a glacier, is reminiscent of Scandinavia. In the center, a sign reminds you that you are about 3200 kilometers away from Buenos Aires. In the summer months many large cruise ships moor here, including on their way to Antarctica.
Ushuaia Chile DjoserFor a good view you walk up through the ascending streets on the outskirts of the city. The friendly, colored houses make a lovely impression. Nevertheless, from 1884 Ushuaia was an exile for criminals and until the middle of the twentieth century the prisoners were serving their sentences in miserable circumstances. The notorious prison Presidio de Ushuaia is now open to the public and certainly worth a visit. Also interesting is the museum Fin del Mundo, where you get a good picture of the history of Ushuaia and the former inhabitants, the Yamana and Onasindians.
The Portuguese explorer Magelhãessailed in 1520, was searching for a passage to India, through the narrow strait between Tierra del Fuego and the mainland and called the area 'Tierra de los Fuegos', after the many fires that the Indians fired here. For us, Ushuaia is the ideal starting point to explore the rugged nature of Tierra del Fuego in the Tierra del Fuego National Park.
We take the bus to the park, where different walks can be made with beautiful views over the Beagle Channel where large colonies of seabirds breed. It is also possible to take a boat trip on the canal and view the sea lion colony on the island of Isla de Los Lobos.
Buenos Aires
Day 20 Ushuaia - flight to Buenos Aires
Day 21 Buenos Aires
Day 22 Buenos Aires - 
From Ushuaia we fly back to Buenos Aires. A visit to the Plaza de Mayo, known from the foolish mothers, should not be missing on your list. On the east side is the salmon-colored federal government palace. From a balcony of this Casa Rosada, Eva Perón, the madonna of Argentina, addressed the population. Every two hours the changing of the guard takes place here. In addition, the Plaza del Congreso is also well worth the effort; a huge square with colossal statues and squirting fountains. On the cemetery Recoleta we find the grave of the legendary Evita Perrón. In the port district of La Boca, especially the fur-painted houses and El Caminito provide beautiful pictures. After strolling, it is pleasant to relax in one of the older grand cafés with their richly crafted interiors.
Dates and prices
Departure dates 2021
| Land Begins | Land Ends | Price | Availability | |
| --- | --- | --- | --- | --- |
| Dec-10-21 | Jan-01-22 | $4,195 | 18 seats | book now > |
| Dec-17-21 | Jan-08-22 | $4,260 | 18 seats | book now > |
Departure dates 2022
| Land Begins | Land Ends | Price | Availability | |
| --- | --- | --- | --- | --- |
| Jan-07-22 | Jan-29-22 | $4,195 | 20 seats | book now > |
| Jan-21-22 | Feb-12-22 | $4,195 | 17 seats | book now > |
| Feb-04-22 | Feb-26-22 | $4,065 | 20 seats | book now > |
| Feb-11-22 | Mar-05-22 | $3,935 | 20 seats | book now > |
| Feb-18-22 | Mar-12-22 | $4,065 | 20 seats | book now > |
| Oct-07-22 | Oct-29-22 | $4,035 | 19 seats | book now > |
| Oct-10-22 | Nov-01-22 | $4,065 | 19 seats | book now > |
| Oct-28-22 | Nov-19-22 | $4,065 | 20 seats | book now > |
| Nov-11-22 | Dec-03-22 | $4,130 | 16 seats | book now > |
| Nov-18-22 | Dec-10-22 | $4,065 | 20 seats | book now > |
| Dec-09-22 | Dec-31-22 | $4,065 | 20 seats | book now > |
| Dec-16-22 | Jan-07-23 | $4,065 | 20 seats | book now > |
Departure dates 2023
| Land Begins | Land Ends | Price | Availability | |
| --- | --- | --- | --- | --- |
| Jan-06-23 | Jan-28-23 | $4,065 | 20 seats | book now > |
| Jan-27-23 | Feb-18-23 | $4,065 | 20 seats | book now > |
| Feb-03-23 | Feb-25-23 | $4,035 | 20 seats | book now > |
| Feb-24-23 | Mar-18-23 | $3,935 | 20 seats | book now > |
Conditions "Guaranteed leave"
Price includes
Land Package
Three domestic flights
Guide assisted - Speaks Dutch & English
Transport by bus
Hotel stays with breakfast (except in Torres del Paine)
Excursion Los Alerces National Park
Excursion Perito Moreno glacier with English speaking guide
Excursion and stay in the National Park Torres del Paine
Excursion Tierra del Fuego National Park with English speaking guide
Breakfasts
Price excludes
International flights 
International flights
Airport transfers
Lunches & Dinners
Tips
Personal expenses
Optional excursions & entry fees
Visas 
Cost Overview
 $630   Single Supplement
$630 Single Supplement
$480 Out of pocket weekly expenses - estimate
$50 Tip Pot

HOTEL EXTENSION NIGHTS
Buenos Aires
$150.00 - Double Room
$130.00 - Single Room
Practical information
Accommodations & Meals
During this trip we spend the night in tourist class hotels in rooms with private shower and toilet. In Buenos Aires we stay in the traditional Castelar hotel. In Bariloche and Calafate we stay in centrally located accommodation where we immediately walk into the shopping streets where you can find a wide choice of cozy restaurants and cafes. During the stay at the Torres del Paine National Park we spend the night in spacious 'cabañas', cottages that each consist of two bedrooms with two separate beds, a seating area and a kitchenette. Sanitary facilities are shared with up to 4 travel companions, as are the rooms for single travelers. Breakfast is exclusive here. The location of this accommodation on the edge of the national park is beautiful with beautiful panoramic views of the three 'towers' of Torres del Paine.
Typical hotels - subject to change
Buenos Aires Hotel Castelar
Puerto Madryn Hotel Costanera
Bariloche Hotel Crystal
El Chaltén Posada el Barranco
Ushuaia Hotel Tierra del Fuego
Torres del Paine Lago Tyndall Hosteria
Single Travelers
For a reasonable, additional charge, you may request a single room, subject to availability. Otherwise, you will be matched with another single traveler of the same sex. If we are unable to match you, there will be not additional single charge.
Extension Hotel NIght
If you wish to book an extra night on arrival, please alert us, on your booking form. Its great to start a trip fully rested after a long flight.
Flights & Transportation
We provide the land portion only (which does include internal flights within the program). You will need to book your own flights.  You will need to take a taxi to meet the group and tour leader at the first hotel. 
You should plan your flight to  arrive at the same time or prior to the arrival of the Dutch participants so you are present for the first group meeting and activity.
Before you book your flights, check with us to make sure the trip is a go (usually with 10 participants). Also, we will send you a confirmation of the itinerary and the flight schedule for the participants who will be arriving from Amsterdam.  
This trip begins in Buenos Aires early in the A.M.
The trip ends upon hotel check out the final day.
As the trip begins early in the A.M. we recommend that you book an extension hotel room for the prior night. 

For land transport, we mainly use comfortable buses. The quality of the buses is comparable to that of European buses. We travel the route from Buenos Aires to Puerto Madryn with a comfortable night bus. The seats are comparable to first class airplane seats. From Puerto Madryn, via Esquel to Bariloche we have our own bus so that we can stop where necessary. The route from El Calafate to El Chalten and to Torres del Paine are covered with an international group.
Excursions
On a daily basis, the guide will organize activities. You are free to join or you may explore on your own, when you are in the mood. Entry fees are additional, so you can choose those things you wish to do. 
During this trip through Argentina and Chile the following excursions are included:
Exploratory city walk through Buenos Aires
Excursion to Los Alerces National Park, known for the thousand year old trees.
Excursion to the impressive Perito Moreno glacier in the National Park Los Glaciares
Excursion to Torres del Paine NP with walks
From Ushuaia an excursion to the Tierra del Fuego NP
In addition, there are the following optional excursion options:
From Puerto Madryn an excursion to the penguins Punta Tombo
Day trip to the impressive Península Valdés
Excursion to Cerro Catedral for fantastic views over the lake area around Bariloche
Boat trip about Nahuel Huapi
Ice stretching on a glacier
Horse ride in Torres del Paine or in the Tierra del Fuego national park
Boat trip across the Beagle Channel at the end of the world
Excursion to one of the traditional Estancias on Tierra del Fuego
Photos & video
Book Trip/Trip Inquiry
Are you ready to book a trip?

* Submit this form to begin your reservation process.  Confirm that names exactly as they appear on a current passports.  If names on your international, domestic flights or visas (if applicable) do not match your name as it appears on your passport, some countries will deny you entry.
TIP:  Also verify your name on your flight records, within 24 hours after reserving to avoid change or cancellation penalties.   
* Pay by personal check:
* Refer to the Prices & Dates page for an overview of your total costs & deposit 
* Download the Booking Form with Terms and Conditions
* Mail form with signatures for all participants 18 and over to: 
Djoser, Inc. 420 N. Oakland Drive, #6  Pasadena CA 91101   Attn: Lucette Neal 
Scan or photograph form and send to lukedjoser@gmail.com  (Bookings) 
Questions?  Call Lucette Neal - 484-995-2964