Africa 8-Country Safari: South Africa, Namibia, Botswana, Zimbabwe, Zambia, Malawi, Tanzania & Kenya, 45 days
Discover the fascinating nature and warm people in several African countries located between Cape Town and Nairobi. Tour Table Mountain in South Africa, the great Fish River Canyon in Namibia, the sand dunes at Sossusvlei and Etosha, to Botswana with the unique Okavango Delta and Chobe National Park. Gaze at the mighty Victoria Falls on the border of Zambia and Zimbabwe. Visit the lively bars in Lilongwe where hips are swinging.  Further along we visit the beautiful Lake Malawi and travel towards the vast savanna of the Serengeti National Park and Ngorongoro Crater in Tanzania. Relax on the beaches of Zanzibar or discover the beautiful underwater coral reefs.  Join international groups  with participants from Australia , Netherlands, Belgium, North America, etc).  Some trip begin in Cape Town and others in Nairobi.  
Itinerary
Cape Town
Cape Town
Cape Town , Visit township - Cederbert
Cederberg- Orange River (Gariep)
Orange River, Canoe Trip - Fish River Canyon
Fish River Canyon - Sesriem
Sesriem - Dune 45 - Soussusvlei
Sesriem - Solitaire - Swakopmund
Swakopmund
Swakopmund - Spitzkoppe- Brandberg
Brandberg - Etosha National Park
Etosha National Park
Etosha National Park
Etosha National Park- Windhoek
Windhoek - Ghanzi
Ghanzi - Maun (Botswana)
Maun - excursion Okavango Delta
Okavango Delta - Maun
Maun - Nata
Nata - Chobe National Park
Chobe National Park
Chobe National Park - Victoria Falls (Zimbabwe)
Victoria Falls
Victoria Falls
Victoria Falls - Chobe National Park
Chobe NP - LIvingstone (Zambia)
LIvingstone - East Zambia
East Zambia - South Luangwa National Park
South Luangwa National Park - Chipata
Chipata - Nalawi Lake (Malawi)
Malawi Lake
Malawi Lake (north)
Malawi - Iringa (Tanzania)
Iringa - Dar es Salaam
Dar es Salaam - ferry to Zanzibar (Stonetown)
Zanzibar (beach)
Zanzibar (beach)
Zanzibar -ferry to Dar es Salaam
Dar es Salaam - Pangani
Pangani - Arusha
Arusha - Karatu
Karatu / Ngorongoro Crater - Serengeti National Park
Serengeti NP - Arusha
Arusha - Nairobi (Kenya)
Nairobi (Kenya)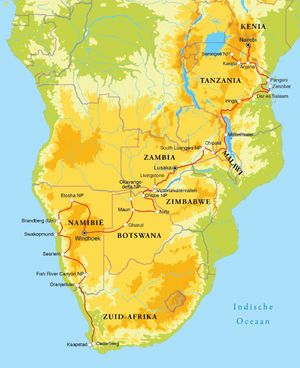 Day by day
From Cape Town to Nairobi
Cape Town
Day 1 Cape Town
Day 2 Cape Town
You will meet Djoser participants who will be arriving from Amsterdam, atour first hotel. The next day you can explore Cape Town on your own. In the city you will find numerous historical places. The Grand Parade, the parade ground of the Dutch in the 17th century, is now a cozy square with market stalls where snacks from the Cape Malay cuisine are offered. Nearby are the Company Gardens and Castle de Goede Hoop, relics from the Dutch period.
In the harbor you will find a variety of restaurants, jazz cafés and other entertainment venues, mostly located in the colorful, restored Victorian houses. From the old harbor, which bears the name Victoria & Alfred Waterfront, the boat sails to the Robben Island , where Mandela was imprisoned for so many years.    The famous Tafelberg and lesser known Duivelspiek and Leeuwekop clearly determine the view of Cape Town. From every point you can see the immensely steep rising mountains of Table Mountain. In the afternoon there is a meeting and briefing with the crew in the hotel. Here you can will meet your other international travel companions who will be joining. 

Cederberg
Day 3 Cape Town, visit township - Cederberg
Day 4 Cederberg - Orange River
In the morning we visit a township on the outskirts of Cape Town. Here we are introduced to the living conditions of the less fortunate black South African population. After our visit we travel north to the surroundings of Cederberg in our safari truck . We pass the Piekeniers Gorge Pass. This area enjoys national fame as an exceptionally beautiful walking area. The region is known as the granary of South Africa. We set up the tents for the first time. If you are not used to camping, the driver or courier will provide assistance and give instructions. We organize a small wine tasting at night to get acquainted with the wines produced in this region.
The next day we drive towards the Orange River, which is now called the Gariep RIver .The landscape gets drier and driver.  On the way we pass through small sleepy towns. We stop at the mining town of Springbok to stock up on supplies. The landscape is getting greener again when we come close to the Orange River, which forms the border between South Africa and Namibia. The banks are used for the cultivation of all kinds of crops, including cotton. Once we have arrived in Orange River we set up our tents again. In the evening you can relax in the bar overlooking the river.
Fish River Canyon
Day 5 Orange River - canoe trip - Fish River Canyon (Namibia)
Day 6 Fish River Canyon - Sesriem
Day 7 Sesriem - Dune 45 - Sossusvlei
In the morning we make a canoe trip on the Gariep River. You see many birds in this beautiful area. After lunch we pass the border with Namibia. Our destination today is to visit the second largest canyon in the world, the Fish River Canyon . The Fish River has carved an impressive 27 km wide gap for thousands of years. The canyon itself is 160 km long.
In the national park of the same name we camp in a shady spot north of the canyon, where we explore the area in the afternoon. If you pay attention you can already see the first scarce game as klipspringers and gazelles. Dive into the pool afterwards to rinse off the dust.
The next day we travel north and store our tents in Sesriem on the edge of itNamib-Naukluft Park .
Namibia sand dune DjoserThe next morning we drive to the Sossusvlei shortly after sunrise . From Dune 45 you have a magnificent view of the world's highest sand dunes. The view of the unreal moonscape is overwhelming when the sand glows at your feet  in the red light, early in the morning. The effort to climb the 200-meter high dunes is worth the trouble. After breakfast it is a short drive to the parking lot. Here we leave the truck and drive through the loose sand with off-road vehicles to a place from where you can hike in  Sossusvlei and Deadvlei .
Swakopmund & Spitzkoppe
Day 8 Sesriem - Solitaire - Swakopmund
Day 9 Swakopmund
Day 10 Swakopmund - Spitzkoppe - Brandberg

After a stop in Solitaire we drive through the rugged nature of the Namib-Naukluftpark to the Swakopmund on the Namibian coast. Although this city is regarded by the white inhabitants of Namibia as a seaside resort, the sea water here is usually icy cold. Walking along the wide Arnold Shad Promenade you are more likely to see sea lions than swimmers. We stay two nights at the edge of the city in a 'container hotel'.
Swakopmund is a bizarre relic from the German colonial period. German street names, German beer stalls and especially many inhabitants of German origin give this place a special atmosphere. In the center you can admire some colonial buildings, of which the former train station is definitely recommended. In the evening you can not only eat a lot of wild food in some restaurants, the 'bratwurst' is often not on the menu.
The next days you have the time to explore Swakopmund further or to participate in (optional) activities such as 'quad biking' through the sand dunes, 'skydiving' or the spectacular 'sand-boarding'. A visit to a township or a boat trip at sea is also possible.
A straight straight road then takes us to Swakopmund. Just to the north of the city, salt is extracted and until then we encounter some traffic. Then we leave the civilization behind us and drive along one of Africa's most inhospitable coasts: the Skeleton Coast . This 40 km wide coastal strip forms a buffer between the sea and the neighboring Kaokoland and Damara. The landscape is completely empty here and the only landmarks are the distance poles on which the number of 'miles' from Swakopmund is located. In this coastal strip there are gravel and sand plains where no more than 3 cm of rain falls every year. The scarce flora and fauna have adapted to this dry environment and take their moisture from the morning mist, which regularly migrates inland from here.
We stop at the wreckage of the fishing ship Zelda, which ran to the ground just south of Henties Bay in 2004. We drive further inland to the highest mountain in Namibia; Spitzkoppe. In the vicinity there is a walk under the guidance of a guide to paintings by Bushmen. We spend the night at a campsite near Brandberg (Uis). Etosha National Park

Day 11 Brandberg - Etosha National Park
Day 12 Etosha NP
Day 13 Etosha NP
Day 14 Etosha NP - Windhoek
In the surroundings of Etosha we stay overnight on a camping ground (10km) outside the Anderson gate where we can see gemsboks, elks, impalas, springboks, zebras and divers. The day after it is possible to optionally participate in a 'game drive' in a jeep in the park.
The famous Etosha national park is one of the best wildlife parks in southern Africa. The name Etosha literally means 'big white spot' of dry water. This name refers to the vast, dazzling salt pan that covers a large part of the park. Only a few days a year you will find a small layer of water, where flamingos and other waterfowl come up.
However, most of the wild game are found in the neighboring grasslands and mopane bushes, where we find the herds of zebras and wildebeests. More effort is required to track down the rare black rhinoceros and the black headed impala. On day 13 we pack our things and drive with our own safari truck through the park. We look forward to wildlife and there is ample opportunity to photograph and observe wildlife. We spend the night in the north of the park on a camping site with an illuminated drinking water area. From afar you can see herds of elephants and other animals arriving to quench their thirst.
Maun, Okavango Delta
Day 15 Windhoek - Ghanzi
Day 16 Ghanzi - Maun (Botswana)
Day 17 Maun - Okavango Delta (bushcamp)
Day 18 Okavango Delta (bushcamp) - Maun
From our campsite we drive, again, looking for game, Etosha to the small Namibian capital Windhoek. In the afternoon you can look around here. The German and South African influences are visible everywhere. The Lutheran church from 1896 is a striking landmark in the center and unmistakably German. Next to it is a gaudy statue of a horseman in the typical heroic South African style. Nice shops and restaurants can be found in the main street Independence Avenue. You will also find large shopping malls here. We leave Windhoek early in the morning and travel to the desert town of Ghanzi. This place is located in the vast Kalahari desert. In this harsh environment Bushmen keep stuck to their traditional way of life. During an optional excursion you can get acquainted with their special way of life.
In Botswana, Maun is the base for our visit to the Okavango Delta. Maun itself is a fast-growing city along the Thamalakane River. Gas stations, banks, shops and exchange offices have been built at a rapid pace along the main road. We shop here in a supermarket for our stay in the delta.
The Okavango Delta is the remnant of the Okavango River that obstructed its way to the sea and was swallowed by the heat of the Kalahari desert. On that spot a unique nature reserve was created that we will explore with canoes of hollowed tree trunks. These mokoros provide us with excellent access to this maze of waterways. You do not have to trees yourself, that is what local hired fishermen do. They guide you, skillfully, through the streams covered with lilies and papyrus and point out the many hippos.
Along the way we will moor at islands to look for game such as elephants and buffalo or the shy red lechwe. The Okavango is also a true bird paradise and you certainly hear the penetrating call of the many ospreys. In the evening we reach our camp. We stay here in tents where stretchers are placed. There are simple sanitary facilities. We can enjoy the beautiful sunset here.
Chobe National Park and the Victoria waterfalls
Day 19 Maun - Nata region
Day 20 Nata region - Chobe national park
Day 21 Chobe NP
After returning to Maun we travel further to Nata. We stay overnight at Elephant Sands, a campsite located in a lush environment. You can take part in an optional 'gamewalk' or 'game drive' here. Further north we reach Kasane for a visit to Chobe National Park. Our campsite is nicely situated on the banks of the Chobe River. Here you can get acquainted with a rural village in Botswana where modern day-to-day life goes hand in hand with ancient African traditions. An optional cruise on the Chobe River is also possible.
Chobe National Park is best known for famous nature films made here on behalf of the National Geographic Society. Especially the film Eternal Enemies, which tells about the eternal battle between lions and hyenas, enjoys international fame. The park houses a huge variety of game and is known for its large elephant population. Especially in the autumn and in the winter many elephants are staying in the vicinity of the Chobe River. We move into the park with Land Rovers and look forward to wildlife. At night we are surrounded by the darkness and we listen to the sounds of the bush. We spend the night in a primitive bush camp. The next morning we get up early, break up our camp and drive back to Kasane with pleasure. Here we meet our truck and crew again.
Victoria Falls
Day 22 Chobe NP - Victoria Falls (Zimbabwe)
Day 23 Victoria Falls
 Day 24 Victoria Falls
In an hour we drive from Chobe to Zimbabwe. We cross the border here and drive to Victoria Falls. This border area is teeming with elephants, witness the many brown spots on the road. We store our tents within walking distance of the famous waterfalls.
We can observe the rising fine mist of the impressive Victoria Falls from our location in Victoria Falls on the Zambezi from afar. We store our tents on the banks of the Zambezi where warning signs with images of hippos and crocodiles point to uninvited guests.
In the afternoon you can literally follow in the footsteps of David Livingstone by taking a look at the largest waterfalls of the African continent. The noise of the falling water is deafening. Not for nothing is the waterfall locally known as Mosi-oa-Tunya: 'the smoke that thunders'.
When you want to immerse yourself in the Zambezi you can make a raft trip here, or if you find it too wild, a trip by canoe. To get a good picture of the waterfalls you can also take a flight here: the 'Flight of the Angels'. If you want to fly yourself, you can do that too: try  the world's second highest bungee jump, on the Zambezi bridge! It is also possible to visit some villages in the area under supervision. We say goodbye to participants who are leaving the trip and meet our new Kenyan crew / truck and new participants who have signed up for the second leg of this trip.
Chobe National Park & ​​South Luangwa
Day 25 Victoria Falls - Chobe National Park
Day 26 Chobe NP - Livingstone (Zambia)
Day 27 Livingstone - East Zambia
Day 28 East Zambia - South Luangwa National Park
Day 29 South Luangwa NP - Chipata
We return to Botswana. We are making new camping safaris in the spectacular Chobe national park. After our safari we cross the Zambezi by a ferry and drive to the Zambian side of the Victoria Falls in the vicinity of Livingstone. View the waterfalls from the Mosi-oa-Tunya park or take part in a sunset cruise on the Zambezi. A long drive brings us the next day just outside the city limits of the Zambian capital Lusaka. Here we fill our food supply.
The next day we leave Lusaka on the Great East Road. Along the way you can see everything. First we pass a number of busy places with fur painted bars where big trucks are parked. Further east, the area becomes sparsely populated and the landscape changes. The vast farms run by whites have made way for the African wilderness. Small farmers have mined here and there small pieces of land to grow maize.
We drive slowly over an impressive bridge that spans the mighty Luangwa River. Photography is not allowed here! We now only come across other trucks that are sometimes decorated with the mindset of drivers such as 'Born to Suffer' and 'Wheels of Africa will never die'. The villages with names like Kachalola and Minga consist of no more than some shops on the main road. Behind it are traditional huts, where women with fur-colored shawls crush maize in wooden jacks. In this remote area you get a good picture of African everyday life.
The next day we leave the asphalt road and travel on a dirt road to one of Africa's last truly untouched stretches of wilderness, the South Luangwa national park.. Here we look for elephants, lions, hippos, the exceptionally beautiful Thornicroft giraffes and various antelope species, such as the puku and the kudu. On the banks of the river you see crocodiles, hippos and beautiful colored kingfishers and with a bit of luck we even spot elephants from the campsite's restaurant or swimming pool. The landscape is dominated by vast mopane bushes, grassland and a varied vegetation in the vicinity of the Luangwa. Notice the fancifully shaped trees. Optional are night drives where we use a spotlight to look for leopards and other nocturnal animals.
Lake Malawi
Day 30 Chipata - Malawi Lake
Day 31 Malawi Lake
Day 32 Malawi Lake
The following days we spend on the shores of one of Africa's largest lakes: Lake Malawi. We camp in different places directly on the lake and in the vicinity of small villages. That way you can laze on the beach or have a chat with the friendly people. Lake Malawi is the home of some 750 different fish species, most of which belong to the special colorful family of the cichlid. Many of these fish only occur in Lake Malawi or in one of Africa's other large lakes, such as Lake Tanganyika and Lake Victoria. Whoever wants to may get acquainted with the local population can participate in a guided village walk. Here you can view a school and a clinic.
During our trip to the north we follow the banks of the lake, with beautiful views of the different bays. We pass small villages with traditional mud huts, mostly flanked by mango and papaya trees and small pieces of land on which maize and cassava is grown. Often we are called here by groups of children. South of Nkhata Bay, Kande Beach once again lures the crystal clear water and the beautiful beach. Nice trip here is a boat trip. Further north we hit our tents in the vicinity of Chitemba Beach again right on the beach. Along the Malawi Lake, mission posts were built at various locations at the end of the 19th century.
Iringa, Baobab Valley

Day 33 Malawi (Malawi) - Songwe - Iringa (Tanzania)
Day 34 Iringa - Dar es Salaam
In Karonga we finally say goodbye to the lake and cross the border with Tanzania. Today and tomorrow we have long journeys ahead. Striking is the large piece of no man's land between the borders of Malawi and Tanzania.
Just after the border the landscape becomes hilly and we get the Kipengere mountains in sight. Further north the road leads past bright green tea plantations and through small villages, where cheerful children always greet us. 'Mzungu, Mzungu!', The Swahili word for a white man, occasionally sounds loud from many throats. Just before Iringa we store our tents.
More to the east, near the Mikumi National Park, the characteristic Baobab trees immediately rise. With their age-old thick trunks and capricious branches they are waiting for it. We drive on to the coast at Dar es Salaam and store our tents on a beautifully located campsite by the sea.
Zanzibar
Day 35 Dar es Salaam - ferry to Zanzibar (Stone town)
Day 36 Zanzibar (beach)
Day 37 Zanzibar (beach)
Day 38 Zanzibar - ferry to Dar es Salaam
Today we say goodbye to our driver and we cross the ferry to Zanzibar . With some luck we might see dolphins. We moor in the harbor where you can sometimes see the traditional wooden sailing ships, called dhows, still at anchor. There is usually a lot of activity here. We spend the night in a hotel in the heart of historic Stone Town. As mysterious as the name Zanzibar in your ears may sound, so interesting is the island! The  history of Zanzibar seems like a fairy tale from the stories of A Thousand and One Nights.
The unique blend of Swahili culture and Arab influences can be seen  in the architecture of many buildings, but also in the population. Women wrapped in black, shuffle through the narrow streets of Old Stone Town. From mosques and Koran schools, you hear the Arabic sounds of spoken prayers or lessons about the life of the Prophet Muhammad. Some respect for Islamic culture is therefore appreciated by the local population. For women, shoulders and knees must be covered.
The home of David Livingstone, from where he undertook his journeys to 'the dark heart of Africa', is situated on a small bay, where neglected boats wait for maintenance. The former palace of the sultan, the Beit-el-Ajaib and the nearby Portuguese fort are near our hotel and are definitely worth a visit. In the old slave dungeons in the neighborhood of the church you will find small spaces where you can hardly stand and where the daylight of the street seems to come in little by little. The chains with which the slaves were chained, you can still see here in the concrete.
Of course you can also take a look at the spice plantations. A good way to explore the island is by participating in the spice tour (inclusive). Not only will you be told about the spices and the plantations during such a trip, you will also visit a number of historical places on the island. In the evening, you can eat in one of the many seafood restaurants that Zanzibar town has to offer or watch the sunset from the terrace of the colonial Africa House hotel.
After the stay in the Stonetown we move to the beach of Kendwa or Nungwe. Here we spend the night in beach bungalows. Here you can be lazy, swam or snorkeled. During your stay we make a trip with a dhow. In the afternoon we return to Dar es Salaam, where we are met by the truck.
Serengeti National Park & ​​Ngorongoro Crater
Day 39 Dar es Salaam - Pangani
Day 40 Pangani - Arusha
Day 41 Arusha - Karatu
Day 42 Karatu - Serengeti NP / Ngorongorokrater
Day 43 Serengeti NP - Arusha
After the relaxing days on Zanzibar we have a long day of travel ahead of Arusha. We interrupt this ride with an overnight stay in Pangani. After an overnight stay in Arusha we travel further to Karatu. This place is the base for our excursion to the Serengeti National Park and the famous Ngorongoro Crater .
The next day we exchange the truck for four-wheel drive cars and we start looking for game again. First we drive to a viewpoint on the edge of the Ngorongoro crater and then descend into it, in search of wildlife. The area of ​​the Ngorongoro Conservation Area was established in the late 1950s. It is one of Africa's most spectacular nature reserves, not only because it is one of the largest craters in the world (264 km²) but also because of the great diversity and density of wildlife.
At the bottom of the crater are all members of the so-called ' big five' (elephant, lion, rhinoceros, leopard and buffalo). There are only two roads that go down from the edge of the crater, while you drive up another road. The Ngorongoro crater also has a lot to offer for the bird lover. In the afternoon we travel to Serengeti.
The Serengeti National Park is the largest and also most famous park in Tanzania with an area of ​​14,500 km². The park has a spectacular density of wildlife. The birdwatcher can also pick up his heart in the Serengeti. The majority of the Serengeti consists of extensive open grass plains with  characteristic rock formations, called 'cups'. You will see  acacia and savannah woodland. Animals come to drink beside rivers, lakes and in the various wetlands. 
Besides the famous herds of wildebeest, zebras, gazelles and other game, the Serengeti is known for its lion population. So it is no exception if you see lions and cheetahs several times a day, including the black-maned old male specimens. The leopard is also relatively common here (around the 'cups') and can be found resting in trees during the day.
The spectacular annual migration of the wildebeests and zebras takes place in a large circle, including the Masai Mara in Kenya. In the period December-January the large herd is in the extreme south of the Serengeti. Starting in March, the animals begin to move in a northerly direction. Between May and July, most animals are in the north and west of the park. During the period August-September the herds are in the Masai Mara, after which they migrate south again from October. After a game driive we go to the campsite where we set up the tents.
The next morning we make another morning 'game drive'. That is where we return to Arusha.
Nairobi
Day 44 Arusha - Nairobi (Kenya)
Day 45 Nairobi
In the lively Arusha we are back in the civilized world. Via the border town of Namanga, the next day we finally reach the Kenyan capital where we spend the night at the edge of Nairobi in an area where chalets and permanent safari tents are present. You say goodbye to the other participants and you have another afternoon at leisure before departing for home. 
On the road with Djoser
Djoser trips typically include lots of freedom to explore independently. Due to the nature of safaris, the programs are more structured, with your safety in mind, while we are in a wildlife park. However, when we are visiting towns,, you will have opportunities for independent explorations and dining.  Please note that due to the nature of the trip and the countries unforeseen circumstances can occur and some activities may not proceed or will need to be modified. On average, groups consist of 16 participants. The maximum group size is 20 people.

You will travel with an international group, from a variety of countries (Australia, Netherlands, North Americans etc. ) There are typically more English-speaking participants on these trips compared to other languages. The guide addresses the group in English, only.

 
Dates and prices
Conditions "Guaranteed leave"
Price includes
Land Program
Transport by Safari truck 
Ferry crossing from / to Zanzibar
English speaking driver / tour guide
Services traveling camp courier / cook
Camping and hotel / hostel stays
Use camping equipment
All meals during camping safari (day 3 up to and including 7 & day 10 up to and including 21, 25 up to and including 34 and day 39 up to and including 42)
Breakfast during stay in Swakopmund, Victoria Falls, Zanzibar and Cape Town
Entrance fees national parks
Excursion in Ngorongoro crater by jeep
Wine tasting Cederberg
Canoe trip on the Orange River
2 x mobile camping safari per jeep in Chobe national park
Spice tour on Zanzibar
Dhow tour on Zanzibar
Entrance fees national parks and meals during camping nights worth $750

 
Price excludes
International flights
Airport transfers
Travel insurance,
other meals
entrance fees,
optional excursions,
gratuities,
personal expenses,
Cost Overview
 Payment Schedule 
Deposit is due upon booking to hold your place
25% of total costs due (or $500 minimum) 
Payments by charge card or check accepted
Balance is due 60 days prior to departure date.
USEFUL WEBSITES
Weather:   http://worldweather.wmo.int/en/home.html
Consulate List:   http://www.state.gov/misc/list/index.htm
Passport/Visa Expeditor:   TRAVISA   http://www.travisa.com/
Travel Insurance Quote:  TRAVELEX 1-800-228-9792  http://www.travelexinsurance.com/quote/?nc=1  
Currency Conversion Cheat Sheet : http://www.oanda.com/currency/travel-exchange-rates
Practical information
Accommodations & Meals
On the journey from Cape Town to Nairobi we stay in spacious, easy to set up dome tents, with  mosquito netting. All camping equipment is provided (including sleeping mats), except your (warm) sleeping bag. The facilities at the camp sites in South Africa, Namibia and Botswana are good. Here you will find clean bathhouse buildings, camp stores and can sometimes take a refreshing dip in the pool or have a drink at the bar.

In Zambia, Malawi and Tanzania the facilities at the campgrounds are simpler, but there are always toilets and showers . In the Okavango Delta we make a bush camp. A toilet is an enclosed pitlatrine here. In Cape Town and Nairobi, we stay in a (simple) hotel. In the often airy Swakopmund we stay in a dormitory in a hostel.  In Zanzibar your hotel is in the heart of the historic Stone Town. All other nights during the trip are spent in  a tent. Single travelers will be matched with other single travelers of the  same sex.

Single room
Single travelers are matched with  single travelers of the same sex. If you prefer to have a single tent/rooms, there will be an additional charge (see price overvew)   In Swakopmund a private room is not possible.
Hotel Extension
Extension for accommodation in Cape Town can be booked. In Cape Town you will stay before or after your trip (if you make the journey in reverse) at a location in the historic heart of the city property. The famous Greenmarket Square, the Company Gardens and Cape Town Castle are within walking distance. The price is from $60  - based on accommodation in a double room per person per night. The price for a single room is $85 - per night.
Meals

All meals during camping nights are included. Excluded are lunch and dinner during the stay in Victoria Falls. While camping the Camp courier os responsible for the shopping and provides guidance in the preparation of meals. Each participant pitches in to help several times during the safari and should to make an active contribution to the cooking and washing up. The meals we prepare tailored to western tastes. During the nights in hotels (Cape Town, Nairobi and Zanzibar) and during the nights in backpackers lodge in Swakopmund breakfast is included. In Victoria Falls are lunch and dinner are at your own expense, but breakfast included. This has the advantage that you are free determine where and with whom you will eat .

The basic dish of the countries through which we travel is maize porridge. In southern Africa this is called sadza, in Zambia and Malawi is known nshima and in Kenya and Tanzania is called ugali. It is usually eaten with beef or goat meat or in a sauce, called relish. It tastes best when you eat it with your hands. A local specialty in Namibia is Mahango, a kind of millet which they make porridge.
In some better restaurants in these countries, you can get Western-style dishes. French fries, pastas, steaks and other meats are available. In the larger cities you will find take-out restaurants. The most famous local snack in southern Africa biltong. This salted, dried meat of beef or game is usually eaten as an appetizer, but also as a snack in between your worst hunger appetite.


 
Flights & Transportation
Djoser, Inc (North America) offers the land only program.  Should you need assistance with your flight we will give you needed details and can provide you with a name of someone who can help you to arrange your tickets.   


Participants arriving from the Netherlands will have the following flights schedule operated by KLM and its partner Kenya Airways.

Dutch participants will arrive Capetown -  21:35  (KLM from Amsterdam)
Dutch participants depart Nairobi  08:15 (AM) 

You should arrange your flights to arrive at the same time or before the Dutch participants so that you will not miss any of the program.  Transfers from/to the airport are not provided for land program participants.  
 
The roads in South Africa, Botswana and Namibia are usually of good quality and partly paved. However, some stretches of road are unpaved, especially in the wildlife parks and in western Namibia you will find no paved roads.  The roads in Zambia, Malawi and southern Tanzania are poor.
In big cities like Cape
Town, Swakopmund and Nairobi there is no transport available to us; it is also more fun as you share in their own time and explore this city on foot from the centrally located hotel or you can take a (cheap) taxi.
We travel with a safari truck equipped with comfortable chairs and sliding glass windows. We have full access to these vehicles, so we can stop wherever we like anywhere. The game drives which are included in the fare (Etosha NP) are made with our own truck. In Chobe National Park, Serengeti and Ngorongoro Crater, we use jeeps during the game drives.
Money Matters
Travel documents
•    Passport valid for at least six months from the day of visa issuance of  Tanzania visa
•    For children under 18, need an original birth certificate.
Visas for U.S. citizens. 
Kenya         Yes - Arrange in advance
Malawi        Yes - Arrange in advance
Nambia  -     No visa needed
Botswana -   No visa needed 
South Africa  No visa needed 
Tanzania      Yes - Arrange in advance
ZImbabwe   Yes - Obtain upon arrival 
Zambia       Yes - obtain upon arrival 
Zimbabwe (2016 consulate instructions) You need a passport, visa, return ticket, and adequate funds to enter Zimbabwe. If you are traveling to Zimbabwe for tourism, business, or transit, you usually can obtain a visa at the airports or other border ports-of-entry, or in advance by contacting the Embassy of Zimbabwe at 1608 New Hampshire Ave. NW, Washington, D.C. 20009; telephone (202) 332-7100.
U.S. citizens entering Zimbabwe for tourism only can expect to pay 30 USD for a single-entry, 30-day duration of stay permit upon entering the country. A 60-day multiple entry permit is also available for 60 USD. Extensions are possible, and require visiting the Zimbabwe Immigration Office's public window, located at the second floor of Liquenda House at Nelson Mandela Avenue/First Street in the center of Harare. U.S. citizens are strongly urged to adhere to Zimbabwean immigration laws as even minor overstay cans lead to arrest, prosecution, detention, fines, seizure of possessions, and deportation. Allow for sufficient time for an extension review, as staying past the permitted length of stay has resulted in imprisonment for foreign nationals.
Zambia (2016 consulate instructions) A passport and visa are required to enter Zambia. The passport must be valid for at least six months after the intended date of departure from Zambia and have at least two blank pages. A single-entry visa may be obtained at a port of entry for $50 and is valid for only ninety days. For a three-year multiple entry visa, travelers must apply in advance at a Zambian Embassy or consulate. The three-year multiple-entry visa fee is $80. Tourists visiting for the day from a neighboring country (such as those visiting Victoria Falls from Zimbabwe) can obtain a $20 day-trip visa at the border. Tour organizers may arrange multiple-entry visas in advance for their clients. Bring exact change whenever practical as change may not be available. Travelers have the right to request a receipt and can report any concerns to Zambia Immigration Headquarters in Lusaka (near the Intercontinental Hotel).
According to the World Health Organization (WHO), Zambia is at "low risk" for yellow fever. The risk areas are primarily along the border with the Democratic Republic of the Congo (DRC). To date, there have been no reported cases of yellow fever in Zambia. For travelers transiting South Africa on their way to and from Zambia, the South African government requires proof of yellow fever vaccination at least 14 days prior to arrival in South Africa if you have been in a yellow fever country. There has been a recent change in the documentary requirements for traveling with children to/from and through South Africa. For complete entry/exit requirements for South Africa, please see our Country Specific Information for South Africa. See the Medical Facilities and Health Information section below for more information on vaccines.
The U.S. Department of State is unaware of any HIV/AIDS entry restrictions for visitors to or foreign residents of Zambia.

•    For children under 18 years of a birth certificate for South Africa is required.
.
Money matters
South Africa, the South African Rand
Namibian dollar 
The Botswana pula
Zambia  and in Malawi - kwacha
Tanzania shilling 
Kenya  shillings 
For the current prices look at oanda.com.
ATMS: possible in the major cities of South Africa, Namibia, Zambia, Malawi, Tanzania and Kenya. 

Cash accepted:  US dollars and / or euros. Newer, undamaged bills.
Credit cards: use at some banks for cash withdrawal.

As a guideline for costs not included in the fare, such as other meals, entrance fees, optional excursions and personal expenses budget  at least $200 per person per week. We strongly recommend you wear a money belt that you can wear under your clothes.

It is customary to tip for services from drivers, guides, camp courier etc. The directive for this trip, an amount of $100 -.  It is helpful to keep some local currency to join take so you do not pin directly on arrival.
 
Excursions
One participant may choose to stroll the streets of Cape Town, while the other rents a quad bike to explore the sand dunes near Swakopmund. In most cases you can do these things on your own or with peers, with or without the help of our tour guide, on foot or by local transport. These optional entrance fees are not included in the price, so you have the freedom make your own plans. Some attractions are not to be missed, and are difficult to reach or are en route to our next overnight. Such excursions and transportation are written into the program but entry fees not included.
During this 45-day trip from Cape Town to Nairobi, the following excursions and entrance fees are included in the itinerary:
Visit to Township in the Cape Town area
Wine tasting in Cederberg
Canoe trip on the Orange River
Visit viewpoint at the spectacular Fish River Canyon
Visit Namib Naukluft, stop Dune 45
Transport by 4x4 from the parking lot to Sossusvlei & Deadvlei
Game drive with our own truck in Etosha national park on day 13
Excursion in Okavango Delta
2 x mobile camping safari with 4x4's in Chobe national park
Game drive with off-road vehicles in South Luangwa national park
Game drive in Serengeti national park
Spice tour during stay Zanzibar
Boat trip by dhow during stay Zanzibar
Excursion in Ngorongoro crater by 4x4
 
Travel Documents
•    Visa for Kenya, Tanzania , Malawi. This visa must be arranged in advance.
•    Zimbabwe and Zambia can be obtained on arrival.  
•    For children under 18 years of a birth certificate for South Africa is required.
•    Passport valid for at least six months from the day of visa issuance of  Tanzania visa
•    For children under 18, need an original birth certificate.
Health Issues & Insurance
For these trips are recommended:
•    vaccinations against DTP, typhoid, and hepatitis A.
•    Yellow fever (proof required)
•    malaria tablets

It is wise to somewhat watch what you eat. We also recommend that you bring a small medical kit including aspirin and anti-intestinal disorders.
 
Group Composition
You will travel in an international group with travelers from all over (Australia, Netherlands, North America). They typical majority of participants on these trips are English speaking.
Tour Leaders & Support Staff
The trip is led by an experienced English speaking driver / guide, who is assisted by a courier camp. The maximum group size for these trips is 26 persons.
Climate & Geography
Throughout the year you can fine traveling through southern Africa. In South Africa, Namibia, Botswana seasons are opposite to ours  because these countries are located in the southern hemisphere. July is the coldest month, January to the warmest. In general, the dry winters with average temperatures that fluctuate between 59-68 °. In the morning and evening, however, it may cool down considerably. In the summer the average temperature is about ten degrees higher. In Botswana the rainy season in the period between November and March. In South Africa and Namibia shines in this period than just plenty of sunshine! Zambia and Malawi have a similar climate with a rainy season that runs from November to April. Rain falls in this period of short but heavy showers, after which the sun comes out again. The rest of the year, it is dry and the temperatures, in particular in Malawi, constant between 77 ° and 86 ° F. In the months of October and November the temperature here rises to 100 ° F. Due to the geographical diversity in Kenya and Tanzania, as well as fairly large climatic differences. In Nairobi, situated at 5480 feet in altitude, the average annual temperature is 63 ° F On the coast it is 79 ° F.In general, the temperature n the daytime is rarely under  79 ° F, while on some places at night can cool down to about 50 ° F.The rain falls in the "long rains" from March to May and in the "short rains" between mid-October and December. Showers usually fall in the evening and they are short and intense.


 
Photos & video
Book Trip/Trip Inquiry
                                                       BOOK MY TRIP 

•Begin your reservation process by filling in this TRIP INFO REQUEST and send to us via the website. We will confirm dates and prices, and answer any questions you may have about the trip.
•Download and complete the BOOKING FORM including all participants passport information and payment information. Email a PDF, scan, or clear photo of your completed BOOKING FORM to lukedjoser@gmail.com. All participants over 18 should sign the form.
• A deposit of 20% of total costs will be due upon booking in order to hold your place on the trip. The balance will be due 90 days prior to departure.
• Payments can be made by personal check or ACH wire transfer (domestic wire only). We will send you wire instructions.
• Upon receipt of your form, we will email you a receipt and confirmation of your booking.
• If paying by check, make check out to DJOSER, INC., Mail to Djoser, Inc. – Bookings 420 N. Oakland Drive, #6, Pasadena, CA 91101.
Questions? Call Luke Neal 484-995-2964. (West Coast)