Thailand, Malaysia & Singapore tour, 18 days
 A journey full of surprising contrasts. From busy modern cities like Kuala Lumpur and Singapore to the tranquility of the beautiful jungles of southern Thailand and Malaysia. The beautiful beaches and tropical islands of the Andaman Sea form a backdrop that is never bored. We make a jungle walk through Khao Sok National Park, visit the Big Buddha on Phuket, the tea plantations of the Cameron Highlands and the Batu Caves in Kuala Lumpur.
Join Djoser's active, international groups of all ages. Most of our participants  come from the Netherlands and Belgium.  You will find that almost all have a superb command of English. Our guide addresses the group in Dutch and English. 
Join us for a genuine cultural and nature experience!
Itinerary
Phuket
Phuket, optional boat trip to Koh Phi Phi
Phuket - Khao Sok national park
Khao Sok NP, junglewalk
Khao Sok NP
Khao Sok NP - Krabi
Krabi - Satun - boat to Langkawi
Langkawi
Langkawi - Penang
Penang
Penang - Cameron Highlands
Cameron Highlands, visit tea plantation
Cameron Highlands - Taman Negara national park
Taman Negara NP
Taman Negara NP - Kuala Lumpur
Kuala Lumpur
Kuala Lumpur - Malacca
Malacca - Singapore . (Land ends late evening)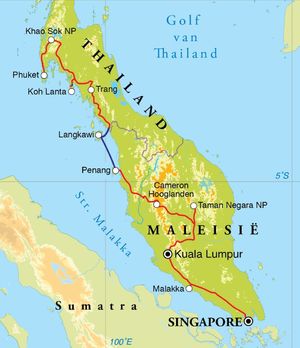 Day by day
Dates and prices
Departure dates 2021
Departure dates 2022
| Land Begins | Land Ends | Price | Availability | |
| --- | --- | --- | --- | --- |
| Feb-13-22 | Mar-05-22 | $2,885 | 20 seats | book now > |
| Apr-03-22 | Apr-23-22 | $3,245 | 20 seats | book now > |
| Jun-12-22 | Jul-02-22 | $2,885 | 20 seats | book now > |
Conditions "Guaranteed leave"
Practical information
Photos & video
Book Trip/Trip Inquiry
Are you ready to book a trip?

* Submit this form to begin your reservation process.  Confirm that names exactly as they appear on a current passports.  If names on your international, domestic flights or visas (if applicable) do not match your name as it appears on your passport, some countries will deny you entry.
TIP:  Also verify your name on your flight records, within 24 hours after reserving to avoid change or cancellation penalties.   
* Pay by personal check or credit card:  Visa, Mastercard, American Express
* Call us with your charge card information.  Your place will be reserved upon receipt of funds for required deposit.
* Refer to the Prices & Dates page for an overview of your total costs & deposit 

* Download the Booking Form with Terms and Conditions
* Fax for with signatures for all participants 18 and over to  484-595-9140 . Or scan to us at luke@djoserusa.com
* Or mail Djoser, Inc., 154 Woodgate Lane, Paoli, PA 19301 - Attn: Luke Neal