South India & Sri Lanka tour, 20 days
 This tour through South India and Sri Lanka combines two countries that are close together in cultural terms and still have their own character. The journey through the lesser-known south of India takes you past colorful cities like Mysore and Cochin and the nature of Wyanad national park. You also make a special boat trip on the backwaters. In Sri Lanka you will find beautiful royal cities and a large variety of nature on a relatively small area. Discover the Ceylon tea and look for elephants in Udawalawe.Join active travelers of all ages, with our international groups. Most will come from Holland and Belgium. You will find they have an excellent command of English. Our tour leader speaks Dutch and English. Join Djoser for a true nature and cultural adventure!
Itinerary
Bangalore
Bangalore - Mysore
Mysore, excursion to Somnathpur
Mysore - Wayanad national park
Wayanad NP
Wayanad NP - Cochin
Cochin, boat trip in the harbor
Cochin - Aleppey boat trip backwaters
Boat trip backwaters - Alleppey - Kovalam
Kovalam - Trivandrum - flight to Colombo - Negombo
Negombo - Dambulla - Habarana
Habarana, optional excursion Sigiriya and visit Polonnaruwa
Habarana - Matale - Kandy
Kandy, excursion botanical gardens of Peradeniya and Temple of the Tooth
Kandy - train to Nanuoya - Nuwara Eliya
Nuwara Elya, optional excursion Horton Plains - Udawalawe national park
Udawalawe NP - Ahangama
Ahangama
Ahangama - Galle - Colombo
Colombo
Day by day
This is a 20-day land program.  Land program below from Day 2 to Day 21 (20 days).
Bangalore
Day 1 Travel day 
Day 2 Arrival Bangalore  (Land program begins) 
Day 3 Bangalore - Mysore
We begin the land program in Bangalore, where you will meet with the tour leader and group members arriving from Europe, at our first hotel.  The tour leader will organize a Welcome meeting to introduce the group members and to give you an overview of the coming days. 
 Bangalore, also called the 'Silicon Valley' of India. It is one of the most modern cities in the country. According to tradition, the city owes its name to King Veeraballa. After being lost in the forest, he arrived tired and hungry at a hut. He asked the occupant to make a meal for him. She gave him baked beans, which he loved so much, that he called the place Benda Kalu Ooru - place of baked beans. This was renamed by the English to Bangalore.
If you want to escape the hustle and bustle of the city, visit one of the beautiful parks. You can also view different IT parks. Imagine yourself in England in Bangalore Palace, built in the style of Windsor Castle. The richly decorated Taurus Temple with its lush garden is an absolute must.
Mysore & Wyanad National Park
Day 4 Mysore, excursion to Somnathpur
Day 5 Mysore - Wayanad National Park
Day 6 Wayanad NP
Day 7 Wayanad NP - Cochin
Mysore is known for its production of silk, sandalwood and incense, as well as traditional paintings and Ashtanga -yogagoeroes. On the colorful Devaraja market you can buy these products in addition to fruit. The palace of the Maharajais the eye-catcher of the city and worth a visit. During the excursion to Somnathpur, we visit one of the most beautiful temples in India, the Keshawa temple. This shrine is decorated in great detail with beautiful statues and seems to be worn by a row of elephants.
We exchange the bustle of the city for the tranquility of the beautiful Wyanad National Park. In the area you can walk and enjoy beautiful views of green hills and waterfalls. During a jeep safari you can look for monkeys, elephants and leopards.
Cochin
Day 8 Cochin - boat trip in the harbor
Day 9 Cochin - Aleppey boat trip backwaters
Day 10 Boat trip backwaters - Aleppey - Kovalam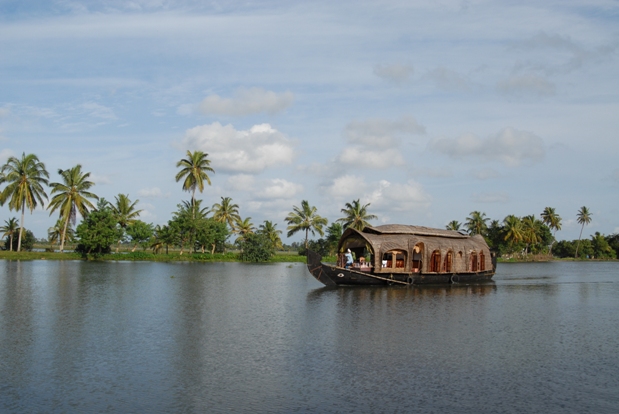 The port of Cochin consists of a peninsula and a number of islands. The old part Fort Kochi has a European character with Portuguese churches, Dutch VOC trade buildings and buildings from the time of English colonial rule. The Chinese fishing nets are a real eye-catcher. In the evening we make a boat trip through the harbor.
Kerala is known for a network of lagoons, canals and lakes. Aleppey is also called the 'Venice of the East'. During our boat trip on the inland waters - the backwaters, you can fully enjoy the beauty of the surroundings and enjoy watching daily life from our boat. The cook conjures up delicious meals  during the trip. We end our stay in India in one of the most famous seaside resorts, Kovalam. Stroll along the beach and see fishermen catching their catch of the day or enjoy a delicious fish meal in one of the restaurants.
Temples of Dambulla
Day 11 Kovalam - Trivandrum - flight to Colombo - Negombo
Day 12 Negombo - Dambulla - Habarana
Day 13 Habarana, optional excursion Sigiriya and visit Polonnaruwa
 We fly from Trivandrum to the Sri Lankan capital Colombo. From there we drive to the coastal town of Negombo in about half an hour. The next day we leave the coast and drive inland. On the way you have a first introduction to the beautiful Sri Lankan landscape. But first we visit the traditional fish market in the morning. After a nice ride we arrive in Dambulla where we have the opportunity in the afternoon to visit the most impressive rock temple in the country: the Golden Temple .
This is on the UNESCO World Heritage list and consists of a series of five caves, including the Raja-Maha-Vihara. It is the largest and best preserved temple complex in Sri Lanka and is well worth a visit! We spend the night in Habarana.
The next day you can make a trip to Sigirya where an almost impregnable fort was built on a high rock in the 4th century. The ruins of this so-called Lion Rock can be reached via a staircase along a steep cliff. Once you are above you will be rewarded with a beautiful view of the surroundings.
In the afternoon we visit Polonnaruwa. This city took over the status of capital of Anuradhapura in the 10th century. The city is located on one of the largest tanks (artificially constructed lakes) of Sri Lanka. These tanks from the 12th century are fairly shallow water reservoirs with which the monsoon rains are collected and used as irrigation storage. In the most famous place of Polonnaruwa, Gal Vihara, there are four enormous Buddha statues: one lying, two sitting and one standing. The bike is the best way to explore the area here.
Kandy
Day 14 Dambulla - Matale - Kandy
Day 15 Kandy, excursion botanical gardens of Peradeniya and Temple of the Tooth
Kandy, the second city of Sri Lanka, was the last capital of the Sinhalese kings and is nowadays the cultural and spiritual center of the country. But before we get there we make a stop in Matale where we visit a fragrant spice garden with beautiful cinnamon trees. Kandy is located around a large lake at a height of 500 meters, making it always pleasant, even in the summer, of temperature. You can make some nice walks here. In the cozy center it is a busy place of interest.
From Kandy you can easily visit the Botanical Gardens of Peradeniya. Here you can get an idea of ​​the growth and processing process of a large number of herbs. So you can see how cinnamon, cardamom, cloves and peppers grow.
In Kandy you can visit the Dalada Maligawa temple , better known as the Temple of the Tooth - because of the tooth of Buddha that is kept there - is not lacking. Twice a day the tooth is shown to the public with a lot of ceremony. In the evening you can visit a spectacular dance performance.
Tea plantations, Udawalawe National Park
Day 16 Kandy - train to Nanuoya - Nuwara Eliya
Day 17 Nuwara Eliya, optional excursion Horton Plains - Udawalawe National Park
We make a few hours of varied train travel from Kandy to Nanuoya. On the way you see the landscape change. Waterfalls, fast flowing rivers, valleys, tea plantations, station nets and villages pass you by. Upon arrival it becomes clear why Nuwara Eliya is also called 'little England'. The buildings create a typically English atmosphere, the red painted post office being the best example. It lies at a height of more than 2000 meters and that is noticeable: it is fresh in the evening, even in summer. The English had Ceylon tea grown on the Ceylon plantations and today, too, this tea is world-famous.
Horton Plains National Park to World's End is highly recommended for a morning walk.  You first walk for a while over a kind of heather, then through a forest and then to a precipice of about 700 meters. From there you have a fantastic view over the lowlands of Sri Lanka. We then descend again to Udawalawe National Park. Here we stay in comfortable two-person tents which are equipped with a bed and bathroom. From here you can make a jeep safari to spot elephants, wild boar, crocodiles, monkeys and birds. The park is home to about 500 elephants!
Ahangama
Day 18 Udawalawe NP - Ahangama
Day 19 Ahangama
Day 20 Ahangama - Galle - Colombo
Day 21 Colombo
We continue our journey to the coastal city of Ahangama. The beachfront hotel is a great base for a whale or dolphin safari. On the way to Colombo we visit the town of Galle . Here are many things that remind us of the VOC period. In the Fort district you can see the remains of the Dutch defenses alongside office buildings. Interesting is the Black Bastion, but also the Old Gate, the Groote Kerk with diagonally opposite the VOC cinnamon warehouse with a Dutch cemetery. 
The journey ends in the capital of the country, Colombo .
This city is ideal for a private exploration. In the Fort district there are various attractions from the English colonial era. There are also various shopping centers and markets. You can find nice souvenirs at the lively market in Pettah. And of course you let your senses caress the last evening through the delicious Sri Lankan cuisine with a delicious curry. Our program comes to an end in Colombo. 
Dates and prices
Conditions "Guaranteed leave"
Price includes
 Land program
Dutch travel guide (addresses group in Dutch and English)
Local English speaking guide in Sri Lanka
Transport by air-conditioned bus
Hotel nights
Overnight on a rice boat including meals
Boat trip port Cochin
Excursion Somnathpur
Excursion rock stamps of Dambulla
Excursion Sigiriya
Bike ride in Polonnaruwa
Excursion Matale Spice Garden
Spectacular train ride through the tea plantations to Nuwara Eliya
Comfortable camping stay in fully equipped tents, including dinner and breakfast near Udawalawe National Park
Price excludes
 International flights
Airport transfers
Travel insurance
Meals,
Entrance fees
Optional excursions
Tips
Personal expenses
Cost Overview
$630 - Single Supplement
Ahanghama Extension Hotel 
$130 - Double Room 
$120 . - Single Room 

$300 . Weekly out of pocket expenses, estimate (Meals, entry fees, etc.)
$50 .   Group tip pot (driver, porters etc. Does not include tour leader tip)

Payment Schedule 
20% of total charges due upon booking. Non-refundable
Balance due 60 days prior to departure.  
Practical information
Accommodations & Meals
 Our accommodations are a pleasant resting point in the busy Indian street life. We spend the night in centrally located tourist class hotels where rooms are reserved with air conditioning, shower and toilet. Often there is a good restaurant. The same applies to the hotels in Sri Lanka. These are comfortable hotels, mostly centrally located. Occasionally the hotel is a bit further from the center and you can use a taxi to get to the center.
On the 'Backwaters' we sleep a night on a lovely rice boat which has been converted into an atmospheric houseboat with 3 or 4 rooms. You share the shower and toilet with the fellow travelers.
In the Udawalawe Nature Park you spend the night in the middle of the jungle at a campsite. Officially it is camping, but it is more comfortable than in a dome on a thin rubber mat. So you sleep in a safari tent that stands on an elevated platform and is built under a thatched roof. Each tent also has a small terrace with a seat. In the tent you will find a normal bed and there is a stone bathroom with (cold water) shower and toilet. All beds have a mosquito net. We have chosen this accommodation especially because you spend the night in the middle of nature and experience Udawalawe in the best way. Breakfast and dinner are included with this accommodation.
Bangalore HHI Select Bangaluru
Mysore Siddharta Hotel
Cochin Abad Hotel
Kovalam Neelakanta Detour Hotel
Negombo Beacon Beach Hotel
Kandy Casamara Hotel
Nuwara Eliya Windsor Hotel
Udawalawe NP Athgira River Camp
Ahangama Insight Resort
Colombo Grand Oriental Hotel

Single room
Individual travelers are matched with other single travelers of the same sex.  If we are unable to match you, we will not charge you the supplement.  If you prefer a single room , please alert us on your booking form. (extra cost).   
Meals
The meals during this trip are not included in the fare. The advantage of this is that you, or a number of others, can look for a restaurant or restaurant of your choice. On board the rice boat lunch, dinner and breakfast are included and in Udawalawe National Park breakfast and dinner are included. You can get an excellent Indian and Sri Lankan meal very cheaply in our hotels and other restaurants. The tour guide can of course give tips about the best and tastiest restaurants.
Indian cuisine, with lots of different curries, is world famous and delicious. In South India you could order a so-called thali. Thali means plate in Hindi. On this you will find a large variety of dishes combined with rice and bread. A delicious cooling snack is the lassi, a yogurt drink, sometimes mixed with fruit.
The food in Sri Lanka has the main ingredient rice. A traditional Singhalese meal also consists of so-called curries. You get all small dishes with very different contents: from spicy 'pickles' to heat-soothing coconut grater. There are fish, meat and vegetarian curries. Be sure to try such an extensive meal once. The menus in the restaurants are varied so that everyone can eat what he or she wants. Sri Lanka is also known for its delicious and diverse fish dishes, varying from shrimp to shark.
NB Many hotels in India and Sri Lanka organize a special party dinner on Christmas and New Year's Eve with entertainment for hotel guests. A compulsory supplement is usually levied for this, regardless of whether or not you participate in this dinner. The amount of this allowance can be as high as € 30 per person.
Hotel extension
Extension with accommodation can be booked in Ahangama. You stay in a tourist class hotel on the beach. See our Cost Summary for costs. The prices mentioned are excluding change costs of the flight and the transfer from / to the airport.
Flights & Transportation
 
We provide the LAND PACKAGE only. You will need to book your own flights. The bulk of the group participants will arrive from Amsterdam so we ask that you organize your flights with their arrival and departure times in mind.

BOOKING YOUR ARRIVAL
You should arrive BANGALORE no later than: 9:00 AM. BANGALORE - 8:55 AM
As there is an early AM start time,, we suggest that you book an extension hotel night to arrive the day before. This way you will be well rested and ready for the day's activities and first group meeting.
BOOKING YOUR DEPARTURE FLIGHT
You should depart COLOMBO after check out. The Dutch travelers will fly out at 9:55 AM. Is you can book a flight between 10 AM to 12PM, you can hitch a ride with the group on the bus to the airport, at no additional charge.

Transport During Our Trip
We use our own bus throughout the journey. Traveling with own transport has the advantage, especially during a long travel day, that we can regularly stop in the villages and places we drive through, for example to visit a local market or other attractions. The buses have air conditioning throughout the year.
We fly the route between Trivandrum and Colombo with Emirates.
For the part between Kandy and Nuwara Eliya we travel by train;  this ride is known for the beautiful panoramic views. We travel 2nd or 3rd class, depending on availability.
The cities are best explored on foot. Of course you can also use the famous bicycle or motor rickshaw (India) or the tuktuk (Sri Lanka) for the longer distances. It is possible to rent a bicycle in some places.
Money Matters

In India there is paid with the rupee, in Sri Lanka with the Sri Lankan Rupee (LKR). Look for the current prices on oanda.com .
ATMS: is possible in almost all major cities.
Cash: euros or dollars in small denominations (India) and rupees for Sri Lanka. Newer, undamaged bills required.
Credit card: usable in different places.
Out of Pocket Expenses -
As guide amount for expenses that are not included in the fare, such as meals, entrance fees, optional excursions and personal expenses, budget about $275 per week per person.
It is customary to give tips for services rendered. In order to avoid having to always dispose of tips, a tip jar is set up at the start of the trip, from which the (joint) tips are paid to the drivers, guides, hotel staff, etc. The guideline for the tip jar for this trip is $50. This does not include a tip for your tour leader. Tipping is appreciated and the amount is up to you.

Included with the trip
Land program
Dutch guide - Addresses group in Dutch & English
Local English speaking guide in Sri Lanka
Transport by air-conditioned bus
Hotel nights
Overnight on a rice boat including meals
Boat trip port Cochin
Excursion Somnathpur
Excursion rock stamps of Dambulla
Excursion Sigiriya
Bike ride in Polonnaruwa
Excursion Matale Spice Garden
Spectacular train ride through the tea plantations to Nuwara Eliya
Comfortable camping stay in fully equipped tents, including dinner and breakfast near Udawalawe National Park
Excursions
You can not miss some places of interest, are difficult to reach or are 'en route' to our next place to stay. Such excursions are included in the program at Djoser. For all excursions included in the program, the entrance fee is exclusive.
During this trip through India and Sri Lanka, the following excursions are included in the itinerary:
From our own rowboat we explore the 'Backwaters' of South India. While sailing, you get a picture of daily life that takes place completely on and around the water. Meals are included.
Boat trip port Cochin. Watch the life of the fishermen in the port of Cochin.
Excursion Somnatphur. This temple complex is a good example of the Hoysala style and richly decorated with images of Vishnu, dancers, musicians and hunters.
Excursion rock stamps of Dambulla. This is the largest and best preserved cave temple complex in Sri Lanka.
Excursion Sigiriya. This rock rises perpendicular from the landscape.
Cycling tour Polonnaruwa. This city is ideal for exploring by bike
Train ride from Kandy to Nuwara Eliya. Enjoy a beautiful panoramic train ride with beautiful views.
During the trip, other excursions are possible that are certainly worthwhile. A Kathakali dance performance can be attended in Cochin. A beautiful walk over Horton Plains to World's End is also a must. You can spot elephants in the wild during a safari in Udawalawe national park.
Travel Documents
 
E-ticket . Take a copy with you when traveling, otherwiseaccess to the airport in Mumbai can be denied . You will receive more information about the flight about 2 weeks before departure.
Passport that is valid for at least 6 months on departure from Sri Lanka.
e-Tourist Visa India US $ 80, - (excluding transaction costs). This is an online procedure, for a SINGLE ENTRY with a validity of 30 days.
Visa for Sri Lanka: US $ 35, -
Do you need a DOUBLE-ENTRY visa, do you want to arrange for more than 30 days to India or the visa at the VFS in Amsterdam, Rotterdam or The Hague, then you can send an e-mail to info@djoser.nl for more information. .
The visa for Sri Lanka can be obtained in several ways. The simplest and most economical way to purchase the visa is via the internet. Via this website you can easily apply for your visa. The payment is by credit card. This can be arranged from 90 days before departure. You can also choose to apply for your visa through the Sri Lankan embassy. More information about applying for a visa, you will receive four weeks before departure.
Health Issues & Insurance
 
Recommended:
vaccinations against DTP, typhus and hepatitis A
malaria tablets
The hygienic conditions in both countries are significantly less than the western standard. Be careful with food, clean hands, take a medicine against intestinal disorders and saline (as ORS) against dehydration. It is also wise to pay close attention to what you eat. In the first few days, take the time to acclimatize, to get used to the temperature and the many new impressions. The tap water is not safe for drinking however mineral water is for sale in whole and half liter bottles for a small amount. We also advise you to take a small medical kit with aspirin and medicines for intestinal disorders. The tour guide is also in possession of a medical kit containing sterile medical equipment.
Consult your doctor and visit the Center for DIsease Control sight for the most up to date recommendations. www.cdc.org
Group Composition
 Minimum group size 10.  Maximum 20. 
You will be joining active travelers of all ages. If you contact us, we can give you the demographic breakdown of particular groups (age range, sex, singles).  
Most will be coming from the Netherlands and Belgium and although you will hear lots of Dutch spoken, you will find almost all have a superb command of English. Group members warm up to one another in a day or two. Extend an invite to fellow travelers for a beer or coffee is a great way to break the ice. The smaller setting makes it easier for them to brush off rusty English skills. 
The guide addresses the group in Dutch and English. These are not lecture tours and you will get all the important information. If you have trepidations about traveling with an international group, give us a call. 
Tour Leaders & Support Staff
 This trip is escorted by a Dutch guide who addresses the group in Dutch and English. These are not lecture tours. Your guide has good general knowledge of the area and will take care of the trip logistics, coordinating with the driver, hotels and vendors along the way.  Your guide will see that you get the important information. 
Climate & Geography

In South India, it is actually stable weather all year round. In particular, it is a dry heat inland that is much better tolerated than the humid heat in the Netherlands. It is often a bit more humid on the coastal strip. It is wise to go out in the morning and at the end of the afternoon and take it easy in the afternoon. In the winter (December and January) it is pleasantly warm during the day, while it can cool down in the evening and at night. Summer can be pretty hot throughout India.
The monsoon falls approximately from July to the end of August, which can not be predicted exactly.
Because Sri Lanka is close to the equator, the temperature differences between winter and summer in the lower areas are not very large. Because of the high altitude it cools down considerably in the central mountain country in the places Kandy and Nuwara Eliya in the evening, also in the summer.
During a trip, daytime temperatures can range from, for example, 51 ° F to 110 ° F in Nuwara Eliya and Colombo, respectively. Sri Lanka has two rainy seasons. In the south and west this period falls from May to September, from October to January it rains in the north and east. The rain showers are short but powerful and usually fall at the end of the day. A breath freshens the air and makes for the beautiful flora. It never rains all day, in Sri Lanka a tropical rain shower alternates quickly with bright weather. The temperature of the seawater is always pleasant, about 80 ° F.
Because of the difference in altitude, you will find many different types of plants and animals on the island of Sri Lanka. Along the coast there are tropical rainforests, in the north you can find savannas and in the central highland you can walk on heathland reminiscent of the English Moors.
Photos & video
Book Trip/Trip Inquiry
Are you ready to book a trip?

* Submit this form to begin your reservation process.  Confirm that names exactly as they appear on a current passports.  If names on your international, domestic flights or visas (if applicable) do not match your name as it appears on your passport, some countries will deny you entry.
TIP:  Also verify your name on your flight records, within 24 hours after reserving to avoid change or cancellation penalties.   
* Pay by personal check or credit card:  Visa, Mastercard, American Express
* Call us with your charge card information.  Your place will be reserved upon receipt of funds for required deposit.
* Refer to the Prices & Dates page for an overview of your total costs & deposit 

* Download the Booking Form with Terms and Conditions
* Fax for with signatures for all participants 18 and over to  484-595-9140 . Or scan to us at luke@djoserusa.com
* Or mail Djoser, Inc., 154 Woodgate Lane, Paoli, PA 19301 - Attn: Luke Neal