Iceland tour, 14 days
Iceland sits on a fault line between two tectonic crusts and close to the Arctic Circle. Thus you will find large glaciers and ice caps, while glowing lava, mud and sulphurous hot water bubble out of the ground at the same time. Iceland is a land of fire and ice, geysers, waterfalls and whales. Djoser, Inc. (the United States office) has been a Iceland tour operator for over 10 years. So together we bring vast experience.
University Short Term, Study Abroad, Faculty-Led Programs   Faculty members - use this pretested itinerary as a template for your short-term program in Iceland. This trip can be extended or shortened. We can work with you to build an outstanding program for your private group. We can add in activities which bring your area of study to life. Our quote for customized study tours will include: International flight, land program with breakfasts, selected dinners, private coach transport, local, English-speaking guide, city tours, activities and selected entry fees, tips, comfortable lodgings similar to accommodations displayed in this website, faculty members free of charge, staying in single rooms. Contact us regarding your program needs and preferences for January Term, May Term and Summer programs in Iceland.  Luke Neal luke@djoserusa.com 877-356-7376.
Itinerary
Reykjavik - Blue Lagoon - Selfoss
Selfoss - Thingvellir - Geysir - Gullfoss - Hrauneyar
Hrauneyar, Landmannalaugar
Hrauneyar - Westman Islands - Hvolsvöllur
Hvolsvöllur –Skogafoss- Dyrholaey - Lakagigar – Kirkjubaejarklaustur - Hörgstland
Hörgstland, Skaftafell N. P., glacier tour
Hörgstland – Skaftafell N. P., Jökulsarlon (optional boat trip) - Höfn
Höfn – Öxivallei - Bakkagerdi
Bakkagerdi - Dettifoss - Myvatn
Myvatn, optional whale trip
Myvatn - Godafoss - Akureyri - Vatnsnes
Vatnsnes - Stykkisholmur - Grundarfjördur
Grundarfjördur - Snaefellsnes Peninsula - Reykjavik
Reykjavik
Day by day
On the Road with Djoser
Djoser's active journeys offer an ideal balance of guidance and freedom. Our guide-assisted adventures cover the globe and feature wildlife, beautiful natural settings, historic sights and authentic cultural experiences. During Djoser travels, the daily schedule is not rigidly set.
The day-to-day descriptions describe the anticipated, or possible daily activities. Our travel days are obviously fixed, but each day the program may deviate depending on the preferences of the group, in consultation with the tour leader. The tour guide offers a program daily, with planned excursions. You are never obligated to participate. Those who desire more freedom may go out exploring or may dine on their own. Your tour leader can offer suggestions for safe explorations and fun restaurants. You will find that Djoser participants will take advantage of this flexibility. We believe a sense of discovery is an integral element of a great trip.
We offer the land program only. Below, you will find the day-to-day description days numbered to correspond with that of the Dutch participants (which includes their transit days from/to Amsterdam). This is so that when you are traveling and refer to this day-to-day description, all travelers will be "on the same page" or the same day number.

Blue Lagoon - Thingvellir - Geysir – Gullfoss
Day 1 Keflavik - Blue Lagoon - Selfoss
Day 2 Selfoss - Thingvellir - Geysir - Gullfoss - Hrauneyar
We begin our Iceland tour in Keflavik. You will meet the group participants from the Netherlands at the modern airport Leifur Eiríksson Keflavik where the bus will take the group straight to the famous thermal bath, the "Blue Lagoon". The Blue Lagoon is a geothermal bath in the south west of Iceland. The artificial lake is 102 F and rich in salt, minerals and cyanobacteria. The algae gives it a light blue color. After this dip we leave via the coastal road and then turn down to Hveragerdi. This city is located in a large geothermal field that houses dozens of greenhouses that draw heat from the soil, forming the center of the greenhouses of Iceland. Further north we reach the southern tip of Iceland's largest lake, the Thingvallavatn. We spend the night near Nesjavellir, where a geothermal power plant provides Reykjavik and the surrounding suburbs with hot water.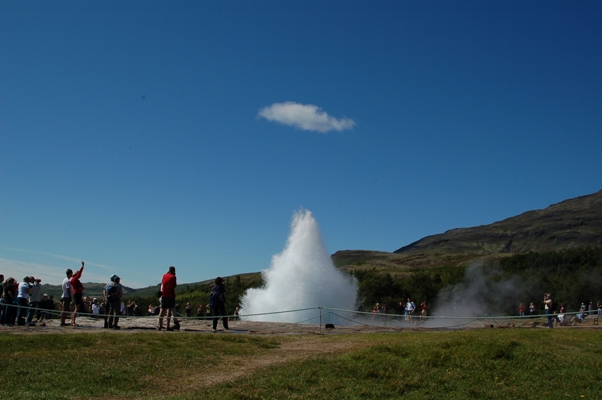 The next day we visit Thingvellir, literally "the plain of the parliament," the National Shrine of Iceland. Since 930 the parliament has met annually at the Almannagjá Gap which was formed by the drifting apart of the American and European tectonic plates. They gathered here, did justice and exchanged the latest news, in the open air. The fascinating surroundings of lava fields, jagged rock formations and mountains is part of a national park, which is on the World Heritage List of UNESCO.
Further inland we reach a geothermal area where the world's most famous geyser and namesake of all geysers located: Geysir. Occasionally Geysir cracks but it is not nearly as impressive as it once was. However, this area has more bubbling pools and hot springs, the nicely colored Strokkur geyser makes an impressive spectacle every ten mintues. It's a little further drive to the beautiful Gullfoss waterfall, which plunges down into two stages. A muddy path leads downwards. In good weather there are beautiful rainbows here We drive further inland and stay in the highland center Hrauneyar.

Hrauneyar - Landmannalaugar - Hekla - Dyrhólaey
Day 3 Hrauneyar, Landmannalaugar
Day 4 Hrauneyar - Westman Islands - Seljalandfoss - Dyrhόlaey – Vik
We drive in a hour to the most beautiful hiking area of Iceland, the Landmannalaugar. During the walk you can enjoy the different hues of the surrounding rhyolite mountains, fast-flowing mountain rivers, lava fields, mud pools, craters and the remains of vast snowfields. From Brennisteinsalda you have a nice view of the surroundings. On the way we wash away the travel fatigue in a steaming stream that is fed by a distant hot spring.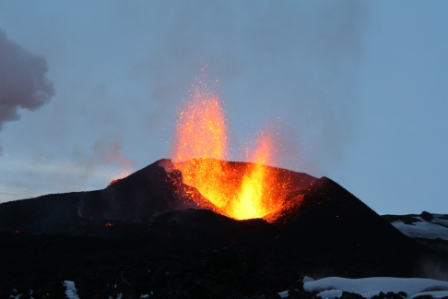 The next day, our route leads along the most famous volcano in Iceland, Hekla.This 7000 year old volcano is still active and erupted in 1991, without any warning. In medieval times, the residents suspected that the unearthly landscape around the volcano was the gateway to hell. In clear weather, the 1500 meter high Mount Hekla can be clearly seen above the southern lowlands.
We sail to Heimaey, the largest Westman Island where there are undersea volcanoes. In 1973, the last eruption took place. You can walk around the island and see the consequences of the eruption. The island is rocky and sparsely vegetated. Heimaey is home to the largest fishing fleet of Iceland and many nesting seabirds. Further, on the coast, we take a look at the 60 meter high waterfall Skógafoss. According to legend, the settler Þrasi hid a chest full of gold here hidden under the waterfall. Through Skogar we visit the high rock Dyrhólaey through which a narrow spur with an arched opening, which feeds into the Atlantic. On the 120 meter high promontory that dominates the black beach, are found breeding colonies of several species of seabirds. In the summer you can see many puffin heres. We end the day in the village of Vik.

Skaftafell national park – Jökullsarlónlagune
Day 5 Vik - Lakagígar - Kirkjubæjarklaustur - Hörgstland
Day 6 Hörgstland, Skaftafell National Park
Day 7 Hörgstland- Jökulsarlon-Höfn
From Vik we go inland to take a look at the crater rows of Lakagígar, a hundred craters whose walls are impressive in color and size. The highest reaches 328 ft. In the village of Kirkjubaejarklaustur lived Father Jón Steingrimsson, who according to legend, with a fiery church sermon, brought the flowing lava of the Lakagígar to a halt.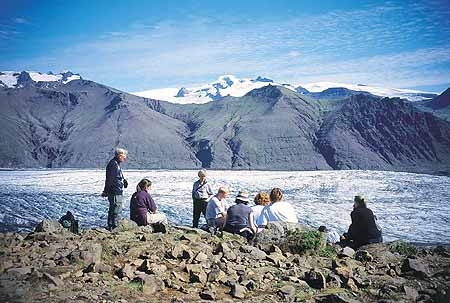 The next day we have the whole day for largest ice cap in Europe, Vatnajokull. With an area of approximately 5281 square miles this glacier is an imposing relic of the last ice age. The beautiful Skaftafell National Park shows a series of very diverse landscapes. High mountains, glaciers, deep valleys, birch forests and clear streams here provide strong contrasts. The famous Svartifoss, the "black" waterfall plunges here in a wall of basalt blocks in the deep. It is possible to take a walk here on one of the foothills of the Svinasfellsjokull glacier.
We continue our route to the Jökullsarlon glacier lagoon, an ice lake that has been the backdrop for spectacular scenes in James Bond movies. The hefty chunks of ice floating in the glacial lake are broken off from the nearby 12.4 miles wide Breidamerkurjökullgletsjer. Pieces of this glacier slide each day a few feet into the lake, eroding the ice. You can take an optional boat trip of a half hour to photograph the glacier. In the afternoon we drive to our accommodation address near the town of Höfn.

Bakkagerði - Heidarbaer
Day 8 Höfn- Oxi Valley-Bakkagerði
Day 9 Bakkagerði - Dettifoss-Heidarbaer
Day 10 Heidarbaer, optional whale watching tour
The next day we drive the into the old fjord landscape of eastern Iceland. Long before the Vikings set foot here Irish monks settled in the area, looking for the ultimate silence. Through the beautiful Öxi Valley we reach the small town Bakkagerði, also known as Borgarfjördur. You can get a view of the multicolored mountain Dyrfjöll with his slopes of rhyolite. The area has a rich tradition of elves. According to legend, several elves live in the hills surrounding the fjords. Chances are, however, it is more likely that you are more likely to encounter beautiful rocks and minerals here, but it is forbidden to take any with you.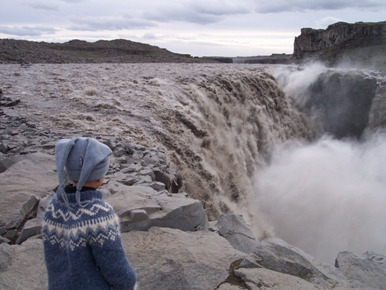 On the way to Heidarbaer we ride along Europe's most powerful waterfall Dettifoss a brown stream that makes a huge noise in the 40 meter plunge of water. This region is the geothermal area of Namaskard. Imagine yourself in an alien environment with bubbling mud pools, lava rock sculptures, genuine and pseudo-craters, sulfur pools and hissing steam sources. The presence of natural hot water near the lake turned the area into a fertile agricultural region.
From Heidarbaer you travel to the picturesque harbor town of Husavik to participate in an optional boat trip in search of humpback whales. In the afternoon you can take the bus a trip to the crater Hverfjall and to the spectacular lava field of Dimmu Borgir . Also on this day, you can make a wonderful trip with an Icelandic horse near Myvatn. The unique tolt (gait of Icelandic horses) of these horses is well known.

Vatnsnes - Grundarfjördur - Reykjavik
Day 11 Heidarbaer - Godafoss - Akureyri - Vatnsnes
Day 12 Vatnsnes – Grundarfjördur
Day 13 Grundarfjördur - Eldborg- Reykjavik
Day 14 Reykjavik (land ends)
In the morning we follow the coastal road westbound via Akureyri, an important place in Northern Iceland, to the town Osar on Vatnsnes peninsula. Along this rugged coast you find seals and seabirds. After the night in Hvammstangi we drive through the Hvamms fjiord to Stykkisholmur, where in the afternoon you can make a two-hour boat ride to the island archipelago Breiðafjörður to go looking for beautiful birds and perhaps tasty mollusks. You may see puffins, cormorants and terns and with luck you can catch a glimpse of the rare sea eagle. We then spend the night in the beautiful town Grundarfjördur. Through the Snæfellsnes peninsula with the imposing namesake glacier, described in the book "A Journey to the Center of the Earth" by Jules Verne), we drive to Reykjavik. You have the afternoon and evening time to visit this trendy capital with a number of museums, the Hallgrimmskirkja, many restaurants and entertainment venues. The program ends early the next morning.
Dates and prices
Departure dates 2018
| Land Begins | Land Ends | Price | Availability | |
| --- | --- | --- | --- | --- |
| | Jun-30-18 | $3,935 | 2 seats | book now > |
| | Jul-28-18 | $3,865 | 17 seats | book now > |
| | Aug-25-18 | $3,865 | 12 seats | book now > |
Departure dates 2019
| Land Begins | Land Ends | Price | Availability | |
| --- | --- | --- | --- | --- |
| | Jun-29-19 | $3,865 | 22 seats | book now > |
| | Jul-06-19 | $3,865 | 22 seats | book now > |
Conditions "Guaranteed leave"
Price includes
Included in our Iceland tour package: land package (begins & ends at hotel), lodgings, tour leader (as a logistics coordinator, not a lecturer) speaks Dutch & English, city-to-city transport by private bus, excursions according to program.
Price excludes
Excluded in our Iceland tour package: international flights from/to United States, meals, and optional excursions, entrance fees if not specifically named as included, visa(if applicable), exit taxes (if applicable), tips, personal expenses, travel insurance, airport transfers at arrival & departure.
Cost Overview
| | |
| --- | --- |
|   |   |
| Single accommodations | not available on this trip |
|   |   |
| Extension hotel city #1 | Reykyavik |
| Double room per person | $75 |
| Single room | $100 |
|   |   |
| Estimated out-of-pocket, weekly | $578 |
|   |   |
| Deposit due upon booking | $650 |
|   |   |
|   | * Balance due 60 days prior to departure.  |
Practical information
Accommodations & Meals
Accommodations - During our Iceland tour we stay mainly in hostels and guesthouses in rooms for two, four, six or seven persons using a limited number of shared showers and toilets. In some units there are bunk beds. In Heidarbaer you stay in a dormitory. Men and women in this sleeping not separated. For those nights you need a sleeping bag. In Reykjavik you stay in a guesthouse with double rooms. 
Some examples of our usual hotels (subject to change)

Single room - Djoser is single friendly! If you are traveling solo, we will match you with a same-sex roommate. If we cannot match you, there will be no additional room charge. For a reasonable charge, you may request single accommodations, subject to availability. Just indicate this preference on your booking form. You will find pricing for single accommodations on "Dates & Prices" page.

Hotel extensions - It is always great to be well-rested when you begin a journey such as this. If you would like to book an extension hotel night upon arrival in the city where the land program begins, let us know on your booking form. You will find the prices for extension nights listed in the '"Dates & Prices" page.

Meals - On our Iceland tour meals are not included. In the few larger towns there is a limited choice of restaurants with mostly European dishes and sometimes a broader international menu. In remote areas, however, you are bound by the simple map of the inn or guesthouse. For breakfast and lunch (where possible) there will be opportunity to visit supermarket to shop for true Icelandic specialties such as 'hákarl' shark meat or "súrsadir hrútspungar 'ramtestikels. The Icelandic seafood is reknowned worldwide and highly recommended.
Flights & Transportation
Booking your international flight - We provide the land package and transportation within the program as described. We do not arrange international flights from or to the United States or Canada. The land program will begin approximately two hours after the arrival of the Netherlands (NL) participants who will be arrive from Amsterdam. The land program will end about 4 hours prior to their scheduled departure time, which allows for time to get to the airport. The proposed flights for the Dutch participants and the land beginning and end times are listed in this section. They are subject to change based on flight delays or changes. We will keep you posted of any flight changes that we are aware of prior to the trip. When scheduling your flights, keep the following times in mind.
Dutch participants' proposed flights: (subject to change)
Airline: Iceland air 
NL participants arrive: Reykjavik 3:10 PM
NL participants depart: Reykjavik 4:30 PM
Note: Immediately after the Dutch participants arrive in Reykjavik they will go to Blue Lagoon. You can either join them or arrange you own transport to Blue Lagoon.
Before you book your flight - To avoid flight change or cancellation costs get email confirmation from our office that the trip has enough participants to be a "GO".
Verify the spelling of your name-within 24 hours - When you book your flights, double check your flight records to confirm that your name is spelled on your ticket exactly as it appears on your passport. Some companies (for example, ORBITZ) will only allow a 24 hour window to correct any errors without penalty. You may incur heavy fees for changes, forfeiture of your flight ticket, or even worse, you could be denied entry to a border upon arrival.
Send us a copy of your flight itinerary - We will forward to the tour leader so they will know when to expect you at the hotel and when you will be departing.
Keep in mind hotel extensions - If the Dutch travelers arrive early in the morning, we recommend that you arrange to fly in the day or night before so you will be meet the group. Some trips involve an immediate transfer from airport to the next town so make sure you will arrive before the others so you don't miss the first meeting or transfer to the next location. We can arrange an extension hotel night for you. Prices for hotel extensions can be found in the "Dates & Prices" section
If the Dutch participants arrive in the late evening - Should they arrive very late in the evening, the group will have their first meeting in the morning in the hotel lobby. You can check in earlier and relax or explore on your own.
Airport transfer to/from hotel (not Included) - If you will be arriving and or departing on the same flight as the Dutch travelers let us know. Then you can join them on the bus for the group transfer at no additional charge. Notify us in advance so we can alert the tour leader. If you schedule your flight at the same time as theirs, or later, you can join them on the group transfer to the airport at no additional charge. Otherwise, you can take an authorized taxi to the first hotel on the list we have provided for you. Private airport transfers can be very costly . If your flight is delayed, they are difficult to reschedule or cancel. With a taxi, you are not charged for waiting time or cancellations.
Useful Links for booking your flights
Orbitz.com
Expedia.com
Kaykak.com


Local transportation - During the tour we use a private bus, equipped with air and heating. We are free to stop for a photo or to stretch our legs.
Money Matters
A summary of all trip costs can be found on our 'Dates & Prices' page. Prices may fluctuate throughout the year depending on currency exchange, gas costs, etc.
Included in price of our Iceland tour package
Land package (begins & ends at hotel)
Tour guide (speaks Dutch & English)
Transportation by bus
Accommodation in hostels and guesthouses / hotels with shared facilities
Entrance to all National Parks except Landmannalaugar
Visit Thingvellir, Geysir, Gullfoss Visit Westman Islands and Skogafoss
 
When you book a trip
Deposit of 20% of the minimum land price due upon booking. See Prices & Dates page for deposit amount. 
Payments by charge card or check are accepted
Balance is due 60 days prior to departure date

While you are traveling
 
| | |
| --- | --- |
| Local currency:  | Crowns |
| ATM machines: | Widely available |
| Credit Cards | Widely accepted |
| Types of cash accepted:  | Crowns & Lira |

Tipping - It is customary to tip for services rendered. The tour leader will organize a tip jar at the beginning of the trip, from which tips to drivers, guides, hotel staff are paid. Depending on the size of the group, each participant will be asked to contribute $40 to $50. This does not include a tip for your tour leader. Tipping the tour leader is appreciated and the amount up to your discretion.

** You will find a list of all trip costs in the "Dates & Prices" section, including your estimated out of pocket costs.

Excursions
Freedom and choice are important elements of a Djoser trip. In addition to scheduled group activities, wherever possible, you may decide which attractions you wish to visit, and with whom. Unless otherwise indicated, entrance fees are not included in the price, so you have the freedom to make your own choices. One person may prefer to stroll through the market in search of bargains, while someone else may want to relax by the pool, go to a museum, or take a bike ride. Join the guide or break off with others in the group to explore on foot or with the local transport. Some attractions should not be missed, or they are not easily accessible, or are en route to our next overnight location and are therefore built into the program. In the "Dates & Prices"  section you will find the estimated out-of-pocket, weekly expenses that have calculated in typical entry fees in addition to meals and other costs.
During our Iceland group tour, the following excursions are included in the program:
Visit Blue Lagoon thermal bath
Visit to the Golden Circle: Thingvellir, Geysir, Gullfoss
Excursion to the most beautiful hiking area in Iceland, Landmannalaugar
Visit Westman island Heimaey
Excursion to largest ice cap in Europe, Vatnajökull in Skaftafell National Park
Visit Jökullsarlon glacier lagoon, an ice lake
Travel Documents
When you book a trip we will provide you with more details about necessary documents. Passports should be current and valid for at least 6 months beyond your departure date. If a visa is required, you may need extra pages in your passport for your stamps. Check all visa requirements carefully and leave yourself plenty of time to send and receive documents before your trip.
No via needed for the Iceland trip

Visa & Passport Expeditor – For an extra fee, you can hire an expediting service to process your visa application. They will look over your paperwork and they can offer a faster return of your visa or passport. We recommend TRAVISA. 
Health Issues & Insurance
Health - Check for the Center for Disease Control – Travelers information for recommendations. Keep in mind that they may recommend an inoculation or medication such as malaria pills, which may be necessary for one specific part of a country but not another, or for a particular season. Shots are expensive. Make sure to get only what is needed. We recommend asking your doctor for a prescription to combat a more serious intestinal disorder.
When you book a trip we will provide you with information regarding the usual recommendations for the region we will visit. You will be responsible to check with your travel clinic or physician to review your plans and to find out the most up-to-date recommendations and needs for your particular situation. Plan to get your inoculations four to six weeks in advance of your trip. Some offices may need to preorder the medicines so call in advance. It is wise to pay careful attention to what you eat. Also, we recommend you bring medicines such as pain-killer and for remedy for intestinal disorders (such as IMMODIUM) Bring a small first aid kit. Tweezers, band-aids, antiseptic cream, insect repellant, salt rehydration tablets. The tour leader will have a first aid kit.
Climate and altitude changes can sometimes cause illness. Be sure to drink plenty of water. Bottled water is readily available. Excessive alcohol intake contributes to dehydration and makes you more vulnerable to illness. Make sure that you get plenty of rest and enough food and drink during the trip.
No vaccinations are recommended for this trip.
South Africa is a modern country with excellent medical amenities. The tap water is drinkable everywhere and restaurants are good and clean. However, it is still advisable to drink bottled water. It is wise to somewhat watch what you eat. We also recommend that you bring a small medical kit include aspirin and anti-intestinal disorders.
Insurance - For peace of mind, we recommend that you procure travel insurance. In the event of an illness or injury, an emergency evacuation can be incredibly expensive and you would want access to the best possible facility. Also, lost baggage or missed flights can mean added expenses. Even events at home may prevent you from taking a trip, such as a lost job or ailing family member. It is important to get travel insurance immediately after booking. Most companies have a brief window (within 10 days of booking) for coverage for a preexisting condition. You will be asked to provide us with travel insurance contact information before your departure.
You are free to choose your own provider. Over the years, we have recommended TRAVELEX. They offer a variety of plans and most importantly, they are responsive. Should you choose to go with TRAVELEX, you will contact them directly and the cost of your coverage will depend on the plan you choose. The cost will be based over the total cost of your trip and flights, and the amount is also subject to your age. Ask about the TRAVEL PLUS plan and the more economical TRAVEL LITE plan. * Arrange for insurance immediately after booking your trip so that you are covered for any pre-existing situation. TRAVELEX  1-800-228-9792
Group Composition
Djoser travelers are active, enthusiastic travelers of all ages. Join an international group with travelers from the Netherlands, Belgium and North America, who will be the minority group on these trips. Most of our trips range from a minimum of eight participants to a maximum of 20 or 22. You will find couple and singles on our trips. Feel free to call us if you wish to know the demographic make-up of a particular trips (number of singles and age range).
Minimum group size: 8 
Maximum group size: 20

What to expect when traveling with an international group - Djoser, Inc. (the United States office) has been a Iceland tour operator for over 15 years. Djoser, B.V. (the Netherlands office) has been a Iceland tour operator for over 25 years. So together we bring vast experience. Most of our trips are arranged in cooperation with Djoser, B.V. in the Netherlands. Because they cater to the voracious travel appetites of the Dutch, we can offer a vast number of programs around the world with hard-to-find itineraries, with numerous departure dates.
On our Iceland group tour, you will travel with an international group, with most participants from Holland and Belgium. The international make-up of our groups is the attraction for many regular Djoser travelers and adds another cultural element to the trip. Typically, there are only one to five North Americans per group. You will find that almost all of your fellow travelers have an excellent command of English and most are very willing to socialize. It's a great idea to extend an invitation to a few travel mates for coffee or a drink early in the trip. They will appreciate your effort and this is a great way to break the ice. It will be easier for them to test out their English skills in a quiet, one-on-one setting. Group members tend to warm up to one another in a day or two. As with every tour group, compatibility has most to do with individual personalities.
The Dutch are experienced and hearty travelers. We attract travelers of all ages and we enjoy the mix! You will find our participants welcome opportunities for independent explorations in addition to group activities. No matter their age, Djoser travelers expect, and are up to lots of walking, hiking, biking, or whatever comes our way. The Dutch and Belgian travelers will fly as a group from Amsterdam. You will meet the group and tour leader at the hotel where you will begin the land program with the group.
Tour Leaders & Support Staff
Our trips are guided by an experienced Dutch guide who speaks Dutch and English. He or she will be responsible for the organizational and technical aspects of the trip. He/she coordinates with the driver , hotels, and other vendors along the way. The tour leader has extensive travel experience and expertise as well as a comprehensive training.
Our experienced land representatives are situated in the destination country you will visit. We work closely with them and they function as the liaison between our office, the guide, drivers and hotels. They are also available in the case of an emergency and their number will be provided on your emergency contact list.
Climate & Geography
Our trips are organized with weather conditions in mind. On our website, we will provide you with a weather summary of the region: Check temperature and rainfall for specific cities on your trip, during your month of travel at worldweather.org
The Icelandic climate is milder than the northern location suggests. The weather is unpredictable; blue skies can be displaced within half an hour by a hefty rain or hail. In spring and autumn you must take into account cool days and cold nights. The daytime temperature fluctuates during the summer around 59° F. In the period May to August there is on average about 20 hours of daylight. Between mid-June and mid-July the sun is barely out. 
Photos & video
Book Trip/Trip Inquiry
Are you ready to book a trip?

* Submit this form to begin your reservation process.  Confirm that names exactly as they appear on a current passports.  If names on your international, domestic flights or visas (if applicable) do not match your name as it appears on your passport, some countries will deny you entry.
TIP:  Also verify your name on your flight records, within 24 hours after reserving to avoid change or cancellation penalties.   
* Pay by personal check or credit card:  Visa, Mastercard, American Express
* Call us with your charge card information.  Your place will be reserved upon receipt of funds for required deposit.
* Refer to the Prices & Dates page for an overview of your total costs & deposit 

* Download the Booking Form with Terms and Conditions
* Fax for with signatures for all participants 18 and over to  484-595-9140 . Or scan to us at luke@djoserusa.com
* Or mail Djoser, Inc., 154 Woodgate Lane, Paoli, PA 19301 - Attn: Luke Neal