Guatemala, Honduras, El Salvador, Nicaragua 20 days
Take a beautiful journey with highlights of five countries in Central America: Guatemala, Honduras, El Salvador, Nicaragua/  In Guatemala we begin our visit to Antigua. We visit Lake Atitlan, a crater lake between three immense volcanoes and the colorful Indian market, Chichicastenango. Copán is known for its amazing Mayan ruins. In El Salvador, we visit the interesting Suchitoto. We stay on Isla Ometepe and in colonial Leon in Nicaragua.
* Great Trip for University Short Term Study Abroad Program in Central America   This trip can be extended and customized for a faculty-led program through Central America.  We can customize  for your area of study, time frame, desired inclusions: (activities, faculty costs, international flights, meals, etc. Contact us regarding your your January Term, May Term or Summer program needs.  Luke Neal luke@djoserusa.com 877-356-7376. 
Itinerary
Antigua
Antigua
Antigua - Chichicastenango - Lago Atitlan
Lago Atitlan - Monterrico
Montericco – Copán
Copan – visit Maya-ruins of Copan
Copán - Suchitoto
Suchitoto
Suchitoto - Somoto
Somoto, excursion Somoto Gap - Léon
León
León - Granada
Granada
Granada - Isla Ometepe
Isla Ometepe
Isla Ometepe - Rincón de la Vieja
Rincón de la Vieja - Samara
Samara
Samara - San José
Day by day
On the Road with Djoser
Djoser's active journeys offer an ideal balance of guidance and freedom. Our guide-assisted adventures cover the globe and feature wildlife, beautiful natural settings, historic sights and authentic cultural experiences. During Djoser travels, the daily schedule is not rigidly set.
The day-to-day descriptions describe the anticipated, or possible daily activities. Our travel days are obviously fixed, but each day the program may deviate depending on the preferences of the group, in consultation with the tour leader. The tour guide offers a program daily, with planned excursions.
You are never obligated to participate. Those who desire more freedom may go out exploring or may dine on their own. Your tour leader can offer suggestions for safe explorations and fun restaurants. You will find that Djoser participants will take advantage of this flexibility. We believe a sense of discovery is an integral element of a great trip.
We offer the land program only. Below, you will find the day-to-day description days numbered to correspond with that of the Dutch participants (which includes their transit days from/to Amsterdam). This is so that when you are traveling and refer to this day-to-day description, all travelers will be "on the same page" or the same day number.
Antigua
Day 1 Guatemala - Antigua
Day 2 Antigua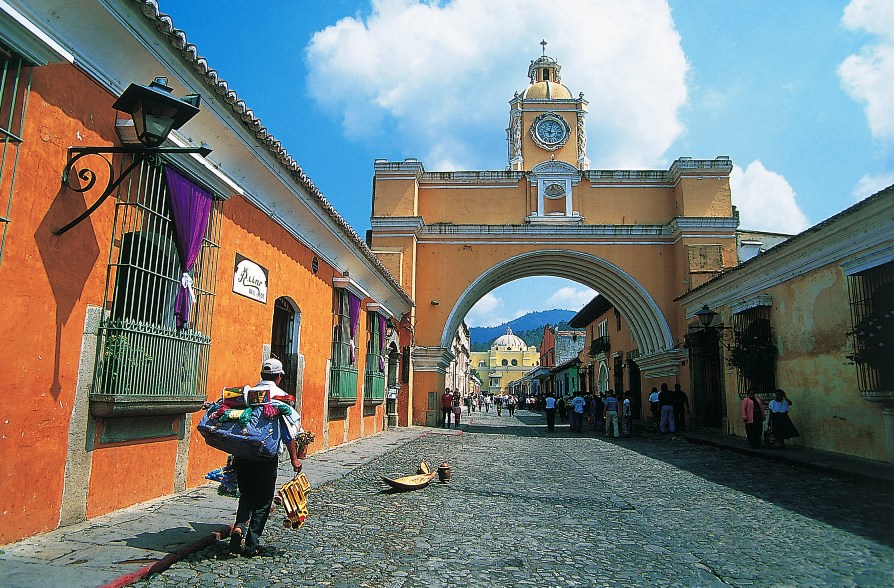 We start our Guatemala, Honduras, El Salvador, Nicaragua & Costa Rica tour in Guatemala. After a flight from the United States, we reach the atmospheric Antigua in Guatemala. The picturesque and cozy town founded in 1553, islocated at the foot of three volcanoes: Acatenango, Agua and Fuego. If you look carefully you can see that the active volcano Fuego regularly spits plumes os smoke. In the evening you sometimes see glowing red lava at the top. Antigua has long been the capital of the Spanish colonial territories. In 1773 after the town was largely destroyed by an earthquake, the metropolitan seat was moved to Guatemala City. Nevertheless, Antigua was rebuilt and preserved to its former colonial character. Churches, monasteries and other Spanish colonial monuments are still seen. Behind the beautifully carved wooden doors of the houses are flowered patios with small shops and cafes. Also our hotel, near the Parque Central, is a beautiful colonial building with patios. This was once the palace of the daughter of one of the most prestigious Spanish conquistadors of the New World: Pedro de Alvarado. We have more than one day to enjoy this beautiful town with its Latin American vibe. If you want to start the first day of active immediately, you can hike one of the volcanoes, such as the still active Pacaya just outside of Antigua. During the walk on this volcano, you can get close the crater and see the old solidified lava.

Panajachel
Day 3 Antigua - excursion Chichicastenango - Lake Atitlan
Day 4 Lake Atitlan – Monterrico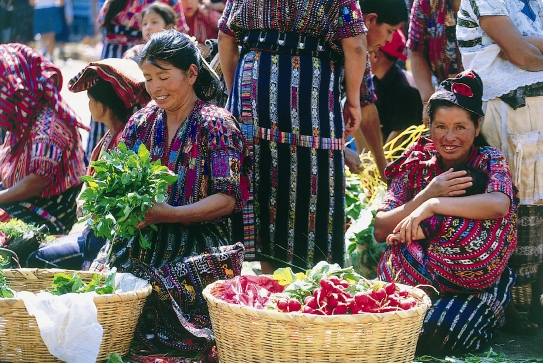 From Antigua we go to visit the famous market of Chichicastenango, also called "Chichi" in the local vernacular. At the market, which is held on Sundays and Thursdays, you see countless colorful and traditionally dressed Indians with their families and selling their wares. The scene is an impressive spectacle where you spend hours. You will find fruits, vegetables, flowers and ceramics. Also, chickens, pigs and other livestock run freely through the market. Handmade textile made by descendants of the Mayans for sale: garments, bags or intricate cloth which may have taken more than a month to create. In the nearby church Indians constantly walk in and out to burn candles, incense, to pray, to baptize their babies and to make a sacrifice. Christianity and ancient religions such as Mata are intertwined.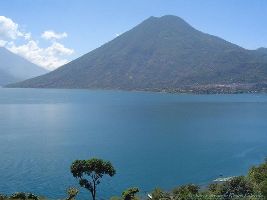 Via a scenic route through the highlands, we drive to the crater lake Atitlán. The views over the blue lake with volcanoes in the background will not be forgetten. Sandwiched between the base of the crater rim and Lake Atitlán is the town of Panajachel. The peaceful village, also called Gringotenango, is an ideal base to visit villages like San Pedro or Santiago Atitlán, which also border the lake. Nature lovers can stroll through the beautiful scenery along fields and coffee plantations.
Later we go to Monterrico, on the Pacific Ocean. Monterrico is known for its black volcanic beaches. From August to November, sea turtles lay their eggs on the beach.

Copán
Day 5 Monterrico - Copán
Day 6 Copán Ruinas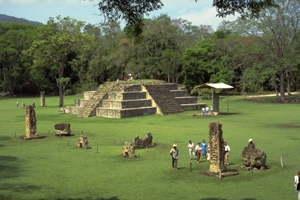 From the coast we go inland and cross the border into Honduras. Just across the border, we may find the Copán Ruinas, a peaceful mountain village with a characteristic city center. From our hotel we have views over the wide area. Just half a mile away are the ruins of the ancient Mayan city of Copan. In the period from 250 to 900 AD, this was a very active center. The Mayans were gifted astronomers at the time, and this dictated how the buildings are situated. We have plenty of time to visit the sprawling ruins complex. Noteworthy are the stelae with sculptures and the staircase with hieroglyphs. Beautiful hikes or horseback rides are possible in the mountainous green hills.

El Salvador
Day 7 Copan - Suchitito
Day 8 Suchitito
Day 9 Suchitito – Somoto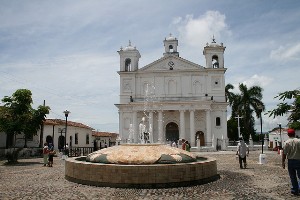 After the border formalities, we drive on the road to El Salvador in Suchitoto. The town has a beautiful white stucco church on a central square, built by the Spaniards in 1700. The cobbled streets complete the picture. Try a 'pupusa' (a kind of stuffed tortilla), the national dish of El Salvador, which is baked by the women at the corners of the square. Suchitoto has a fantastic view over the lago Suchitlan. The lake is an intersection where many species of migratory birds pass through annually. The best place to see these birds is by taking a boat trip on the lake. You can also opt for a hike to a waterfall along a particular geological rock formation. End the day with a drink overlooking the lake while the sun is setting. A beautiful route through the mountains of El Salvador and Honduras brings us to Somoto, in northern Nicaragua.

Somoto and Leon
Day 10 Somoto - Leon
Day 11 Leon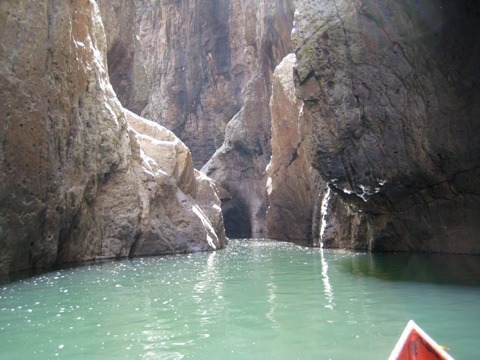 Nicaragua is one of the largest countries in Central America, and still quite unspoiled. You will be surprised frequently by the beauty of the authentic colonial cities, volcanoes, lakes, and by the curious locals. In Somotok Gap the rock walls rise up to 395 ft from the bed of the river Comali. In some places the walls lie only 5 feet apart. Very spectacular! The canyon was only "discovered" in 2004 by geologists. A local guide will accompany us on foot. After this amazing experience we go out to Leon.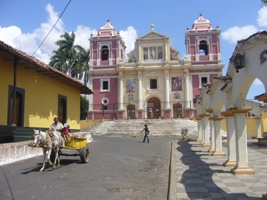 Because of the university established in colonial Leon, , it has been recognized as the cultural and intellectual center of Nicaragua. From a bench at the Parque Central you can see the daily life to pass by and you can admire the largest cathedral in Central America. According to a local legend, the plans for this cathedral were originally intended for Lima, Peru, but the plans were were swapped on the boat from Spain by mistake. On almost every street corner you will find a church. Leon is easy to explore on your own. You can also look around León Viejo, the old León, which was 32 miles away in Lake Managua. A volcanic eruption buried the city in 1610 under a thick layer of ash. For some time, archaeologists worked to dig out the old city. You can also take a boat or kayak trip through the mangrove forests along the coast. Upon arrival on the coast you will see local fishermen dock their boats on the beach with their catch of the day. During the tour you will see many species of birds, crabs, and with luck even a caiman. Finish the day with a cocktail at the nearby sandy beach of Poneloya.

Granada
Day 12 Leon - Masaya Volcano - Granada
Day 13 Granada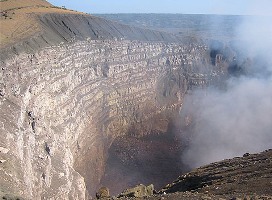 During the trip from Leon to Granada we make an excursion to the active volcano Masaya. This is in the same national park and consists of two volcanoes, the Masaya and Nindir. Together they have a five craters. The Santiago crater is active and spews large sulfur clouds. Around the volcano there is a legend that the Indians of this area threw young women in the crater to earn favor from the fire goddess.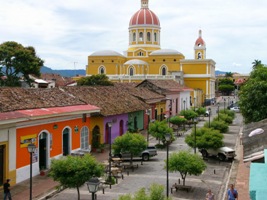 Due to its strategic location on the lake, in earlier days, Granada was an important trading center. Trade wealth is evident from the Spanish colonial architecture and beautifully restored monuments. The serenity, the pastel-colored houses, the individual tiles and the many restaurants provide a pleasant atmosphere. Our hotel, with colonial rooms, is located in the heart of the beautiful Parque Colón. From the hotel terrace you have a good view of the daily life in the square. This is a great place for breakfast! You can also take a horse and carriage to the shores of the lake. There you can take a boat trip along more than 360 islets. At Las Isletas you can take a refreshing dip in the lake.

Ometepe
Day 14 Granada - San Jorge port - Isla Ometepe
Day 15 Isla Ometepe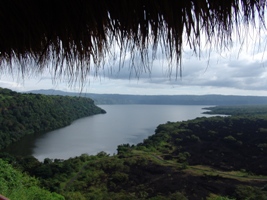 In the small port of San Jorge, we take the local ferry across the largest lake in Central America, Lago de Nicaragua. The natives called it Cocibolca, or: the sweet sea. As many as 45 rivers feed the lake and through the San Juan River water flows out to the Caribbean Sea. In the lake are about 400 islands. The largest island, Ometepe, consists of the cheeks of the volcano Concepcion and Madera. The lava flows down the cheeks of the two interconnected volcanos and so the island was formed. On the island you will frequently see howler monkeys and many species of birds, including colorful parrots.
The locals who live in small villages are scattered around the island. They grow corn, citrus fruits, bananas and other crops. On this quiet agricultural island time clearly plays no role. The island is authentic and exudes calm: this is the portin of the journey that delivers relaxation. Beautiful walks, climbs to the top of a volcano, or a bike ride are also among the possibilities.

Rincón
Day 16 Isla Ometepe - San Jorge port - Penas Blancas - Rincon de la Vieja
Day 17 Rincón de la Vieja National Park - Samara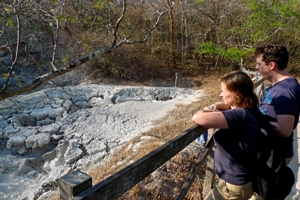 We leave the island of Ometepe again in the same way as we have come: by boat. From the port of San Jorge, we drive to the border with Costa Rica. But first on the Panamericana, and the last stretch to Rincon de la Vieja we travel on a dirt road. Rincon de la Vieja National Park is located in the driest province of Costa Rica: Guanacaste. On small roads you can still encounter real cowboys.
We stay in a comfortable lodge surrounded by nature. The pristine volcanic area invites you for a brisk walk along thermal springs, boiling mud pools, steaming sulfur pools, fast-flowing streams or waterfalls. The trails are very well maintained and marked so that you can wander to your heart's content, on you own. A Spanish-speaking cowboy or cowgirl can accompany you on a nice horse ride through the area close to our accommodation.

San Jose
Day 18 Samara
Day 19 Samara - San Jose
Day 20 San Jose departure
Day 21 Transit day for the Dutch participants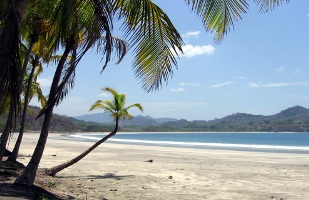 We reach the Pacific coast, on the Nicoya Peninsula in about four hours. The coastal town of Samara has one of the most beautiful beaches of Costa Rica. The water here has the ideal temperature for a dip, and you can also enjoy various water sports such as snorkeling and fishing. From October to March you can see turtles lay their eggs on the beach. Also, you have a few months in the year with opportunities to spot whales just a few miles from the coast. Of course you can also opt for a relaxing day at the beach. During a beach walk you can watch the frigate birds steal fish from local fishermen. Finish the day with a cocktail in one of the cabanas with your bare feet in the sand. On the last day of travel we drive to San Jose, where in the evening, you can relax in one of the many cozy restaurants. Pick up some last souvenirs in the souvenir market in San Jose before ending this wonderful journey.
Dates and prices
Conditions "Guaranteed leave"
Price includes
Including in our Central America tour package: land program beginning and ending in hotels, transportation, hotel accommodation, excursions according to program, Dutch tour guide.
Price excludes
Excluding in our Central America tour package: international flights from/to United States, meals, and optional excursions, entrance fees if not specifically named as included, visa(if applicable), exit taxes (if applicable), tips, personal expenses, travel insurance, airport transfers at arrival & departure.
Cost Overview
| | |
| --- | --- |
| 2016-2017 |   |
| Single accommodations | $585 |
|   |   |
| Extension hotel city #1 | Antigua |
| Double room per person | $TBA |
| Single room | $TBA |
|   |   |
| Estimated out-of-pocket, weekly | $285 |
|   |   |
| Deposit due upon booking | 25% of total cost  ($500 minimum) |
|   |   |
|  Balance due | 60 days prior to departure.  |
Practical information
Accommodations & Meals
Accommodations - If we stay in a city or village, then the hotel is centrally locage. Our double rooms are equipped with private bathroom. Our choice of hotels is based on the character and surroundings. For example, the hotels in Antigua, Leon and Granada, have a colonial character and a swimming pool, beautiful garden or patio. During the stay in Suchitoto you have a great view from the hotel over Lake Suchitlan. The night in Rincon de la Vieja is spent in a rural setting and clearly indicates the 'cowboy' feeling of Guanacaste.
Some examples of our usual hotels (subject to change)

Single room - Djoser is single friendly! If you are traveling solo, we will match you with a same-sex roommate. If we cannot match you, there will be no additional room charge. For a reasonable charge, you may request single accommodations, subject to availability. Just indicate this preference on your booking form. You will find pricing for single accommodations on "Dates & Prices" page.

Hotel extensions - It is always great to be well rested when you begin a journey such as this. If you would like to book an extension hotel night upon arrival in the city where the land program begins, let us know on your booking form. You will find the prices for extension nights listed on the "Dates & Prices" page.

Meals - During the Guatemala, Honduras, El Salvador, Nicaragua & Costa Rica tour, you can decide where, what and with whom you want to eat. You can of course join other group members for meals but you are also free to dine independently. The meals are not included in the price.
In many hotels you can get good breakfast. The tour guide can give you tips for a good restaurant or a nice cafe. Each country has their own national cuisine, which does not prevent alongside unique dishes there are many similarities.
Overall the Central American cuisine is surprisingly tasty. For breakfast in addition to traditional "gallo pinto (rice and beans) you can order a Western breakfast on most occasions, consisting of fresh fruit, juice and toast with jam and eggs. Around noon you can find many local venues who offer a cheap menu, 'casado' or 'menu del dia'. This generally consists of soup, bread, main course, coffee or tea and often a small dessert. The hot meal consists of tortillas, rice, beans and served with chicken or meat in various combinations. A popular dessert is fried bananas. On the coast, one finds mostly fresh fish on the evening menu. Vegetarian food on this trip is very possible. It's a fun way to get in touch with the local population.Because of the good tourist infrastructure and the western influence you can also dishes like pizzas, burgers, soups and meat dishes with French fries. And of course the fruit in this tropical environment is not to be missed!
Flights & Transportation
Booking your international flight - We provide the land package and transportation within the program as described. We do not arrange international flights from or to the United States or Canada. The land program will begin approximately two hours after the arrival of the Netherlands (NL) participants who will be arrive from Amsterdam. The land program will end about 4 hours prior to their scheduled departure time, which allows for time to get to the airport. The proposed flights for the Dutch participants and the land beginning and end times are listed in this section. They are subject to change based on flight delays or changes. We will keep you posted of any flight changes that we are aware of prior to the trip. When scheduling your flights, keep the following times in mind:
Dutch participants' proposed flights: (subject to change)
Airline: United
NL participants arrive: Guatemala city 10:10 PM
NL participants depart: San Jose 7:30 AM
Please note that you should book your flight arrival to Guatemala city but you will need to take a taxi or book a transfer to Antigua (this is where the land program begins). (30 miles)
Before you book your flight - To avoid flight change or cancellation costs get email confirmation from our office that the trip has enough participants to be a "GO".
Verify the spelling of your name-within 24 hours - When you book your flights, double check your flight records to confirm that your name is spelled on your ticket exactly as it appears on your passport. Some companies (for example, ORBITZ) will only allow a 24 hour window to correct any errors without penalty. You may incur heavy fees for changes, forfeiture of your flight ticket, or even worse, you could be denied entry to a border upon arrival.
Send us a copy of your flight itinerary - We will forward to the tour leader so they will know when to expect you at the hotel and when you will be departing.
Keep in mind hotel extensions - If the Dutch travelers arrive early in the morning, we recommend that you arrange to fly in the day or night before so you will be meet the group. Some trips involve an immediate transfer from airport to the next town so make sure you will arrive before the others so you don't miss the first meeting or transfer to the next location. We can arrange an extension hotel night for you. Prices for hotel extensions can be found in the "Dates & Prices" section
If the Dutch participants arrive in the late evening - Should they arrive very late in the evening, the group will have their first meeting in the morning in the hotel lobby. You can check in earlier and relax or explore on your own.
Airport transfer to/from hotel – not Included - If you will be arriving and or departing on the same flight as the Dutch travelers let us know. Then you can join them on the bus for the group transfer at no additional charge. Notify us in advance so we can alert the tour leader. If you schedule your flight at the same time as theirs, or later, you can join them on the group transfer to the airport at no additional charge. Otherwise, you can take an authorized taxi to the first hotel on the list we have provided for you. Private airport transfers can be very costly . If your flight is delayed, they are difficult to reschedule or cancel. With a taxi, you are not charged for waiting time or cancellations.
Useful Links for booking your flights
Orbitz.com
Expedia.com
Kaykak.com

Local transportation -  During our travels in Central America, we use our own customized bus so we can stop whenever we want. We use multiple buses as we travel through different countries. The roads in Costa Rica and Guatemala are relatively good. In Honduras, El Salvador and Nicaragua, they are less maintained, but the beautiful views in these countries are great! During the trip, the luggage on the roof of the bus will be bound. The route to Ometepe is made on a 1.5 hour ferry trip.
Money Matters
A summary of all trip costs can be found on our "Dates & Prices" page. Prices may fluctuate throughout the year depending on currency exchange, gas costs, etc.
Included in price of our multi country tour package
Land package (begins & ends at hotel)
Tour leader (logistics coordinator, not a lecturer), speaks Dutch & English
Private bus
Hotel stays
Visit Chichicastenango
Visit Mayan ruins of Copan
Visit Masaya volcano
Visit accompanied by a guide to the Somoto gap (starting 2015)
Boat trip to Isla Ometepe and back
 
When you book a trip
$500 deposit is due upon booking to hold your place
Payments by charge card or check are accepted
Balance is due 60 days prior to departure date

While you are traveling
Local Currency:
Guatemala – Quetzal
Honduran Lempira
El Salvador Colon
Nicaragua Cordoba
Cosa Rican Colon
ATM Machines:
Widely available. Withdraw local or dollars
Cash accepted: 
Local currency and dollars
Credit Cards:
Accepted most places

Tipping - It is customary to tip for services rendered. The tour leader will organize a tip jar at the beginning of the trip, from which tips to drivers, guides, hotel staff are paid. Depending on the size of the group, each participant will be asked to contribute $40 to $50. This does not include a tip for your tour leader. Tipping the tour leader is appreciated and the amount up to your discretion.

** You will find a list of all trip costs in the "Dates & Prices" section, including your estimated out of pocket costs.
Excursions
Freedom and choice are important elements of a Djoser trip. In addition to scheduled group activities, wherever possible, you may decide which attractions you wish to visit, and with whom. Unless otherwise indicated, entrance fees are not included in the price, so you have the freedom to make your own choices. One person may prefer to stroll through the market in search of bargains, while someone else may want to relax by the pool, go to a museum, or take a bike ride. Join the guide or break off with others in the group to explore on foot or with the local transport. Some attractions should not be missed, or they are not easily accessible, or are en route to our next overnight location and are therefore built into the program. In the "Dates & Prices" section you will find the estimated out-of-pocket, weekly expenses that have calculated in typical entry fees in addition to meals and other costs.
During our Guatemala, Honduras, El Salvador, Nicaragua & Costa Rica group tour, the following excursions are included in the program:
A visit to the market of Chichicastenango. This traditional market is a feast for your eyes. Brightly dressed Indian families come from miles around to sell their merchandise on the market. Everything is for sale, from freshly slaughtered chicken to homemade bracelets and bag
A visit to Copán ruins. Tuk-tuk on the way to the ruins of Copán. The portraits of the rulers of Copán are carved out of stone and make the ruins an unforgettable experience
An exploration of the Somoto Gorge accompanied by a local guide. The canyon was only recently discovered in 2004, but for millions of years ago. Take togs, because some places you can only see from the water
A visit to the Masaya volcano. Close to the town of Masaya is the eponymous volcano Masaya one of a series of volcanoes that form a chain of volacanos that stretch for 7 miles across Nicaragua. The last eruption of this volcano was in 1772
On the way of our Guatemala, Honduras, El Salvador, Nicaragua & Costa Rica group tour, our bus makes a stop where you will need to pay entry fees:
Boat trip on Suchitlan Lake; During a boat trip on the lake that is still very young. The dam was built at Cerrón Grande in 1976, the lake originated as a widening of the Lempa River
San Ramon waterfalls on Isla Ometepe. Take a nice walk to the falls to launch a biological field center. You can take a walk of approximately two-hours to enjoy fascinating views of the lake Nicaragua
Visit to Isla Ometepe or in the Rincón de la Vieja National Park
Travel Documents
When you book a trip we will provide you with more details about necessary documents. Passports should be current and valid for at least 6 months beyond your departure date. If a visa is required, you may need extra pages in your passport for your stamps. Check all visa requirements carefully and leave yourself plenty of time to send and receive documents before your trip.

Travel documents needed
Guatemala tourist visa needed? NO  Consulate Link 
Honduran tourist visa needed ? NO Consulate link
El Salvador tourist visa needed? NO Consulate link
Nicaragua tourist visa needed ? NO Consulate link 
Costa Rica tourist visa needed ? NO  Consulate link

Visa expeditor - If you are anxious about the visa process, or if you are short of time, you can pay an additional fee for an expediting service. They will look over your paperwork and should be able to guaranty a swift return of your visa or passport. We can recommend TRAVISA. 
Health Issues & Insurance
Health - Check for the Center for Disease Control – Travelers information for recommendations. Keep in mind that they may recommend an inoculation or medication such as malaria pills, which may be necessary for one specific part of a country but not another, or for a particular season. Shots are expensive. Make sure to get only what is needed. We recommend asking your doctor for a prescription to combat a more serious intestinal disorder.
When you book a trip we will provide you with information regarding the usual recommendations for the region we will visit. You will be responsible to check with your travel clinic or physician to review your plans and to find out the most up-to-date recommendations and needs for your particular situation. Plan to get your inoculations four to six weeks in advance of your trip. Some offices may need to preorder the medicines so call in advance.It is wise to pay careful attention to what you eat. Also, we recommend you bring medicines such as pain-killer and for remedy for intestinal disorders (such as IMMODIUM). Bring a small first aid kit. Tweezers, band-aids, antiseptic cream, insect repellent , salt rehydration tablets. The tour leader will have a first aid kit.
Climate and altitude changes can sometimes cause illness. Be sure to drink plenty of water. Bottled water is readily available. Excessive alcohol intake contributes to dehydration and makes you more vulnerable to illness. Make sure that you get plenty of rest and enough food and drink during the trip.
Most people are recommended to get
Vaccinations against DTP and Hepatitis A
Malaria tablets for Nicaragua, Honduras and Guatemala
 
Insurance - For piece of mind, we recommend that you procure travel insurance. In the event of an illness or injury, an emergency evacuation can be incredibly expensive and you would want access to the best possible facility. Also, lost baggage or missed flights can mean added expenses, Even events at home may prevent you from taking a trip, such as a lost job or ailing family member. It is important to get travel insurance immediately after booking. Most companies have a brief window (within 10 days of booking) for coverage for a preexisting condition. You will be asked to provide us with travel insurance contact information before your departure.
You are free to choose your own provider. Over the years, we have recommended TRAVELEX. They offer a variety of plans and most importantly, they are responsive. Should you choose to go with TRAVELEX, you will contact them directly and the cost of your coverage will depend on the plan you choose. The cost will be based over the total cost of your trip and flights, and the amount is also subject to your age. Ask about the TRAVEL PLUS plan and the more economical TRAVEL LITE plan. * Arrange for insurance immediately after booking your trip so that you are covered for any pre-existing situation. TRAVELEX 1-800-228-9792
Group Composition
Djoser travelers are active, enthusiastic travelers of all ages. Join an international group with travelers from the Netherlands, Belgium and North America, who will be the minority group on these trips. Most of our trips range from a minimum of eight participants to a maximum of 20 or 22. You will find couple and singles on our trips. Feel free to call us if you wish to know the demographic make-up of a particular trips (number of singles and age range).
Minimum group size: 8 
Maximum group size: 20

What to expect when traveling with an international group - Djoser, Inc. (the United States office) has been a Guatemala, Honduras, El Salvador, Nicaragua & Costa Rica tour operator for over 10 years. Djoser, B.V. (the Netherlands office) has been a Guatemala, Honduras, El Salvador, Nicaragua & Costa Rica tour operator for over 25 years. So together we bring vast experience. Most of our trips are arranged in cooperation with Djoser, B.V. in the Netherlands. Because they cater to the voracious travel appetites of the Dutch, we can offer a vast number of programs around the world with hard-to-find itineraries, with numerous departure dates.
On our Guatemala, Honduras, El Salvador, Nicaragua & Costa Rica group tour, you will travel with an international group, with most participants from Holland and Belgium. The international make-up of our groups is the attraction for many regular Djoser travelers and adds another cultural element to the trip. Typically, there are only one to five North Americans per group. You will find that almost all of your fellow travelers have an excellent command of English and most are very willing to socialize. It's a great idea to extend an invitation to a few travel mates for coffee or a drink early in the trip. They will appreciate your effort and this is a great way to break the ice. It will be easier for them to test out their English skills in a quiet, one-on-one setting. Group members tend to warm up to one another in a day or two. As with every tour group, compatibility has most to do with individual personalities.
The Dutch are experienced and hearty travelers. We attract travelers of all ages and we enjoy the mix! You will find our participants welcome opportunities for independent explorations in addition to group activities. No matter their age, Djoser travelers expect, and are up to lots of walking, hiking, biking, or whatever comes our way. The Dutch and Belgian travelers will fly as a group from Amsterdam. You will meet the group and tour leader at the hotel where you will begin the land program with the group.
Tour Leaders & Support Staff
Our trips are guided by an experienced Dutch guide who speaks Dutch and English. He or she will be responsible for the organizational and technical aspects of the trip. He/she coordinates with the driver, hotels, and other vendors along the way. The tour leader has extensive travel experience and expertise as well as a comprehensive training. On this trip a local guide will also assist us in and will explain about the customs, religious influences and cultural aspects of the area.
Our experienced land representatives are situated in the destination country you will visit. We work closely with them and they function as the liaison between our office, the guide, drivers and hotels. They are also available in the case of an emergency and their number will be provided on your emergency contact list.
Climate & Geography
Our trips are organized with weather conditions in mind. On our website, we will provide you with a weather summary of the region: Check temperature and rainfall for specific cities on your trip, during your month of travel at worldweather.org
In the tropical Central America, the differences in climate are mainly due to the altitude. Temperatures change itself little throughout the year. In the lowlands, the average daily temperature 86 ° F and night temperature 69 ° F. In the mountainous areas the temperatures are slightly lower and resemble our spring. In the evenings it can be chilly. Temperatures, however, are seldom below 60° F
Central America has no real winter and summer. Winter brings the rainy period from April to November. Summer is the dry season from late December to mid April. In the rainy season it rains in heavey bursts but predictable rainfall. Days without sunshine, however, the whole year are scarce . Nature is at its best in the wet months. You can travel here throughout the year.
Photos & video
Book Trip/Trip Inquiry
Are you ready to book a trip?

* Submit this form to begin your reservation process.  Confirm that names exactly as they appear on a current passports.  If names on your international, domestic flights or visas (if applicable) do not match your name as it appears on your passport, some countries will deny you entry.
TIP:  Also verify your name on your flight records, within 24 hours after reserving to avoid change or cancellation penalties.   
* Pay by personal check or credit card:  Visa, Mastercard, American Express
* Call us with your charge card information.  Your place will be reserved upon receipt of funds for required deposit.
* Refer to the Prices & Dates page for an overview of your total costs & deposit 

* Download the Booking Form with Terms and Conditions
* Fax for with signatures for all participants 18 and over to  484-595-9140 . Or scan to us at luke@djoserusa.com
* Or mail Djoser, Inc., 154 Woodgate Lane, Paoli, PA 19301 - Attn: Luke Neal