Argentina & Chile with Iguazu Falls tour, 25 days
During the Argentina and Chile tour your visit will include Buenos Aires, Bariloche, Perito Moren-glacier, Ushuaia and Torres del Paine. The penguins, sea lions, orcas and whales on the Peninsula Valdés will undoubtedly make a lasting impression. On the vast pampas you can take beautiful walks and enjoy the spectacular scenery of Patagonia. Its immense glaciers and snowy peaks provide impressive views. At the tip of the savage Cape Horn, Fuego is the last stop before Antarctica. It is possible to extend this tour with a visit to the impressive Iguazu Falls on the border of Argentina and Brazil. To cap off this trip, spend time at the breathtaking Iguazu Falls.
Join our international groups with active travelers, of all ages. Most will come from Holland and Belgium, but you will find they have an excellent command of English. Your tour leader addresses the group in Dutch and English. Our skilled land crew have worked with Djoser for many years and make sure things run smoothly.
There is ample time for group exploration. Count on lots of walking. But sometimes, it is great to be able to break off and explore on your own. Your guide can make some great suggestions.
Join us for unforgettable cultural, nature and local experiences!
Itinerary
Buenos Aires
Buenos Aires
Buenos Aires, night bus to Puerto Madryn
Puerto Madryn
Puerto Madryn, optional excursion Peninsula Valdés
Puerto Madryn - Esquel
Esquel - Los Alerces National Park - Nahuel Huapi National Park - Bariloche
Bariloche
Bariloche, flight to Calafate
Calafate - El Chalten
El Chalten
El Chalten - Calafate
Calafate, visit Perito Moreno Glacier - Calafate
Calafate - Torres del Paine NP
Torres del Paine NP
Torres del Paine National Park - Calafate
Calafate, flight to Ushuaia
Ushuaia, Tierra del Fuego visit
Ushuaia
Ushuaia, flight to Buenos Aires
Buenos Aires
Buenos Aires - Puerto Iguazu
Puerto Iguazu
Puerto Iguazu - Buenos Aires
Buenos Aires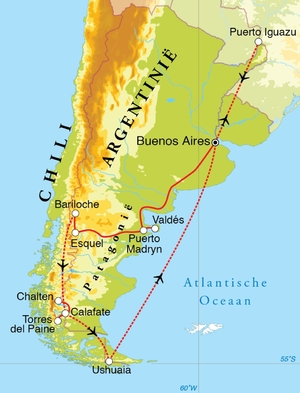 Day by day
Dates and prices
Departure dates 2021
Departure dates 2022
| Land Begins | Land Ends | Price | Availability | |
| --- | --- | --- | --- | --- |
| Jan-05-22 | Jan-30-22 | $4,730 | 16 seats | book now > |
| Jan-12-22 | Feb-06-22 | $4,730 | 18 seats | book now > |
| Jan-26-22 | Feb-20-22 | $4,730 | 18 seats | book now > |
| Feb-09-22 | Mar-06-22 | $4,610 | 20 seats | book now > |
| Feb-16-22 | Mar-13-22 | $4,490 | 20 seats | book now > |
Conditions "Guaranteed leave"
Price includes
 The trip includes
Land package
Five domestic flights (excluding airport tax, about € 20, -)
Services tour leader (speaks Dutch and Englis)
Transportation by bus
Hotel Accommodation with breakfast (except in Torres del Paine)

Services Djoser service counter Schiphol
Price excludes
International flights 
Travel insurance,
surcharges domestic flights (about € 20, -),
meals, entrance fees,
optional excursions,
gratuities, personal expenses, 
Cost Overview
2016-2017 
SINGLE ROOM  - $835
HOTEL EXTENSIONS: Extension for accommodation in Buenos Aires and / or Puerto Iguazu can be booked. 
BUENOS AIRES - DOUBLE ROOM - $125  includes breakfast
BUENOS AIRES - SINGLE ROOM - $115   includes breakfast
PUERTO IGUAZU  - DOUBLE ROOM - $135  includes breakfast
PUERTO IGUAZU  - SINGLE ROOM - $125   includes breakfast
(Does not include airport transfer) 
This Buenos Aires hotel is within walking distance of the Plaza de Mayo. The price is based on bed/breakfast double room per night. 
Dutch participants arrive early in the AM therefore an extension night is recommended so that you can arrive the prior night or day to avoid missing any portion of the program. 
ESTIMATED OUT OF POCKET EXPENSES WEEKLY:  $480
Practical information
Accommodations & Meals
During this trip we stay Beach hotel rooms with private shower and toilet. In Buenos Aires we stay in the traditional Castelar hotel. In Bariloche and Calafate we stay in centrally located  hotels a short walk to the shopping streets where a wide choice of restaurants and cafes are located. During the stay in the national park Torres del Paine, we stay in  spacious cabins' houses each consisting of two bedrooms with twin beds, a sitting area and kitchenette. Toilet facilities are shared with up to four companions, as well as rooms for solo travelers. Breakfast is exclusive. The location of this property at the edge of the national park is particularly beautiful panoramic views of the three "towers" of Torres del Paine. In Puerto Iguazu, we stay in the center of town in a cozy accommodation.
These are typical examples, but subject to change.   (2017-18)
Buenos Aires                Hotel Castelar
Puerto Madryn             Hotel Costanera
Bariloche                     El Cristal
El Chalten                    Posada El Barrano
Torres del Paine           Hostería Tyndall
Ushuaia                        Apart Hotel Tierra del Fuego
Puerto Iguazu               Arami Hotel & Lodge
Single Room
You may request a single room for an additional charge (see prices & dates page).   Otherwise single travelers will be matched with a roommate of the same sex. If you request a roommate but there is none available, you will not be charged the single supplement. 

Flights & Transportation
Our land package includes multiple domestic flights but you will need to book your own flight from/to the United States.  Most of the group participants, are from Holland and Belgium and will arrive from Amsterdam.   Schedule your flight to arrive at the same time, or prior to their scheduled flight, so you will not miss any portion of the trip.  If their scheduled flight below arrives early in the morning, we recommend that you book a flight that arrives the prior day, so that you will be available for the first group meeting.  Please do not book your flights prior to confirmation that there are enough travelers booked for the trip to GO. 
Below is the scheduled flight itinerary for 2017-2018  for the Dutch participants (Subject to change).
Carrier:  Alitalia
| | |
| --- | --- |
| Amsterdam - Rome | 18:45 to 20:55 |
| Rome - Buenos Aires | 21:45 - 06: 40 * |
|   |   |
| Buenos Aires - Rome | 13:45 - 06: 40 * |
| Rome - Amsterdam | 08:55 to 11:25 |
* arrival next day 

tours departing on December 9, 2016 and 18 & January 27, 2017 have a different schedule with KLM.

Excursions

At Djoser you decide which sights you will find worth visiting. You can explore with your fellow travelers or go off on your own, on foot or by using the local modes of transport to get around.  Take advantage of the guide's assistance. He or she can also advise you on independent explorations.  Entrance fees are not included in the fare, so you have the freedom to choose which outings you wish to join. . During the stay in Puerto Iguazu, we visit both the Argentinean and Brazilian sides of the falls. Some sights should not be missed or they are not easily, accessible or they are en route to our next overnight. For such excursions  Djoser includes transport in the program.however the entrance fee is exclusive.
During this trip the following excursions are included in Argentina and Chile:
Walk through Buenos Aires
Excursion to los Alerces National Park
Excursion to the stunning Perito Moreno glacier in Los Glaciares National Park
Excursion to Torres del Paine NP
From Ushuaia an excursion to the Tierra del Fuego National Park
Excursions to the waterfalls of Iguaçu on both Brazilian and Argentine side
In addition there are the following optional excursions:
From Puerto Madryn tour to the penguin SPUNTA Tombo
Day trip to the impressive Valdes
Excursion to Cerro Catedral for fabulous views over the lakes around Bariloche
Boat tour on Nahuel Huapi
Ice-trekking on the Perito Moreno Glacier
Beagle Cruise on the channel at the end of the world
Excursion to one of the traditional Estancias in Tierra del Fuego
Boat trip to the impressive Garganta del Diablo or Devil's Throat
Flight by helicopter over the Iguaçu Falls
 
Photos & video
Book Trip/Trip Inquiry
Are you ready to book a trip?

* Submit this form to begin your reservation process.  Confirm that names exactly as they appear on a current passports.  If names on your international, domestic flights or visas (if applicable) do not match your name as it appears on your passport, some countries will deny you entry.
TIP:  Also verify your name on your flight records, within 24 hours after reserving to avoid change or cancellation penalties.   
* Pay by personal check or credit card:  Visa, Mastercard, American Express
* Call us with your charge card information.  Your place will be reserved upon receipt of funds for required deposit.
* Refer to the Prices & Dates page for an overview of your total costs & deposit 

* Download the Booking Form with Terms and Conditions
* Fax for with signatures for all participants 18 and over to  484-595-9140 . Or scan to us at luke@djoserusa.com
* Or mail Djoser, Inc., 154 Woodgate Lane, Paoli, PA 19301 - Attn: Luke Neal